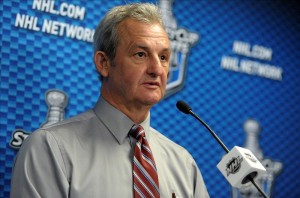 This is one time where television really fails to capture the true excitement of a large squirrel predicting the weather — Bill Murray, as Phil Connors in Groundhog Day.
It may just be wish fulfillment talking, or perhaps I'm overly hopped up on caffeine and Advil, but the Kings' 2013-14 regular season is starting to look a lot like their championship campaign from two years ago.
We all remember that season, don't we? A Kings team with a legacy of just one previous Finals appearance in its 45-year history captured a low seed after a furious regular season finish, then made a remarkable, historic playoff run. The improbable rampage through the postseason culminated in a 4-2 series victory over the New Jersey Devils in the Stanley Cup finals, exorcizing the ghosts of so many previous failed campaigns.
Of course, that hasn't happened this year, as there are still eight games remaining in the regular season. And yet, the Groundhog Day comparisons are there if you look closely enough. Punxsutawney Phil has entered the building.
Groundhog Day comparison #1: Both teams were fantastic defensively
They certainly were. In fact, it's eerie: The Kings gave up 2.07 goals per game in 2011-12, 2nd in the league behind St. Louis. So far this year, they've surrendered the exact same 2.07 goals per game, just behind Boston for second in the league yet again.
The common factors? Six of the same defensemen coupled with the wizardry of Jonathan Quick.
Groundhog Day comparison #2: However, each had major trouble scoring
The players were much the same in 2011-12 as they are now: Anze Kopitar, Dustin Brown, Justin Williams, Mike Richards, Jarret Stoll, Drew Doughty, and Slava Voynov, to name just a few. Despite all the firepower (at least on paper), man, did both versions struggle to put pucks in the net, at least until big trades at the deadline jump-started the respective attacks. More on that later.
Groundhog Day comparison #3: Both teams took dives prior to the trade deadline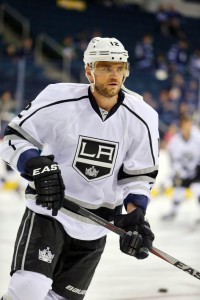 Both the 2011-12 and 2013-14 Kings teams had good starts. The Cup-winning squad went 6-3-1 in October, with a big 5-0 shutout win over the St. Louis Blues in the fifth game of the year. This year's club finished 9-5 in October, recording a 3-0 shutout triumph over the Florida Panthers in game number six.
The 2011-12 Kings had winning records every month until February, when they hit the skids and went just 5-7-2. The current iteration also won each month until a disastrous 1-8 stretch between January 20th and February 3rd.
Groundhog Day comparison #4: Dean Lombardi swung major deadline deals
In 2012, the Kings zeroed in on a scoring winger stuck in hockey purgatory and landed Jeff Carter in a deadline deal with the Columbus Blue Jackets that cost them Jack Johnson and a conditional first round draft pick. This season, Dean Lombardi made a deal with — you guessed it — Columbus for seven-time 30+ goal scorer Marian Gaborik.
Groundhog Day comparison #5: Scoring improved after the trades, as did the team's fortunes
Both teams were remarkably poor in the overall offensive rankings, with the 2011-12 club scoring just 2.29 goals per game, 29th in the league. This year's team, as of this writing, ranks only a shade better (26th), tallying a mere 2.39 goals per game.
However, the deadline trades seemed to exactly what the doctor ordered each time. L.A. averaged 3.19 goals per game after acquiring Jeff Carter in 2012 and went 12-4-3 the rest of the way out. This year's club has scored 3.0 goals per game since picking up Marian Gaborik and won eight of their eleven games since the trade deadline.
The list goes on and on … and on … and on
Oh, there are other examples, to be sure. Dustin Brown was this close to being kicked to the curb in 2012 before catching fire near the deadline, and although suffering far and away his worst season since 2005-06, has ten points in his last thirteen games.A young goalie became firmly entrenched as Quick's backup. Darryl Sutter sneered and blinked oddly on the sidelines both years. Jarret Stoll won a million faceoffs both times, especially the critical ones.
Absent a late-season collapse, the Kings are going to make the playoffs for the fifth season in a row, likely as the sixth seed. Whether they can ride another magic carpet to the finish line is anyone's guess. Having said that, for those who consider it flat-out impossible that this team could catch lightning in a bottle and do it once more, I'll borrow a line from Groundhog Day one last time: "Morons, your bus is leaving."