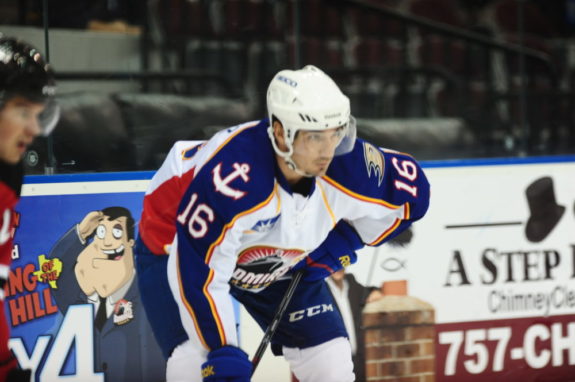 Jobs in the NHL are scarce and hard to come by. For 29-year-old forward Brad Staubitz this rang true on September 29th as he was subsequently waived by the Anaheim Ducks who shipped him to AHL Norfolk the home of their top development team, the Admirals.
With Staubitz being an NHL mainstay for the past six seasons with San Jose, Minnesota, Montreal, and Anaheim it may have been easy for the six foot forward to say I'm too good for this league, but Staubitz doesn't think about it that way. He's taking this time to rebuild himself as a player. Brad commented on the transition back to the AHL, "It wasn't the best because I'm on my one way contract. You always want to play with the big club, but with the numbers and the way things were going there just wasn't room for me. I played minimal last year. I've got to take it as a time to rebuild myself as a player and change my game as a player. I have to keep growing as a player, but I've got to keep getting better."
Staubitz embarked on his pro career with the Worchester Sharks in the AHL where he was crafting his trade as a defenseman. Sharks GM Doug Wilson chirped about him jumping from a defensive pairing to playing on a forward line.  According to Brad Wilson though he had a better shot of cracking an NHL lineup as winger rather than a defenseman. The tenth year pro talked about how the change came about sharing, "Once I came out of my entry level contract the GM in San Jose, I saw a role I could fill in that organization and they talked to me about coming back as a right-winger. It's tough. You play one position your whole life. You're comfortable, but I think pro hockey is all about adapting. I saw an opportunity to better myself and get a chance to play in the National Hockey League and if you have to change to do that I'm sure that's something every player would be willing to do."
In the National League you have chartered flights, five star hotels, and room service. In the American League you have sleeper buses, average hotels, and pizza. So life in the "A" can take some getting used to again; however; Staubitz is upbeat and is enjoying his time in Norfolk declaring, "It's a good group of guys. Every (AHL) team I've been on has been a close knit tight group. You spend so much time together we're on sleeper buses together. Within two weeks, we know each other pretty well."
Staubitz and Admirals head coach Trent Yawney hold ties from Brad's days in San Jose where Yawney served as an Assistant Coach from 2008 until 2011. Staubitz talked about playing under Trent's style in the AHL, "He's straight to the point. He excepts the best out of you and he pushes to get the best. For a player that's looking to develop, he's the guy you want in your corner."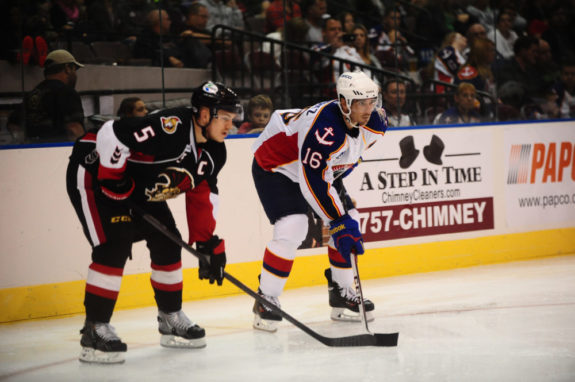 The primary goal of the American Hockey League is player development and with the Bright's Grove, Ontario native's current assignment he uses the time to develop and revamp his game. The right-handed shooter chatted about enhancing his game in the minors, "This a time were the game is changing and I must change with it. You see guys come and do that and get opportunities elsewhere."
Norfolk's roster is slam packed with first year players who can learn a thing or two from Staubitz who plays a leadership role on a team with an abundance of rookies. Staubitz shared how he goes about being a leader, "Leadership is how you do things. I remember my first year. I could name every veteran on the team. You're coming into pro hockey and it's an exciting time in your life. Every kid wants to play pro hockey. You try and help them if they have questions and keep them positive. Let them know you're going to be up and down and that's the game, but what matters is who's willing to stick to it and keep bettering themselves."
Staubitz was placed on waivers by Anaheim on October 20th and went unclaimed meaning his assignment is still AHL Norfolk, but if the call comes from Anaheim or any other NHL club he'll be ready. "For sure I'll be ready to go back up there and contribute. If that doesn't happen I want to be down here and win some hockey games and play hard and enjoy this." battered Staubitz.
Staubitz has embraced his role in the AHL and is enjoying his time in Norfolk until that call comes that will propel this feisty forward back in the NHL.
Follow Ted on Twitter @Bauerhockeydude 
The NHL regular season schedule was released on Friday. Check out our partners at TiqIQ for the best deals on Anaheim Ducks tickets for all 2013-14 games.
Ted grew up in Virginia. Warren has a passion for the AHL and dishes out articles about the Norfolk Admirals and the AHL. Follow him on Twitter @bauerhockeydude