As last season was winding down Tampa Bay Lightning General Manager Steve Yzerman probably had some restless nights. The team was looking at the very real possibility that they would lose their captain, Steven Stamkos, to free agency. If this were the only issue facing Yzerman, there would not be much empathy given to the GM. Just deal with this and let the chips fall where they may.
Alas, this was just one of several rather large and looming issues that the team had to meet head on. For the last couple of seasons, the Lightning have been at or near the NHL salary cap. So, in effect, Yzerman had little to no wiggle room on any decisions involving Stamkos.
Nothing Free About Free Agency
In addition, the team had another free agent, albeit restricted, to deal with this off-season by the name of Nikita Kucherov. There were some smaller marquee free agent names to address as well like Alex Killorn, Vlad Namestnikov, and J.T. Brown.  All three have been important contributors to the success of the team the last two seasons, including two deep playoff runs.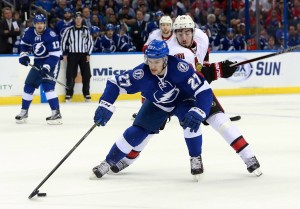 While Yzerman's plate was as full as a hungry man in a buffet line, he still had to keep one eye on the team's free agent list for next year. Led by defenseman, Victor Hedman, the list for 2017 included both goalies, Ben Bishop and Andrei Vasilevskiy. If that wasn't enough, throw in Tyler Johnson, Ondrej Palat, Brian Boyle, Andrej Sustr and last season's bad boy turned playoff dream player, Jonathan Drouin.
This full to-do list turns those restless nights into sleepless nights with nightmarish possibilities. So, what does Yzerman do? Just like his playing days, he hunkers down and gets the job done. On the eve of the last day the Lightning have Stamkos under contract, Yzerman announced that the team locked up their captain for the next eight years at a $8.5 million cap hit.
That alone would have lesser GM's head to one of our wonderful beaches to soak up some Florida sunshine, but not Stevie Y. Within about 36 hours of the Stammer announcement, comes the news that the team has locked up Hedman, beginning the season after next for eight years at a cap hit of $7.875 million. Surely, both of these players could have and most likely would have received more had they chosen to test the free agent market.
Perhaps it is a testament to this thing that Yzerman has built here in Tampa but both players decided to stay for lesser money to finish the job they started. Before Yzerman even catches his breath on the same day he locked up Hedman, the team re-signs Vasilvevskiy for another three seasons.
If the off-season is when GM's earn their keep then with these three moves, Yzerman is earning his keep and probably the keep for a handful of other NHL GM's. For the Lightning organization that is directed by Yzerman, this isn't nearly enough. He then went about locking up coach Jon Cooper's right-hand man, Associate Coach, Rick Bowness to a multi-year extension.
Lightning fans, are you satisfied? Well, Yzerman wasn't done. He signed Brown and Namestnikov to two-year deals and then inks a seven-year deal with playoff stud, Killorn. But wait, there's more. Yzerman continued his wheeling and dealing. He bought out Matt Carle's contract effectively ending that relationship. Sure, it cost the team about $1.8 million for the next four years but most importantly, it cleared up some necessary cap space.
Wheeling and Dealing
No one would have faulted Yzerman if he wanted to go away for a breather but as anyone who has held the dice at a craps table knows, when you are hot, you keep shooting. Yzerman made some lesser known but important deals like signing Cedric Paquette, a key penalty killer for the team. The team also locked up their number one AHL goalie, Kristers Gudlevskis as well as defenseman Luke Witkowski.
Yzerman continued his torrid summer pace, signing former Columbus Blue Jacket head coach, Todd Richards as an assistant coach. The team also traded away former #1 draft pick from 2014, Anthony DeAngelo to Arizona which allowed them to move up a few spots to draft 18-year-old Czech defenseman, Libor Hajek who the team considers to be a first round talent.
All in all, Yzerman has had one hell of a summer. He still has a couple of items on his agenda, most notably, locking up Kucherov who will be looking for something in the $6 million dollars a year range. Yzerman may have to make a move or two to sign Kuch as well as restricted free agent, Nikita Nesterov. If the moves the franchise has made thus far are any indication, locking up these two remaining players will be no big deal.
Yzerman still has a few things to handle. The expansion Las Vegas team is forcing the Lightning to decide which goaltender to keep. The team cannot protect both Bishop and Vasilevskiy in the upcoming expansion draft so the prudent move for Tampa would be to trade one of them. Just based on the ages of both netminders, it would make more sense to keep the 22-year-old Vasilevskiy rather than Bishop who will turn 30 a month into this season.
There are still next year's free agents: Johnson, Palat, Boyle and Sustr to either sign or deal them away. There are also a couple of veterans like Valtteri Filppula and Jason Garrison who are only signed through next season and will be 34 and 33 years-old respectively at that time. These two carry a combined $9.6 million cap hit which if they aren't re-signed could open the purses for the team's younger free agents.
From the perspective of the Lightning fan base, they are hoping that Yzerman's most excellent summer leads to the winter of discontent for the other NHL teams beginning this season.
Born in Chicago, Illinois. Grew up playing and loving sports. Spent most of my formative years playing, debating, arguing and talking sports. for the last couple of years I have written about hockey. I am currently a Tampa Bay Lightning contributor for The Hockey Writers. I know that I may not always be right, but I am passionate about hockey and it is damn hard to hide that passion in my writing.