Team Sweden's first 26-player roster for the World Junior Championships in Toronto/Montreal was announced on Monday. As always, the expectations on the "Junior Crowns" (as they're called in Swedish) are high, but this year the team differs a bit from previous years. Perhaps that will have more impact on the outcome rather than the expectations.
Let me begin to insert the actual roster of three goaltenders, eight defensemen, and 15 forwards, from which a total of three players will get scratched before the tournament begins.
Sweden's Roster
(Current team and NHL rights/draft status are added)
Goaltenders
Felix Sandström, Brynäs (Philadelphia Flyers)
Filip Gustavsson, Luleå (Pittsburgh Penguins)
Adam Werner, Björklöven/Färjestad (Colorado Avalanche)
Defensemen
Gabriel Carlsson, Linköping (Columbus Blue Jackets)
Jacob Larsson, Frölunda (Anaheim Ducks)
Oliver Kylington, Stockton Heat (AHL) (Calgary Flames)
Lucas Carlsson, Brynäs (Chicago Blackhawks)
Jacob Moverare, Mississauga Steelheads (OHL) (Los Angeles Kings)
Kristoffer Gunnarsson, Frölunda (undrafted)
David Bernhardt, Djurgården (Philadelphia Flyers)
Rasmus Dahlin, Frölunda (draft eligible 2018)
Forwards
Lias Andersson, HV71 (draft eligible 2017)
Rasmus Asplund, Färjestad (Buffalo Sabres)
Jonathan Dahlén, Timrå (Ottawa Senators)
Jonathan Davidsson, Djurgården (undrafted)
Joel Eriksson Ek, Färjestad (Minnesota Wild)
Carl Grundström, Frölunda (Toronto Maple Leafs)
Jens Lööke, Timrå (Arizona Coyotes)
Alexander Nylander, Rochester Americans (AHL) (Buffalo Sabres)
Sebastian Ohlsson, Skellefteå (undrafted)
Elias Pettersson, Timrå (draft eligible 2017)
Tim Söderlund, Skellefteå (undrafted)
Andreas Wingerli, Skellefteå (undrafted)
Fredrik Karlström, AIK (Dallas Stars)
John Dahlström, Medicine Hat Tigers (WHL) (Chicago Blackhawks)
Filip Ahl, Regina Pats (WHL) (Ottawa Senators)
Player Breakdown
As I said, this is no typical WJC roster for Sweden. Actually, it's quite remarkable that the team stands out with its particularly young age this time, as well as with the talent underneath it. Even though the participating players are allowed to be born in 1997, Sweden comes with eight players born in 1998 or later.
The Breakthroughs
It's both intriguing and difficult to try to foresee which players that will shine the most once the World Juniors has started. It gets even more difficult when it comes to a team like Sweden, where most players on the roster have the potential to make a game-changing impact. But to name a few that havn't reached their international break yet, I would say, keep a close eye on Lias Andersson, Carl Grundström, and Lucas Carlsson.
So far this season, all of them have shown great promise and indisputably have their confidence in place. Andersson and Grundström will likely partner up in the same offensive line, together with Elias Pettersson, as they already have proven they have perfect chemistry together – but all three also has the ability to turn anything into scoring chances on their own. To verify that, in an international junior tournament about a month ago, that line produced a total of 21 points. In three games.
Defenseman Lucas Carlsson may not be as flashy as Andersson or Grundström, however, he is a joy to watch. He's had a fair share of bad luck over his short career, earlier this year he suffered an injury due to getting hit by fireworks in his eye. Hopefully, the speed bumps will ease off from here, and in the upcoming tournament, I think everyone who sees Sweden play will be impressed by Carlsson. And actually, he can be creative too. Last season he scored the goal of the year in the Swedish Hockey League with this beauty:
The Stars
Arguably, no one who plays the World Juniors can truly be labeled a star, but nonetheless, there are players more prominent than others. In Sweden, there are a few of those. Picking from the roster above, Alexander Nylander, Joel Eriksson Ek and Oliver Kylington suffice as stars of the team. We can probably expect each of them to make a run for a place on their respective NHL rosters next season. Both Eriksson Ek and Kylington have already had a taste of the NHL since Eriksson Ek debuted for the Minnesota Wild this season and Kylington for the Calgary Flames last season.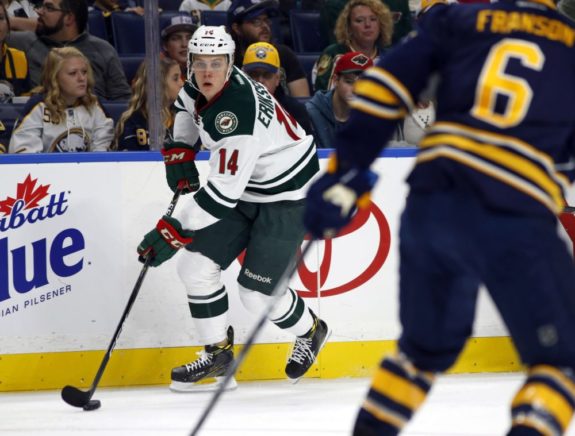 Nylander, on the other hand, is a year younger than the other two mentioned. But the level of his talent is still superior to both of them, and I can't think of more than just a couple of players from other nations who can compare to Nylander in that regard. Along with his brother William, he is Sweden's biggest hope for a future offensive superstar in the NHL. So in a junior tournament like this, the pressure is on Alexander to deliver, and that pressure is righteous.
The Youth
Now I'm talking about the players who in the future will be great, possibly even extraordinary, but are not quite there yet. A lot of it has to do with their young age, of course. Two players in team Sweden qualifies for this category: Rasmus Dahlin and Elias Pettersson.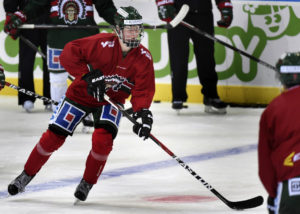 I wrote about 16-year old Dahlin some time ago, after he had rocked the whole hockey world with his amazing performances in the top league in Sweden. That later earned him a spot on the World Juniors roster as the youngest one, born in 2000 (the second youngest is born in 1998).  It's easy to get carried away when a player like Dahlin appears on the prospect map, even though it's as important to remain aware of his young age and therefore have patience with what he brings to the game. In this upcoming tournament, Dahlin will probably not play as important role as most other defensemen. But in his second and third time playing the World Juniors, he will be a dominant figure for Sweden. We'll just have to wait.
Pettersson was mentioned before, as the third link next to Grundström and Andersson. Much like Dahlin, Pettersson came out of nowhere in the beginning of this season and has continued to delight everyone in Timrå in Swedish second top league. He's not yet on the same page as his linemates, although he is predicted to go early in the first round in the NHL draft 2017.
Speaking of the draft, perhaps you're wondering why Timothy Liljegren, who is an anticipated top-three pick next summer, isn't a part of this Swedish team? Well, he most definitely would have been, had he not got mononucleosis before the season started. Understandably, he's not fully recovered from that yet.
Collective Balance
What's to say about this Swedish team? As every year, the team's advantage lies in the balance and depth, which will allow Sweden to bring four evenly compared and responsibly productive lines, three skilled defensive pairs, and a secure set of goalies where Felix Sandström is expected serve as the number one choice.
Good enough for gold? Time will tell, perhaps the loudest variable will be whether the team can be at their best when they have to be, which was a part of Sweden's problem last year. If that can get adjusted now, with the new coach Tomas Montén in charge, Sweden will be a tough team to beat.