With NHL games resuming this week after the NHL All-Star break, Toronto Maple Leafs general manager (GM) Kyle Dubas met with the media for the first time since early November. The vibe around the team is very different from what it was three months ago, so this media availability focused more on the status of injuries and the trade deadline, with a little contract talk sprinkled in.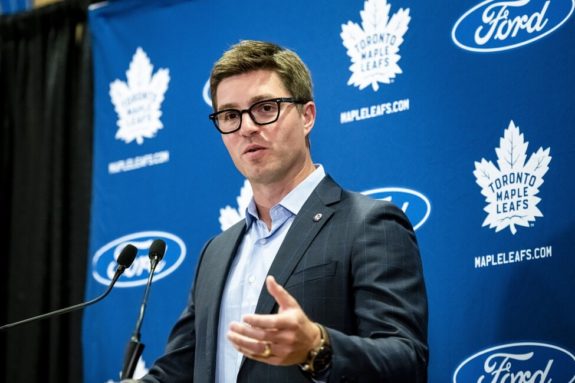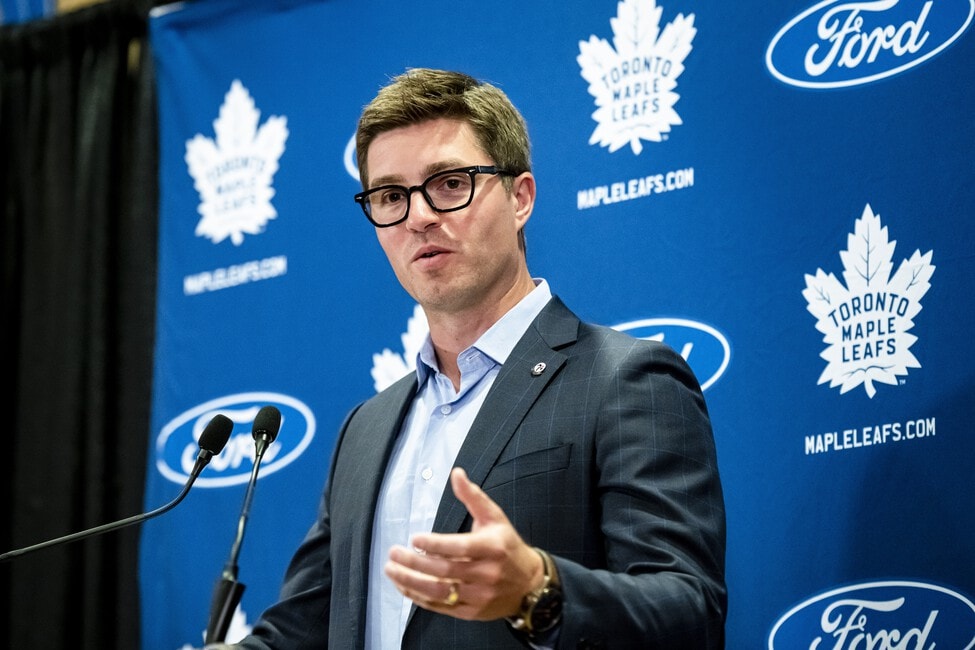 Now, it's important not to take what Dubas says at face value, considering we're still a few weeks from the deadline. That, and he's not going to be telling a few reporters his deadline plans. But still, considering it's rare that we get to hear from the GM, here's a recap of his press conference and the important takeaways.
Injury Update: Muzzin, Matthews, and Murray 
I call it an injury update, but there weren't many updates to be had. Dubas said that there was nothing new about Jake Muzzin's situation other than he'll meet with his specialist later this month. It's the same tune for Auston Matthews, who won't be returning to action until he's skating in a full-contact jersey. He was wearing no-contact red at Thursday's practice. 
Finally, Dubas confirmed that goaltender Matt Murray is week-to-week with an ankle injury and in a subsequent move, announced the call-up of goaltender Joseph Woll from the American Hockey League's (AHL) Toronto Marlies. This likely means Ilya Samsonov will have the net for at least February, with the exceptions of some back-to-backs. The Russian netminder currently has a 17-6-2 record, with a goals-against average (GAA) of 2.42 and a save percentage (SV%) of .913, and his best stretch of the season came early on when Murray suffered his groin injury, and he had the net to himself. 
---
Latest News & Highlights
---
The Maple Leafs have a 9-5-0 record without Matthews, dating back to last season, so that's not all that much of a concern. But if they don't get a positive update on Muzzin's injury after his appointment, that will impact Dubas' trade deadline plans. There are several defensemen up for grabs on the market and a few who play a similar style, and Muzzin's role will need to be filled if he's not fit to play down the stretch. 
Maple Leafs Won't Move Prime Assets For a Rental 
Some people might assume it means Dubas won't be big-game hunting at the deadline. But, when you look at the list of players the Maple Leafs have been connected to at one point or another or even the list of potentially available players, a good chunk of them have term on their contracts, including Jakob Chychrun, Jake McCabe, Travis Konecny, Conor Garland, Brock Boeser, and Adam Henrique. Even Timo Meier, whose contract expires at the end of the season, has a $10 million qualifying offer, so he might as well be one of those players. 
Dubas has been known to pursue players with term or make an effort to sign players on expiring contracts. Muzzin, Jack Campbell, and Mark Giordano are examples. The only players the Maple Leafs have been tied to who have expiring deals are Ryan O'Reilly, Luke Schenn, and Vladislav Gavrikov. O'Reilly is the only one that might be worth spending a first-round pick on, for what it's worth. So, Dubas not wanting to part with any of his prime assets makes sense here, seeing that many players signed through next season are available. 
Maple Leafs Will Be Exploring Every Option Minus Goaltending 
The ongoing debate has been whether the Maple Leafs should put their assets toward a forward or a defenseman. But if you think they could use an upgrade on both, Dubas sees it that way too. He told reporters that he'd like to add on both forward and defence and that he would be checking in on all options. Frankly, they could use a top-six winger, a top-four defenseman, a bottom-six forward, and, ideally, someone capable of playing centre. 
Dubas' take on big-name players didn't sit well with some fans, who believed the quote implied the Maple Leafs wouldn't be aggressively pursuing top-end players on the market. But, as I said, take everything you hear right now with a grain of salt. I think Dubas meant that the team will be looking to improve in every area, and they could use impact players as well as depth players, so they shouldn't be exclusively pursuing big names. 
Final Hits: Call-Ups, Contract Talk 
Dubas didn't really offer enough information to spend an entire section of the article talking contracts and call-ups, but they're still noteworthy. With Murray hitting the injured reserve, the Maple Leafs recalled a pair of forwards, Pontus Holmberg and Alex Steeves. Holmberg was expected since he won a roster spot a long time ago, but this will be the season debut for Steeves, who has 38 points in 44 AHL games to date. 
Dubas said he wanted to see how some of the other Marlie forwards fared in the bottom six before pursuing help in that regard, and Steeves is a prime example. He will add some speed to the bottom two lines, and if he impresses enough to stick with the team, maybe they won't need to trade for a bottom-six winger. 
Dubas was also asked about the contract status of players like Michael Bunting and whether or not any discussions were happening, and he offered the following reply:
It would be in Dubas' best interest to re-sign Bunting, assuming it's for a reasonable cost, but the team doesn't need the distraction of contract talks at this point in the season, so I don't see an issue with negotiating when the campaign is over. 
You May Also Like
The Maple Leafs have a crucial stretch over the rest of the month. They will be mostly playing teams out of a playoff spot, and they have had issues with giving away points to non-playoff teams in the past. Winning most of these games will be crucial for them to gain ground on the Boston Bruins and maintain ground with the Tampa Bay Lightning. We have to imagine that if they show they mean business, Dubas will reward them at the deadline.