In the weeks between the end of the Stanley Cup Final and the NHL entry-level draft, rumors abound about seemingly every player in the league. Oftentimes, these are nothing more than idle speculation that never becomes reality. Even on the rare occasion when a rumored trade occurs, there is usually a caveat attached, with a part of the deal being missed. All this preface is just to reiterate: don't trust rumors.
However, this doesn't mean that rumors can't create interesting talking points about a franchise. Recently, the rumor mill started circulating discussions about Nikita Kucherov's future with the Tampa Bay Lightning. In short, with his bridge deal expiring in the 2019 offseason, Kucherov is due a large raise next year, likely doubling his salary to the $8 million to $10 million mark. With the Lightning already weighed down financially by their core unit, they may not be able to maneuver their all-star forward under the cap. With this in mind, rumors like the tweet below will run rampant over the course of the next year.
https://twitter.com/RumorBreak/status/1006365952177422336
If it is true that the Lightning won't be able to re-sign him, it would only be natural for general manager Steve Yzerman to field calls on Kucherov. This doesn't mean that a trade would ever actually occur, but Yzerman has shown in the past that he is willing to make difficult decisions in the short term to help secure the long-term success on the franchise. If he felt that Kucherov is as good as gone next season, it wouldn't be completely unprecedented for a trade to occur.
Evaluating the Rumored Offer for Kucherov
It is impossible to truly know what a player of Kucherov's prowess is worth on the trade market. For obvious reasons, teams rarely part with 100-point forwards who is under a reasonable contract for one more year.
However, let's say that a package of Justin Faulk, Elias Lindholm, Julien Gauthier and a 2019 first round pick was offered to the Lightning this offseason for Kucherov. While Yzerman likely wouldn't pull the trigger on that trade, it wouldn't be as easy of an offer to turn down as people may immediately believe.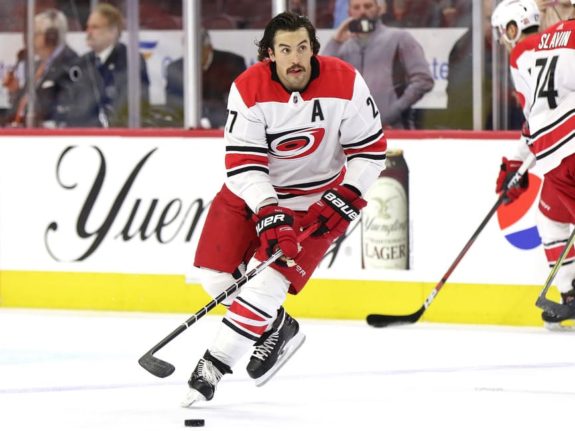 By adding a top-four, right shot defender in Faulk, the Lightning would immediately go from a good to great defense to a truly elite unit that would rank among the best in the league. Lindholm, despite his struggles to break out in Carolina since being drafted fifth overall in 2013, could still reach his full potential with a change of scenery to Tampa Bay's high-scoring offensive system. The addition of a 2019 first round pick and Gauthier, their 21st overall pick in the 2016 draft, would add two more young, high-potential prospects to an already loaded Lightning prospect pool.
All of this creates a promising bundle of players that would have a short and long-term effect on the franchise. In the end, though, Yzerman would still turn down this offer for one simple reason: you don't trade Kucherov.
Can Lightning Find a Way to Keep Kucherov?
As their top scorer, and arguably the best player with the franchise over the last two seasons, Kucherov is clearly a top priority for the team to re-sign… but is he worth a $10 million-a-year contract? While this may be the high end of his projected cap-hit, there are teams out there that would happily give a 100-point player like Kucherov this sort of salary in free-agency.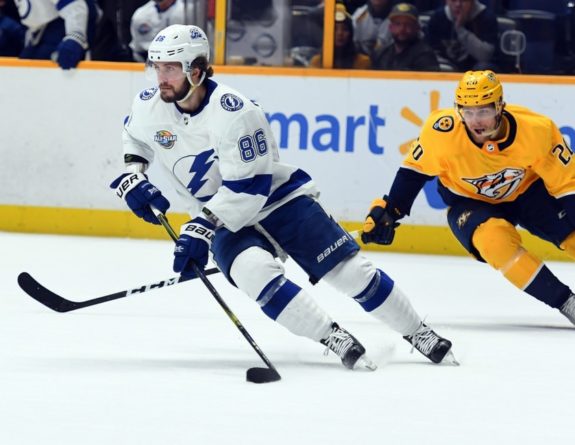 Given his history (and assuming they can clear some cap space), Yzerman is likely going to offer Kucherov an eight-year deal worth roughly $8.5 million, similar to what he re-signed Steven Stamkos to back in 2016. While this deal is nothing to laugh at, it would be understandable for Kucherov to fight for more money if he believes he can get $10 million elsewhere in the NHL.
If this is the case, the Lightning's future may not include Kucherov past the 2018-19 season. Even with his incredible talent and importance to the team, contracts of that magnitude often hurt a franchise in the long-term, especially in a cap-obsessed sport like hockey.