It feels like a bit of a joke talking about the Tampa Bay Lightning's 2023 NHL Entry Draft due to how little the Lightning will be present. After years of trading off future assets for players and cap space in order to compete for Stanley Cups right now, general manager Julien BriseBois effectively emptied his cupboards before the 2023 Draft. This process has been going on for years, as BriseBois traded their first-round pick to acquire Brandon Hagel in 2022, their 2nd-round pick to clear Tyler Johnson off their books without having to retain salary back in 2021, and their third, fourth, and fifth-round picks as part of the Tanner Jeannot blockbuster deal at the 2023 Trade Deadline.

If you're keeping track at home, this means Tampa Bay only has their own sixth and seventh-round pick this draft, as well as the Anaheim Ducks' seventh-rounder from their trade for Alexander Volkov back in 2021.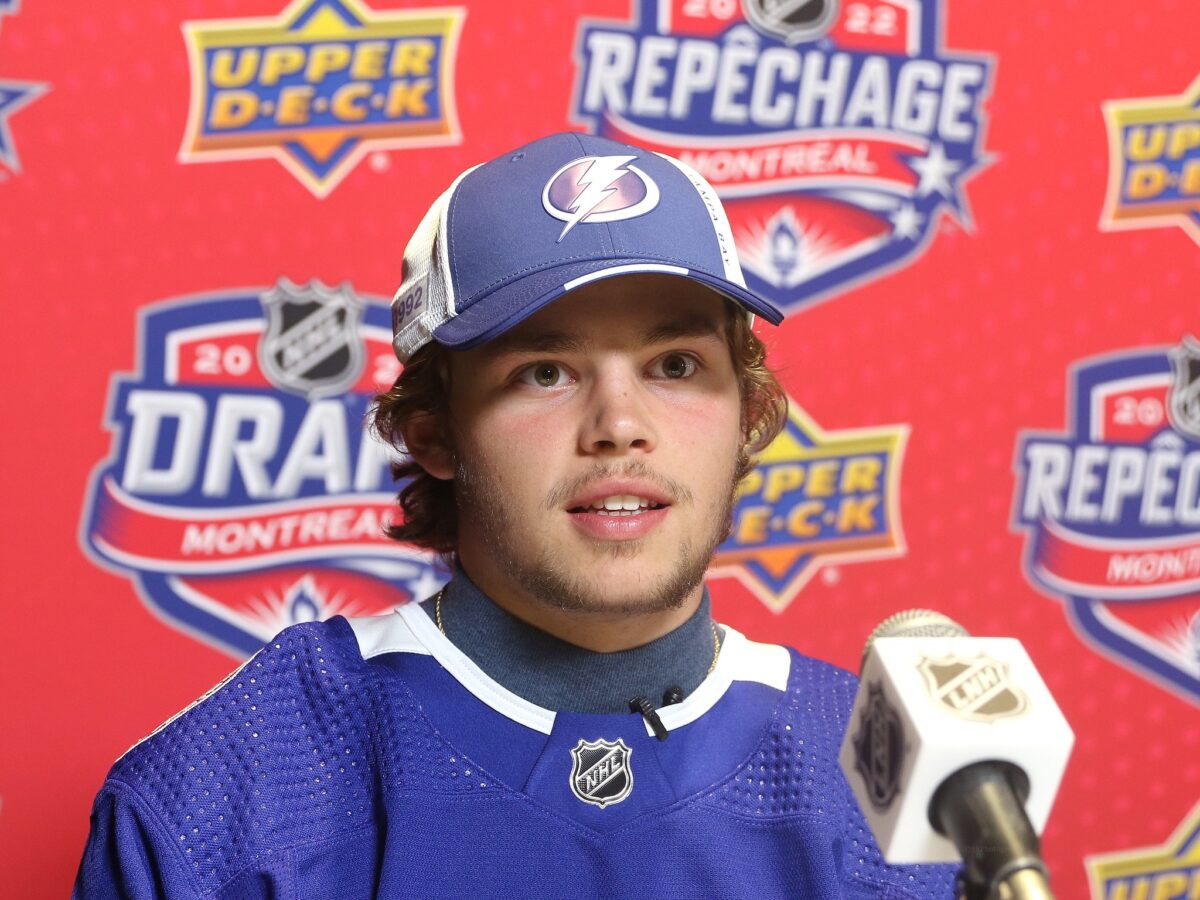 Now, this doesn't mean that the Lightning will write off the 2023 Draft as a complete loss. While it is unlikely that they will draft a nightly starter with their late-round picks, the team has a surprisingly high hit rate with later selections, including current starters like Nick Perbix who was a sixth-round pick. BriseBois and his scouts understand that their later picks are a perfect time to take high-upside players that need a lot more time to develop, whether it be through college, overseas, or an overager that can start immediately in the American Hockey League (AHL) with the Syracuse Crunch.
So, with these ideas in mind, let's discuss some strategies that the Lightning may take for their 2023 Draft selections.
Lightning Can Fill Goaltending Needs Through the Draft
When your team features one of the best goaltenders in the world, it's easy to overlook the importance of goaltending depth in your organization. For their part, the Lightning have been proactive when it comes to goalies, as in most drafts they select a new goalie to add to their depth charts in the hopes that they can one day develop into a backup capable of relieving Andrei Vasilevksiy 30 or so times each season. Unfortunately, these attempts at goaltending depth have rarely born fruit for the franchise, so the Lightning have to rely on veterans at the end of their careers who will sign for cheap to backstop their AHL and NHL franchises.
However, when you only have three late picks at a draft, this feels like another perfect time to take a swing on a goaltender. For example, they could select Tomas Suchanek, who is an overager that is already used to playing hockey in North America that has proven himself as a more than capable player when he shut down team Canada early in the 2023 WJC-20 before leading his team to the Silver Medal. Given his age and experience, he could step directly into a tandem role with the Crunch, and if things go well, he could be a backup for Vasilevskiy in two to three years.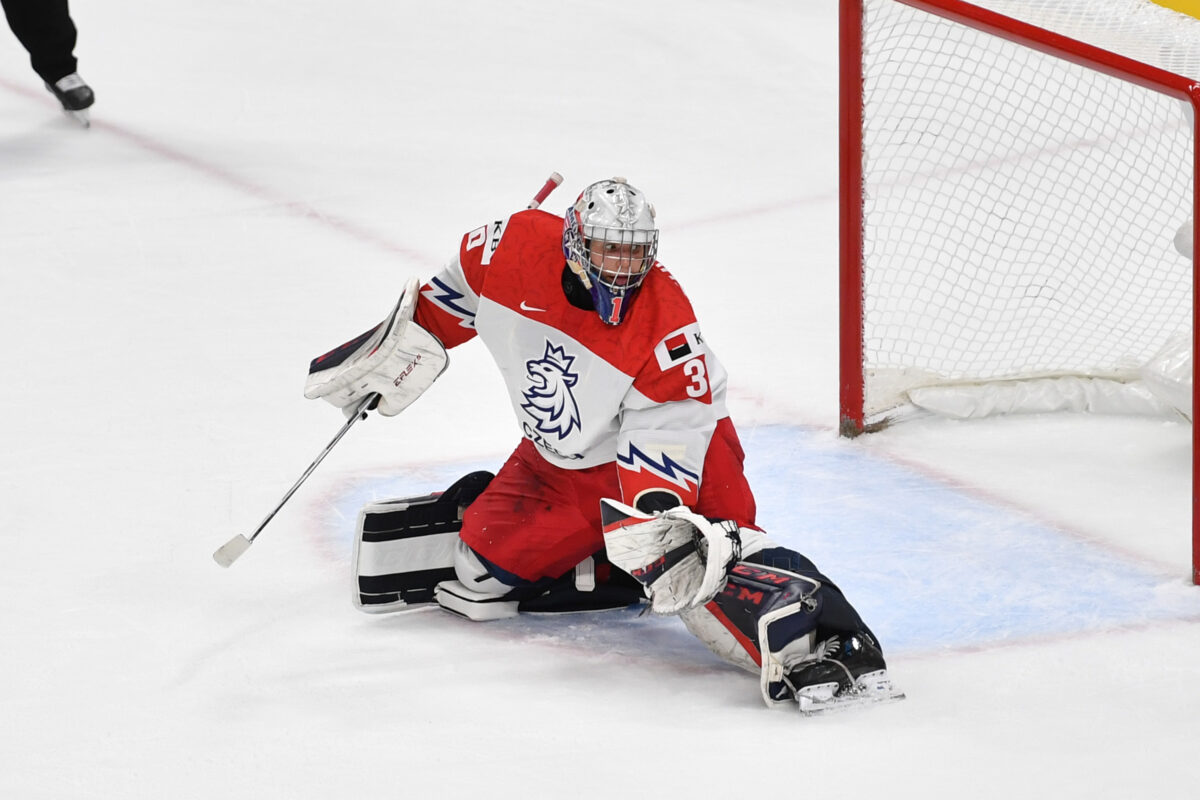 On the other side, they could add a first-year goaltender to their prospect pipeline who is committed to playing in College or in Europe for the next three-plus years. This would allow them to stash a late-round selection, let them develop in the background, and then see where they are down the line when the team may have a bigger organizational need in the net.
Either way, this would be a low-risk time to select a goaltender, and it could fill multiple organizational needs for the short or long term.
Lightning Often Find Value in Europe
Another trend the Lightning have followed in recent years is finding solid talent from Europe late in the draft. In the last two drafts alone, they selected Daniil Pylenkov, Niko Huuhtanen, and Klavs Veinbergs in the seventh round, which means they are more than comfortable taking a shot on European players late. It's also worth noting that all three of these players are developing well, considering their draft position, and they could be on a track to play for the Crunch in the coming years.
Related: 2023 NHL Draft Guide
It really shouldn't come as a surprise that the franchise that drafted and developed Ondre Palat after his selection in the seventh-round back in 2011 knows how to scout European players, but not every team has found a lot of success in this venture. So, I would expect at least one of these late picks are used on a European player you've never heard of but are excited to see where their future goes.
Lightning Likely Have a Boring 2023 Draft Ahead
Normally I would have more to discuss about the Lightning heading into a draft, but there simply isn't much of a reason to in 2023. While they could do something unexpected, more than likely the team will just make their three late-round selections, and then head to free agency, where most of their effort is going to be placed.
---
Latest News & Highlight
---
So, if you're a fan of the Lightning, be prepared for a somewhat boring draft, barring an unexpected trade. This doesn't mean that there can't be an impactful player selected this year, of course, but it's likely that these late selections won't have a chance to play for the team for at least three to five years, and even then, it's unlikely that a sixth or seventh-rounder will ever make the NHL. Given BriseBois' current goals, however, this 'win-now' mentality is by design as he is committed to winning another Stanley Cup while this core is still capable.