Martin Brodeur:
When it came to choosing the best goaltender of all-time there was really only one choice— Martin Brodeur.
Brodeur is to goaltending as Gretzky is to forwards— Brodeur owns just about every goaltending record there is.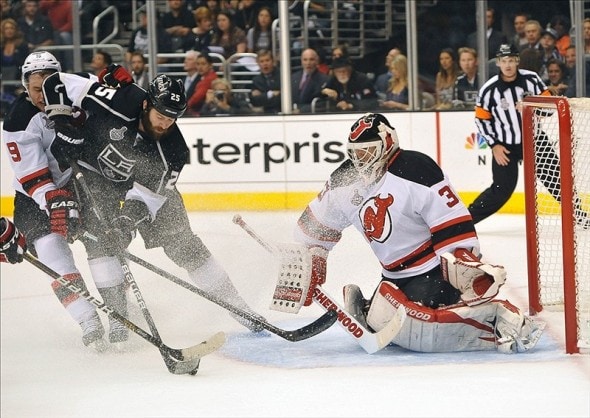 A snapshot of Brodeur's records reveal that he leads the NHL in most regular season wins (656), most regular season shutouts (119), most playoff shutouts (24), most overtime wins (45), most 40-win seasons (8), most 30-win seasons (14), most consecutive 40-win seasons (3), most consecutive 35-win seasons (11), most consecutive 30-win seasons (12), he is the only goalie to reach 600 wins, he has the most saves in NHL history (27,312), owns the record for most games played by an NHL goalie (1,191), most total minutes played by an NHL goalie (70,028) and he is the only NHL goalie to score a winning goal.
Brodeur also owns one of the most impressive list of awards in NHL history with a Calder Memorial Trophy, ten All-Star appearances (1996, 1997, 1998, 1999, 2000, 2001, 2003, 2004, 2006, 2007, 2008), three Stanley Cup Championships (1995, 2000, 2003), four Vezina Trophies (2003, 2004, 2007, 2008), five William M. Jennings Trophies (1997, 1998, 2003, 2004, 2010), two Olympic gold medals (2002, 2010), two World Championship silver medals, one World Cup silver medal and one gold World Cup medal.
Brodeur has spent his entire career with the New Jersey Devils, spanning an incredible 21-years. The Devils were famous for using a trap-style of hockey, but this should not diminish Brodeur's incredible record or his brilliant career statistics.
Known for his hybrid style of goaltending, Brodeur is arguably the best puck-handling goaltender of all-time. It is widely believed that Brodeur's ability to move the puck inspired the NHL to tweak it's rules, limiting where a goalie could play the puck.
Brodeur may have lost his fair share of games, but despite a few poor showings, there is little doubt that he is the best "money" goaltender of all-time and the greatest goalie in NHL history.
Ask yourself this, if you had to win one game, which goaltender would you choose? If you didn't answer Martin Brodeur, you haven't been paying attention!
Patrick Roy:
When it came down to picking the second best goaltender of all-time two names stuck out— Patrick Roy and Terry Sawchuk.
While Sawchuk is widely considered one of the best goalies ever, Roy was far superior technically. When you consider the two goaltenders' careers, they actually mirror each other quite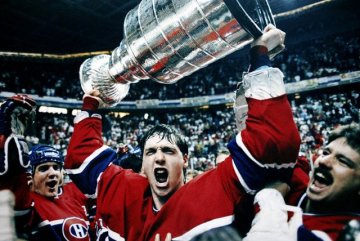 well, and in many instances the statistics and awards were essentially the same. In the end it came down to a number of factors, but there were a few statistics that stood out that gave Roy the nod.
First, Roy earned over 100 more wins than Sawchuk and he did it having played just 48 games more than Sawchuk (1,029-971). Roy also registered 15 less losses (315-330) but did not come close to matching Sawchuk's 103 career shutouts— Roy had 66 career shutouts.
Roy holds the NHL records for most playoff games by a goaltender (247), most playoff wins by an NHL goaltender (151), was the first goalie to play 1,000 games and owns the record for most Conn Smythe Trophies by a goalie with three (1986, 1993, 2001).
Roy won four Stanley Cup Championships (1986, 1993, 1996, 2001), won five William M. Jennings Trophies (1987, 1988, 1989, 1992, 2002), won three Vezina Trophies (1989, 1990, 1992), made 11 All-Star appearances (1988, 1990, 1991, 1992, 1993, 1994, 1997, 1998, 2001, 2002, 2003), and might just be the most competitive (to the point that some confused his competitiveness with arrogance) goaltender ever.
Sawchuk could easily be in Roy's place, but when you consider Roy's body of work and the fact that he played at such a dominant level for so many years, I just had to give Roy the nod, which will make Detroit Red Wing fans angry, but bring a smile to the face of every fan of the Montreal Canadiens.
Here is a quick look at the final roster:
Left Wing                                     Centre                           Right Wing
    
Bobby Hull                                 Wayne Gretzky           Gordie Howe
Brendan Shanahan                Mario Lemieux            Jaromir Jagr
Luc Robitaille                           Mark Messier              Rocket Richard
Bob Gainey                                Bobby Clarke               Jari Kurri
Defense:
Bobby Orr                    Doug Harvey
Eddie Shore                Nicklas Lidstrom
Larry Robinson         Raymond Bourque
Paul Coffey
Goaltender:
Martin Brodeur        Patrick Roy
Honorable Mentions go out to:
Forwards: Mike Bossy, Guy Lafleur, Frank Mahovlich, Jean Beliveau, Phil Esposito, John Bucyk, Steve Yzerman, Marcel Dionne, Brett Hull, Ted Lindsay.
Defense: Dennis Potvin, Brad Park, Scott Niedermayer, Al MacInnis, Red Kelly, Chris Chelios, Borje Salming.
Goaltenders: Terry Sawchuk, Jaques Plante, Dominik Hasek, Glenn Hall, Ken Dryden (who only lost 57 of 397 career games played), Bernie Parent.
Dislike the team? Make your best argument for the player or players you feel we missed in the comment section…