I am opposed to the oversized goalie. I think he's ruining the game.
I fear the day NHL scouts begin scouring remote nations for hockey's answer to the late great Manute Bol.
When goalies drop into the so-called hybrid butterfly every time a puck is shot their way, another hockey angel loses its wings.
So imagine my joy when I came home from a recent tilt at the Cedar Park Center between the Texas Stars and the San Antonio Rampage, clicked through 272 photos and came across the sequence at 233, 234 and 235:
It's the seventh round of an eventual twelve round shootout. The shooter is 2009 first round pick Scott Glennie. The goalie is Harvard graduate and 2002 fifth round pick Dov Grumet-Morris.
And that is a sweet kick save.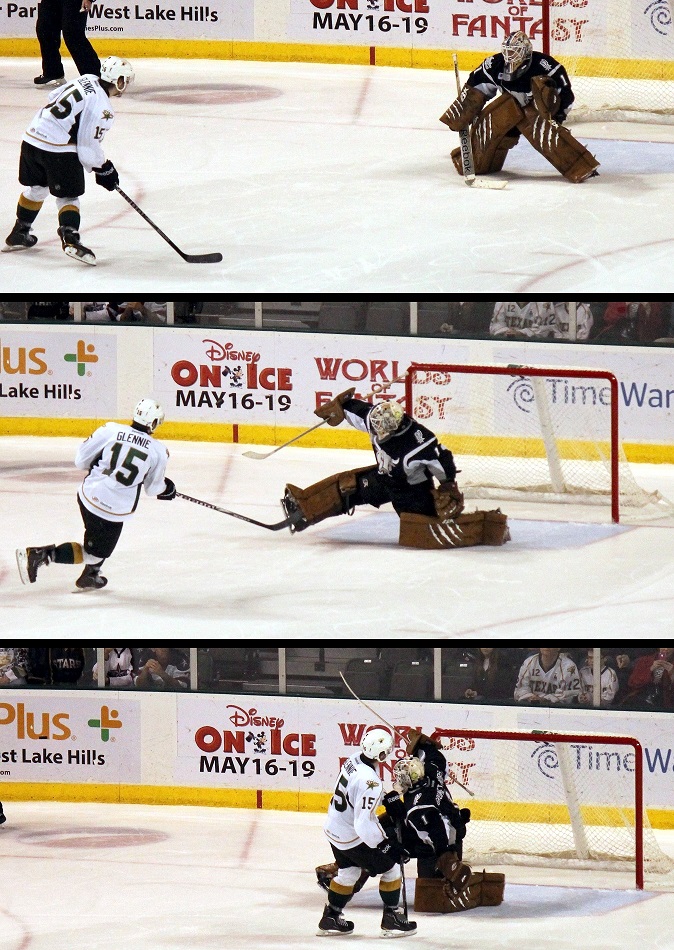 You will find the puck on the 'Y' in 'MAY' in the Disney On Ice add in the second frame, and in the 'U' in 'Plus' in the third frame.
Grumet-Morris was just past the top of his crease when Glennie released the shot from the hash marks. This save demanded old-school reflexes on the part of Grumet-Morris; he didn't simply drop into the butterfly and hope he's got his angles covered. He gave Glennie several good looks and waited for him to fire at one. The three picture sequence unfolds in a shade under one second.
As if this sparkling kick save weren't enough to throw some of us older fans back to a forgotten time in hockey when goalies and their pads were smaller and they had to be lightning-quick, Grumet-Morris just happens to be wearing some throwback-looking gear made by Brian's Custom Sports.
It reminds me of an old post-game interview by Paul Steigerwald with kick save master Gilles Meloche from December 1987. At 37 years old and in his 18th and final NHL season, the stand-up Montreal native is understandably tired after a 43 save performance.
At a little after the one minute mark, Steigerwald says:
The key to tonight was you stood up well. The couple of times when they did get a second or third crack, like Marcel Dionne late in the game, you were back on your skates and back in position.
Says Meloche,
That's all I try to tell myself throughout the whole night, 'stay on your skates, stay on your skates'.
How far would that advice get a goalie coach these day? Alas, the future of goaltending, and the death of the stand-up kick save goalie, had had one Stanley Cup ring plugging his ear for over two years by the time the Penguins Hockey Network shot this clip.
Meloche was a dying breed. So were his modestly-sized brown leather pads.
But for one brief moment Dov Grumet-Morris revived it, helping to make goalies look like incredible athletes again and not like the Stay Puft marshmellow men their pads and styles have made them out to be.