Many Habs fans are starting to sweat, and it isn't because Montreal is starting to get warmer weather either. It was one thing to swallow such a brutal loss in game 1 with a score of 7-2, it was another to lose Carey Price. Not only were the Montreal Canadiens robbed of their number one player as he comes into his prime, but hockey fans were robbed of a series which would have saw Henrik Lundqvist and Carey Price battle once again, this time over possibly a 7 game series. The loss of Price has been felt and while no one can really blame Dustin Tokarski for the loss in game 2, you can't help but feel that the aura of inevitability has suddenly shifted in favor of the New York Rangers. One club will make their first Stanley Cup final appearance since each respective cup victory, 1993 for Montreal and 1994 for New York, but more and more it seems probable it will be the Rangers who will be the ones leaving the east to battle the best of the west.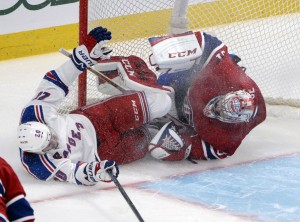 Yet as the Habs head into New York, will they go down with their gold medal goaltender?
A Balance Is Needed
I still remember the heart aches of years gone by, of 2006 when Montreal went into Carolina and stormed the Hurricanes and took a 2-0 series lead. It was then that Saku Koivu sustained a terrible eye injury and Carolina put in an untested rookie by the name of Cam Ward to replace Martin Gerber and suddenly Montreal was on the outside looking in. The Carolina Hurricanes went on to win the Stanley Cup that year and Cam Ward was awarded the Conn Smythe for his efforts in helping them get there. Again in 2011, Montreal took what was supposed to be a tough series lead against they who shall not be named only to fall in 7 games to the eventual Stanley Cup champions of that year. Montreal has thus found themselves on the wrong end of such unlikely series comebacks, statistically speaking, and perhaps it is time the hockey gods saw fit to measure some balance this postseason.
We needn't look far to see that a 2-0 series lead is not safe in this postseason either. Just ask the Colorado Avalanche how getting to a 2-0 series lead over the Minnesota Wild fared for them this year, in a series where the home team always won this home streak was broken by the Wild in game 7 to end the season of such a surprising young team coached by Patrick Roy. You can also look to the St. Louis Blues, who after two games against the Chicago Blackhawks were up 2-0. Even as harsh a beat down as Montreal's 7-2 game 1 loss against the Rangers was, Los Angeles was shelled 6-3 and then 7-2 in games 1 and 2 against the San Jose Sharks yet even they came back to win. While I'm not suggesting it'd be a good idea for Montreal to go down 0-3 and try to do as Los Angeles did, what I am telling all of you who are now writing Montreal off is that this series is very far from over.
CHaracter
The Montreal Canadiens cannot focus on what has happened in this series, but they most move forward now and focus not on the series, nor on the game at hand but just on every single individual shift on the ice. They must win shift by shift, and allow such effort to blossom into winning game 3 in New York. They will need to solve Henrik Lundqvist, because the Rangers will not continue to outscore Montreal at the pace they have unless the Habs have already given up. It would be an injustice to what they've accomplished throughout this season and these playoffs for that to be a reality now. General Manager Marc Bergevin had a mission, and above all else he focused on building a team of players who have heart and bring character to the dressing room. Guys like Mike Weaver and Dale Weise are prime examples of this and as Therrien switches up the lines heading into game 3, there's a hope this teams heart and character will shine through.

Rookie goaltender Dustin Tokarski did not play badly against New York in game 2, and while he probably wishes he had one or two of the goals he let in back he did however improve as the game went on. It was a calculated risk that coach Michel Therrien took in putting him in, but if Tokarski continues to improve from his game 2 start he can at least give Montreal a chance to win as he did in game 2. The Habs did not fail in game 2 because of any one specific aspect of their game, but certainly Lundqvist's performance is a large part of what did the Habs in.
It seems probable to most that Montreal is almost certainly finished in this series. Then again, it seemed probable that Montreal would barely make the playoffs, if at all, at the start of the season according to most experts. Then it seemed probable despite losing Ben Bishop that Tampa Bay could still give Montreal a tough run after the Habs won game 1 in overtime. After all, wasn't Anders Lindback playing his most spectacular hockey heading into the playoffs? After Montreal swept Tampa Bay away, it seemed probable that they who shall not be named would soundly defeat Montreal just as they had Detroit. That didn't work out until they had won games 4 and 5, and were set to eliminate Montreal. Yet Montreal bounced back, and defeated their nemesis in 7 games.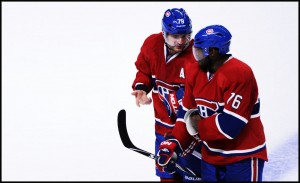 Now here we are, on the cusp of game 3 of the Eastern Conference Finals with Montreal in an 0-2 series hole against the New York Rangers who're playing the best hockey of their postseason, being led by King Hank. It seems probable that they will end the Montreal Canadiens playoff hopes and we may not even see another playoff game in Montreal again this postseason.
There are always cases of certain results being inevitable, where there is nearly no hope of a team changing its fate in the face of improbable odds. New York knows this well themselves after having gone down 3-1 in their series against the Pittsburgh Penguins.
Just when things seem like a certain inevitability for one team, how often has that actually worked out for them?