It is an excellent question. Every year it seems people, even media, are just amazed at the sheer volume of injuries. Hockey is a violent sport. If you do not like it, then the door is on the right. This is just how it is. Could more be done to protect players? Maybe. However, incidents will occur. If you add in the 48 game condensed schedule, you are almost setting up for impact injuries on an almost daily basis.
There is so little time……
It is true. With 14 weeks, or a 96-99 day schedule (as opposed to a 178-182 day schedule), a two week injury feels like a four week, four weeks feels like eight, etc. When a guy misses a quarter of the season, it is not so bad. However, that same player now is missing just about half the year which is a much bigger problem. Erik Karlsson might have a shot of returning if this was a full season (lacerated Achilles) but because of the shortened schedule, that will not be. Every single ailment is scrutinized to the highest degree. For example, a flu outbreak in Boston has fans in a panic this week. That should tell you something about where we are at right now.
Ultimately, injuries are the greatest robber of time. That time wraps itself up in chemistry and cohesiveness. Those are two important ingredients in winning. Yes it is possible, some teams will rise above the travails but it is less likely. Time lost can never be returned. It is done. Man games lost ultimately if too many or the wrong players on one's team are hurt is a huge problem. For example, Detroit was on pace for 433 man games lost (or MGL's) before the trio of injuries last night. Frank Dumas, better known as @NHL_STATS had this gem from the Twitter world:
@kyleroussel @ChrisWasselTHW DET had 74MGL in 14 games on Feb 16. 433MGL pace over 82. MTL had 437 last yr, PHI 452.
Also, we will take a quick look into Detroit's roster before embarking on the next part of this article. The important thing to note is that some players are on their way back to the lineup at least. That will make some Red Wings fans feel at least a little better.
DETROIT

Player
Date
Status
Description
Jan Mursak
2013-01-17
on injured reserve
collarbone
Carlo Colaiacovo
2013-01-22
on injured reserve and is expected to miss 3-4 weeks
shoulder
Darren Helm
2013-01-26
on injured reserve
sore back
Brendan Smith
2013-02-03
on injured reserve
sprained shoulder
Todd Bertuzzi
2013-02-08
on injured reserve
strained back
Johan Franzen
2013-02-11
on injured reserve
hip flexor
Mikael Samuelsson
2013-02-20
doubtful for Thursday's game against Columbus
swollen left hand
Jimmy Howard
2013-02-20
questionable for Thursday's game against Columbus
blurry vision/head
Also at least 15 NHL players are currently battling the flu or flu-like symptoms. No, we cannot make these numbers up if we really tried. It does look like Jan Murzak and Carlo Colaiacovo will be back very soon. That should soften the blow a little bit but this is very unusual for a Detroit team that normally is one of the more healthy squads. Then there are these two snapshots also thanks to TSN.
BOSTON

Player
Date
Status
Description
Jordan Caron
2013-01-07
on injured reserve
upper body
Marc Savard
2013-01-07
on injured reserve and is expected to miss the entire season
post-concussion syndrome
Milan Lucic
2013-02-19
probable for Thursday's game against Tampa Bay
personal
Anton Khudobin
2013-02-20
questionable for Thursday's game against Tampa Bay
flu-like symptoms
Adam McQuaid
2013-02-20
questionable for Thursday's game against Tampa Bay
flu-like symptoms
Andrew Ference
2013-02-20
questionable for Thursday's game against Tampa Bay
flu-like symptoms
Patrice Bergeron
2013-02-20
questionable for Thursday's game against Tampa Bay
flu-like symptoms
Nathan Horton
2013-02-20
questionable for Thursday's game against Tampa Bay
flu-like symptoms
Gregory Campbell
2013-02-20
questionable for Thursday's game against Tampa Bay
flu-like symptoms
Daniel Paille
2013-02-20
questionable for Thursday's game against Tampa Bay
flu-like symptoms
Then there was this one from Minnesota………
MINNESOTA

Player
Date
Status
Description
Josh Harding
2013-02-12
on injured reserve
illness
Niklas Backstrom
2013-02-18
questionable for Thursday's game against Edmonton
illness
Pierre-Marc Bouchard
2013-02-18
questionable for Thursday's game against Edmonton
illness
Justin Falk
2013-02-18
questionable for Thursday's game against Edmonton
illness
Mikko Koivu
2013-02-19
questionable for Thursday's game against Edmonton
illness
These are almost things that one wishes were just made up fantasies and yet the flu clearly still has its grips on two teams in the league. Injuries (illnesses count too) play an integral role in hockey and fantasy hockey too which is what makes the second part of this story far more curious.
Why did we do this article in this manner. Simply it was a setup and a bit of a departure from the normal course. This is the time to start into the roots of why the "Injury Ninja" came to be.
History Of The Injury Ninja…..
It was an urban legend as best described by Mike Patota. There was a season a few years back where it seemed every Philadelphia Flyer was hurt in some way or another. The poetic way was to explain it using the old "Injury Ninja Awareness Month". Thanks Mike.
INAM
Injury Ninja Awareness Month
Nickname-Ninjury
DOB– Unknown
Location– Whereever the Flyers play
Intent– Destroyer of dreams.
Do you have a player with talent, a player who is breaking out, or a player who is simply on fire? Hi, my name is Pope Pogo II, not to be confused with Pope Pogo the first, or Darth Pogo, or ALA Dirty Fish, Big city, Salty Fresh, Pope daddy,Pope Rotten Candy, or Father Theresa.
You might ask yourself, "Why did Pogo ask these questions, and why is there a jolly rancher in my hair?". Well I'll tell you, Friends, the Injury Ninja is out there, you don't believe me? I took a couple pictures from various sources and took a closer look, the results may surprise you. A myth remains, Does the Injury Ninja see the "C" on a players sweater as a sign, or a target for "Concussion"? We may never know, one thing is certain, if you have talent in this town, you are a marked player to the injury ninja. You can't see the Ninja with the naked eye, and if you do, your brain cannot comprehend it. Now in the pictures you will see listed below, you just may comprehend it, as I ran it through an "Anti Ninjury Photo processor".
Now before you freak out, these are only a few examples, and I know I did not add Downie or Hatcher, but it is only because there were too many Injury Ninjas and my "Anti Ninjury Photo Processor" broke. They cost about $400,000,000.99, I just don't have the money to spend on another, but maybe with these photos you will get the gist of it. 
We see Lindros here, many people followed his career, but nobody followed his career as closely as the Injury Ninja.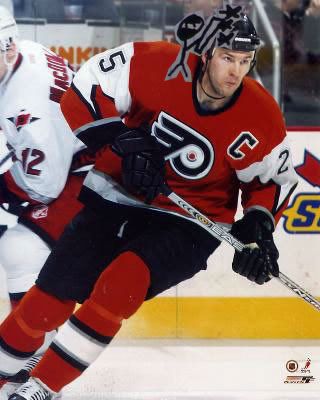 Now we see Captain Keith Primeau, just look at how menacing of an attack this is! Waited for all of Philly to fall in love with him, before the Ninjury came in with one dramatic swing. Terrible.
Simon Gagne, The Injury Ninjas first victim this year, I think this picture explains how we all feel. Gagne is celebrating an improbable comeback, but the Ninjury had to have his say in the matter.
Joffrey Lupul, was soo hot for the Flyers it took 3 Ninjuries to Ninjure him.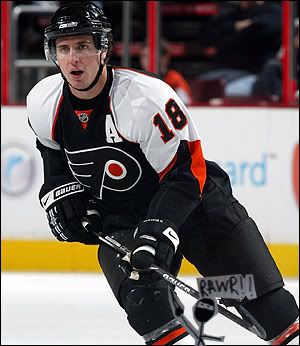 Mike Richards… ARE YOU KIDDING ME!?
Now that I have got your attention, I will give you a minute to take this all in…
riends, we now have lost 10 in a row and it is obvious every player we have who is playing well is being taken out as this season, The Ninjury is…
BACK WITH A VENGEANCE!
Who is next? The question will forever go unanswered.
============================================
The Injury Ninja Then Flew From California To New Jersey…..
There was a lot of controversy when the injury ninja article first came out. It was featured on Puck Daddy (we lost the link). In September of 2009, we left the high desert of California for the friendly confines of home sweet home err New Jersey. Predictably, the injuries began to increase rapidly as the torch was passed. From that time, there have been a litany of bumps, bites, and bruises that rival the imagination. We have seen it all.
For starters, there was the infamous Travis Zajac "mountain man" injury that cost him almost a whole season. There was the Zach Parise knee issue that flared up in August that could even be seen in practice but nothing was done. Two months later that knee destroyed pretty much the rest of Parise's season. Then there was that pesky Sidney Crosby concussion conundrum. Everyone remember that double concussion and the fallout afterwards. This was the first incident.
All in all, Sidney Crosby's concussion issues were on and off for about two seasons. It felt like a decade to many. The anger felt by many in the medical community and the rush to come back too soon in a couple occasions added fuel to the fire but one could almost see this coming. Then it got to the point where every game I went to, there was a player going down to the ice, or a coach, or a referee. No one seemed safe, not even fans in the stands.
When such a streak exists, unfortunately an amount of blame is heaped upon someone. One can follow the @InjuryNinja for the latest injury news and announcements. There have been some very strange coincidences. Some will misconstrue this as direct involvement. These are the best of the best. The stories are somewhat urban legend and some just are outright uncanny. Then there are a couple that couldn't be duplicated. This is in short form so forgive us if some facts are left out.
February 18th, 2013 —  In a game, where Patrik Elias was speared with one hand, Chris Neil was nearly felled by a high stick but came back. However, it was ultimately Ryan Carter that would be hurt by what is termed as an upper body injury. Carter will be out for at least the two Washington games and maybe more. Yes I was at this game. Then Neil impaled the poor New Jersey Devils banner. Literally, may that banner rest in peace.
Elias takes out Briere —  It was a hit that appeared innocent at the time unless you looked at it really close. As the two came together, it did not look like much but the next thing one knew, Briere got his bell rung by Patrik Elias of all people. Lately, Elias has shown a very mean streak to his game as years of no calls I guess have really irked him. Whatever the case, this is not the first time Elias became this violent. I almost think people forget what he did to Philippe Boucher nearly ten years ago. It was so vicious of a shot that Boucher suffered a broken eye socket.
Elias has a reputation of being a rather physical player when agitated. When he was speared on Monday, the entire sold out crowd thought he was going to take on every single Senator until he ended up against the one who wronged him. That look in his eyes was undeniable and anyone could see it even in the post-game. In short, do not mess with Patrik Elias, at all.
Jack Capuano (NY Islanders coach) — Capuano unexpectedly was the victim of a clear gone horribly wrong against the Devils a few weeks ago. The result was a shiner from as far as the eyes could see. Yes it was a bad pun. The result of the game was a 5-4 overtime win by the Isles but clearly the coach did not exit unscathed. Just when it looked like no one was going to take a shot, Capuano was actually the one that did.
The curious case of Jimmy Howard — Last year at once point, Howard had 31 wins and was on his way to nearly 50 wins which would have broken Martin Brodeur's season wins record. Literally, the next night, the Detroit goalie went down with a groin injury. He then struggled with a couple more shoulder and groin issues and now just suffered a minor lower body injury (fortunately not serious). It is probably safe to assume that Howard will not approach that record again. Just call it another strange coincidence.
Jason Garrison's skate malfunction — This is still one that is for the ages. In a matinee that was just one of those surreal games, I saw one that I had not seen since my days of high school hockey. My girlfriend and I saw Garrison skate out and then all of a sudden the skate just exploded into pieces. The blade went forward while the foot stopped and the other pieces scattered about. It was cleaned up very quickly but ultimately Garrison missed several games because of the mishap. This could have been much worse but I think the true tragedy was no media had the guts to report on what everyone in Newark saw that day. Needless to say, skate explosions like that are extremely rare.
============================================
Then there is the ending……
The injuries will keep on coming. Reality dictates that the shortened season creates a near playoff atmosphere that cannot be matched during the normal 82 game schedule. As of early Thursday morning, there were nearly 120 reported injuries and 15 because of illnesses. It is evil to say but we are only one third of the way into the season and there have been quite a few big injuries. Something tells me that the injuries will never stop, no matter how many come back because some will not. Stay tuned!
====================================
Please Note…..
Man games lost numbers are from statisticians that work for the NHL as well as freelance. There will be more updates in subsequent articles.

Simply a hockey writer who is a jack of all trades. No question is too big or too small and in fantasy hockey there is no such thing as a stupid question. Now a proud, accredited member of the FSWA. I am also a New Jersey Devils lead writer, prospects writer, humorist, and so much more. You can find me on Twitter at @ChrisWasselDFS