There have been many things said about Coach John Tortorella in the media over his career, most of them as forgettable as his lackluster job in Vancouver this past season. But with the St. Louis Blues searching for answers to their early post season exit woes, and the seasoned coach once again looking for employment, could Blues GM Doug Armstrong shake things up in St. Louis with a huge coaching shift?
Why This Move May Be Considered
It's no secret that the Blues have been excellent under coach Ken Hitchcock's reigns, but it never seems to amount to anything once the Stanley Cup Playoffs begin. Though Hitchcock has only truly had 1 full year as the team's head coach, many fans in the area feel he's already worn out his welcome.
Ken Hitchcock has proven he can win, and win the Cup in the past, but he seems to be losing the desire of some of his players which could spell trouble for the team in the future. Add in that GM Doug Armstrong is looking at all angles to shake things up and find the right mix of players who have that "killer instinct" as he put it in a recent interview, and you can see the seams begin to rip apart.
Doug Armstrong says Blues need to develop more of a killer instinct, among other things http://t.co/x1ItWkJpmQ #stlblues #bndblues

— Norm Sanders (@NormSanders) April 30, 2014
A Coaching Change Has Not Worked in the Past
Though Blues GM Doug Armstrong wants to find players who have that next level gear to shift in to come playoff time, he also knows he needs a coach with that fiery desire as well. John Tortorella fits that mold to a "T" but comes with a lot of baggage that may not give him credibility in the league, or in the locker room  any longer.       Fans won't forget the Calgary Flames incident from earlier this year if Tortorella was to come to St. Louis, and would expect him to be more refined. Another reason this may not be the answer for the St. Louis Blues is because the same core group of players (David Backes, TJ Oshie, Alexander Steen, Kevin Shattenkirk, Alex Pietrangelo, Barret Jackman, and so on) have now stayed together through 3 different coaches (Mike Kitchen, Davis Payne, Andy Murray) and are on their 4th in Hitchcock, yet have still never reached that world-class stage of play consistently enough to deliver the city the coveted final prize.  
Would John Tortorella change that, or prove to be more motivating and effective than Ken Hitchcock? Probably not given the history of that core group. However, this does not rest completely on the players shoulders as they have shown signs of significant improvement year after year, and have become bigger, better, and more consistent overall throughout their development.  
We caught up with @OSH74 at the Ice Zone today. Watch his interview about the end of the season. http://t.co/1bVEXHiza6 #stlblues — St. Louis Blues (@StLouisBlues) April 30, 2014
.
Conundrum Court: Identifying the True Problem
Fans can go back and forth all day about where the Blues problem truly lies, and most ideas will speak to parts of it. But what is the Blues biggest problem and how do they overcome it?
Their biggest problem has always been, dating back to the end of the Brett Hull days, lack of primary scoring. However, this past season we saw some key pieces begin to emerge on that front. Alexander Steen led the NHL in goals for the first quarter of the season, and was on a torrid pace until injuries slowed him down.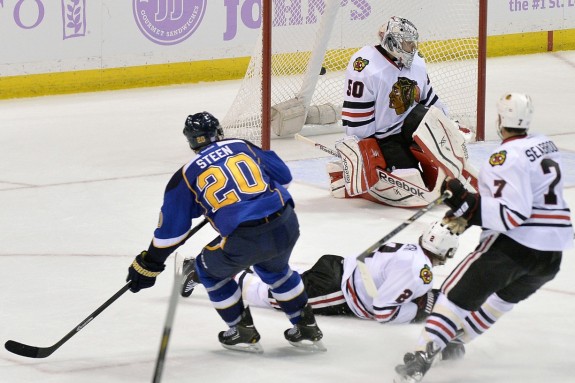 Vladimir Tarasenko and Jaden Schwartz showed amazing chemistry and scoring prowess that should further develop over the summer, and give them an impressive 2014-2015 campaign. TJ Oshie showed the world his silky-mitted skill set in Sochi, and Doug Armstrong showed that St. Louis can get big guns to come in and play by acquiring Ryan Miller in a blockbuster trade days before the deadline.
One Constant Remains
After looking at the pros and cons of the current team, there is one thing that has remained constant since 2006, and that is Associate (Assistant) Coach Brad Shaw. While Shaw has shown he knows how to help develop defensemen to give them longer NHL tenures, he has been behind the bench for some of the Blues greatest pitfalls and darkest years.
When fans take a look back at the team's playoff implosion over the past few years they can see a trend, defensive zone breakdowns led by lax back-checking. These are core components that Stanley Cup winning teams simply don't allow, and it all starts with expectations set forth by the coaching staff. This begs the question, is Brad Shaw's time in St. Louis numbered, or can he step up and give the coaching consistency and support the team, other coaches, and the front office needs in order to deliver Lord Stanley's Cup to the city?
@lkorac10 @jprutherford y should the blues resign miller it's Allen time #dissapointed also brad shaw needs to go #TimeForAChange

— joe lucia (@jalucia19) April 27, 2014
Bold Strategy
This brings John Tortorella right back in to the conversation. His reputation has been demolished as of late, and his coaching style has been challenged at every turn, but at this point in his career would a move to St. Louis, even for an Assistant Coaching position, be out of the question? That's doubtful.
He's now got a tarnished history of losing player's hearts, and no winning records to fall back on. In essence he has lost his bargaining power with the league and its teams, and this could be the final piece the Blues need to get to that next level, and as Doug Armstrong says, find their killer instinct.
If the organization can bring in a coach such as John Tortorella and keep him under close watch as an Assistant, they may have the best of both worlds, with Ken Hitchcock's knowledge and tight systems, and Tortorella's ability to motivate his team in a gritty, hard-nosed style of play that is already accustomed to the Blues and their fans (and remember Tortorella led the Tampa Bay Lightning to a Cup in 2004). This would be a long shot to happen, but if Armstrong is serious about shaking things up, it may be just what the team needs to win a Cup next season.
Like what you've just read? Follow me on Twitter: @pep30.