For a couple years now, the Ottawa Senators have struggled with finding a reliable checking line that can sufficiently provide much needed offensive pressure without being a liability on defence.
This year's busts were some familiar faces, along with a new one, but it was really no surprise that the Senators' "energy line" at the start of the season couldn't fulfill its duties. The trio of Chris Neil, Zack Smith and David Legwand were never meant to be.
Already with his aging physique, Neil is, and has been, getting slower by the year. Smith's poor defensive attributes outweigh his quality shooting capabilities, and along with being miscast as a power play specialist, Legwand is a far less superior player than the Senators thought he would be when they signed him to a two-year deal in the summer.
Oh, and penalties. Those three take a ton of unwarranted penalties.
Then, there was a coaching change. Paul MacLean was swapped for Dave Cameron and things started to change a bit. Though their roles stayed the same, Neil, Smith and Legwand's ice time diminished. Blindly praised by MacLean for too long, the three underachieving fourth-liners were getting a dose of reality on Cameron's behalf.
Now a new checking line has risen in Ottawa. And though it might be aided by longterm injuries to Neil and Smith, Cameron has put together a trustworthy threesome that everyone can get behind.
Erik Condra, Jean-Gabriel Pageau and Curtis Lazar are the Senators' new and improved checking line.
Better In Every Way
The first thing one might notice is that the new "energy line" simply has better calibre players. It was nothing less than a tragedy that Pageau was kept down in the AHL instead of a player like Colin Greening. As for Condra, being a healthy scratch for 14 games this year is laughable. He should be playing all 82 games and not one less.
Not only are Pageau, Lazar and Condra better overall players than Legwand, Neil and Smith, but they work better as a line, too.
Graphs below taken from Micah Blake McCurdy – @IneffectiveMath on Twitter.
"22+27+44" is the Condra, Lazar, Pageau line. "15+17+25" is the Smith, Legwand, Neil line.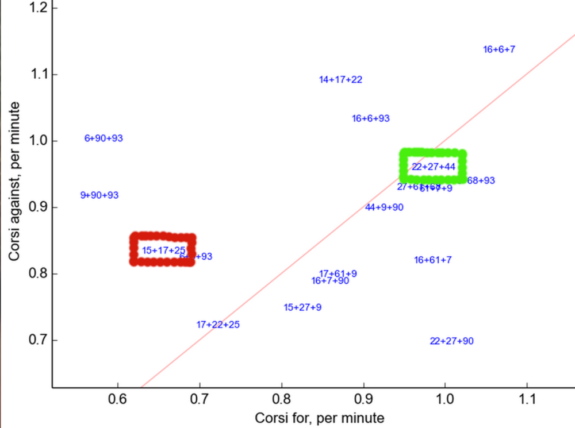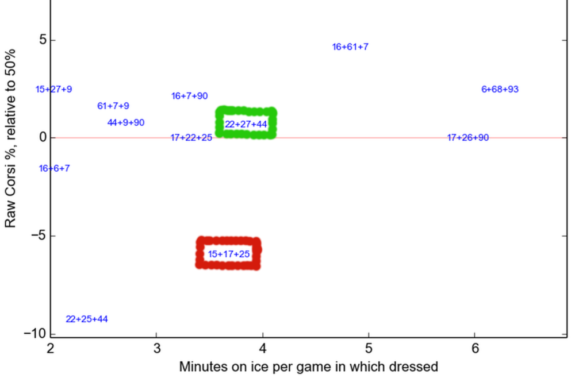 One of the biggest criticisms of the Senators' former checking line is that they took too many inexcusable penalties. Well, that's where Condra, Lazar and Pageau are an upgrade once more.
This season, Smith, Legwand and Neil have combined for 2.9 minor penalties taken and 2.3 drawn per 60 minutes played. Their counterparts, Condra, Lazar and Pageau, have combined for 1.2 minor penalties taken and 2.8 drawn per 60 minutes played.
The numbers don't lie. While Smith, Legwand and Neil take more minor penalties than they draw, Condra, Lazar and Pageau more than double their drawn penalties over the ones they take.
***
Quite frankly, MacLean was crazy to keep Smith, Legwand and Neil together for as long as he did. It took his firing and their timely injuries to finally push the bottom six forward corps in the right direction.
Ottawa is 13-7-5 without Smith and Neil. One of the reasons the Senators are actually making a push for the playoffs right now is because of the players that have drawn into the lineup instead of Smith and Neil. It seems that whenever Condra, Lazar and Pageau are on the ice, there's guaranteed offensive zone pressure and no defensive relapses. The Senators can put out their checking line after a goal and not be afraid to lose momentum, and they can use them as a strong response when the opposite happens.
It was never like that with the other guys in their place.
This team has somewhat turned its season around. One of the reasons for that is the young talent that has stepped up in place of the run down veterans.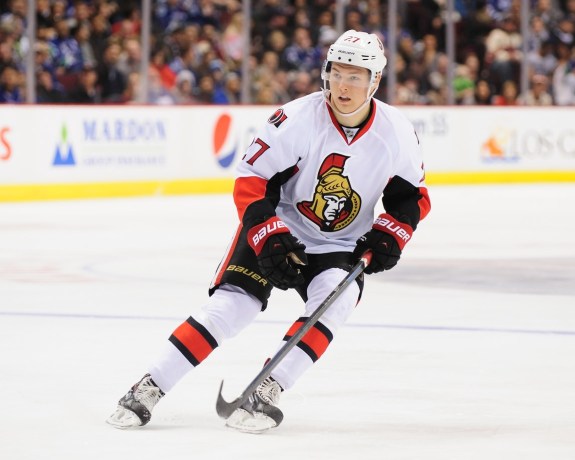 Callum is currently a journalism student living in Ottawa where he covers his team, the Ottawa Senators. Originally from Halifax, Nova Scotia, Callum is also a big Mooseheads fan and a lover of the East Coast.