The Boston Bruins may have only played three games into the 2014-15 NHL season, but one thing is apparently becoming clear: the Bruins are highly overrated. Before the season had begun, the Boston Bruins were many pundits pick to win the Eastern Conference, including many writers here at The Hockey Writers, but why exactly?
I said before the season began in my previous article that the Boston Bruins are going to have trouble generating offense. Three games in and the Bruins have only scored four goals and were shutout in their last game, an embarrassing effort against the Washington Capitals. You need to look no further than at the play of players like Milan Lucic, Dougie Hamilton, and the rookies Ryan Spooner and Matt Fraser.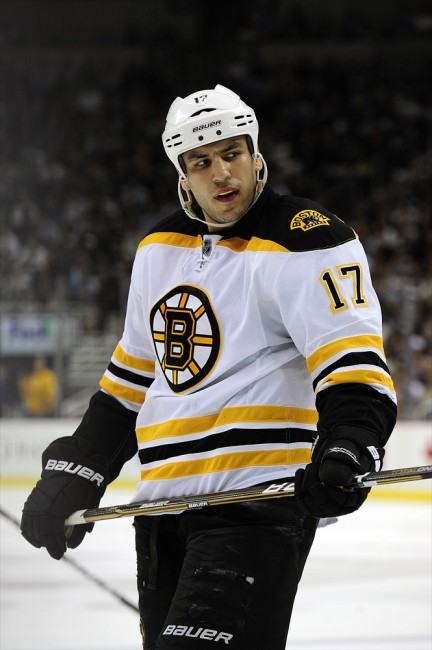 Hamilton is fourth on the Bruins in minutes played, yet has shown nothing for it. He is currently at a plus/minus of -2. Lucic, although he missed the beginning of the preseason with an injury, has become a liability on the ice for Boston. Lucic was relegated to the line of Spooner and Fraser, Boston's "second line", and his play against the Capitals was a low point in this very young season. Lucic repeatedly waved to be taken off the ice before his shift ended and played so nonchalantly when the Bruins were down late in the game. Lucic's play late in the game against Washington was equivalent to a child not getting his own way and pouting the entire car ride home. It was incredibly embarrassing. Lucic needs to step up and grow up, his outbursts are no longer amusing and they are just plain hurting the Bruins.
The Bruins have been dealing with injuries, I realize this, but some roster decisions made before the season even started started to raise some red flags that Boston may not be who they appear to be. With very little cap space, and the departure of Jarome Iginla and Shawn Thornton, the Bruins needed to plug some holes in the roster. So, Peter Chiarelli, Claude Julien, and staff decided on players like Craig Cunningham, Bobby Robins, and Jordan Caron.
Huh?
Craig Cunningham was so-so during the preseason, but surprisingly still got a roster spot on opening night. Cunningham was just recently sent back to Providence in favor of Seth Griffith, a move that should have been made before the season started anyway. Bobby Robins, while I love his story of his years in the minors finally paying off, is only there because he can fight. Robins is a knockoff version of Shawn Thornton and if he doesn't improve his game, he will be shipped right back to Providence for a more polished player.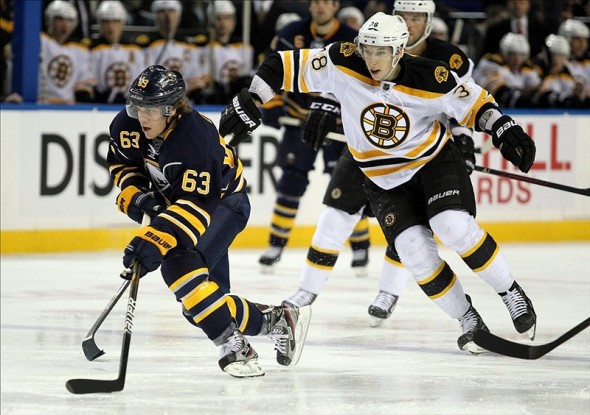 When exactly are the Bruins going to cut their losses with Jordan Caron? He has been a colossal bust, but yet the Bruins still stand behind him. He was called up to the Bruins before their game against the Detroit Red Wings, although he hasn't appeared in a game yet with Boston. Caron isn't playing with Providence either, so basically the Bruins tendered Caron before the start of the season and are just keeping him on the shelf. With so little cap space, that is irresponsible on the part of the Boston Bruins and Caron's development.
Like I said earlier, the Bruins are dealing with some injuries. David Krejci hasn't played this season, but he is hoping to play Monday night against the Colorado Avalanche and Gregory Campbell. However, the addition of Krejci and Campbell aren't going to magically turn this team back into a contender overnight.
Just by taking a look at the roster before their season opener against the Philadelphia Flyers, you could tell that this isn't a very deep team, not exactly a championship caliber roster. People are just drinking the Bruins Kool-Aid and I for one will not be drinking deep. The Bruins aren't even champion on paper, they don't have much depth and they will not even sniff the Eastern Conference Final at this juncture. I know it is still early, but these red flags have been raising since preseason and they are certainly at full mast now. The hill will be even steeper with Montreal winning their first three games and taking early control of the Atlantic Division. Both the Habs and the Lightning will finish ahead of the Bruins in the Atlantic this season, mark my words.
The Bruins should be embarrassed of their effort so far in this young season. I hate to say I told you so, but this team does not have the look of a division winner, let alone conference or Stanley Cup champion. They need to do something and do something fast.
Mark Wallace Graham has been a writer for TheHockeyWriters.com since March 2013. Growing up in New England, Boston Bruins hockey was in my blood. Follow me on Twitter, @MarkWGraham