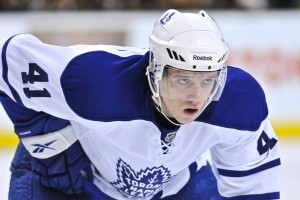 The National Hockey League's 2012 trade deadline is closer than you may think; just over one month separates us from now and the big day. On or before that day, many big moves are expected to go down.
The Toronto Maple Leafs are just one of many teams looking to make a move, but they have something that many teams do not: legitimate trade bait. The only question is, who should the Maple Leafs actually seriously consider moving if the deal is right?
There are two main areas that the Leafs are rumoured to be looking to improve in, one of which has been an area of interest for a few years now. That area of interest is a top-six centre with size, while the other is a defensive defenceman who can help out the league's worst ranked penalty kill.
Since the Leafs appear to be interested in acquiring both a forward and a defenceman, it doesn't seem as though there is one clear-cut position that they are looking to trade away specifically. However, an overabundance of blue liners has people thinking that someone from the back-end is most likely to be moved out.
With all of that in mind, here is a list of the top five best trade bait options for the Leafs, in no particular order:
Clarke MacArthur
Clarke MacArthur is a name that was floating around at last year's trade deadline as well. However, with the Leafs in the midst of a second-half surge (which eventually fell short) and MacArthur celebrating a career year, there was no reason to move the then 25-year-old.
Now with 21 points in 39 games, it's obvious that MacArthur isn't at and likely won't reach the same level that he played at last season. He is still a very useful player, though. Not only can he score, but he can also grind it out and provide energy. Those are just three traits that just about every team is looking for in each of its players.
Of course, though, MacArthur would probably need to be packaged. That is, of course, if the Leafs were to receive a top-tier player in return.
Nikolai Kulemin
Another third of the Leafs' strongest line from the 2010-2011 season, Nikolai Kulemin has seen his production significantly drop off this season. With just five goals and 13 assists through 46 games following a 30-goal season last year, it appears as though Kulemin will not improve upon his numbers from the previous season for the first time in his NHL career.
Like MacArthur, though, that doesn't mean he isn't useful. Kulemin hasn't been send-to-the-minors bad, or even healthy scratch bad for that matter. Instead, he has provided solid defensive play and has utilized his size to the maximum.
Here's the risk: As mentioned above, one of the things the Leafs are looking to acquire is a top-six forward with size. While Kulemin hasn't really proven to be a top-six forward on a good team this season, he has in the past. At 6'1″, 225, he also has the height and weight that the Leafs want on their top two lines.
So, is this just an off-season for Kulemin, or should he be moved before his stock drops even more?
Tyler Bozak
A very interesting player, Tyler Bozak has seen time as both a top-line centre and a third-line centre this season. He has proven to be a good fit playing between Phil Kessel and Joffrey Lupul at times, although he hasn't lately and Kessel and Lupul now find themselves on different units.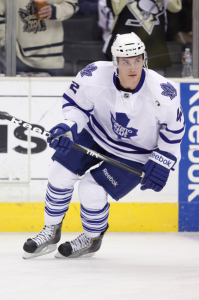 Bozak is a player who can provide crafty offence with nice stick work and solid passing, and he can also shoot the puck with some effectiveness. With 25 points in 37 games, there is no doubt that he can be an every day NHLer. The question, though, is where does he sit on the depth chart of a team fourth or higher in their conference?
Even as a third-liner, Bozak can be a strong commodity. His defensive play has vastly improved over his time in the league and he now sees some penalty kill minutes. Since he may not be considered top-six material on some teams, Bozak would certainly need to be packaged if the Leafs were to acquire a top-six forward or a strong defensive defenceman.
Carl Gunnarsson
Getting into the two defencemen on the list, we start off with Carl Gunnarsson. Now 25 years of age, this is Gunnarsson's third year in the NHL. While he is still prone to turnovers at times, Gunnarsson has grown into a solid top-six defenceman who can log strong minutes.
Many of the minutes that he plays come on the penalty kill; he leads the Leafs in total shorthanded time on ice with 133:24, over two more minutes than the next guy in line, Dion Phaneuf. To go along with being a regular penalty killer, Gunnarsson owns a plus-4 rating.
He is young, developing and is already a top-six defenceman on most, if not all teams. Like Bozak, though, he would need to be packaged. Gunnarsson is certainly an interesting case.
Luke Schenn
Perhaps more interesting is Luke Schenn, and he is a player who the Leafs really need to be careful with. Leafs general manager Brian Burke met with Schenn earlier this month to tell him that nothing was in the works, but that it didn't mean a trade wouldn't happen.
The biggest trade rumour involving Schenn has been the one claiming James van Riemsdyk is close to becoming a Maple Leaf. While the man commonly referred to as JvR would fit the Leafs' plans perfectly, giving up Schenn is tough to fathom.
Schenn is a big, strong, young defenceman who the Leafs have spent a lot of time on developing. He appears to be well on his way to becoming a top-level defender in the NHL, although that has taken more time than expected. Still, it's hard not to believe that a trade involving Schenn and van Riemsdyk wouldn't involving at least one more big name player.
Twitter: @LukasHardonk | Email: lukas.hardonk@gmail.com | Lukas' archive
For every Leafs article on THW, follow @THW_MapleLeafs on Twitter.