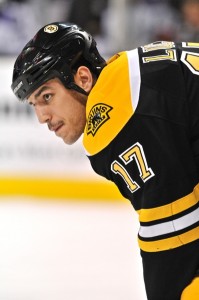 Milan Lucic was having a bad game through two periods on Thursday night. That's an understatement, really.
On the ice, he looked tired and uninspired. First, he was part of a butchered three-on-one along with Loui Eriksson and Carl Soderberg that didn't even manage to get a shot attempt off. Then, he helplessly watched Patrick Kane hold onto the puck for almost three seconds before scoring Chicago's third goal of the game. On paper, it was even worse. Lucic had an even strength Corsi of -8 while starting 67% of his shifts in the offensive zone.
Then, things began to change.
Midway through the third period, Lucic hustled the puck from his own zone, past Michal Rozsival and Klas Dahlbeck, and found a streaking Torey Krug to score the Bruins' second of the night. And then, he almost did the same exact thing on his next shift out. The whole third period of play demonstrated how Lucic can be a game-changer for the Bruins at any given time.
It also showed how his inconsistency is a glaring issue for a Bruins team that carries passengers more often than not. Even though the Bruins ended up losing the game to the Blackhawks, 3-2, Lucic showed that, yes, he can still make a meaningful impact in games.
"When I get going especially in straight lines I tend to create chances for myself and my teammates," said Lucic regarding the aforementioned play. "I was able to do it again and we almost scored the next shift just driving wide and getting the puck to the net. It's an important part of my game in order to create offense and just gotta find ways to do that more and hopefully the production will start coming at a level that's expected."
It's easy to surmise that Lucic's production has suffered from not playing alongside David Krejci, who has missed 18 games this season. However when looking deeper at their even strength stats, that might not be the case. There's no doubting that Krejci makes Lucic a better player, having assisted on the majority of his goals in the past four seasons as his linemate. Without a playmaking center, Lucic's stats are down but is he still an effective player?
Yes, but also no. Lucic thrives on very specific situations of a game, regardless of who he's playing with. While it may seem that Lucic scores most of his goals either because Krejci is feeding him passes or because the opposing team pulled their goalie, that's not always true. It helps that Lucic plays with effective passers who can get him the puck in open space, but it's not always a necessity.
But then there's this: no other Bruin produces better numbers than Lucic when playing from behind. Need proof? In the last eight seasons, according to War on Ice, Lucic's 21 even strength goals are more than any other Bruin has scored when trailing. In all situations, Lucic has scored 27, second to only Zdeno Chara's 32. This season, he has three goals and three assists, second in points when trailing behind Soderberg. With the game on the line, it would make sense to put the two together, right?
No. Not at all, actually.
While on a line with Soderberg on Thursday night, Lucic had a CorsiFor of 35%. Without him? A goal and a CF of 57%. It's consistent with his possession numbers all season from playing alongside of him. According to HockeyAnalysis, Lucic has a 48.4 CorsiFor percentage with Soderberg and a 55.9 without him. This season, at least, it's not about who Lucic is playing with to make him better but who he can make better in game situations where he excels best.
Lucic's inconsistencies have less to do with who he is playing with but rather the situations he's in. It's a dirty habit that the Bruins as a whole have adopted, too. They play better when they're losing hockey games. There's no question that the Bruins have played in many games where they often played their best period in the third, after trailing. It happened again on Thursday.
"I think the most difficult thing is to stay up and stay positive when you're having those good efforts against really good teams and your not getting anything out of it," said Lucic. "It's not just losing the game, we're not even getting into overtime and getting at least one point out of it. At times it's hard to stay up and stay on course but I think the important part is we have to stay on course as far as our competitive level. If we keep playing the right way, eventually the wins will come because when we respect our system and play the right way, its worked for how many years?
"It's not like it's stopped working – it's the commitment from within to play the right way that's gonna get us wins."
Lucic can still be a productive player, there's no question. It just depends which side shows up.
And that's the biggest problem.
Follow Mike on Twitter for more Bruins news, updates, and commentary.
Mike Miccoli covers the Boston Bruins for The Hockey Writers and has been a credentialed member of the media for all Bruins' home games for the past five years. As a former player, coach and official, Miccoli has been around the game of hockey since the age of three. Along with his work on THW, Miccoli has also been published in the New England Hockey Journal, Improper Bostonian magazine and on BostInno.