---
The New York Islanders had a strange 2015-16 season. They did advance in the Stanley Cup playoffs for the first time since 1993 but it seemed like everyone not named Thomas Greiss had a down year. The young core of forwards (Brock Nelson, Anders Lee and Ryan Strome) all struggled at some point last season. Strome had an all-around disastrous season. The Islanders need all three to bounce back, but there are a few others who New York needs to improve if they want to take the next step.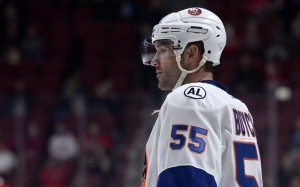 Johnny Boychuk
The defenseman's first year of a seven-year, $42 million deal failed to live up to his first year on the Island. Boychuk set career highs in goals (9), assists (26) and points (35) following the trade from Boston and was a beast on the power play in 2014-15. Five of his nine goals came with the man-advantage. Last season, only one came on the power play. Head coach Jack Capuano did limit his power-play minutes in favor of added time on the penalty-kill unit. Capuano will likely keep Boychuk off the power play altogether next season in favor of rookie Ryan Pulock. As with all Islanders, Boychuk's possession numbers were down last season. His 5V5 Corsi rating went from 55.2 percent in 2014-15 to 48.9 percent in 2015-16.
Boychuk suffered a shoulder injury against the Buffalo Sabres on New Year's Eve that sidelined him for five weeks. He led the team in hits taken. The two combined seemed to have taken a toll on him towards the end of the season. The 32-year-old was held pointless and was a -7 in 11 playoff games. He was invisible. When asked following the season if he was healthy, Boychuk said he had no physical issues and was 100 percent. Is that a red flag or was Boychuk using the old adage that if you play you don't complain about injuries? The defenseman will be 33 when the 2016-17 season ends. Any player can have a bad season. This upcoming season will be key in determining whether Boychuk is on the decline.
Nikolai Kulemin
The Russian was brought in with fellow countryman Mikhail Grabovski in July 2014. Both have failed to provide the offensive production they were brought here for. Where Grabovski has missed 55 games in the last two seasons, Kulemin has missed just one. His shots dropped from 115 in 2014-15 to 92 in 2015-16. One reason why his goal total decreased from 15 to 9. Kulemin is five years removed from his 30-goal season and has only one double-digit goal year since. He did play well on the penalty-kill unit, averaging just over two minutes per game. However, he did not score a shorthanded goal last season (three in 2014-15). His possession numbers were down from the previous season. His 5V5 Corsi went from 52.1 percent to 46.8 percent.
Now that Matt Martin is in Toronto, it's not a given that newly-signed Jason Chimera will consistently play alongside Casey Cizikas and Cal Clutterbuck. Kulemin can find himself on that line. Newly-acquired forward Andrew Ladd will replace Frans Nielsen on the PK unit. Chimera can also play on the PK. It's possible that if Kulemin struggles, Chimera can replace him. The 30-year-old has two years left with a $4.18 million cap hit.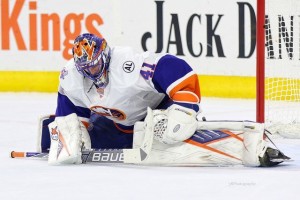 Jaroslav Halak
When just looking at his numbers, Halak did not have a down year. His goals-against average (2.30) and save percentage (.919) were both better than his first year with the Islanders. He had three shutouts in 36 starts. His quality start percentage was higher last season (.583 to .559). Halak's problem last season was that he could not stay healthy. The 31-year-old started and ended the season on injured reserve, with another stint midway through the season. Greiss's breakout season and a trip to the second round magnified Halak's "down season".  Halak is signed for another two seasons, Greiss for one more. The Islanders, after desperately seeking goalies year-after-year, now have strength at the position. J.F. Berube, the team's third goalie, was re-signed. Halak has been vocal about the three-goalie system.
Halak's trade value currently is low. He is scheduled to play for Team Europe in the World Cup. If he can prove that he is healthy, he can increase his value. The Islanders do not want to have this three-goalie linger into the season.
Noel Fogelman is a 5-time Emmy Winner and started his career working on the Buffalo Sabres Pre and postgame shows for the Empire Sports Network. He then went to Bristol, CT to work at ESPN on NHL2Night and its coverage of the Stanley Cup. Follow me on Twiter @thefirstnoel19