Facing Off is a weekly column debating five of hockey's hottest topics each and every Monday. From current events like trades and hat tricks to bigger-picture stuff like scandals and expansion — you name it, we're debating it. Albeit, not always with a serious tone. We're keeping this column light, so keep that in mind when reading, and feel free to join in on the fun by leaving a comment. Follow us on Twitter (@FacingOff_THW) and get in on the debate there too.

Clearly, the hockey season is getting closer.
That's evidenced by the full slate of legit topics to debate this week. So full that Brandon Pirri's signing with the Rangers didn't move the needle nearly as much as Jimmy Vesey's the week before. Pirri may prove to be the more productive player between the two, but by adding both to the fold, the Rangers are making me rethink my offseason standings predictions from earlier this month that left them out of the playoff picture. I'll probably have to find a way to get them back in — likely replacing the Blue Jackets or possibly the Islanders — for my preseason predictions in October.
For now, we'll focus on the present and welcome back Sebastian Hedley-Noble, one of our Facing Off regulars who covers the Colorado Avalanche and Florida Panthers for THW. Those teams were both making headlines over the past week, so we'll start there.
Jared Bednar, are you a fan of that hire for the Avs? If not, who was your top choice of the rumoured candidates? Or are you a believer that anybody would have been better than another season of Patrick Roy? Could this coaching change be a blessing for Colorado? Can the Avs make the playoffs under Bednar?
HEDLEY-NOBLE: I am a fan of hiring Bednar as head coach. I was leaning specifically towards Kevin Dineen, but I trust Joe Sakic with this decision 100 per cent and am pretty excited for the future under Bednar. I never thought of the coaching hire as "anyone will be better than Patrick Roy" because I liked Roy, the players liked Roy, and he has a winning track record. But I was getting very frustrated with the lack of system and structure in place, especially when it came to the defensive zone. So I was actually more worried than anything, but it seems to have ended up well for Colorado in the end.
Everything I hear about Bednar is positive, most notably his two championships he's won in two different leagues, the most recent being the Calder Cup with the Lake Erie Monsters (now Cleveland Monsters). He also has a winning record everywhere he's been. What I am really excited for is to see his supportive system in action. Everyone I've spoken to about Bednar have the same answer concerning his style of play. That his style would be fast-paced, north-south hockey, with support in each zone, and that will fit right in with the Avalanche players, and what they need frankly. It's an exciting style too, so there won't be any worry of the Avalanche turning into a boring team! Thankfully that's never really been the case in Colorado.
As far as the playoffs are concerned, I was in the optimistic camp, saying that even under another season with Roy, the Avs should be in the playoffs. Now it seems like many more see that as an actual possibility with the Bednar hire, and I'm right there with them. The Avalanche have bucket loads of talent, so if Bednar can get the best of them and instill a solid defensive system, this team will be very dangerous going forward. I could definitely see them battling for one of the wild-card positions this season.
FISHER: Me too! Many, myself included, believe Roy was holding the Avs back and it'll be interesting to see whether Bednar can push them forward and perhaps into the postseason. That Central Division is stacked top to bottom and I had Colorado bringing up the rear in my offseason standings predictions — only ahead of the Vancouver Canucks in the Western Conference basement — so Bednar is taking on quite the challenge. I do like his chances for at least marginal improvement on last season's 82-point, ninth-place finish, though it'll probably take 90 points to make the playoffs and that will be easier said than done.
Like Sebastian, Bednar wasn't my first choice. In fact, he wasn't even among the dozen names I rattled off as potential candidates right after Roy resigned. I honestly thought Ralph Krueger could have been a good fit for Colorado, and I still think it's only a matter of time until he gets another opportunity if he wants one. Another former Oilers coach, Todd Nelson, was also on my shortlist, along with Travis Green, the Canucks' farm hand who apparently did get an interview but wasn't among the finalists. Nor was Bob Hartley, which was a bit of a surprise considering he coached the Avalanche to the 2001 Stanley Cup and was familiar with the Western Conference from his recent tenure with the Calgary Flames. Dineen did make the final three — along with Washington Capitals assistant coach Lane Lambert — and would have brought more experience than Bednar but, again like Sebastian, I'm becoming a fan of this hire.
Bednar should have been on my radar to begin with. He was, after all, the most successful minor-league coach last season. Not to mention he's a good ol' Saskatchewan boy like myself. I really should have been rooting for him, and now that he's got the job, I'm hoping he does well in Colorado. I do think Bednar has his work cut out for him as a rookie head coach taking over a team that lacked in structure and systems. I don't think Bednar will work miracles the way Mike Sullivan did in Pittsburgh, but with the right game plan — an actual game plan — the Avs should be trending in the right direction this season. This was easily their best move of the offseason, even if Sakic didn't initiate it.
The Panthers gave up on Lawson Crouse, giving him away to the Coyotes as a means of getting rid of Dave Bolland's contract. Smart move or stupid move? Who has been more impressive as a rookie GM, Tom Rowe in Florida or John Chayka in Arizona?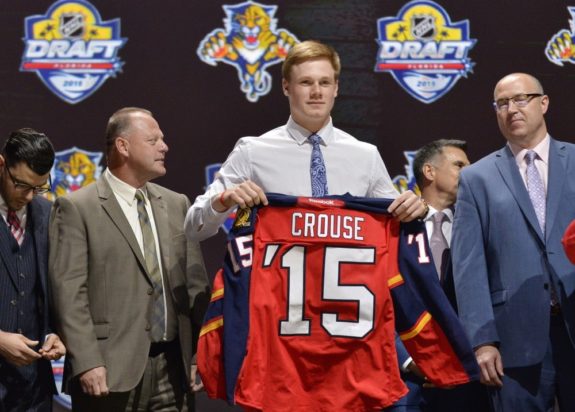 HEDLEY-NOBLE: I think it was a smart move for sure to move Bolland and that hockey-god awful contract to clear up some important cap space moving forward. On the other hand, Crouse IS a promising youngster, but you have to give in order to get.
Looking at the Panthers' left-wing depth, Crouse seemed to be a valuable piece — their best piece actually — however with the acquisition of Jared McCann, they obviously felt Crouse was expendable. I didn't agree, because after McCann (who also plays center), their left-wing depth is pretty thin.
Time will tell if that was a good move but, for now, it is a solid deal for both the Panthers and Coyotes.
The more impressive of the two rookie GMs for me is absolutely Chayka. He's 27 years old and already the GM of an NHL franchise! Are you kidding me!? I flipped out when I initially heard the news of his hiring, though after watching his moves during the draft and this off-season, now I'm thinking the rest of the NHL better watch out for this youngin'!
FISHER: I'm withholding judgment on the trade for the time being, waiting to see how Florida plans to utilize this newfound cap space. With Bolland's $5.5-million salary off the books, the Panthers could plug another hole or potentially two in their roster, with those impending additions essentially factoring into the return.
As it stands, and if Florida stands pat for some reason, without making any more moves between now and the start of the regular season, I'd be tempted to say stupid move. When the trade was announced, it was shocking, but I assumed the Panthers pulled the trigger on Crouse because they already had another deal in the works to get a more experienced, more expensive power-forward type. So far, that hasn't come to fruition and I'm not sure it will. This might simply be addition by subtraction for Florida, but throwing in Crouse doesn't seem very smart if you ask me. He possesses a rare package of size and skill, the type of player that doesn't grow on trees.
Bolland was an anchor — and still has three years remaining on his contract — but as long as he stays on the long-term injured reserve, his cap hit wouldn't have counted anyway. Arizona has come out and said Bolland is a long way from returning, which makes this trade look like Crouse — the 11th overall selection in 2015 — for two draft picks outside the top 30. That might be telling into what Florida's new GM and overhauled scouting staff really thinks of Crouse's upside. It may be more of an indictment of Crouse than Bolland, believe it or not.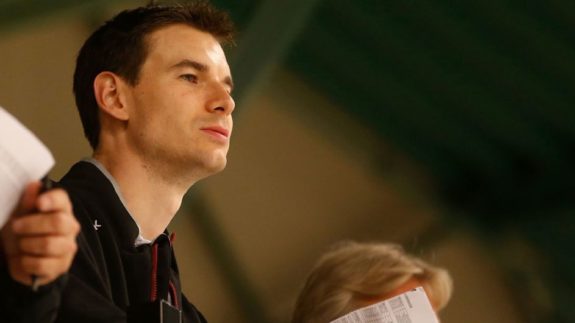 Nevertheless, Chayka and the Coyotes are stockpiling some serious talent for the future. Crouse joins a young core and impressive prospect pool in Arizona, which includes his world-junior teammates Max Domi and Anthony Duclair, plus fellow OHLers Dylan Strome, Christian Dvorak, Brendan Perlini, Ryan MacInnis and Christian Fischer. Those are just the forwards with top-six NHL potential.
Chayka also swung draft-weekend deals for a couple of elite defencemen out the OHL in Jakob Chychrun and Anthony DeAngelo, who graduated as the CHL defenceman of the year in 2015.
Rowe made some moves to shore up Florida's defence too, signing Keith Yandle and Jason Demers and acquiring Mark Pysyk, but Chayka has been winning me over with every move he makes, including this trade for Crouse.
If only Chris Pronger and Pavel Datsyuk were in their prime and not retired, that Coyotes' roster would be ready to contend right now, but the future is definitely bright for Arizona and Chayka certainly deserves a lot of the credit.
Speaking of suspect roster decisions, how about Team Canada's injury replacements for the World Cup? Jamie Benn out, Logan Couture in over Taylor Hall. Duncan Keith out, Jay Bouwmeester in over the likes of P.K. Subban, Kris Letang, Mark Giordano and Brent Seabrook. Were you surprised by those selections? Would you have gone in a different direction?
HEDLEY-NOBLE: I don't have too much of a problem with Couture over Hall. They're both great forwards capable of playing big minutes. Perhaps Canada went with the more physical Couture this time, that's all. I'm not saying I would have made the same decision, because I'm a big fan of Hall's game, but I can see why Couture would be an attractive option.
The roster move that did have me puzzled was Bouwmeester over several others like Subban and Letang as you mentioned. Subban/Letang would have been at the tippy-top of my list, and Seabrook would also be ahead of Bouwmeester as well. But, as I am not in charge of Team Canada, nor do I have any real say in their decision-making process, I'll just have to let it go!
I was a big Bouwmeester fan when he was a Florida Panther, but since his moves to Calgary and St. Louis, he hasn't quite been the same player or reached that next level.
If Canada falters, this topic of suspect roster decisions will surely be brought up again!
Poll Time: Who should have replaced Duncan Keith on Team Canada for the World Cup? #WorldCupOfHockey #NHL #THW

— Facing Off (@FacingOff_THW) August 25, 2016
FISHER: I'll start by going to bat for my boy, Hall. He's played a key role in Canada capturing back-to-back golds at the world championship tournament and he actually plays left wing — the position that needed filling when Benn bowed out. Couture is a centre for San Jose, albeit left-shooting, and has never represented Canada internationally before — aside from the under-18s way back in 2007.
Couture was firing on all cylinders in this year's playoffs, but he was also accusing Sidney Crosby of cheating in the Stanley Cup Final, so there could be some lingering animosity between those foes turned teammates. Conversely, Hall and Crosby were buddy-buddy and even linemates in winning worlds two years ago.
Sure, there is a risk factor with Hall's game — similar to Subban — and he might not be the most reliable or consistent defensively, but Hall's speed could have been an asset on a roster of bigger, slower forwards for the most part.
Couture wasn't a bad choice — Bouwmeester was, more on him momentarily — but all I'm saying is that if I'm Hall, I wouldn't be answering the call for Hockey Canada after this season if the Devils don't make playoffs. I'd be icing my millions on a beach somewhere instead.
Logan Couture got added to Team Canada over Taylor Hall? Might start cheering for Latvia internationally.

— whomst (@therealfoz) August 23, 2016
The Bouwmeester decision was more baffling — some would argue indefensible — and I don't agree with it, though I do understand the rationale. There's no doubt that Bouwmeester is an inferior talent in comparison to Subban, Letang and at least a dozen other Canadian-born defencemen not on the World Cup roster, but Bouwmeester had a few things working in his favour.
For one, Bouwmeester already has established chemistry with Alex Pietrangelo, having played together at times for the Blues and for Canada in the past. He's also left-handed, which means the moon to Canada's coach, Mike Babcock, who is adamant about the importance of left-right pairings. Lastly, a little bit of loyalty likely won out for Bouwmeester over fellow lefties like Mark Giordano, who doesn't have as much history with Hockey Canada.
Bouwmeester has won eight medals, including four gold, with the Maple Leaf on his chest — to Giordano's none — so that may have been the deciding factor, albeit a double standard going back to Hall. I'm not one to push for Flames, past or present, but if Babcock wasn't budging on bringing another righty into the fold, I would have gone with Giordano or even his Calgary teammate T.J. Brodie before Bouwmeester. Personally, I wouldn't have been able to overlook Subban again.
Thoughts on Jiri Hudler to the Stars? Is that a good fit for him? Does that addition make Dallas the favourite to win the Central Division again? Or would the Stars have been better off spending that $2 million on another veteran blueliner like Dennis Seidenberg or Kyle Quincey? Or bringing back Kris Russell? Can Dallas succeed with its current depth on defence and mediocre goaltending?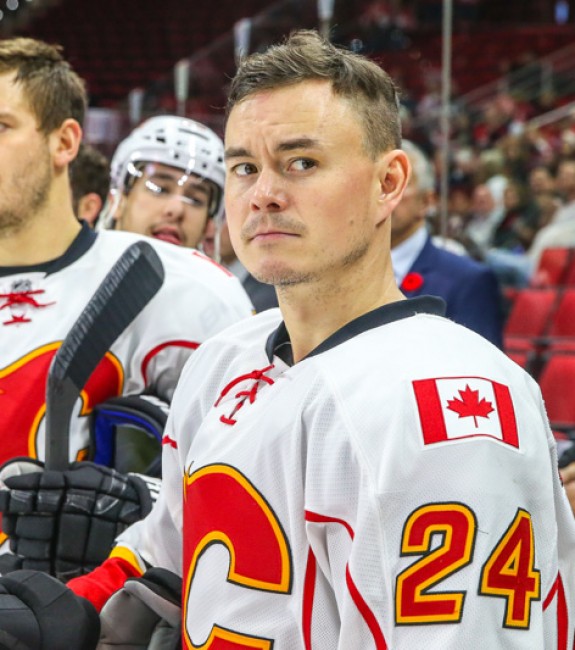 HEDLEY-NOBLE: No, I don't think Hudler is one of their "missing pieces" whatsoever. He was MIA in Florida, pun intended, and no it absolutely does not make the Stars the Central Division favorites.
I don't know why Dallas didn't address its defensive holes. There was no real questioning the offense, and adding an aging Hudler doesn't put the Stars over the top at all.
They need help on defense, and in net they have two good goalies with aging potential to be really good on their day. The problem is that tandem of Kari Lehtonen and Antti Niemi didn't work out so well, in fact it was a disaster. They're not nearly consistent enough, and if that continues this season, the Stars are in for a rough one.
Like I said before, offense isn't the problem and they have some talented young guys to work into the lineup, which is also why I was scratching my head at the Hudler signing. But maybe Dallas figures it can beat the opposition 5-4 most nights. Screw defense and goaltending! Sorry, I just don't see that happening again.
I think the Stars will make the playoffs for sure, but take a step back when it comes to being Central Division champs. One of Lehtonen or Niemi needs to step up in a big way for the Stars to enjoy similar success to last season.
FISHER: I like this signing significantly more than Sebastian, but I still don't think Hudler should have been a priority for the Stars. Trading for Ben Bishop or Marc-Andre Fleury should have been topping Jim Nill's to-do list — and still should be. Any of those aforementioned defencemen would have bolstered the Stars' young, bound to be mistake-prone blue line too. If that's the defence Dallas is running, it's going to need a better goalie sooner or later.
In saying that, I can see how it would have been hard to pass up a skilled forward like Hudler for a $2-million bargain. Going back to July 1, I don't think anybody would have been surprised or overly critical of a team signing Hudler for, say, three years and $9, maybe $12 or even $15 million — as in $3 to $5 million annually. Granted, it did look like Hudler lost a step last season, but the year before he scored a career-high 31 goals and 76 points and was among the league's most productive players at even strength.
When Jiri Hudler has a nice 50-55 point season, you'll be wondering why your team didn't cough up 2M to sign him. #Stars

— Brennan Klak (@nhlupdate) August 24, 2016
Nill and the Stars are taking a low-risk, high-reward gamble on Hudler's ability to bounce back, and if he doesn't for whatever reason, it's not like Dallas is deeply invested or lacking firepower up front without him. Hudler can just sort of come in and do his thing, much like Ales Hemsky has done there the last couple seasons. They could be linemates and I could totally see them clicking, thus rebounding.
The Stars do seem to be loading up with the intention of rolling four scoring lines this season. As of today, Dallas' depth chart could look something like this:
Benn-Seguin-Sharp
Janmark-Spezza-Nichushkin
Hudler-Faksa-Hemsky
Roussel-Eakin-Eaves/Ritchie
If I'm a Stars' fan, sure, sign me up for that. Let's run-and-gun and win those 5-4 games Sebastian was talking about. I don't know if that roster, as a whole — including defence and goaltending — is constructed to win a Stanley Cup, but it's built to entertain and should be successful in the regular season again. I wouldn't bet against Dallas winning another division banner, even without addressing its glaring weaknesses.
Alexander Radulov, boom or bust with the Canadiens? Who lasts longer in Montreal, Radulov or head coach Michel Therrien? Do you like how that roster is shaping up?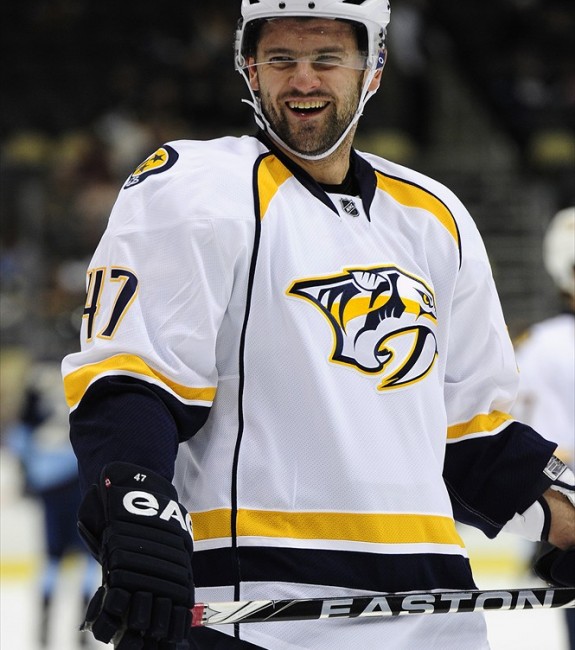 HEDLEY-NOBLE: I really have no idea what to expect from Radulov, and I don't think a lot of other people do either, especially the younger fans who didn't get to see him before he went to the KHL.
He's an amazingly gifted hockey player but, as everyone knows, has his off-ice issues which have been well-documented, but some of which can be over-exaggerated. I loved watching him as a Nashville Predator, that I can say for certain.
So to answer the first part, Radulov could end up at either end of the boom or bust spectrum. He'll be the Canadiens' best forward or end up being scratched for whatever reason. We won't know until some pucks are dropped.
As for who lasts longer, Radulov or Therrien, I'd say Therrien goes before Radulov. If the team stumbles out of the gates, Therrien will be blamed, not Radulov — unless, of course, some off-ice incidents occur! It should be very interesting to keep an eye on things in Montreal.
When it comes to the Habs' roster, I love the addition of Andrew Shaw — him and Brendan Gallagher will be a pain in the ass for opponents on a game-by-game basis. However, beyond their top-six forwards, I don't see much depth, which is a big problem in today's game. But their defense looks solid, and we all know about Carey Price and his abilities.
A lot of Montreal's success this season will depend on Radulov and whether he can consistently bring his excellent skill to one of the biggest and harshest hockey environments in the world. Oh, and a healthy Price would be much welcomed I'm sure.
Simple question: Alex Radulov in Montreal — boom or bust? #Canadiens #gohabsgo #NHL #THW

— Facing Off (@FacingOff_THW) August 28, 2016
FISHER: I guess we probably should have defined "boom" and "bust" a little better. Let's say 20-plus goals and/or 50-plus points classifies as a boom. Think Alex Semin 2.0 for the bust side of things. Like Sebastian, I'm clueless on what to expect from Radulov — the guy's a total wild-card — but I'm not going to totally dodge the question either.
Providing he stays healthy, and assuming Shea Weber and Andrei Markov can keep him in line, I like Radulov's potential for a "boom" season. He's always had the skill to put up numbers and he seems more mature and motivated to make amends for his past missteps — then again, so did Semin. Anything could happen, and Montreal has some pretty appealing strip clubs (so I've heard), but Radulov is claiming to be a family man committed to winning this time around.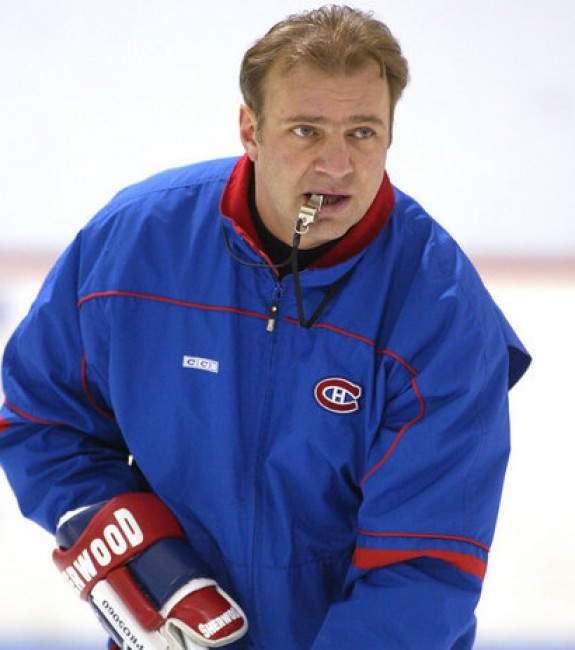 Time will tell whether that's talk or truth, and Therrien will obviously have a hand in Radulov's success or lack thereof. From the outside looking in, it appeared as though Therrien failed Semin as much as Semin failed the Canadiens last season, so hopefully the coach learned a lesson and loosens the reins on Montreal's latest Russian experiment. If Therrien is too hard on Radulov and he doesn't respond or decides to pack up and go home again, that would be a big blow for the team and could be the final straw for Therrien too. Radulov will have to play within club rules like everybody else but may need a little leeway in getting accustomed to the North American game again. A patient approach could pay dividends come the second half of the season.
At the end of the day, Radulov is no Price. Radulov won't be saving the day, nor will Weber or Shaw or anybody but Price. There is a reason that Price won the Hart Trophy two years ago and that's because the Habs go as he goes. He's absolutely their MVP. Price claims to be feeling like his "old self" again and we'll see whether he's returned to form at the upcoming World Cup. If Price is at the top of his game, I do like the Canadiens' playoff chances and I actually predicted them to finish second in the Atlantic Division based on that premise. They are a team that — like Radulov — could go either way, but Marc Bergevin wasn't afraid of making bold changes this offseason and we'll find out soon enough whether those moves, including Radulov, were for better or worse.
BONUS TOPIC
Why should hockey fans and people in general look forward to the new documentary, Ice Guardians?
HEDLEY-NOBLE: Well it's pretty simple really, this is uncharted territory when it comes to the subject matter. Ice Guardians tells the different stories of the enforcer throughout the years in the NHL straight from their mouths. No bias one way or the other. You'll be seeing all sorts of players in the movie — from different eras of hockey — talk about their experiences, so you're getting the whole history with this film.
They were able to put together so many greats of the game, from true enforcers to superstars. Players like Wendel Clark, Dave Schultz, Brett Hull, Chris Chelios, Jarome Iginla, Todd Fedoruk, Scott Parker, Dave Semenko, Rob Ray, Brian McGrattan and many more! I interviewed the man behind the magic, Adam Scorgie, and will have my story with him out in a couple of days right here on The Hockey Writers. Stay tuned for that!
FISHER: I'm pumped for that, both Sebastian's story and the actual movie. Scorgie is a local boy, from Kelowna, and he's doing a bang-up job promoting his latest work ahead of its world premiere at the Toronto Film Festival on Sept. 12. He'll be doing a red-carpet showing here in Kelowna on Sept. 29 as well — with several of those famed scrappers in attendance — and Ice Guardians will make its television debut on the Super Channel on Oct. 8. You won't want to miss it.
This documentary isn't glorifying, nor shaming fighting in hockey. It is humanizing those who drop the gloves for a living and giving them a well-deserved, long-overdue voice. I've met many of the enforcers featured in this film — I've even shared a dressing room with Semenko and Clark Gillies at Bob Bourne's Fantasy Greats Hockey Camp a few years back — and I can vouch for them being stand-up guys as opposed to standoffish. Intimidation is a big part of their job and you'd expect them to have alpha-male, bully-type demeanors, but off the ice they all seem to be the biggest teddy bears with the wildest senses of humour and the best stories. So I can't wait to hear them tell it like it is.
---
Who won this round of Facing Off? Feel free to weigh-in with your opinions in the comments below. We will be checking in periodically to both defend and expand on our initial answers. If you want to see us face-off over a topic, we're open to suggestions as well.
Larry Fisher is a senior writer and head scout for The Hockey Writers, having been an at-large contributor for THW since August 2014. Fisher covers both the NHL and the WHL, specializing in prospects and NHL draft content, including his annual mock drafts that date back to 2012. Fisher has also been a beat writer for the WHL's Kelowna Rockets since 2008, formerly working as a sports reporter/editor for The Daily Courier in Kelowna, British Columbia, Canada from 2008-2019. Follow him on Twitter: @LarryFisher_KDC.