by Eldon MacDonald (edited by @ChrisRalphTHW)
The 2015 NHL Draft Rankings War Room: First Look brings you the Top 60 ranked prospects as compiled by THW's Eastern Canada based hockey bird dog, Eldon MacDonald. The Next Ones Early Look (a.k.a. Chris's List will follow shortly). 
Update: Prospects Covered Expanded from 180 to 400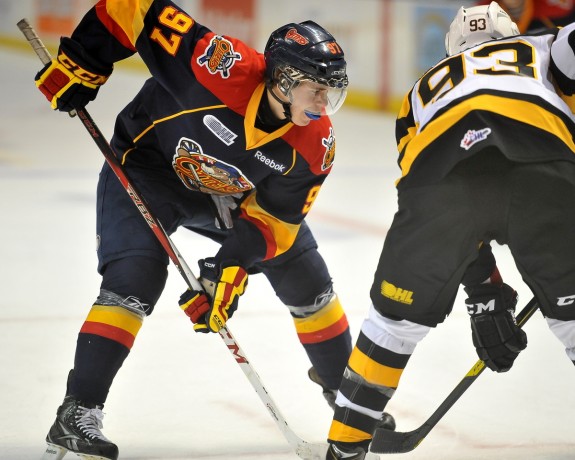 This update (done with no change to the rankings) expands the previous list of prospects covered from 180 to 400, adds the stats from the recently completed Ivan Hlinka Tournament, updates the projected 2014-15 teams for many of the prospects and also updates the height and weight for most of the MHL, OHL, QMJHL and WHL prospects. The USHL is usually the last to release their height and weight updates.
Spreadsheet Notes:
The table (Tab 1) displays approximately 40-50 of the prospects at a time; simply scroll down to view the other prospects.
Only a portion of the table displays by default; you can scroll over to see the rest of the player demographics and statistics or select "View full-size workbook" option, which is the icon in the bottom right hand corner, to view the full table. The beauty of this option is that you can then download the file to your computer and play with it or adjust it anyway you like.
Be sure to scroll over to see E-Mac's commentary on the Top 30 prospects.
The 1st column (E-Mac) is Eldon MacDonald's first rankings. (Not to be confused with THW's official The Next Ones rankings {Chris's List} which will be released at a later date).
The 2nd column featuresFuture Considerations preliminary 2015 Top 30 Rankings.
A link to Elite Prospects statistics for most of the players is also included (click on individual player name).
Tab 2 sorts the prospects by Country of Origin.
Tab 3 sorts the prospects by League.
The spreadsheet is searchable; simply click on the spreadsheet and utilize CTRL/Command "F"