You Like that, Eh Andrew?
My post game article tonight was supposed to focus on Matt Nieto being the most deserving San Jose Sharks player to score an empty net goal in their 6-4 win over the Ducks. And this column will probably get back to that, but first a great quote from McLellan at my expense, perhaps? I'll  let you decide, (video to come shortly).
"Oh the old analytics, you like that eh Andrew? Yes you do, you get to sit at home on the computer and you become the expert on the analytics, go on?"
McLellan then graciously answered my question (which you know, I could have brought up another minus performance from Brent Burns, but decided to go with a more positive question seeing they snapped a four game losing streak). "Great for him to get a point, we had a good talk yesterday, he's done a good job all over the rink. He'd like to score like anyone else but he was squeezing his stick. We had a talk yesterday about it. I'm glad he got the opportunity on the ice with an empty net even, just to get the monkey off his back and now hopefully move forward and feel good about his game."
Nifty Neets
Nieto was next to Tommy Wingels while the media interviewed No. 57 and yours truly thought about requesting an interview through media relations after he had gone to shower. Shoulda, coulda, woulda. I will have to wait until the next practice (Sharks are off Sunday) to get Nieto's take on how he has felt about his game. Methinks he probably has felt good about his game all season, he's been making things happen despite not getting a lot of points.
"I didn't realize it had been since game one of the season that he had scored" commented Logan Couture who put aside an ailment to shine with a two goal performance. "I grabbed the puck for him and hopefully he finds the back of the net a couple times shortly".
Not sure when Couture did make that realization if he grabbed the puck out of the empty net, or why Nieto would want an empty net goal? Perhaps Couture was just joking around. Who knows. Not exactly worthy of a follow up interview. Moving on…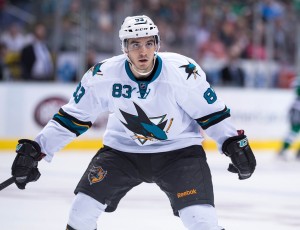 Nieto has been the most snake bit player on the Sharks. Leading the team in Corsi pretty much all season, the empty net goal was just Nieto's eighth point of the season. Meanwhile Brent Burns has 19 points despite being just 12th on the club in corsi for percentage. Burns no doubt has a much more lethal shot, and is a more dynamic physical player. It just goes to demonstrate the bad luck Nieto has had points wise this season. His corsi leads the club but his goals for percentage is just 50% and he has picked up a point on an absurdly low amount of the goals for when on the ice.
Against Anaheim, Nieto used his speed to draw two penalties. He was giving Ducks defenders fits all night long as part of a strong third line with James Sheppard and Tomas Hertl. But of course, the lone assist on the Hertl goal went to Sheppard. Yet again, Nieto got what the little bird left on the rock. Despite three shots on goal and overall solid play, he finished the game minus-1.  The stereotypical player card numbers have not been Nieto's friend this season. Therefore, if anyone deserved an empty net goal typically referred to as "stat padders", it was certainly Nieto.