For Florida Panthers General Manager Dale Tallon, this year's off-season was surely full of déjà vu moments. New ownership came in and promised that the franchise would spend money after previous owners tied Tallon's hands. They allowed him to do next-to-nothing going into the 2013-14 NHL season, only two years after the team had a significant July 1st spending spree when the Cats signed the likes of Tomas Fleischmann and Ed Jovanovski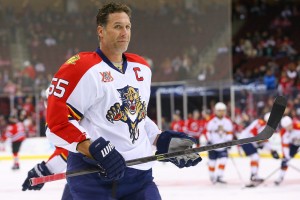 to lucrative deals. His more memorable signings going into '13-14 were defenseman Tom Gilbert, right-wing journeyman Brad Boyes (both signed 1-year $1 million deals), and of course vocal veteran goaltender Tim Thomas. After a lackluster performance in 2012-13 where the Panthers finished dead last in a lockout-shortened season, it's not surprising that these signings managed to boost them up one whole spot in the standings to second last, finishing only ahead of the Buffalo Sabres this past season.

There was panic among Panthers fans to say the least. After a surprise playoff berth in 2012, the general feeling among supporters was to remain cautiously optimistic. A lot of people called their playoff berth a "fluke". That they'd have no chance of repeating the following year and, much to the despair of the Panthers faithful, they were correct. To be fair, Tallon did say that the 2012 team was never expected to make the playoffs and that he simply signed/acquired those players to help fill the gap before the prospects started making their way to the NHL. For Panthers fans, it was an all-to-familiar scene watching their team plummet back down to well-known territory in the standings over the next two seasons.
This off-season, under new ownership, Tallon had permission to spend freely once again. However, this time around he had to use a different approach. No longer was he trying to fill spots with bodies just so he can ice something that somewhat resembles an NHL squad. He now possesses an abundance of prospects that have been gingerly brought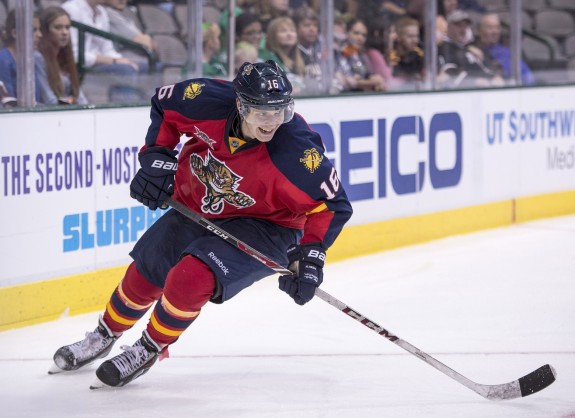 along so that they develop into the players that they were drafted to be. Picks such as Rocco Grimaldi, Quinton Howden, Drew Shore and Nick Bjugstad have all been allowed time to develop in their respective leagues, as well as with San Antonio in the AHL. Dale had to find complimentary players to help top picks Alexander Barkov and Jonathan Huberdeau along their path to being successful NHLers. He needed to find players that will aid in the continuing development of these prospects, who can lead both vocally and by example on the ice, and can contribute to a winning franchise. By signing Jussi Jokinen, Shawn Thornton and awarding a  rich contract to Dave Bolland, you can see that this is what Tallon is trying to do. But with prospects knocking on the door to play in the show and a logjam of forwards already on the NHL roster, did Tallon make the right moves, and who will fall victim to the numbers game when October rolls around?
The Obvious Choices
Let's look at the Panthers roster as of right now. The team currently has 14 forwards signed to one-way deals, and this is without considering Drew Shore or Quinton Howden, who have both spent significant time with the big club and seem to be ready to make the jump from the AHL. With 16 total forwards who are NHL ready and others also looking to prove themselves (i.e Grimaldi), someone who may not be deserving of it will have to watch from the press box.
There's a big group of players that we can assume will be (barring any injury) on the opening night roster for the Panthers. Up the middle, Alexander Barkov, Nick Bjugstad, Dave Bolland and Derek MacKenzie seem to have a lock on their respective roles on each of the Panthers' four lines. Brad Boyes and Sean Bergenheim enjoyed success with 18-year-old Finnish center Barkov and contributed offensively (Boyes led the team in goals with 21), Jussi Jokinen and Scottie Upshall are coming off successful offensive seasons and should slot in on the wings somewhere within the top 3 lines. Despite having poor outings last year, Jonathan Huberdeau and Tomas Fleischmann are also all-but-guaranteed a spot within the top-9. At this point we are at ten forwards already.  Two spots remain with six players fighting for them.
So Who's Left?
Brandon Pirri
Brandon Pirri is a product of the Chicago Blackhawks system (much like many of Dale Tallon's acquisitions).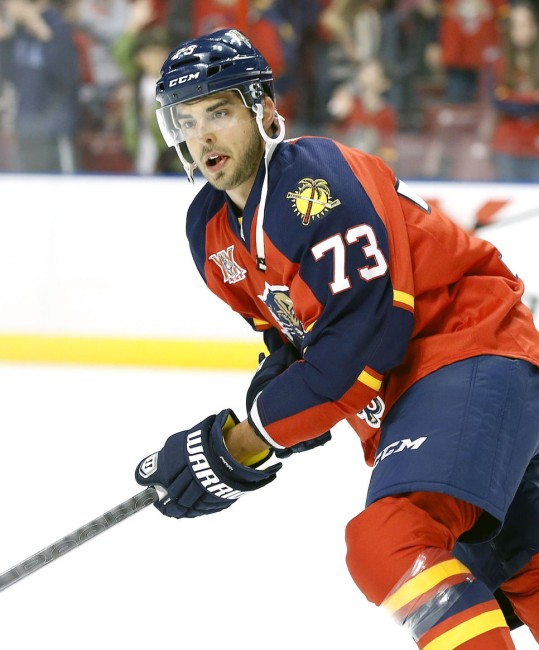 He struggled to stay with the Blackhawks over the course of three seasons, playing a total of only 35 games for the big club in that span. After being traded to the Panthers this past March, Pirri flourished. Centering a line with Quinton Howden and fellow former-Blackhawk Jimmy Hayes, Pirri put up 14 points in only 21 games (including 7 points in his final 7 games) to close out his 2013-14 campaign. His offensive instincts impressed enough to earn himself a two-year contract and many believe his offensive showing last year was far too impressive for him to not factor in somewhere within the top-9 for the Cats.
Tomas Kopecky
Tomas Kopecky had arguably his worst season at the NHL level last year. He struggled throughout the entire season and was sidelined for nearly half of it with an upper-body injury sustained at this year's Winter Olympics. After leading the team in goals (15) during the lockout season, expectations for Kopecky were somewhat high, with some fans hoping for Tomas' first 20-goal campaign to come in 2014. To say he "disappointed" a lot of folks is an understatement. That said, Kopecky still stands to make $3 Million this season and is the fifth-highest paid forward on the roster. Do the Panthers want to pay someone that kind of money to ride the pine, or even play on the fourth line for that matter? If he comes to camp in similar form to last year, could he be a target for waivers in hopes that someone picks him up with only one year remaining on his deal? Expect some sort of turnaround for Kopecky as he looks for his last contract to finish off his NHL career.
Jimmy Hayes
Jimmy Hayes was one of the few bright spots for the Florida Panthers on their way to finishing second last in the 2013-14 NHL season. Hayes was acquired (LINK) along with defenseman Dylan Olsen from the Chicago Blackhawks for problematic winger Kris Versteeg in November of last year. Although he didn't show up on the stat sheet immediately with his new team, Hayes did a good job of establishing himself as a solid bottom-6 player with good size and decent hands. In March (coincidentally right after Pirri was traded to Florida) Hayes began finding his scoring touch. Over his final 22 games of the season, Hayes tallied 13 of his 18 total points on the season, including a couple multi-goal games. Hayes spent some time on the second powerplay unit and was a catalyst for a slight resurgence in the Panthers' special teams near the end of the season, proving that sometimes a big body in front of the net is all you need. After avoiding arbitration this off-season, Hayes signed a one-year, one-way contract with the team, which means he will stay with the big club whether he's playing or not this season.
Shawn Thornton
Shawn Thornton is a well-known name around the NHL. A focal point when it came to agitation for the Boston Bruins over the last 6 seasons, it's safe to say when Dale Tallon signed the 37 year-old winger to a 2-year, $2.3 Million deal, it wasn't for his offensive prowess. Accumulating a total of 748 penalty minutes in his last 5 campaigns, Thornton will provide a big boost in toughness that this Panthers forward core desperately needs. Although he is primarily known as an agitator, Thornton can contribute on the scoreboard at times, as demonstrated with this goal he scored against his future employers:
http://youtu.be/qROS6LnpJqs
Thornton's main role will be to get under the skin of the opposition's stars in hopes of throwing them off their game. We were all witness to his antics with Montreal's P.K Subban last season, and if you know Shawn's career, this is nothing out of the ordinary for him. Expect Thornton to fight for the 4th line right wing spot with Jimmy Hayes.
Won't Somebody Please Think of the Children?
One positive outcome from years of mediocrity is the accumulation of high-quality prospects, and the Panthers have a cupboard full of them. Drew Shore, Quinton Howden, Vincent Trocheck and now Rocco Grimaldi are all players who may contribute to the Panthers at some point during this coming season. Shore is likely the most NHL-ready player from the group. He's accumulated 67 games in the big leagues (including being the #2 center for the Panthers in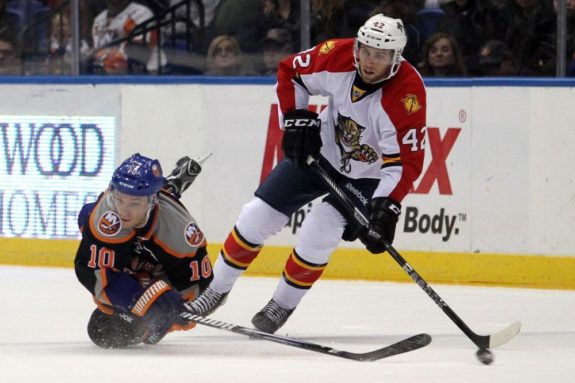 2012-13) over the last couple of years, and although he has struggled to find the goal scoring touch he possessed in college with the University of Denver's Pioneers, Shore has never looked out of place and has continued to trend upwards throughout his hockey career.
Howden struggled in his first stint at the NHL-level but found his game late last season playing with Pirri and Hayes. Trocheck excelled when thrust into a more prominent role with the big club and did not look out of place despite playing his first 20 NHL games last season, and 2011 33rd overall pick Rocco Grimaldi impressed for the third straight year at Panthers' development camp in July. After signing his first entry-level-contract last May, a lot of fans envision Grimaldi actually cracking the Panthers lineup. He possesses a ton of skill and work ethic within his 5'6 frame.
The Waters Run Deep in South Florida
Whether or not GM Dale Tallon made the right decisions on the signings he made, one thing they do bring is a certainty in the depth department for the Florida Panthers going into the 2013-14 season. Something that this franchise has lacked for years, and given its history with injuries, has been an area of need for over a decade.
With many players on the Panthers' roster listed as left-wings, some will be forced to move from their natural positions if they want a roster spot. Much like the 2011-12 season, this coming year will be full of experiments and its fair share of hits and misses. One guarantee that Panthers fans can find solace in is that if (perhaps when) the injury bug hits, Dale Tallon and the Florida Panthers will be ready.