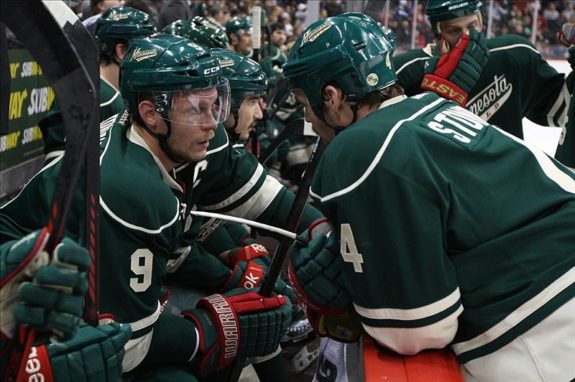 With the 2014 NHL Entry Draft behind us and free agency opening, let's take a look back at Minnesota's short history and pick the ten best Wild draft picks in franchise history.
1. Marian Gaborik – 1st Round, 3rd overall, 2000
Stanley Cup champion, Marian Gaborik. Wild fans are still getting used to the sound of that, since Gaborik was maybe best known in the State of Hockey as playoff cyanide and a junkyard electromagnet for injuries. Nonetheless, the first draft pick in franchise history remains their best pick to date. He's a veteran 890 NHL games, with 379 goals and 382 assists (regular season and playoff). He's a three-time 40-goal scorer and he may not have hit his ceiling yet. He looked rekindled in his short run with the Kings, scored 14 goals and eight assists in 26 playoff games. With his first full season playing alongside Anze Kopitar coming up, he could have an explosive season. He's never been on a team where he's not "the guy." He's a character actor in LA and has been well cast.
2. Mikko Koivu – 1st Round, 6th overall, 2001
Despite debate over his last two postseason performances, Koivu is the clear pick for number two on this list. Minnesota's Kaptain was the franchise's second-ever first round pick. He's played 630 career games — all in a Wild sweater — tallying 130 goals and 322 assists, to be the Wild's all-time leader in points. He's a responsible player who plays both ends of the ice and has been the glue of the team for years.
3. Brent Burns – 1st Round, 20th overall, 2003
Speaking of bittersweet feelings… Former fan favorite (and current San Jose fan favorite) Brent Burns left the team in a trade before the 2011-12 season. He still feels young — both because of his general goofiness, his hoards of pets, and the arc of his career, but he's a veteran of 667 NHL games. He's had an odd career, playing offense when he was younger and getting moved to defense by defensive-minded former Wild coach Jacques Lemaire. After being acquired by San Jose he spent a year on defense, a part of an injured year on defense before being move to forward where he was a revelation, then played all of last season on San Jose's top line with (former?) captain Jumbo Joe Thornton. That's the kind of bouncing around that you generally don't see with a player ten seasons into their career. The bouncing isn't over yet for Burns though. Sharks GM Doug Wilson announced after the Sharks blew a 3-0 series lead on the Kings that Burns will be moving back to defense. Few players could handle this much bouncing about and still be a successful player in all situations. Burns is a special player, even though some of his potential may be getting squandered because of his versatility.
4. Nick Schultz – 2nd Round, 33rd overall, 2000
The term "stay-at-home defenseman" was invented for players like Nick Schultz. The stalwart D-man was for a long time the player who had played the most games in a Wild sweater (passed by Koivu this season). Schultz was a perfect fit for Jacques Lemaire's system. But he had to go as a part of the changeover from the Doug Risbrough-era to the Chuck Fletcher-era. It was a slow process, but the trading of the team leader to Edmonton signaled a major shift in focus. Schultz has played in 906 career NHL games, accumulating 27 goals and 119 assists.
5. Josh Harding – 2nd Round, 38th overall, 2002
Harding had a breakout performance this past season with a .933 save percentage and 1.65 goals against. He singled-handedly won games for the Wild early in the season. But while one season does not a career make, Harding has been with the Wild as a more than reliable back-up for eight seasons, which is longer than the reign of most second fiddles. He may have been able to make the jump to full time starter this season if it weren't for complications with MS. Drafting a goaltender is always tricky, but Harding has provided the best return on drafting a goalie in for the franchise thus far.
6. Mikael Granlund – 1st Round, 9th overall, 2010
Sure, it's early to be calling this a grand pick for the Wild, but the ceiling appears to be as high as Wild fans hoped when he was drafted. His rookie year was patchy and many will chalk that up to adjustments to the smaller American rink size. (Though, if we're being honest, he played on NHL-sized rinks before coming to the NHL.) His sophomore year tells us everything we want to know though. He scored big goals for the Wild in the playoffs, stepped up to a top line center role when injuries required it of him, and was selected as a first-team All Star in the 2014 Olympics. He may have finished his injured-shortened 63-game season with 33 assists and only eight goals, but in the 17 games following the Olympic break he had three goals and 10 assists. If he keeps progressing in the manner we saw this season, he will climb this list quite rapidly.
7. Cal Clutterbuck – 3rd Round, 72nd overall, 2006
Clutterbuck wound up being a diamond in the rough for Minnesota. He was never bound to be a top-line guy, but his combination of heads-up play, a solid shot, and a very physical (and clean!) game makes him an excellent role player on just about any team. He's a third-line winger who can grind with the best of lines and has the ability to score (as long as a goalie gives up some room high glove side). He's even shown the ability to play up the line-up well. However, the lockout shortened 2012-13 season was not a high-water mark for Clutterbuck, who only managed four goals and six assists through 42 games. If he had been able to do a little more that year he may have wound up back in a Wild uniform. While some love his ability as a third-line role player, he's only 26-years old right now and three seasons back he scored 19 goals, leading many to believe he could develop into a regular second-liner who could add grit to a scoring line. That hasn't happened yet, but he's managed to carve out a role for himself and even saw some top six minutes with the Islanders last season.
8. Nick Leddy – 1st Round, 16th overall, 2009
The Eden Prairie native has had his ups and downs already in his four-year career, but before anyone starts calling BS on Leddy at 8 remember that defenseman tend to develop a little slower than forwards and that Leddy is only 23-years old and has a Stanley Cup championship behind him (and played a handful of games in Chicago's 2010 run). He struggled a bit in the playoffs this year, but he remains a very exciting young player for Chicago. He may not have a lot of offensive upside, but he can make plays and he hasn't missed a single regular season game over the last three years. So, to lay it all out there, he's 23 and four seasons into his career, has played over 300 games, has played in the playoffs every year of his career, including being on a team that won it all twice. Things are going pretty well for Leddy and he should continue to improve.
9. Jonas Brodin – 1st Round, 10th overall, 2011
Brodin proved a lot in his rookie season, averaging 26:23 on ice per game, good for 10th in the NHL. (Wild fans are rightly still bitter that he didn't get much consideration for the Calder Trophy that year.) This season he averaged 23:37, which was 27th in the league. Still impressive. Brodin is only two years into his career, so it's early to start talking about what kind of player we should make him out to be, but it's clear that from day one he was a top four defenseman and has been a crucial piece of the Wild's young core that is the heart of their future hopes. Oh, and he's just 20-years old.
10. Erik Haula / Darcy Kuemper – 7th Round, 182nd overall, 2009 & 6th Round, 161st overall, 2009
Like a few players on this list, we're projecting a bit into the future, but coming in the 7th and 6th round respectively, Haula and Kuemper have already made more of an impact on the franchise than most draft picks have the opportunity to do. Haula proved to be a great penalty kill specialist and a stalwart physical presence deep in the lineup. But when he was called upon late in the season, Haula stepped up into a top line center role and thrived. One season into his career, Haula has raised expectations considerably.
Kuemper could be the future face of Wild goaltending with both Harding and Nicklas Backstrom struggling with injuries and/or general health over the last couple seasons. Keumper arguably saved the team's season when he stepped into the lineup in January and took over the starting role until he suffered a concussion during practice in Phoenix at the end of the season. He came back and was outstanding in the playoffs until taking a knee to the head from a teammate and exiting the game and the playoffs. Kuemper is a big goalie and a great find by Brent Flahr and the Wild scouting staff in the 6th round. Both players represent what have arguably been the team's most profitable late round picks.
Honorable Mention: Anton Khudobin, Clayton Stoner, Marco Scandella, Derek Boogaard, Patrick O'Sullivan
The Watch List: Gustav Olofsson, Matthew Dumba, Jason Zucker, Johan Larsson (Buffalo Sabres), Matt Hackett (Buffalo Sabres), Johan Gustafsson
NOTE: The criteria here varies wildly. Games played mattered a lot at times, like for Nick Schultz. At other points I valued a player's impact on the team — ranking Granlund while excluding O'Sullivan who has played over 300 career games. Potential, fickle a term as that may be, was considered, as was where they were drafted. The last point is why Kuemper and Haula ranked above players I had on the cusp like Stoner (3rd round) and Scandella (2nd round) despite both Stoner and Scandella being more proven commodities.
Like any list, this is all subjective. How would you re-rank this? Let me know in the comments.