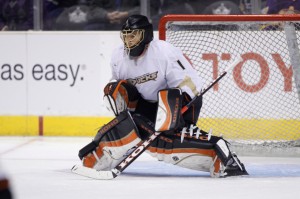 If the trend of signing "value" goaltending continues, even big name guys like Ryan Miller, Jonas Hiller and even Martin Brodeur won't see the paydays they might envision on July 1. This has less to do with the quality of the goalies themselves, and is more a reflection of the current market. Even teams with unrealistic expectations like Vancouver seem on the surface content to let Eddie Lack take the reigns. Although there is scuttlebutt that Miller is an option there, don't be shocked to see him take a pay cut from what he currently makes. Although it seems counterintuitive in today's offense-minded NHL, goalies are looked at as needed, but not rare. There are a few primary reasons for this.
Talent between starters and backups are comparable
Since virtually the inception of the League, there have been the stud goalies and the also-ran backups that rarely played unless absolutely required. Goalies in eras past were there to spell injury or provide the occasional day off, with the focus on resting the starter and less on having a chance at winning. Even through the 1990s and early 2000s, the idea of a "1 and 1A" was thought of as a waste of money. Teams like the early St. Louis Blues Glenn Hall and Jacques Plante built through the expansion draft. Conversely, the New York Rangers stumbled into their embarrassment of goaltending riches with John Vanbiesbrouck and Mike Richter, but that wasn't a situation sought out by management through trades and free agent signings. Why bother with that, when your starter pushes out 65-plus games? When the Montreal Canadiens, for example had Patrick Roy starting and "Red Light" Racicot as the backup, the difference in quality was palatable. Other examples abound: Curtis Joseph backed up by Jim Hrivnak; Peter Ing serving as Grant Fuhr's backup in Toronto; Tom Draper backing up Dominik Hasek and the list goes on. In fact, even when teams found themselves with two quality goaltenders — Chicago's Belfour and Hasek for example — there was a rush to trade the up-and-comer for cheaper #2 guys and maybe some offense on the side. Today, payroll issues aside, two goalies of that quality level would split most of the starts. The modern NHL sees goaltending duos where very often the starter has the limelight and dollars, while the backup often puts up similar (or better) numbers. The backup to Tuukka Rask, Chad Johnson had a 2.07 GAA with a .927 save percentage. Behind a great team, one could argue that that's expected, but when there's a high likelihood the Bruins will find another backup that puts up similar numbers, there's little reason to give Johnson a raise this year. Johnson is a free agent, looking for presumably a starting role — or at least a raise — this coming season.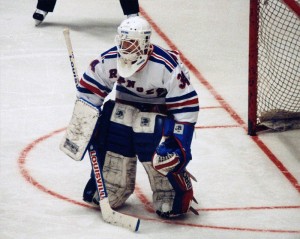 Low-profile goaltenders win
NHL general managers — like most of the population — think with their wallets. It doesn't take much to justify spending less on something, even if the odds of success aren't with that course of action. Looking recently at Antti Niemi's Cup win with the Blackhawks in 2010, you can see why teams began the race to the bottom in terms of finding the least-expensive yet reasonable option to put in goal. The runner up that year, Philadelphia's Michael Leighton was the third-string goaltender at the time. Shortly after losing in the Finals, Leighton disappeared into minor-league obscurity while Niemi went on to take the reins in San Jose. After Niemi departed Chicago due to salary cap constraints, AHL stalwart Corey Crawford took over and proceeded to win another Cup for Chicago in 2013 — beating $7 million man Tuukka Rask. Although 2014's Cup Finals matchup saw two of the best go head-to-head in Johnathan Quick and Henrik Lundqvist, it's not guaranteed that this will happen like as it was back when Ken Dryden and Gary Cheevers made regular appearances against one another.
Teams in need require other types of free agents
As has been discussed before, the age of the savior goalie floating down on angelic wings to save a franchise is pretty much over. Today, goalies get paid less on promise and more on results. Picking on Crawford again, his salary increase only came after winning the Cup, as did Quick's and Niemi's. Only in rare instances when the starter is so clearly ahead of the rest of a franchise's goaltending pool will that deviate, such as Lundqvist in New York, free agent Ryan Miller, Pekka Rinne in Nashville and Roberto Luongo in Florida. The trend today for teams in rebuilding mode are to grab that promising backup or bring up a guy from the minors, under the realization that even the best in the League won't move the needle too much. Scoring and defense is not only where the bulk of the payroll dollars go, but it's also where teams in full-rebuilds typically need to focus their attention. Unless the talent pool in minor leagues drops off precipitously, fans should continue to expect major payroll dollars to be diverted away from arguably the most important position in sports.