These are the guys that aren't picked in the first 10 round of your playoff pool. Some of them aren't even picked at all. These are the players that break through when your top lines are being smothered by guys named Lidstrom, Chara and Pronger. These are the guys that win rounds for teams in the playoffs.  These are the top 10 secondary players from this year's first round.
10. Dan Carcillo (2 goals, 1 assist, 18 PIM)
Dan Carcillo was a constant pain in the side of the Devils' team that disappointed yet again. With the series tied 1-1, he was the improbable hero in the Flyers' Game 3 overtime victory.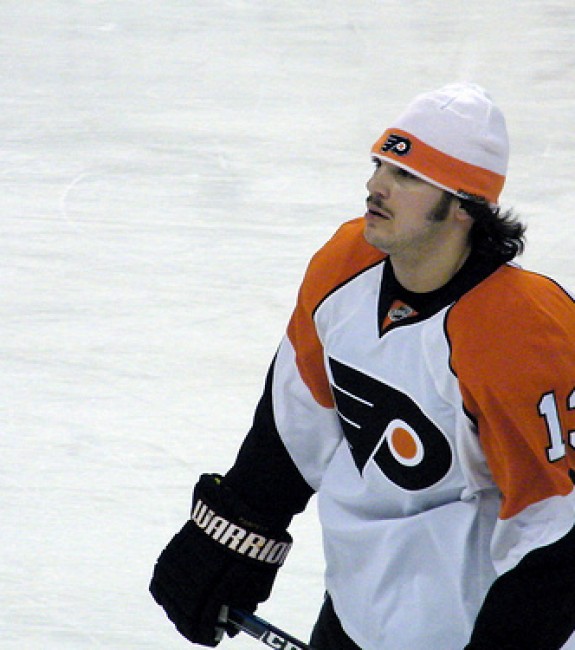 9. Valtteri Filppula (3 goals, 4 assists)
While you could view Filppula's points a benefactor of Detroit two big wins (three in 7-4 win, two in 6-1 win), his all around play and work ethic was absolutely fantastic against Phoenix. Also consider that he was only moved to wing once Johan Franzen returned to the lineup just before March, and his play is even more impressive.
8. Martin Hanzal (0 goals, 3 assists)
While he didn't have the offensive production of the other top 10 members, Hanzal took his big step into the limelight of elite defensive forwards in the NHL. In the first few games of the series, he absolutely manhandled Pavel Datsyuk in the corners. While he used his 6'5″ frame in the corners, he also won 55.2% of his faceoffs while taking the same number of draws as guys like Crosby and Datsyuk. Still don't think he is a future Selke winner? Hanzal won the second most faceoffs while shorthanded with 20!!
7. Brad Stuart (2 goals, 4 assists)
He took a lot of the blame for his momentum changing giveaway in Game 6, Brad Stuart put the nail in the Coyotes' coffin in Round 1, scoring a breakaway goal after the Wings just killed his two minute penalty late in the 2nd period of Game 7.
6. Mark Recchi (3 goals, 2 assists)
The 42 year old did not show a single sign of his age in the Bruins' upset over Buffalo. Look no further than his steamrolling of Tim Kennedy on his way to setting up gamewinning goal in Game 3, giving Boston a 2-1 series lead.
5. Claude Giroux (4 goals, 2 assists)
While his stats aren't really indicative of his rank in this top 10, Giroux may be the only player on this list who has real star potential. In the Flyers' five game domination over New Jersey, Giroux was a human highlight reel, setting players with spin passes, deking defenders out, and winning battles in the corner. With Simon Gagne and Jeff Carter out of Game 5, Giroux scored two quick second period goals to solidify his team's series win.
 4. Miroslav Satan (2 goals, 3 assists)
Up 2-1 in the series, Boston headed to double overtime with Buffalo. After what may have been the best post lockout overtime session, Miro Satan danced into the slot, deked out Ryan Miller and slid the puck into the net to give the Sabres a 3-1 series lead.
In Game 6, up 3-2 in the series and game, Satan made another slick dangle around the net, pulling the puck around the side of the net and into the empty cage to give Boston a 4-2 lead in what would turn into their series' clinching win. Did I mention Satan spent six full season in Buffalo?
3. Hal Gill (0 goals, 1 assist)
31 blocked shots in seven games. He spent 4:42 per game on the ice in shorthanded situations and helped hold Washington, the league's best regular season powerplay, to just one goal on 33 tries.
2. Joe Pavelski (5 goals, 3 assists)
Joe Pavelski's stats are above; the Big Three of Heatley, Thornton and Marleau: 1 goal between them. Marleau's goal was the fifth in a 5-0 romp in Game 5. Pavelski had two game winners, one game tying goal and the opening goal of San Jose's Game 6 win.
1. Mikael Samuelsson (7 goals, 4 assists)
Samuelsson led the Canucks in goals and points and used his deadly wrist shot to expose Jonathan Quick's weak glove all series long. In Samuelsson's last three Finals' runs with Detroit, he had 11 points in 18 games, 13 in 22 and 10 in 23 last year; his highest goal total over that stretch was five.