It's that time of year again. The weather starts cooling (how much depends on your location), leaves start falling from the trees, and people everywhere start preparing themselves for fantasy sports of all types. Each year, hopeful fantasy "general managers" (I use that term lightly) try and determine who to draft in terms stellar performers or breakout players that will propel you past your opponents to fantasy glory. Although the Florida Panthers may not be the Chicago Blackhawks or Pittsburgh Penguins when it comes to fantasy performers, there are a few names you should take into consideration. Here is a list of the top-5 (in no particular order) fantasy options on the Cats' roster.
Who Appeals the Most in the World of Fantasy Sports?
Dmitry Kulikov
This young defenseman has been an enigma for the Florida Panthers since he made the team in the 2009-10 season. After a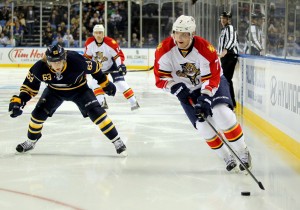 steady progression in point totals and overall play in his first few campaigns, Kulikov regressed in '12-13.  This past year he had far and away his worst season in terms of on-ice goal differential (finishing a team worst -26), but there is a silver lining. The former 1st round pick set a career high in goals (8), which led the Panthers d-men in that category. After managing only 3 points in his first 27 games of the '13-14 season, Kulikov closed out the year with 7 goals and 9 assists in his final 54 games. Although these numbers may not be astronomical or particularly enticing  at first glance, the trend is something to watch for. He continues to improve his offensive game and showed glimpses of new-found confidence throughout the tail end of last season. If Kulikov can improve on last year, he could reach the high 30's/low 40's in terms of point production this year.
Tomas Fleischmann
Everyone following the NHL last season was witness to Fleischmann's fall from grace. After leading the team in scoring for two consecutive seasons, "Flash" matched an output similar to his rookie season in the NHL, posting only 8 goals and averaging a mere .35 Points Per Game. It was actually his worst season in the big leagues, but this is where the appeal lies. He's not a household name by any stretch, but has proven in the past that he is a capable 50-60 point player. The Czech forward will likely drop in most drafts and some fantasy owners will be wary of taking a chance on him, but if you see his name hanging around near the end, it could be a low-risk, high-reward investment to scoop him up and see how he performs in new Head Coach Gerard Gallant's offensive-minded system.
Roberto Luongo
Nearly eight seasons apart, Bobby Lou was finally reunited with the Florida Panthers after months of speculation and trade rumors. He is perhaps their most interesting player in terms of a fantasy option. Luongo is still arguably a top-10 goaltender in the NHL. He is slowly getting up there in age (turned 35 in April), but has shown that he is still extremely capable between the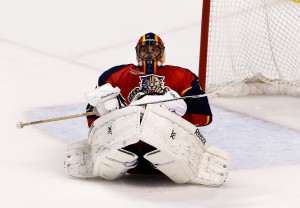 pipes. Behind an abysmal Panthers defense, Luongo still managed a respectable 6-7-1 record with a 2.46 Goals Against Average and a .924 Save Percentage. If you watched the games with him last season, you could see he was comfortable again. Despite the losing, his body language exemplified his happiness to be back in South Florida. Luongo's fantasy value will go as far as the Panthers do. If the additions of Willie Mitchell on the blue line and defensively-oriented center Dave Bolland are able to aid the Panthers in their own end, fantasy owners can expect a jump in Luongo's numbers. Unfortunately, if the Panthers aren't winning games, his value will remain low. You can expect 5 or 6 shutouts from him this year, but a goalie's most valuable asset in fantasy hockey is his win total. Whether or not the Cats can put it all together this year and become a winning team in a wide-open Eastern Conference is anybody's guess, but having Bobby Lou in front of the 4×6 is a step in that direction.
Jonathan Huberdeau
Following a dream-like first season where he played top-6 minutes and won the Calder Trophy as the league's most outstanding rookie, Huberdeau struggled to find his footing in his sophomore year, finishing with 3 less points despite playing 21 more games. The former 3rd overall pick jumped from top lines to bottom-6 and never found his groove despite short windows of greatness (as seen below). Many fans and writers attributed the struggles to a hip surgery that prevented Huberdeau from getting a full summer of training in, others simply called it the prototypical "sophomore slump". Once again, whether or not Huberdeau can bounce back is unknown at this point. At times, he has shown strong offensive instincts and truly elite-level stickhandling ability, but in other moments, he is hard to even spot on the ice. Despite his struggles the 21-year-old is poised to breakout this year. With more proven veterans added to the Panthers roster, the pressure to perform night-in and night-out will be diminished significantly, allowing for Huberdeau to play "his game" more. Add that to the fact that Huberdeau's junior coach in Saint John, Gerard Gallant, is now the head coach of the Florida Panthers and you've got a recipe for a potentially great season.
Brian Campbell
Easily the safest bet in terms of fantasy point potential, Campbell is definitely the "most drafted" player on the Florida Panthers. In his first year with the team (2011-12), the former Blackhawk finished second in the NHL in points by defensemen behind only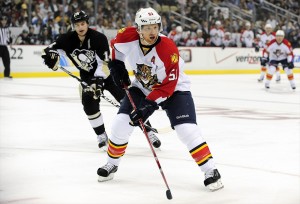 Erik Karlsson of the Ottawa Senators. His real value is in his powerplay point totals. In his first two seasons with the Panthers, Campbell ranked first in the NHL among defensemen with 48 points on the man advantage. In '13-14, the Panthers had by far the worst powerplay in the NHL, converting only 1 out of every 10 powerplay opportunities. This was not Campbell's fault by any means, and was more of an extension of coaching changes, lack of systems, and no real work ever being done on the powerplay (including keeping Tomas Fleischmann on the point opposite Campbell despite it never yielding any results). Gerard Gallant ran the powerplay for the Montreal Canadiens before joining the Panthers, so his systems should improve possibly the biggest weakness for the Cats last season. Expect Campbell to go somewhat early in terms of defensemen drafted as he is a safe choice despite last season's decrease in production.