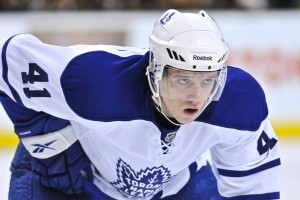 The Toronto Maple Leafs' off-season has only begun.
After drafting defenceman Morgan Rielly with the fifth overall selection the 2012 NHL Entry Draft, moving goaltender Jonas Gustavsson to the Winnipeg Jets and swapping Luke Schenn for James van Riemsdyk last weekend, Maple Leafs general manager Brian Burke is now in the process of re-signing pending free agents.
One of those pending free agents is Nikolai Kulemin, who is set to become an RFA when the free agent market opens on Canada Day.
"I have a plan for Nikolai Kulemin," Gary Greenstin, Kulemin's agent, told The Hockey Writers via email on Monday evening.  "I mentioned that Nikolai Kulemin loves the city and the organization.  He would like to remain in Toronto. He has a great chemistry with [Grabovski] and McArthur."
As many are already projecting, the negotiations between Kulemin's camp and the Maple Leafs could get nasty this summer. The main reason for that is the fact that Kulemin had somewhat of an off-year in terms of offensive production.
The 25-year-old saw his totals dip from 30 goals and 27 assists in 2010-2011 to just seven goals and 21 assists last season. It wasn't all bad though, as Kulemin managed to maintain a high level of defensive play. Given the two sides to Kulemin's season, no one can be more than 50 percent sure that he and the Leafs will hammer out a new deal any time soon.
"We will see what happens," Greenstin added in his email to The Hockey Writers. "They have to do what is best for the team and I have to do the best for my client."
Kulemin joined the Leafs in 2006 when they drafted him in the second round, 44th overall. He played his rookie season in 2008-2009 and managed 15 goals. After that, Kulemin's totals improved each season up until 2011-2012. In 303 career regular season games, Kulemin has scored 68 goals and has assisted on another 84 to go along with a career rating of plus-one. He has not appeared in the post-season.
Many are wondering what is next for the native of Magnitogorsk, Russia. With the acquisition of van Riemsdyk, some are even saying that Kulemin has been made expendable. Based on Greenstin's comments, it's clear that both sides would like to agree on a new contract before anything as radical as a trade is even considered. However, given the amount of change that has gone on in Toronto over the last few months, it would be foolish to rule out just about anything.
To go along with Kulemin and van Riemsdyk, the Leafs will also have wingers Clarke MacArthur and Nazem Kadri attempting to land a spot in the top-six forward group. Phil Kessel and Joffrey Lupul are already being viewed as locks, and rightfully so. The question now concerns who stays and who goes this summer.
The Leafs get lucky when it comes to pending free agents this off-season. Kulemin is one of just five NHL-level players that need to be re-signed, with Matt Frattin, Joey Crabb, Jay Rosehill and Cody Franson being the others.
Free agency is only a few days away, meaning time is ticking on Burke and his staff.
Twitter: @LukasHardonk | Email: lukas.hardonk@gmail.com | Lukas' archive
For every Leafs article on THW, follow @THW_MapleLeafs on Twitter.