Right off the hop, there will be criticisms regarding the headline. Pretenders? How can a team be pretending with three solid centers and arguably two of the top 15 players in the game in Auston Matthews and John Tavares?
The answer is simpler than you think. The talk around town can focus entirely on the acquisition of Tavares and how it makes the Toronto Maple Leafs a contender, but the fact is the team has ignored their deficiencies in their own end.
Related: Kadri Could Flourish as Leafs' Third-Line Centre
It's hard to argue that the Maple Leafs won't be able to outscore any opponent because – well, let's face it – with the offensive power they've bolstered their lineup with it shouldn't be a problem. But the playoffs are different. Teams don't just simply outscore opponents, rather they have to find a way to shut down their opponents' attack as well.
Without changes coming to the team's blue line this offseason, how can anyone be sold on the idea that they will be better than last season.
Looking Back on Maple Leafs' 2017-18
Last year, the Leafs finished tied for second with 277 goals for during the regular season. While they finished among the top 10 in goals against (10th with 232 given up) they landed there in large part thanks to the incredible goaltending of Frederik Andersen.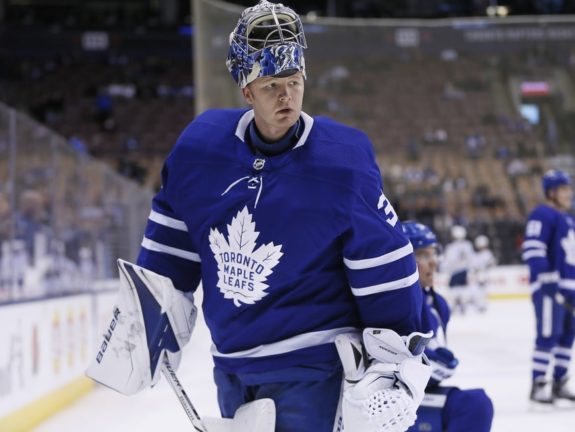 The Maple Leafs gave up the third most shots on goal of any team with 2,844 with Andersen seeing 2,211 of them – 136 more than the next closest goalie. What's more impressive is that the Dane stopped 2,029 of them and posted a .918 save percentage to go along with his 2.81 goals against average. Oh, and the next closest goalie in saves was Andrei Vasilevskiy with 1,908 – so not even close.
Still the Maple Leafs managed to win 49 games and finished third in the Atlantic Division behind Tampa Bay and Boston.
But the playoffs are a different beast and the young Maple Leafs squad was shown that very quickly in their first-round series with the Boston Bruins. Toronto gave up 12 goals in the first two games and 28 over their seven-game series with the Bruins.
What made it worse? The Maple Leafs carried a one-goal lead into the third period, which meant it was time to shut it down in their own end. But that's exactly where the problem lies. The Bruins came out firing and netted four goals in the third to take Game 7 by a score of 7-4 and send the Leafs home packing.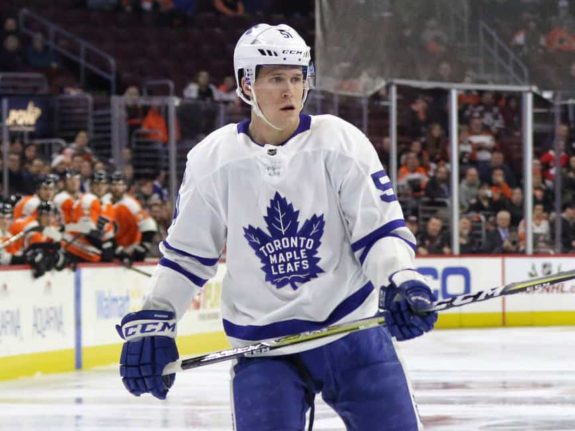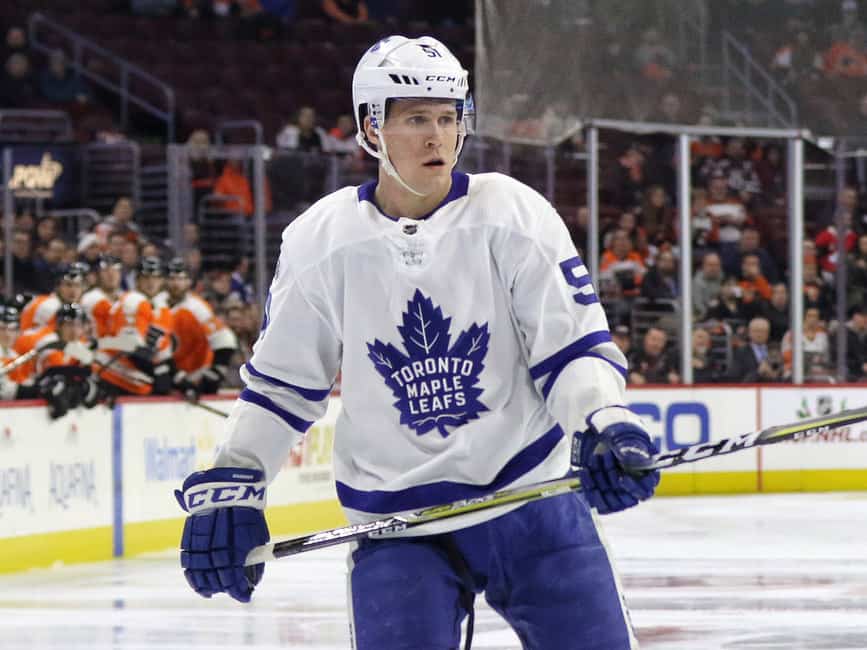 Blame was cast on anyone that fans or media could think of – including a lot of it being thrown at defenceman Jake Gardiner for his seemingly costly lapses throughout the deciding game. Still, the problem isn't just Gardiner. It's the lack of a stud defenceman within the Maple Leafs lineup that will likely keep them from contender status for the upcoming season.
A History of Stanley Cup Studs
Look back at some of the most recent teams to win the Stanley Cup. The majority of them have a stud defenceman that can be credited with playing a major role in the team's playoff run both offensively and defensively.
In 2017-18, the Washington Capitals placed John Carlson in this role. He had 68 points in 82 games during the regular season which was good enough for fourth on the team and added another 20 in 24 postseason games – fifth on the Caps. No player averaged more time on the ice during the playoffs than Carlson's 25:38 and he finished the postseason with a 50.8 Corsi For Percentage (CF%) and 52.6 Fenwick For Percentage (FF%).
While the Caps had guys like Orpik, Niskanen and Orlov also platooning the blue line, it was Carlson who really stood out and stepped up for Washington – a fitting role for the 28-year-old.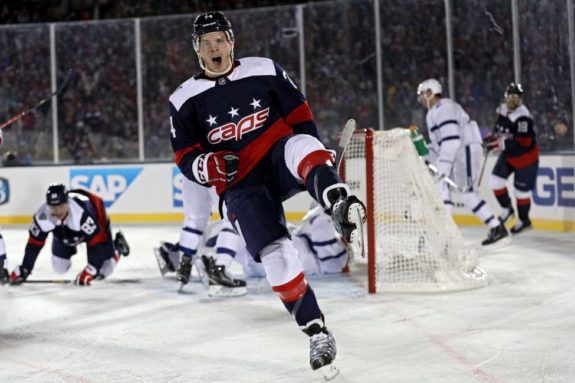 Before them, it was the Penguins — twice. They were led by Kris Letang in 2015-16 when he averaged nearly 29 minutes per game during the playoffs and raked in 15 points for the Penguins. Both his CF% and FF% were over 54% and he finished a plus-six.
In 2016-17 they relied on their defence corps as a whole with Letang out of the lineup. While unusual — with no real stud coming to the forefront — the Pens were able to repeat as Stanley Cup winners.
Go back to Chicago in 2013. They had Duncan Keith and Brent Seabrook. The Bruins had Zdeno Chara in 2011. Heck, even the Calgary Flames had Al MacInnis back in 1989 who led the team in playoff scoring with 31 points in 22 games with four game-winning goals that year.
The point is, there are times that teams can win while relying on their blue line as a whole. That said, as history dictates, most Stanley Cup champions have had some stand-out defenceman that they can rely on no matter the situation. That's something the Maple Leafs don't have.
Maple Leafs Still Missing Stud
Sure, they employ Morgan Rielly and Jake Gardiner. Heck, Travis Dermott is on the rise. But nowhere within their lineup would you argue that they have a stud blueliner.
So what can the Maple Leafs do to shed the title of pretender and join the small group of contenders? Well, there's a couple of options.
For starters, they can trade for a big name blueliner – but that option isn't as realistic if the Leafs are looking to hold onto the majority of prospects in their pipeline. Let's face it, it'll take some significant skill to pry a player of that magnitude away from another club.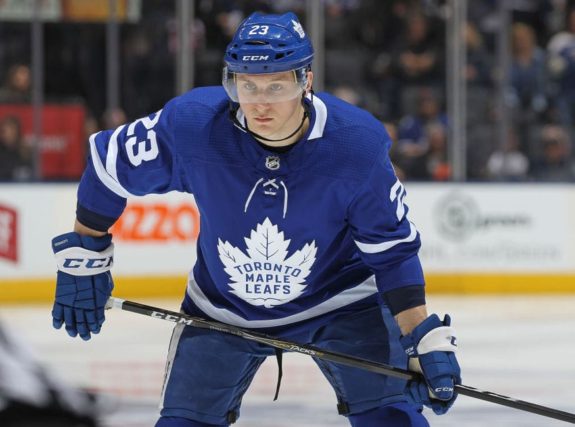 That said, the latest rumour mill has both Josh Leivo and Calvin Pickard as possible trade bait, but would that be enough to get what the Maple Leafs are looking for on the blue line? I think not.
So it's simple then. The Maple Leafs will have to find a way to fill that hole from within their organization and there is potential.
Rielly is coming off a career-year in 2017-18 where he tallied 52 points in 76 games while playing just under 22 minutes per game. He also reached new highs in both Corsi For Percentage (51.6%) and Fenwick For Percentage (50.4%) last year and continued to take on a leadership role with the young Leafs squad.
While he had some troubles throughout the year, Gardiner also grabbed 52 points in 82 games for the Leafs. While his defensive numbers certainly need work, he played nearly 23 minutes per game against opponents' top lines. Still he wasn't enough to fill that void for the Maple Leafs.
So maybe it'll be Travis Dermott. Sure he only played in 37 games for the Maple Leafs, but he tallied 13 points over that span and averaged 16 minutes in his first partial season in the big leagues.
Related: Top 10 Offensive Seasons in Maple Leafs History
While it's a small sample size, he did finish the season with a 55.0 CF% and 54.3 FF% which could get the Maple Leafs' brass somewhat excited for what this kid has to offer.
Regardless, the likelihood that the Leafs fill the role of stud defenceman from outside the organization remains slim. But to become a true contender in a league the relies on defence to win the ultimate prize – a Stanley Cup – this team will have to either find a stud within the organization or band together like the 2016-17 Penguins and win as a fully-committed unit.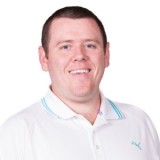 Andrew is in his 8th year reporting for The Hockey Writers covering the Toronto Maple Leafs. He began his broadcasting with CBC's Hockey Night in Canada team as well as being part of their coverage of the 2014 Winter Olympic Games in Sochi. He's the former play-by-play voice of the London Jr. Knights for Rogers TV and currently hosts the Sticks in the 6ix podcast. You can follow him on Twitter at @AndrewGForbes.