For those who've kept track of the NHL off-season, it's clear the Toronto Maple Leafs now have an embarrassment of riches down the middle.
They already had a franchise-calibre centre in Auston Matthews, as well as a resurgent Nazem Kadri. Now with John Tavares in the fold, they have one of the best trios at centre in the league — a unit that may only be rivaled by the Pittsburgh Penguins and Washington Capitals.
The Leafs now have three out of the eight centres in the NHL who have scored 30 or more goals in each of the last two seasons. Whether it's Tavares or Matthews slotting in as Toronto's top faceoff man remains to be seen, but one thing that's far more certain is Kadri filling the number three spot on the depth chart.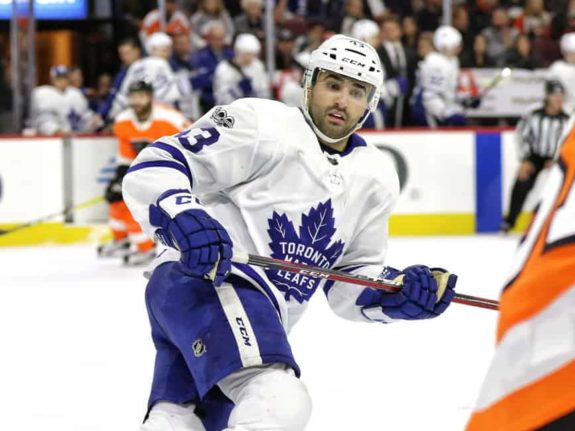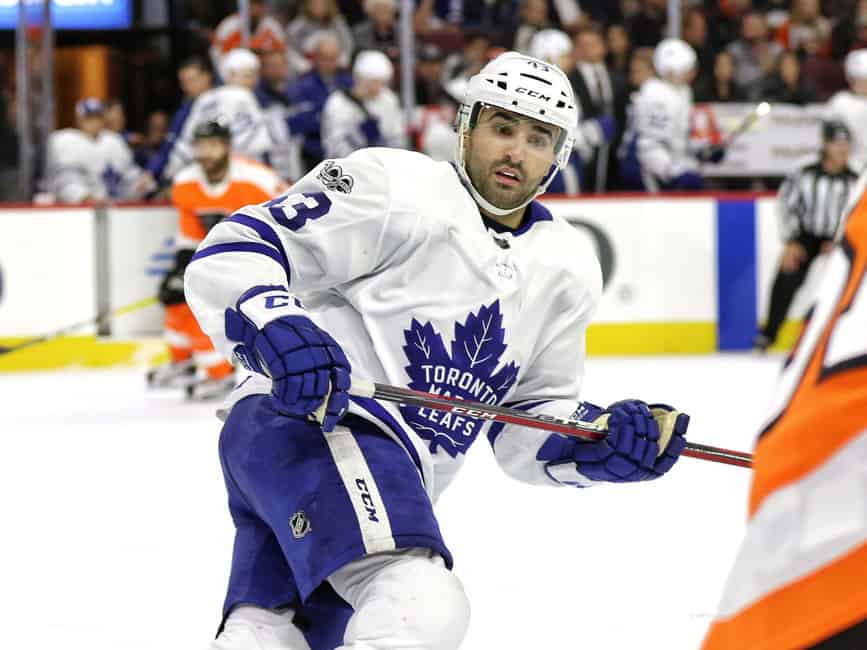 As he told the Toronto Sun earlier this week, he's fine with taking on a lesser role if he ends up being part of a team that can do some damage in the playoffs next season, as many people expect them to.
The Leafs are beaming over having a pivot like Kadri, who's now a consistent 60-point threat and is capable of playing a shutdown role.
Kadri Coming Into His Own
Long gone are the days where Kadri was considered immature and frustrated the Leafs' brass. Ever since Mike Babcock took over as head coach in 2015, Kadri has been much more effective. Babcock has tapped into Kadri's pesky side and developed him into more of a two-way centre capable of shutting down an opposing team's top line.
One of his signature performances in a shutdown role was during a November 2016 match-up against the Edmonton Oilers in which he was a thorn in Connor McDavid's side. He scored a pair of goals, including the overtime winner, outworking McDavid for the puck on that play.
Kadri, who's played the most games as a Leaf out of everyone on the roster, has excelled on both sides of the ice since he refined his playing style. The past two seasons have been his best from an offensive standpoint as he's scored 32 goals in each year.
His emergence has led some people, including THW's Pat Stothers, to believe he could be considered for the Frank J. Selke Trophy. He's shown that he can be an agitator, particularly in the Edmonton game where he got under McDavid's skin.
Last year, he cut his penalty minutes in half from the previous season, but he's still been known to go over the edge. In particular, last year's playoffs were cut short for Kadri when he was suspended three games for boarding Boston Bruins forward Tommy Wingels in the third period of Game 1.
So long as incidents such as those are few and far between, the Leafs will be thrilled with what they're getting out of Kadri on the third shift.
Helping Out the Young Core
There's no question Kadri has excelled the past two seasons, whether it's as a top-six forward or more of a supporting role.
His combination of skill and two-way ability makes him the most intriguing third-line centre in the NHL today.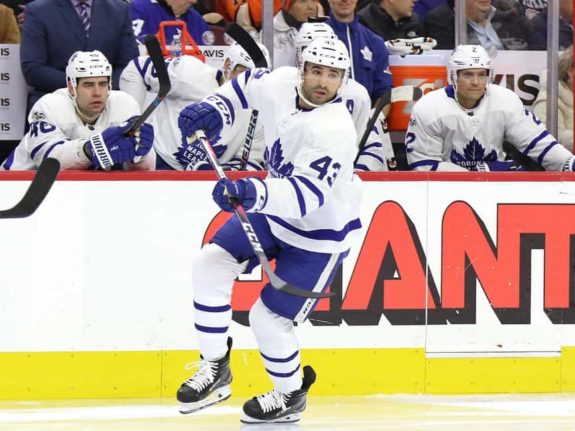 On most other teams, perhaps he'd be a number two centre, but he'll be depended on to lead the Leafs third line and help young forwards such as Connor Brown, Kasperi Kapanen and Andreas Johnsson develop.
Kapanen and Johnsson will both be looking to stick with the Leafs on a permanent basis next year and their quickness can bode well on a line with Kadri.
As for Brown, he's growing into a solid two-way player, scored 20 goals in his rookie season and has had proven success playing alongside Kadri. Once a 13th round draft pick in the OHL draft, he overcame the odds to win the league's MVP award in his final season of junior and he's had a steady progression in the pro ranks.
Johnsson in particular could be exciting to watch alongside Kadri, especially coming off a year in which he was integral in the Toronto Marlies' run to the Calder Cup.
Brown and Johnsson are both smaller players, but haven't been stopped from excelling as professionals yet.
Although the Leafs have had a hard time finding a spot for Kapanen in their top three lines, his dynamic skating ability has helped him produce in key situations, especially during the past two playoffs.
Whichever of these players ends up on the third line, you can be sure they'd only get better from playing alongside Kadri.
Born and raised in Toronto, Iain has been a sports writer with the Mississauga News since 2010 and has been covering the OHL for Hockey Now Magazine since 2015. A graduate of the Centennial College Sports Journalism program, Iain has now signed on to provide Ottawa Senators coverage with The Hockey Writers.