What do you need to know about a team that has yet to play its first game as an NWHL franchise? Well for starters, the Toronto Six does not have a roster full of inexperienced players. Four of their current players have significant experience in the league, including captain Shiann Darkangelo who won an Isobel Cup with the Buffalo Beauts in Season 2. The roster is largely filled with Canadian players – Darkangelo and Emily Fluke are the only Americans. They are led by legendary coach Digit Murphy, who brings a boatload of experience that will help her guide this group that wasn't a team a year ago. 
Last Season: didn't exist.
Franchise All-Time Regular Season Record: 0-0-0
Franchise All-Time Playoff Record: 0-0-0
Championships: 0
2021 Roster
New Faces: Elaine Chuli (G), Samantha Ridgewell (G), Sarah Steele (D), Kristen Barbara (D), Megan Quinn (D), Emma Greco (D), Lindsay Eastwood (D), Taylor Woods (F), Mackenzie MacNeil (F), Breanne Wilson-Bennett (F), Emily Fluke (F), Mikyla Grant-Mentis (F), Taytum Clairmont (F), Brooke Boquist (F), Amy Curlew (F), Natalie Marcuzzi (F), Sarah-Eve Coutu Godbout (F), Shiann Darkangelo (F), Emma Woods (F), Julie Allen (F)
*As of press time THW has learned that Jenna McParland is no longer with the Six after signing with them back in May; the NWHL gave the players who do not or cannot go to Lake Placid an opt-out as an option – with full pay.
Player to Watch
So many to choose from, but let's focus on Ridgewell. She has a season of professional experience under her belt – last season in Sweden with Djurgardens IF of the SDHL. With an entire team getting to know one another, the goaltending duo of Ridgewell and Chuli (who also played two seasons in the CWHL) will be crucial to possibly stabilize the young team at times in Lake Placid.
"Camp has been going really well! I think it's safe to say this is the longest 'preseason' I have ever had, so I am excited to get to play some games finally," the 24-year-old told THW via email. "We have a fun group and they challenge me to be a better goalie every single time we are on the ice together."
"For me personally (the biggest challenges) will be getting back into that routine of playing games," Ridgewell added. "Usually by this point in the year you've played a handful of games and are hitting your groove heading into the playoffs, so I think the biggest challenge is going to be finding my groove early on."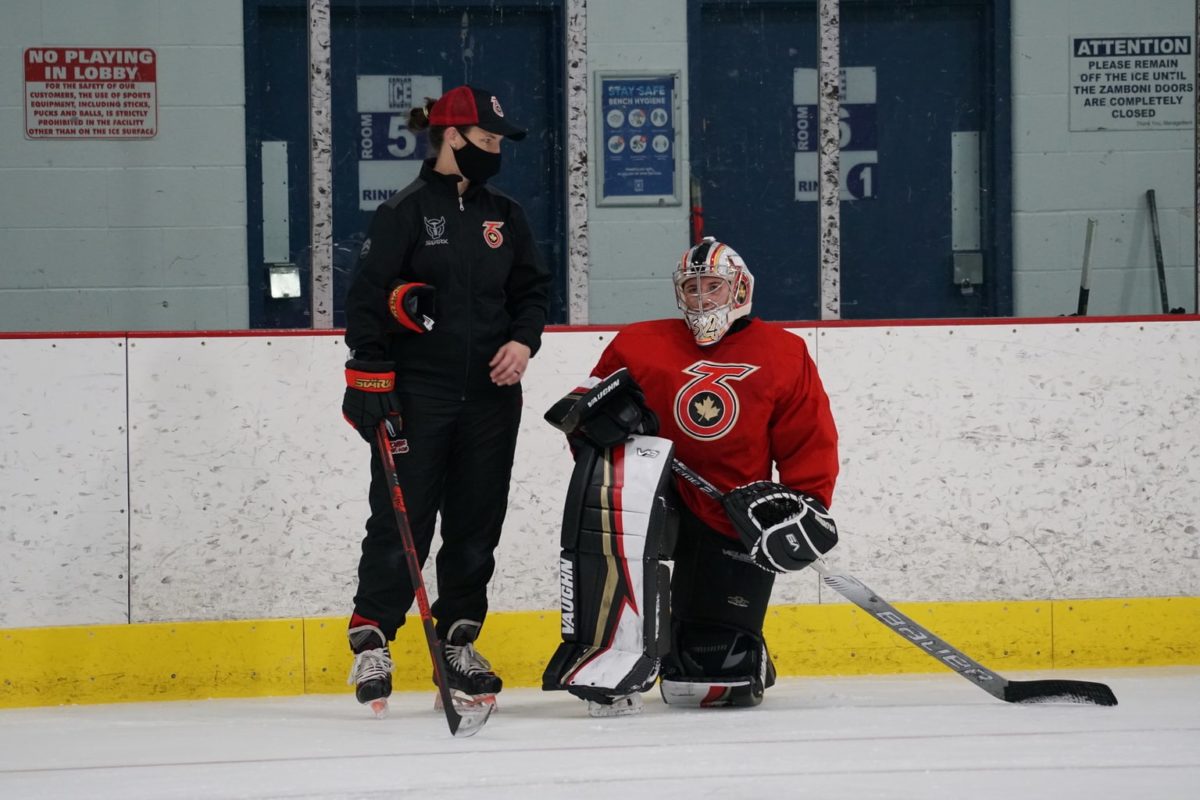 With the season finally about to kick off in just over a week, Ridgewell and her teammates can feel the anticipation building. After all, it's not too often that you get to dress and skate for a franchise in their debut game/season. It's very special, but they are trying to not get caught up in that, rather focusing on getting into their routines, and fine-tuning their systems.
"We have been scrimmaging lots in our practices lately which gives you the chance to really dial in and work on your mental focus. It helps you just be prepared the second the puck drops for that first game in Lake Placid," added Ridgewell.
"Obviously, I am excited to play a game finally. But I think what is deep down exciting me is getting to experience that mixture of feelings that come with getting to play again," she said. "Even just thinking about it as I answer this question, I have goosebumps."
"I love getting to listen to my music, play volleyball with the girls during pre-game, visualize the game, and hit the ice for warm-up. It's such a good mixture of nerves and excitement that I cannot wait to experience a "Game Day" again. It really is my happy place!"
Hello, My Name is:
Recently the Six added four new players to their roster. Fluke was signed on Dec. 14 and on Jan. 5 they signed Clairmont, Quinn, and Allen. According to Ridgewell, the newbies have been a welcome addition and rounded out their inaugural roster.
Related: The NWHL Expands to Toronto
"I wouldn't say it's (the team dynamic) changed too much. I think we all now have that feeling of, 'Okay we have our full team, the bubble is official, the schedule is released, this is real. Let's get going," explained the Saskatchewan native. "Whereas before everything was official, it still felt a bit more like skills practices and the off-season because there were so many unknowns."
"The new girls have added that depth that we needed. We are so strong from top to bottom that I really don't even think that we have lines one-two-three-four," she added. "All of the girls work so hard in practice and push themselves to be better every day that I can't wait to play with them in Lake Placid and see what we could do together."
Outlook
It's a shame that the Six will be so close to their home in Toronto for the entire 2021 season in Lake Placid, but won't be able to play a home game until the following season (thanks to the pandemic). The last time we saw an expansion team enter the NWHL, the Minnesota Whitecaps won the whole damn thing and took home the Isobel Cup.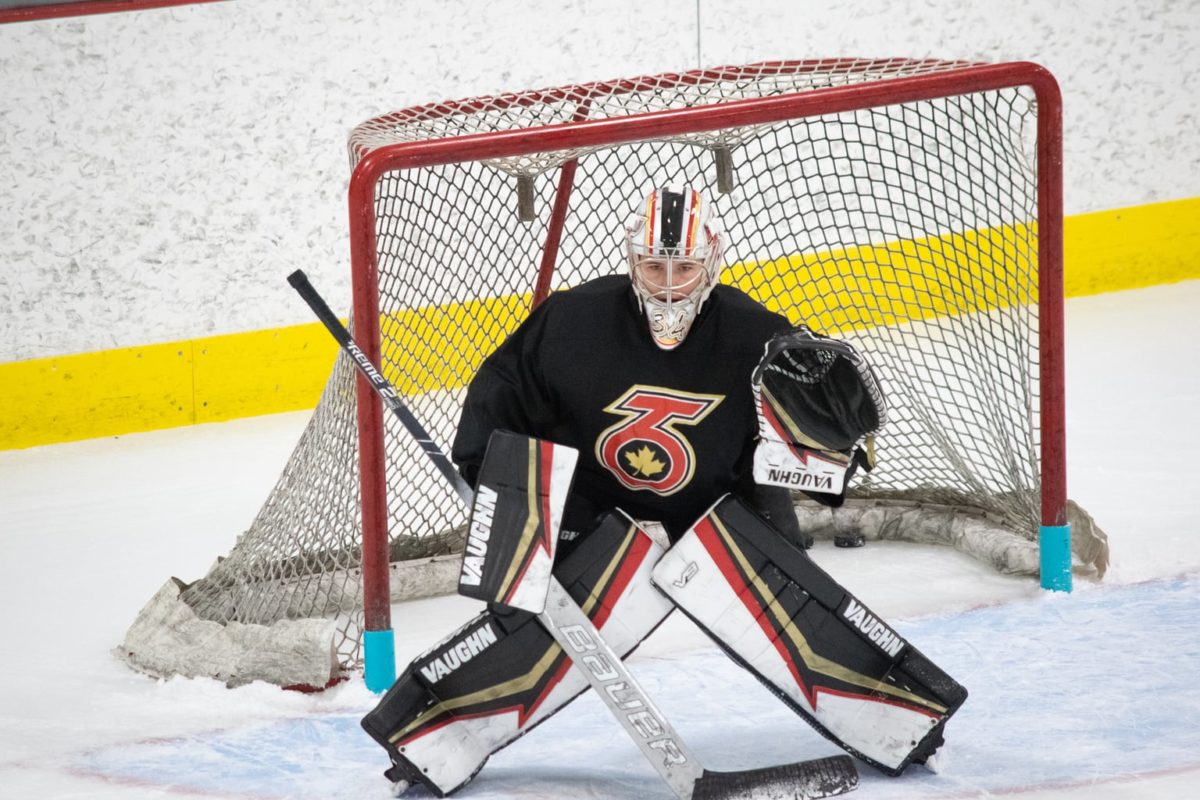 While we aren't ready to predict a championship for Toronto just yet, we do believe they will be a scrappy team and it will be fascinating to see how their team evolves over the course of this season and into the next one. Remember that the Six have a plethora of draft picks in the upcoming NWHL Draft, so they will be able to see what their weaknesses are against the other five teams and fill those holes through the draft.
Dan Rice is in his 9th year of reporting for THW & has covered NJ Devils home games for 15+ years at various websites. He began his journey working for legendary broadcaster/writer Stan Fischler from 2002-04 & completed an internship at the ECHL; he also has been writing features for the NWHL (nwhl.zone) website since 2016.