With newly appointed Bruce Boudreau signed to coach, what's next on GM Chuck Fletcher's to-do list this summer? In the now, discussions stemming from Fletcher will undoubtedly be made with the new bench boss regarding the team's Assistant Coaches, and what will be discussed here, Wild RFA's.
Key Wild RFA's
Jason Zucker
When talking about Zucker's upcoming season last Summer, many expected him to eclipse the 30-goal mark in 2016, including us here at the THW. It did not seem unrealistic of Zucker to reach the number considering his 21 goals the previous year in just 51 games was good for the best G/60 in the entire league during 2014-15. So what happened to number 16 this year?
Zucker was part of one of the league's top possession and chances per line playing with Mikko Koivu and Nino Niederreiter to start the year. This trio outplayed virtually every line they faced for nearly the first month of the season. However, despite the way they controlled the puck, it demonstrated how possession metrics are set on the back-burner if you don't finish. The line was split and never experimented with again for the remainder of the year.
Zucker had the toughest full campaign of his young career following the split from the Nino and Mikko line, tallying just 13 goals and 23 points total. Not nearly of what was expected from him. Though his numbers plummeted, his speed was demonstrated countless times in games throughout the season, beating out icing calls in seemingly every contest. Again, the Wild want to hang on to Zucker for production on the score-sheet, and need to see those numbers rise again before handing out a large contract. Unfortunately for Zucks, it doesn't seem like anything more than another bridge type deal will be offered.
Matt Dumba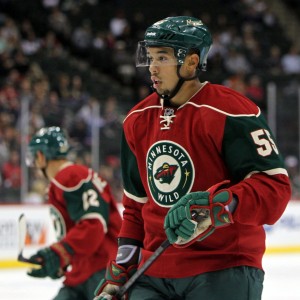 Matt Dumba played in his first full season in the NHL this year and really proved himself from the offensive blue line. It's been his defensive play that has cast him a liability at times and allowed Chuck Fletcher to explore potential trades of him throughout the season, the most notable of them being the Jonathan Drouin sweepstakes from earlier in the year.
Dumba'a offensive prowess would indeed ensure a high profile player in return if a trade happened, but the majority of the fanbase takes part in saying "With time will come maturation for Dumba's defensive game." Yet with an already crowded defensive group, all with contracts of 4 years or longer, Wild brass may not feel it necessary to hang onto #24 unless Fletcher looks to trade one of Brodin or Scandella.
With other notable youngsters Mike Reilly, Gustav Olofsson, and Christian Folin in the wait, Dumba's time in Minnesota may already be ticking. With that being said, the way he began to utilize his physicality on a more consistent basis during the regular season, may prove to be paramount in an extension being offered to fill a need in Bruce Boudreau's style of hockey. Dumba needs to stay.
Darcy Kuemper
Kuemper has seen his role severely diminish in Minnesota since the arrival of Devan Dubnyk. For a guy who once split time in the crease equally with Ilya Bryzgalov, he's been hard pressed to find his share of starts behind Dubnyk who will be in just his second year of a six-year contract in 2016-17 that pays 4.33 million per season. Kuemper was paid 1.25 million this season but will surely demand more money making it nearly impossible to hang on to him as well with an already tough cap situation brewing. A trade seems to be the most likely option.
Secondly, Kuemper has been wildly inconsistent during his tenure in Minnesota. Onlookers have noticed that Kuemps can show flashes of brilliance in net (e.g. December of 2015 where he went 4-0-2, with two shutouts and just 5 GA for a 1.2 GAA), yet only to close the year with a 6-7-5 overall record and 2.43 GAA. Situations like this have been the case since his rookie season. Quite frankly, there are other options to look at when seeking a mere backup goaltender who will see less than 20 starts a year, and for less money.
Fletcher should be talking to teams looking for goalies such as Florida and/or Vancouver who both have aging tenders Ryan Miller and Roberto Luongo under contract.
I think it would be in Fletcher's best interest if he at least looked into possible returns for all three of these RFA's this Summer. At this point, I'm not sure what it would hurt.
Jon Nomland is a Journalism student out of Colorado, and currently a Minnesota Wild contributor for The Hockey Writers. When not engaged in Wild hockey, he enjoys following the Philadelphia Flyers due to his Pennsylvania roots.