The Vancouver Canucks enter their 46th season in the NHL and are attempting to retool on the fly and get back to being a Stanley Cup contender in the Western Conference.
The Canucks will introduce some fresh young talent into their roster with 2014 first-round picks Jake Virtanen (6th overall) and Jared McCann (24th overall) providing depth roles behind the usual suspects of the Sedin twins (Daniel and Henrik), Alex Burrows, Jannik Hansen and Chris Higgins. Bo Horvat enters his second season with the Canucks after posting 13 goals and 25 points in 68 games as a rookie.
The Sedins are now 35 years old with three years left on their contracts and running out of time to win a Stanley Cup before all is said and done. Yet the twins once again finished in the top 10 of league scoring last year. Daniel scored 20 goals and 76 points to Henrik's 18 goals and 73 points. Radim Vrbata led the team with 31 goals and is a UFA at the end of the season.
Related: Vancouver Canucks 2015-16 Season Preview
The Canucks defense will look a lot different this year as Kevin Bieksa was traded to Anaheim. There are rumors that Dan Hamhuis could possibly be next, same goes for Alex Edler. Fans are still upset about Eddie Lack being dealt for a mixed bag and the Canucks enter the year with Ryan Miller and Jacob Markstrom tending the goal.
This is a team in transition that can make the playoffs but has a rough ride in the postseason when they go up against some of the Western Conference's top teams. Vancouver finished 2014-15 with a 48-29-5 record for 101 points but ultimately lost out to the Calgary Flames in six games in the opening round.
They'll look to build upon that upset this season.
Here's a visual of the Canucks October schedule from Canucks.com: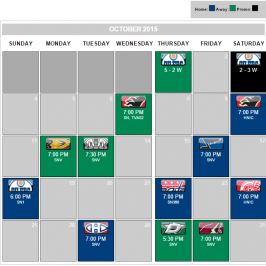 ---
5 Games To Watch This October
---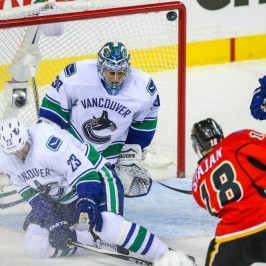 Calgary Flames (Season Opener)
Wednesday, October 7th
Road Game
7:00PM (PT) (TV: SN, TVAS2, NHL Gamecenter)
Flames 2014-15 Record: 45-30-7 (97 Points)
Canucks 2014-15 Against Flames: 2-2-0
---
Details: The Canucks open the season on the road against a Flames team that upset them in the first round of last year's playoffs. Vancouver has made some changes in the lineup, but the Flames are bringing in the same team that knocked the Canucks out last spring. One caveat is that the Flames will have a full season of Sam Bennett (2014 4th overall pick) and a freshly-acquired Dougie Hamilton from Boston.
Games against Calgary are going to be tough points to come by for Vancouver this year. The Johnny Gaudreau, Sean Monahan and Jiri Hudler line caused the Canucks much grief in the playoffs, but it was also the Flames' depth that pitched in with some timely goals (do you remember Micheal Ferland?).
Related: 5 Essentials to Calgary's Playoff Return
The Sedins and Radim Vrbata will be front and center against the Flames top line, but the difference this season is going to come down to Bo Horvat taking another step forward and Brandon Sutter (acquired from Pittsburgh) paying dividends. The Canucks also traded Kevin Bieksa to Anaheim, so bigger roles for Chris Tanev and Alex Edler are expected.
---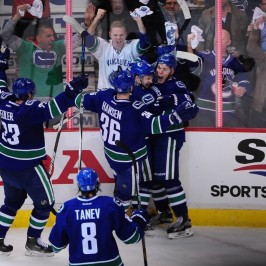 Calgary Flames (Home Opener)
Saturday, October 10th
Home Game
7:00PM (PT) (TV: HNIC, NHL Gamecenter)
Flames 2014-15 Record: 45-30-7 (97 Points)
Canucks 2014-15 Against Flames: 2-2-0
---
Details: Vancouver returns home to open the season in the second half of back-to-back games against Calgary on Saturday, October 10th.
The Canucks play only one of their first four games at home to start the season before returning home for a five-game home stand.
Related: Three's Company in Calgary
The Canucks were fairly good on home ice last season posting a 24-15-2 record, which gave them 50 of their total 101 points. It was the second-best home record for a Pacific Division team behind the Anaheim Ducks. Last year against the Flames, the Canucks were 1-1 on home ice, with their only win coming in a 3-2 overtime decision in December.
Ryan Miller is expected to start in the home opener.
---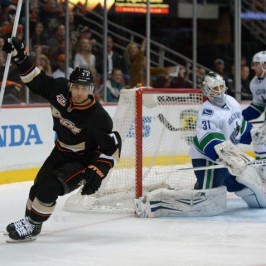 Anaheim Ducks (The Kesler & Bieksa Game)
Monday, October 12th
Road Game
7:00PM (PT) (TV: SNV, NHL Gamecenter)
Ducks 2014-15 Record: 51-24-7 (109 Points)
Canucks 2014-15 Against Ducks: 2-1-2
---
Details: It's not the return home for Kevin Bieksa or Ryan Kesler, who were both dealt to Anaheim over the past two summers, but it'll be Bieksa's first game against his former team.
Kesler was traded two summers ago and enjoyed a healthy season missing just one game last year for the Ducks and scoring 20 goals and 47 points for third in team scoring. The Ducks eventually lost in seven games against the Chicago Blackhawks in the Western Conference final.
Related: Tape2Tape: Ducks Quacking Their Way to the Cup?
Anaheim is hoping the addition of Bieksa rounds out what is one of the deepest defenses in the Western Conference that already boasts Hampus Lindholm, Cam Fowler, Sami Vatanen and Francois Beauchemin. The Ducks also have Corey Perry and Ryan Getzlaf still leading the way.
Anaheim is expected to give Vancouver all sorts of trouble this year as the best team in the Pacific Division.
---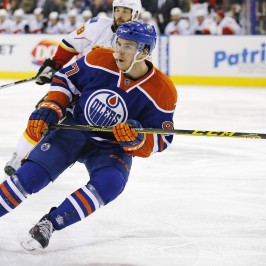 Edmonton Oilers (The McDavid Game)
Monday, October 18th
Home Game
7:00PM (PT) (TV: SN1, NHL Gamecenter)
Oilers 2014-15 Record: 24-44-14 (62 Points)
Canucks 2014-15 Against Oilers: 5-0-0
---
Details: When Sidney Crosby debuted in 2005-06, there was a certain level of buzz among NHL cities clamoring to get a chance to see "The Next One". Fast forward a decade later and the same thing is happening with 2015 1st overall pick Connor McDavid.
To put McDavid's skill level in perspective, he registered 44 goals and 120 points in 47 games last year with the OHL's Erie Otters. It was an average of 2.55 points/game, or in comparison to Crosby in his draft year, a difference of 0.15 points/game. He's that good.
Related: Edmonton Oilers: 5 Game To Watch This October
There is a resurgence in Edmonton, and the Oilers are going to be transitioning towards a team that will contend for a playoff spot. A new GM, a new coach, a new goalie and a new superstar. Things are finally turning around in Edmonton.
Jordan Eberle will be out of the lineup, but the same cast of former 1st overall picks Taylor Hall (2010), Ryan Nugent-Hopkins (2011) and Nail Yakupov (2012) are returning.
Did we mention RNH was from Burnaby?
---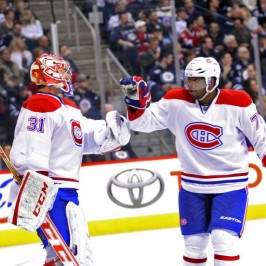 Montreal Canadiens (All-Canadian Game)
Wednesday, October 7th
Road Game
7:00PM (PT) (TV: SNV, NHL Gamecenter)
Canadiens 2014-15 Record: 50-22-10 (110 Points)
Canucks 2014-15 Against Canadiens: 1-1-0
---
Details: Anytime the Canadiens come to town it's bound to be hockey fever. Montreal and Vancouver tied their season series last year with the Canucks winning a 3-2 game in overtime.
Carey Price was born in Vancouver and seemed to have won every award imaginable at the NHL Awards last year. Price walked away with a Hart Trophy (League MVP), Ted Lindsay (MVP voted by the players), Vezina (Top Goaltender) and William Jennings (Fewest Goals Allowed), not to mention a first team all-star nomination.
Related: Oh Canada: Predicting the NHL's North – Part 1
Price stopped 42 of 46 shots against the Canucks last year, and it's obviously going to be difficult to get pucks past the best goaltender in the world this time around. This will be a huge challenge for the Sedin twins and Vrbata.
P.K. Subban finished second in league scoring by a defenseman with 15 goals and 60 points in 82 games.
---