The Washington Capitals are through the first major event of the off-season schedule, which was the 2016 NHL Entry Draft. It was an eventful day for the organization, making one major move to address a weakness in their lineup. They also selected several players that match their new philosophy of icing a lineup that utilizes speed and skill along with the physicality and size that the team already possesses.
The big splash that the Capitals made was to acquire center Lars Eller from the Montreal Canadiens in exchange for second round picks in both 2017 and 2018. This move aggressively addressed the need at third line center that the Capitals had heading into next year. At a $3.5 million cap hit for the next two seasons, Eller is arguably on a better deal than what the team would have found in free agency.
With this move, the Capitals now head into the rest of the off-season with a little bit under $11 million to spend. This sum will primarily be allocated towards re-signing their restricted free agents, a list made up of forwards Marcus Johansson and Tom Wilson along with defenseman Dmitry Orlov. A little bit of armchair GM work would indicate that the Capitals will have between two and three million to spend in free agency after that – potentially on their own unrestricted free agents.
Taking Care of Their Own
The main priority for the Capitals as free agency approaches is getting their own RFA's locked up. While Michael Latta won't be returning after not being tendered a qualifying offer on Monday, the team did tender Johansson, Wilson and Orlov. Each of three players played a key role on the team last year. Johansson had a great playoff run, while Orlov finally saw the ice consistently after missing an entire season in 2014-15. Wilson slowly but surely made strides in his game last season, displaying more discipline and the occasional scoring touch.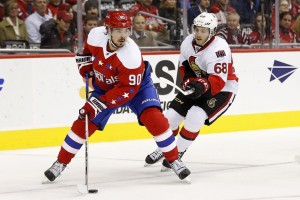 The main focus should be on Marcus Johansson, meaning that they should try to avoid going to arbitration with the 25-year-old Swedish forward for the second consecutive season. He was awarded $3.75 million last off-season through the arbitration process, and he will likely command a sizeable raise to somewhere in the $4.5 million range.
Though he found himself in the press box because of some risky decisions gone wrong, Dmitry Orlov is arguably the most dynamic defenseman on the Capitals roster, and could see a small increase in his salary from his current $2 million. He will likely remain a high-risk, high-reward type of player, but with more experience, he could continue evolving into a steady all-around blueliner with a booming shot.
Tom Wilson will also likely see a small raise on a bridge deal of sorts. The forward's potential is still very unclear to most, and there is still hope that he can develop into the mean top-six power forward that the Capitals envisioned him to be when the drafted him. However, even if he establishes himself as a strong third liner this upcoming season and that's as high as his ceiling ends up being, that would be okay.
Bargain Hunting
Realistically, barring another major trade, the Capitals won't be big spenders this off-season outside of their own free agents. Luckily, there aren't many holes left to fill on the roster after the move to acquire Eller. In that deal, the Capitals gave up what are likely to be two late second round picks for a guaranteed third line center for the next two years, assuming he is protected in the expansion draft next season. A proven 25-30 point scorer, his production could also increase next season if he sees better linemates. Marcus Johansson is likely to be his left-wing, but the conversation becomes a little bit more open on his right side.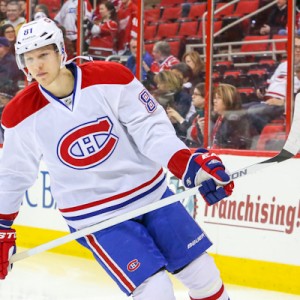 Tom Wilson will likely get the first shot at earning that role, but there are a few players that could push him for a spot. Some of those options are already within the Capitals organization, but there are several who could come from the outside as well. One player in particular would fit the role perfectly.
P.A. Parenteau is the type of player that would completely solidify the bottom six of the Capitals, and comes with all the bells and whistles that the team wants to incorporate into the lineup next season. Parenteau is a very fast, very smart hockey player who spent last season on the bottom-feeding Toronto Maple Leafs. He was a 20-goal scorer and added 21 helpers in 77 games, and was one of the players that many Capitals fans clamored for at the most recent trade deadline.
If the Capitals decide to save their cap space for, say, a depth defenseman, they have a young Jakub Vrana who may be ready to challenge for a spot next season. The best part about that is that he would be an extremely cheap top-nine option, which would be tremendous given their cap space. This scenario would also allow for the team to go after more depth to bolster the lineup in case of injuries.
Quiet Does Not Equal Complete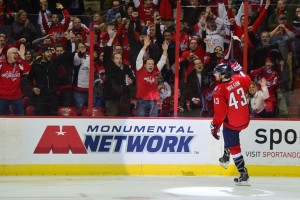 The Capitals, by most accounts, have a close to complete lineup, and it would be even more solidified with one more strong addition such as a Parenteau or a similar player. However, even if the team remains quiet, it does not mean that there won't be future upgrades.
Free agency is often a big gamble because players can command contracts slightly (or greatly) above their pay grade. The fact of the matter is that the Capitals already have a pretty darn good team, one that proved to be almost even with the eventual Stanley Cup Champion Pittsburgh Penguins. They addressed their biggest need with the Eller trade and even if they make no UFA signings come July 1 and beyond, they will be among the league's best teams yet again.
Nothing would be stopping Capitals General Manager Brian MacLellan from making moves either mid-season or at the trade deadline next year, either. The soon-to-be third year GM has proven time and time again that if he sees a weakness in his roster, then he won't hesitate to improve it. Bet on him working his magic again sometime soon or in the not too distant future.