If you've ever cheered a goal, you're a fan. If you've ever booed the opposition, you're a fan. If you've ever lined up at midnight so you could buy the latest piece of technology, you're a fan. If you've ever idolized a pop star or have seen your favorite band in concert numerous times, you're a fan.
Being a fan, whether of sport, literature and theatre, music and film, or anything else in which an individual displays an obsessive interest and enthusiasm for said activity, can be a fully enthralling experience. Nothing beats it…the highs, where we experience excitement, happiness, and euphoria…the lows, which can often bring up emotions of frustration, sadness, and even anger…it's a wild ride to be a fan.
Escapism is a huge part of being a fan. Getting caught up in the moment is an integral function in fandom. But every so often, fans get a little too radical. These fans sometimes have difficulty recognizing the distinction between reality, and the activity in which the fanaticisms is rooted.
I'll be honest, I felt somewhat conflicted about providing a platform for some of the most excessive and unhealthy examples of fandom. The following examples are by no means an endorsement of how to be a fan. If anything, the reader should view the following cases of extreme fanaticism as an indictment on these perturbed individuals, and on the warped importance our society puts on relatively insignificant diversions we call hobbies.
When Fans Lose their Grip on Reality
The Port Said Stadium Riot
It's almost inevitable. Two groups of opposing fans, brought together in an enclosed venue, ready to literally fight for their team. I've been lucky enough to attend a few soccer matches in Europe, and fortunately in those instances I was spared the riot experience. Fan provoked riots have happened far too often in the history of soccer, and there was a time when hooliganism and riots were almost common place at fixtures. While the soccer's governing bodies have made significant strides in cutting out 'hoolaginistic' conduct, every so often the violent behavior comes to a forefront.
On the evening of February 1st, 2012 an Egyptian Premier League soccer match was taking place between the El Masry and El Ahly football clubs. The match ended in a 3-1 victory for El Masry, but the final score was hardly the headline the next morning. The El Masry fans stormed the pitch and attacked the El Ahly players and supporters with bottles, stones, knives and fireworks.
When the smoke settled, there were at least 72 fatalities and over 500 injuries. In wake of the violence, the Egyptian government banned domestic league matches for two years.
Fan Leaves Baby "Jolene" at Dolly Parton's Door
I am the furthest thing from a country music fan. Outside of Johnny Cash, Willie Nelson and that 'achy-breaky-heart' guy, I couldn't tell you anything else about the genre. But when I came across this case, I knew I had to include it in this piece. The incident occurred shortly after Parton wrote her hit single "Jolene".
"We came home one day and there was a baby in a box at our gate with a note in it." Parton told the Windy City Times. "The note said 'My name is Jolene, my momma has left me here and she wants you to have me'. Of course, we all freaked out!"
"We immediately called Human Services and took care of the baby until the got there. We never did know or hear anything about it. I knew nothing else. What do you do in a situation like that? There are some loony people in this world."
Giving up your child? Talk about fans losing their grip on reality.
Junior Hockey Owner Receives Menacing Note
This is a particularly bizarre incident that hits a little too close to home. The Mississauga Steelheads of the OHL, a team that I do play-by-play and color commentary work for, was the target of a creepy and gutless incident recently.
Mississauga has posted a record of just 2-7-1-1 since Colorado Avalanche goaltending prospect Spencer Martin suffered a season ending knee injury.
After the Steelheads lost their fifth straight game Sunday against the Owen Sound Attack, an anonymous and cowardly "fan" decided they had seen enough. The incident prompted the team to issue a public statement from owner Elliott Kerr.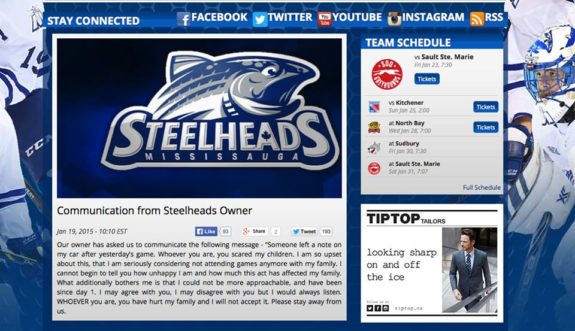 I reached out to Mr. Kerr and team VP Scott Rogers for further comment, but I have yet to receive a reply from either.
While it's unclear exactly what was said in the note, the team has since stated via twitter that the note did not issue a personal threat to the safety of Mr. Kerr or his family.
The Steelheads have also confirmed that Mr. Kerr will be in attendance for the game this Friday evening, when Mississauga hosts the Sault Ste. Marie Greyhounds.
Mike Tyson Face Tattoo Tribute
The story of Sam Piper might top any other on this list…well maybe not the Dolly Parton baby story…that's just crazy.
But I suppose the lack of sanity and judgment is just as prevalent in the case of Sam Piper. What really gets me about this story is that Piper claims he's not even that big of an "Iron Mike" Tyson fan.
In Piper's own words "I don't actually like him that much – he's not someone I look up to – but I decided it would be cool to have something on my face, and then saw his picture and thought his tattoo looked really good."
Ladies and gentleman, I give you Sam Piper.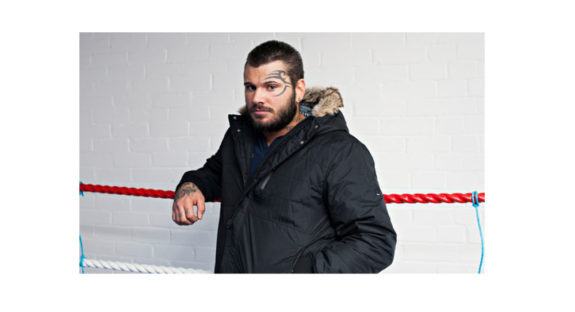 "I was turned down by five different tattoo shops, because it was their policy never to ink a face. I should have seen that as a warning."
Shockingly, Piper regrets ever getting the Tyson tattoo on his own mug, and has since undergone treatments to get the ink removed.
Winnipeg Jets fans verbally assault 11-year-old Tavares fan
While many hockey fans remember the riots and aftermath in Vancouver after the Canucks lost to the Bruins in the Stanley Cup Finals, I wanted to end with a case that actually had a silver lining to it.
An 11-year-old fan of John Tavares and the New York Islanders was the target for a few unruly Winnipeg Jets supporters at a game in Winnipeg back on March 4th, 2014. Jake Lotocki had to endure a barrage of verbal attacks that no child should ever be subjected too. Grown men coming up to a child, yelling obscenities, telling young Jake "you suck" and "go home loser".
Lotocki was so shaken by the experience, that Jake removed his Iles sweater and left the MTS Centre with his JT91 jersey crumpled up in hand.
Days later, John Tavares himself was made aware of the story.
http://youtu.be/sbBalgzSwBQ?t=16s
Tavares wasn't the only one moved by Jake's experience. Islanders fan groups, seasons ticket holders, and local restaurants all reached out to the Lotocki family with various gifts and gestures to try make amends for a small faction of unruly Jets fans. Karmic justice, there is no sweeter kind.
Remember, it's only a game
These were just a few examples of fans that lost their grip on reality, becoming a little too obsessed with their particular factions of fandom.
I'm not discouraging anyone from being a fan. It would be hypocritical of me to say that. However, I will say this…don't let the temporary escape taint your perception of reality.
After all, it's only a game.