One of the most controversial Oilers over the past three seasons has been highly-touted Russian sniper Nail Yakupov. Drafted first overall by the Edmonton Oilers in 2012, Yakupov's first season with the Oilers was in the shortened lockout year. He played 48 games and scored 17 goals and 14 assists for 31 points. Oiler fans thought he was well on his way to being a great offensive forward and was snubbed when he wasn't considered for the Calder Trophy that season. But in seasons since, Yakupov has shown, perhaps those who were voting for the Calder were right.
Yakupov hasn't been anything like the NHL sniper he was projected to be after his first season came to a close. In the seasons that followed his rookie campaign, he has 80 points in 204 games and only 33 goals in that time, which for a "goal scorer" is not where he needs to be to provide value for the Oilers. He's been moved up and down the lineup, been shuffled around by different coaches, seen numerous centers and been benched on numerous occasions. He's requested a trade through his agent and while a lot of what he says gets lost in translation, Yakupov has given the impression a fresh start would be welcome if he can't seem to catch fire with the Oilers.
The Trade That Never Happened
Edmonton looked to move Yakupov this summer and give both parties a fresh start. The problem was, despite Yakupov being a former first overall pick, around the NHL, he held little to no trade value. It would have taken a willingness to move him for next to nothing and the Oilers couldn't justify simply dumping Yakupov for magic beans. Instead of getting pennies on the dollar and creating a hole at right wing, Yakupov will be returning to the Oilers in 2016-17 and the debate is no longer about what new team he'll end up playing with, but where to play him on the Oilers roster with the depth available to them at forward.
All Those in Favor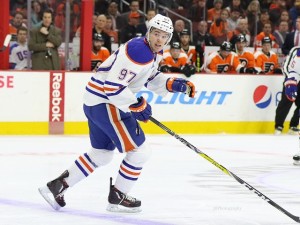 Despite whether or not he's earned it, there are proponents arguing the idea of giving Yakupov every possible opportunity to succeed. That means playing him on the first line at right-wing with Connor McDavid and Milan Lucic. Yakupov played his best run of hockey last season when on McDavid's line and it makes sense to assume he would do so again. In the 205 minutes he was on the ice with McDavid last season, he was a 51.9 Corsi player. Of the 23-points Yakupov scored, more than 39% of them were scored when playing with McDavid.
Whether the intention is to showcase Yakupov and up his value around the NHL for a possible trade down the road or if the Oilers simply want to maximize his production, giving him first-line time and first or second power play opportunities will provide the Oilers the biggest bang for their buck. When they saddle Yakupov with players like Anton Lander or Mark Letestu, it's not capitalizing on his talents.
Placing Yakupov on the top line also spreads out the wealth among the entire Oilers roster. If not in the top-six, Yakupov is relegated to a sort of no-mans-land. He's not a third-line type player and he had terrible chemistry with Ryan Nugent-Hopkins. The history of slotting Yakupov out of place is virtually writing him off as a productive forward. It makes more sense to put him where he can produce and allow the Oilers to move down a player like Jordan Eberle to the second-line right-wing position, where he and Nugent-Hopkins can make for a powerful second line pair. Benoit Pouliot or Patrick Maroon would then slot in on the left.
All Those Opposed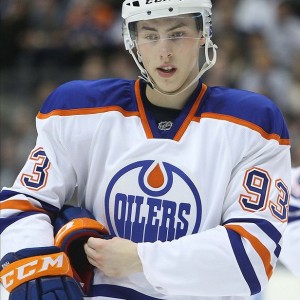 There are many who believe that Yakupov is a failed prospect; that his limited value around the NHL is fair and that Edmonton found a bust in a first-overall selection. Those people tend to argue that the problems for Yakupov aren't as much his talent as a hockey player, but his mentality and readiness to prepare for being a productive player in the NHL.
In a way, that's a fair argument. Yakupov has shown a propensity to blame others before himself. He's streaky and shown real inconsistency keeping his production at or above an acceptable level. If the player isn't willing to improve and won't provide production without being propped up, that player shouldn't be given the opportunity. The belief is that the spot should go to another player as or more worthy of the gravy time that comes with playing alongside McDavid. If this stat holds true, should we assume that a player like Yakupov, who could get 20 goals playing with McDavid is taking the place of a player like Eberle who could get 35 goals?
What the Oilers Will Do
I don't know that Edmonton has a plan set in stone for what to do with Yakupov. We should assume that they do. It's obvious the team hasn't written him off and they weren't willing to give him away. Peter Chiarelli has gone on record that the player has not officially requested a trade and Edmonton plans to have him as part of the fold in 2016-17. They intend to get the most use and production possible out of him while he's an Oiler and that makes sense.
It benefits Edmonton to give Yakupov opportunity to shine and spread the workload around the lineup. There are pairings and combinations that have worked for Edmonton in the past and the best one for Yakupov is with McDavid. Yakupov has confidence on that line. He'll have even more with two passers like McDavid and Lucic alongside him.
The Oilers and Yakupov do not make a great partnership when he's playing out of place. This may be a theme that would follow him around if he's ultimately moved to another franchise. He's slowly growing as an all-around player, but his true calling is as a sniper.
If Yakupov can't show within the first ten games that he's on track to post the numbers people expected of him when he was drafted first overall, the experiment should come to a quick and swift ending. If he's not capitalizing on one-timers or posting strong power play numbers, it will be clear he hasn't put in the work over the summer to fix what's been plaguing him over his still relatively young NHL career.
There is talent there. He's shown that he can score and have chemistry with certain players. For Yakupov's sake and for the Oilers sake, it would be a pleasant surprise if he got off to a blazing start and the questions were put to bed quickly.
Jim Parsons is a senior THW freelance writer, part-time journalist and audio/video host who lives, eats, sleeps and breathes NHL news and rumors, while also writing features on the Edmonton Oilers. He's been a trusted source for five-plus years at The Hockey Writers, but more than that, he's on a mission to keep readers up to date with the latest NHL rumors and trade talk. Jim is a daily must for readers who want to be "in the know."
Other content contributions include: NHLtradetalk.com, The Sportster and hosting weekly video casts, THW News and Rumors Rundown, plus Oilers Overtime.
For interview requests or to provide content info, follow Jim on Twitter or his social media accounts. They appear under his photo on articles like this one.