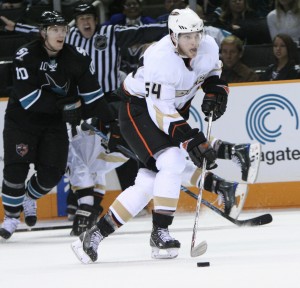 As we head into August, the heavy lifting has been done for many NHL teams. General managers and staff head on vacation for a little rest before the start of training camp and a new season.  The players still sitting on the free agent market are either young and inconsistent (Lee Stempniak, Marek Svatos, Patrick O'Sullivan) or old and fading (Bill Guerin, Paul Kariya, Mike Modano).
Of the restricted free agents, more than a dozen will be heading towards arbitration in the coming weeks.  Not included on this list are promising young RFA's Erik Johnson, Carey Price, James Neal, and Bobby Ryan.  The offer sheet has unfortunately been seen as backstabbing an opponent since the lockout, but San Jose showed they weren't afraid of the backlash by signing RFA Niklas Hjalmarsson to an offer sheet a week ago.  Cap-strapped Chicago chose to match the four-year, $14m offer and thus put themselves in a bind when it comes to retaining Stanley Cup goaltender Antti Niemi.
So after a month, why haven't other teams tried to sign RFA's to offer sheets?  Who wouldn't want to take a risk and reach out to Bobby Ryan and James Neal?  Is the act still seen in a negative light by GM's around the league?
In Bobby Ryan's situation, the Anaheim Ducks are in the driver's seat.  The team has offered Ryan a 5-year deal worth $25m, but the 23-year-old remains unsigned:
Ryan already has said he's not worth more than linemates Ryan Getzlaf and Corey Perry, both of whom earn an average of $5.3 million a year, so what's the hold-up?

Is Ryan's agent trying get another team to make a bigger offer to the restricted free agent, forcing the Ducks to match? My guess is Ryan believes he'll be worth more than $5 million in the final years of the contract, so he would prefer to sign for, say, only three years.
With a solid roster in place and over $15.5m in cap space, the Ducks can afford to play hardball. But a three-year deal may not be ideal for the team:
So why not compromise and offer Ryan three years for $15 million? Sounds like a simple solution, right? Not exactly. On a shorter term, the Ducks would offer Ryan less than $5 million a year because it would not buy out a year of his free agency. And the Ducks don't want all of their young stars' contracts to expire at the same time, because it would make it difficult — if not impossible — to re-sign all of them and remain under the salary cap.

The Getzlaf and Perry contracts run through the 2012-13 NHL season, and a three-year Ryan contract would run out at the same time. So it's safe to say the eventual Ryan deal will be for anything but three years.
In the end, this just becomes a waiting game as both sides feel each other out, especially when Ryan has yet to show serious signs of testing the waters:
According to his agent, Mark Guy of Newport Sports Management, the sides haven't had any recent discussions. But don't read that as an invitation to spring an offer sheet on the power forward.

"Bobby wants to remain in Anaheim and they want him there," Guy told Sporting News.
The one way this situation could get interesting though is if (big IF) Ilya Kovalchuk does in fact end up in New Jersey.  Los Angeles, who would officially become the big losers in the Kovalchuk sweepstakes, would be looking to put their $16.1m in cap space to work in pursuit of a much-needed top line forward.
In our NHL draft special a few weeks ago, I mentioned that by grabbing the highly-touted scorer Emerson Etem at #29, the Ducks now had options when it came to Ryan.  Etem is likely within two seasons of wearing the black, gold, and orange.  If a team like the Kings comes in with an offer over $4,637,944 annually that would fetch Anaheim 1st, 2nd, and 3rd round picks as compensation, Ducks GM Bob Murray may just let him walk.
*****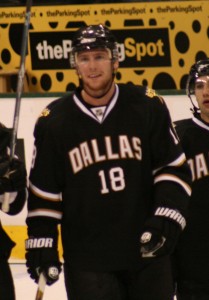 James Neal's situation with the Dallas Stars is a little harder to predict.
With the ownership situation and eventual sale of the team still a confusing mystery, it's safe to assume that for the moment the past organizational approach still stands.  While the Stars, much like the Ducks, have most of their opening night roster in place and $14.6m in cap space, the team operates under a self-imposed cap of $45m.
They currently sit just above that number and seem to be in no hurry to reach a resolution with Neal for a number of reasons, as Mike Heika points out:
I believe the Stars are offering James Neal two years at about $2.5 million a year. He wants a longer term deal for more money.

…I think the Stars would find a way to match an offer sheet for Neal (unless it is outrageous) based on the fact that new ownership should be in place eventually and they would take care of paying Neal's new contract.


…Thus, this could go all the way to training camp. The biggest leverage the players have at that time would be withholding services. The biggest leverage the Stars would have is that if an RFA is not signed by Dec. 1, he must sit the entire season.

I think all sides are dug in.

In Neal's situation, I think the Stars will wait him out and let him miss training camp if they have to, because they have plenty of options at left wing. The Rangers did that with Brandon Dubinsky last season, and he agreed to a two-year bridge contract during training camp.
Heika's points are all valid and accurate.  Many fans around the NHL are hanging their hopes for James Neal on the ownership concerns and $45m cap, but in the end I don't think this becomes much of a factor.  There's no reason GM Joe Nieuwendyk can't choose to match any offer sheet thrown Neal's way and move out other pieces after the fact.  With three years at $5m per left on his contract, Mike Ribiero would be a perfect fit for an inexperienced team like Edmonton, Columbus, or the New York Islanders that needs help at the center ice position.
For an even better look at the factors at play in the Neal situation, check out Matt Reitz's article at ViewFromMySeats where he speculates on one possible scenario:
If a team wants to press the Stars' hand, they can offer a 4 or 5-year contract for $3 million per season. Neal would love a contract like that because at the end of a 5-year contract, he hits unrestricted free agency without having to sign another RFA contract. Worse yet for the Stars, the only compensation for a contract like that would be a 2nd round draft pick—which is peanuts for a guy like James Neal. If it were value alone, there's no way the Stars let one of their own walk for a 2nd round draft pick. But in terms of actual dollars, GM Joe Nieuwendyk's hands could be tied.

…But what makes the Stars situation so much more unique is that their constraints are a self-imposed budget and the PR mess that would follow if the Stars lost Neal. The perception wouldn't be that they couldn't keep him—it would be that they were unwilling to keep him. It's a subtle point, but it's a HUGE difference when you're asking for big money for those seats on the blue line.
Will the Stars and Nieuwendyk wait him out?  Or will Neal take the longer contract Reitz suggests?  I'd probably argue more in favor of Heika's stance.  James Neal is a budding star coming off a 27-goal sophomore season.  Prior to his November suspension, he looked like a player that opposing teams simply couldn't contain.   He's been training hard all summer with fitness guru Gary Roberts, the same approach Steven Stamkos took last summer on his way to the Rocket Richard trophy this season.
Neal will want to be in the lineup from the drop of the puck on opening night and he'll take a shorter contract for less money to make sure that happens.  If he evolves into the 45-goal scoring power-forward he may be capable of becoming, he'll be seeing big dollar signs sooner rather than later.