---
Trade rumors galore have been flying around the league of late, mostly accredited to the abundance of moves that have already been made in 2016 prior to the trade deadline. Last week, the Wild entered the Jonathan Drouin sweepstakes, and in fact, had a scout in attendance Monday afternoon for a Syracuse/Rochester game. With the trade deadline now fast approaching, the Minnesota Wild are expected to once again be active on the front in 2016.
#mnwild head pro scout/director of player personnel Blair MacKasey on list to scout today's Jonathan Drouin, I mean, Syracuse Crunch game

— Michael Russo (@Russostrib) January 18, 2016
The Wild have come to another abrupt hault in their push for the postseason. One could say this is surprising, after Minnesota reached 52 points overall in the least amount of games played in franchise history. Another could say that this is all too familiar and has become a tradition for the Wild to back themselves into a corner during the season, much to the dismay of the players and fans alike. This time around, excuses are running out as to why this team repeatedly hits stretches of flat play. It's simply inexcusable, and now the question that should be asked is whether or not this team is really capable of winning right now, like Chuck Fletcher proclaims over and over again. Now three years with this core group and counting, the Wild still look like a new team skating together for the first time far too often.
With the current state of the team, there shouldn't be a player on the roster considered "safe." However, it's obvious that Chuck Fletcher won't be trading a guy like Zach Parise or Ryan Suter out of sheer panic, so this article will be directly aimed at players that should be shopped due to value, and are the most likely on the team of being potential candidates by the trade deadline.
After taking a look at some teams last week that could draw Chuck Fletcher's interest, let us now investigate into some Wild players that could be a potential match for those clubs, in hopes of igniting a spark for Minnesota in return.
Marco Scandella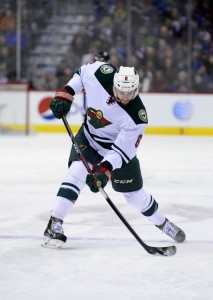 This one would sting. Marco Scandella has become a favorite in Minnesota, as we all bared witness to his rise in the NHL after being drafted by Minnesota back in 2008. Scandella brings a consistent blue line effort, and a nice offensive punch for the Wild, all at a reasonable contract ($4 million per year). He also has good size, which when used, provides a rare physical game in his play from the back-end, something that is often times lacking from the D-corp. The 25 year-old is the complete package for a team seeking a top-four defenseman, and in return could cost a top-six scoring winger.
Jonas Brodin
Another Fletcher draft choice, Jonas Brodin, was rumored to be in a package deal for former Blue Jacket Ryan Johanssen. Instead, RJ was dealt for Seth Jones of Nashville, who is more dangerous offensively than Brodin. After a tough start to the year, Brods has played about as solid as anyone could ask in terms of pure defense lately. However, with an invisible 5 points this season, Brodin's quiet offensive output could be a testament to him being partnered with a different player nearly every other night. At just 22 years old and with an affordable contract through 2021 that pays him $4.16 million per, Brodin is the type of player a GM could build their defense around for years to come, making him a likely candidate to be discussed by the trade deadline.
Matt Dumba
Matt Dumba's scoring ability for a blue-liner is there without a doubt. His offensive prowess is something that is highly coveted by all NHL GM's. However, it's not such an easy trade to make when he has been hard pressed to stay in the lineup due to highly inconsistent defensive zone play. This was not expected to be as big of an issue for Dumba as it is entering his second full season in Minnesota, yet it's caused his name to be on the block at the very least. Dumba's restricted free agency status at this year's end has also made people ponder over whether Fletcher can re-sign both Dumba and Jason Zucker this summer, with a crowded blue line holding multiple year deals already in the system. Out of any Wild defenseman, Dumba probably provides the highest amount of untapped potential in his game, which means Fletcher should be willing to see who is available for him at this year's trade deadline.
Jared Spurgeon
How willing Chuck Fletcher is to discuss trading the recently re-signed Jared Spurgeon is debatable. Spurgeon has been with the club for the past six seasons, playing in over 300 games during that time. His experience would be missed no doubt, but the Alberta-native might be the required piece of a deal to land a guy like Ryan Nugent-Hopkins of Spurgeon's hometown Oilers. Spurge's 4-year, $20.75 million dollar contract starts in the 2016-17 season, and expires the same year of RNH's contract in 2021. What Jared Spurgeon provides is a top-pairing defenseman (which Edmonton lacks) who can jump up in the play offensively when space allows it, and even with a smaller stature, plays with the utmost defensive responsibility through positioning and a good stick work. Surely, Jared Spurgeon's name has to be mentioned prior to the trade deadline.
(Update*) With Nugent-Hopkins now injured long-term, it appears the Wild will either have to wait, or look elsewhere for that top-line center that's so desperately needed.
Mikael Granlund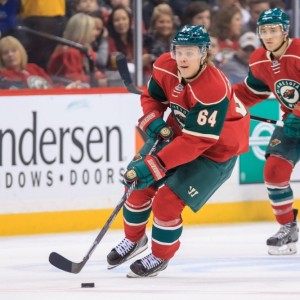 Mikael Granlund was expected to break out this season, or at least show a true number one centerman's ability in his game. Still, this has yet to be truly shown. Fans can simply scroll through the comment section of post-game posts and Twitter feeds for thoughts on the matter. Before the season even began, it was a glaring issue. Not exactly having won over Chuck Fletcher's complete trust at the time, Granlund was re-signed to a modest two-year bridge deal in hopes that the Finn would finally prove his worth. Granlund will be a star someday sure, (maybe), but the clock has been ticking in Minnesota this year for it to happen in a Wild sweater. Unfortunately, time might be running out.
Exactly what a Mikael Granlund trade would bring in return for the Wild is hard to decipher.
Jason Pominville
Jason Pominville seemingly regressed overnight this year. His numbers are hellacious for a guy who once scored 30 goals in a season while wearing Wild green. On pace for career lows in every category, he does not look like the Jason Pominville of two years ago. All of a sudden his contract looks awful, if you were to base it off his play of this campaign alone. The 33 year-old is signed through the 2018-2019 season, which should warrant Chuck Fletcher to see what kind of value Pominville holds, if any, before it's too late. Interest could be there, for a team looking for veteran presence entering the playoffs.
2016 Trade Deadline Could Make or Break the Wild
This year, the trade deadline falls on February 29th, a little over a month away. The depth that Fletcher has accrued on defense for the Wild could prove to be very beneficial should he pull the trigger on a move this season, something he hinted at after the Spurgeon deal. Should Fletcher make a trade, he will be looking at his blue-line more likely than not for a suitor.
Going forward, if this team fails to right the ship and/or make the playoffs, it's going to be apparent that a major roster shakeup is needed this summer.
*** If the Wild's current skid continues, you can blame me for furthering the "distraction" of mentioning Wild players names in the midst of possible trade deadline discussion.