The Edmonton Oilers and Peter Chiarelli have been relatively active in the early parts of the off-season it seems. Edmonton was one of the final three teams in on Czech defenseman Jan Rutta, and are now in on college free agent Spencer Foo. Rutta eventually signed a one-year deal with the Chicago Blackhawks, but Edmonton might have better luck with the hometown product.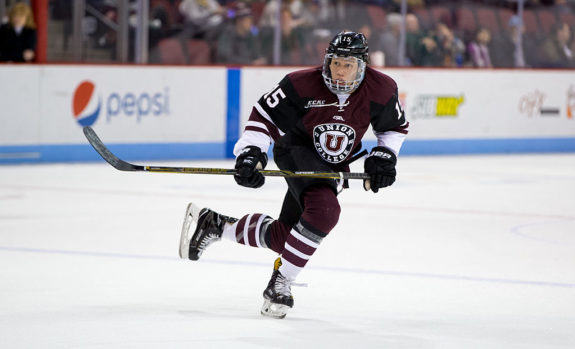 Edmonton was aggressive in the college free agency pool last year and signed Matt Benning (RD), Drake Caggiula (LW), Nick Ellis (G), and Patrick Russell (RW). This summer they've already signed Shane Starrett (G) and Joe Gambardella (C). The Oilers have had success adding depth to their prospect pool from the college ranks. What's missing from the organization is another scoring forward, hence the interest in Foo.
The 23-year-old played three seasons at Union College (NCAA) and was nearly a point per game player with 112 points in 113 games. He had two average seasons before exploding in his third year with 26 goals and 62 points in 38 games.
SPENCER FOO STATS

SEASON
CLUB
GP
G
A
PTS
P/GP
PIM

2014-15

Union College (NCAA)

39

11

14

25

0.64

24

2015-16

Union College (NCAA)

36

12

13

25

0.69

14

2016-17

Union College (NCAA)

38

26

36

62

1.63

24

TOTAL
3 SEASONS
113
49
63
112
0.99
62
Who Is Spencer Foo?
After seeing Zach Aston-Reese, Mike Vecchione, and Tyler Kelleher all sign pro contracts, Foo is arguably the best college free agent available. Aston-Reese, Vecchione, and Foo were all Hobey Baker Award finalists this year, ultimately losing out to defenseman Will Butcher.
Aston-Reese signed with the Pittsburgh Penguins, and Vecchione (Foo's teammate) signed with the Philadelphia Flyers. Kelleher who finished third in NCAA scoring signed an AHL contract with the Milwaukee Admirals (Nashville Predators affiliate). Now all eyes are on Foo.
TOP 5 NCAA SCORERS 2016-17

PLAYER
2016-17 CLUB
RIGHTS
GP
G
A
PTS
P/GP

Zach Aston-Reese

Northeastern

Pittsburgh

38

31

32

63

1.66

Mike Vecchione

Union College

Philadelphia

38

29

34

63

1.66

Tyler Kelleher

New Hampshire

Milwaukee

40

24

39

63

1.58

Spencer Foo

Union College

UFA

38

26

36

62

1.63

Brady Ferguson

Robert Morris

UFA

38

24

34

58

1.53
At 6'0 and 185 pounds, Foo projects as an average size forward, but has a tremendous shot and plays with speed. He's received plenty of praise for his growth defensively. Foo was the definition of consistency this year scoring points in all but four games. He was the fourth highest scoring player in the NCAA and his plus-29 rating was the best in the country.
If you're comparing Foo to college free agents Edmonton's signed in recent years, he could be closer to the Caggiula, Benning-types regarding impact than you think.
"That consistency has been very important because it has allowed the younger players to see that through consistency breeds success. Spencer is one of the hardest workers in practice each day. He is playing in all situations, on the PK, on the PP and on 4-on-4. He has earned all those minutes and the biggest thing for him is that he is consistent with his work ethic. That is why he is on the streak he is."
Foo Is Weighing NHL Options
Last week Foo's agent Gerry Johansson appeared on Oilers Now with Bob Stauffer and said Edmonton was on the short list of destinations. It makes sense for multiple reasons. Similar to Caggiula, he can play center but might be better suited as a winger in the NHL. Caggiula shifted to the left side in his rookie year, and Foo can move to the right wing for his. Edmonton's also weak on the right side and there are questions about Jordan Eberle, Anton Slepyshev, and Jesse Puljujarvi.
"He's greasy. He just does a lot of little things that are fun to watch. He's got electric speed, hands, guts, not afraid to try something difficult. He's been good. (Foo)'s just fun to watch and he plays with an edge."
There's the hometown angle, but then again Foo's stated in numerous interviews that it's not something he sees as an automatic. If there's one place that might be a dark horse, it's Philadelphia. The Flyers have already signed Union College alumni Shayne Gostisbehere and Vecchione, both former teammates of Foo's. Vecchione and Foo had chemistry together and could form a formidable scoring tandem for the rebuilding Flyers.
Foo's Short List of NHL Destinations
"There's so many different pros and cons of the different teams that have interest in you. That's one of the biggest things for the reason why I've been waiting for so long to sign somewhere is that I really wanted to take my time and make sure I make the right decision because I'm not superstar that's going to be able to come in and crack any team in the league right away and make a huge impact. I need to do what's best for me and find an organization I really fit with. Obviously with Edmonton, there is that aspect where I've grown up here and have family here and I have friends. It does provide a bit of distraction, but it can also be a blessing as well."
It's unclear which teams are on the short-list but if we're speculating you'd have to think the Flyers are up there with the Oilers. Ken Campbell, The Hockey News, believes that the Los Angeles Kings are also on that list. For what it's worth, Foo attended development camps with both the Calgary Flames (2016) and San Jose Sharks (2015) in the past as well.
Foo is expected to formalize a decision after the expansion draft, and for the Oilers, he would be a welcomed addition.
Edmonton Oilers regular contributor providing insight on all things Oilers including club history, prospect profiles, trade breakdowns, and everything else in between. Check back regularly for new and exciting content. Follow on Twitter @SanderTHW.