The Montreal Canadiens started the 2015-2016 season with a very impressive 9-game winning streak. It's safe to say that since that streak, the Canadiens' season has been quite the rollercoaster ride. Key injuries have nullified any impact the 9-game winning streak once held for the team. First place in the division- a spot the Canadiens held from October 7th to December 26th– seems like a feat no longer attainable for this club. The way this team is playing, first place feels like years ago.
First Place? Long Gone
Sitting comfortably in first place for most of the season, it would have been difficult to predict that we would be having a conversation about whether or not the Montreal Canadiens will make the playoffs this year. But, here we are. And it's a valid conversation to have. After a December month which absolutely decimated this team, the Habs sit 3rd in the Atlantic division, two points ahead of Boston, with two more games played than Boston. The Lightning are three points behind Montreal with one less game played. The Sens are also three points behind Montreal.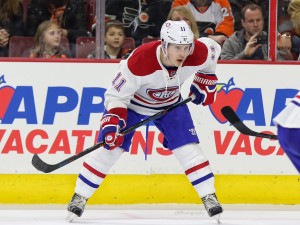 The problem for the Canadiens is that there is hardly a light at the end of the tunnel. Whether you would like to believe this or not, this is a team that, evidently, needs Carey Price to win hockey games and remain competitive in this league. It's an unfortunate reality for this hockey club.
The Canadiens are keeping quiet about Price's expected return date, but it doesn't look great. He just began light skating a couple of days ago. Brendan Gallagher's injury proved more significant than expected. Petry is a key guy on the second pair and has missed some games. Emelin apparently played through December with an injury. Markov is in a steady, very noticeable decline at his age now. Weise is a key player in Therrien's artillery. He's out with injury at the moment. The Semin experiment didn't work out. The list goes on.
Next Up
The Canadiens play the Chicago Blackhawks Thursday night in Montreal. Then again on Sunday in Chicago. On Saturday, the Habs visit St. Louis. The Canadiens hold a 4-9 record against the Western Conference this season but it should be noted that those two teams aren't just any two teams from the West. The Blues and the Blackhawks are two western powerhouses. With Jake Allen listed as week-to-week for St. Louis, the Habs will face Brian Elliott in goal, but that hardly matters. Operating with a lineup that looks average at best, it would be impressive if Montreal won two of the three games. The Habs may be able to earn a win from a beat up St. Louis team, but beating Chicago is a whole different story.
Schedule Doesn't Matter
Out of Montreal's remaining 39 games, 20 of them will be played on home ice at the Bell Centre. 15 of those 39 games are against Western Conference opponents. Why does this matter? It doesn't. It doesn't matter who Montreal plays. If Carey Price were to miss the rest of the NHL season, the Canadiens will probably miss the postseason. If he doesn't return soon, this entire season may be a lost cause. It's unfortunate, given the fantastic start. But even so, it's the harsh truth.
Prove It
Tomas Plekanec is sick of people saying the Canadiens are just about Carey Price. http://t.co/vX5t6WrHzU pic.twitter.com/l9n3qmD0kX

— theScore (@theScore) October 10, 2015
This was a season where the Canadiens were determined to prove they are a team that had more to offer than just an incredible goaltender. They were wrong. Gallagher is a significant element to this team, but he is back now, and it doesn't seem as if his presence alone is enough of a change to push this team forward.
Something needs to change with the Montreal Canadiens. We have known this for some time now. It seems as if stubbornness to adapt to a rapidly changing game is going to be the kryptonite of this team. Relying on your goaltender more often than not to win hockey games is a good story and all, but it isn't practical. The workload Price has endured over the past few seasons has clearly taken a toll on his body. He has played through injury. He has done what he can, but he needs help. At the end of the day, this is a fundamentally flawed hockey club. Stubborn coaching habits have caused the team to suffer, although blame should not be placed solely on the head coach.
Missed Opportunity
The Canadiens had an opportunity to salvage the season when Price first went down with injury. They could have traded for a goalie then. They decided to wait, and let it ride on two ECHL-calibre goaltenders in Dustin Tokarski and Mike Condon. They paid the consequences. We can go on about the Canadiens' lacking of scoring, seeing as it is a valid point. But when your two goaltenders can't even perform at a reasonable level, there's no hope.
Now, it is a waiting game for the Canadiens, because what it really comes down to is which day Carey Price is available and healthy to play. Price's return date is the determining factor of whether or not this club makes the playoffs. That's sad to say and certainly unfair to the superstar goaltender, but apparently that's how the Canadiens operate. At least the Habs have a lot of…character.