On Jan. 18, Martin Luther King Jr. Day, the NHL took the day to honor a man who cemented MLK's legacy on the ice. The legacy was that of Willie O'Ree, who, coincidentally on that same date in 1958, broke NHL's color barrier when he suited up for the Boston Bruins. Teams across the league honored O'Ree with decals on their helmets displaying O'Ree wearing a fedora and the words "Celebrating Equality."
The Bruins announced on Jan 12 that they will retire O'Ree's No. 22 after 62 years. Despite his groundbreaking accomplishment and the players of color who have followed in his footsteps over the years, the NHL still struggles with diversity more than any other professional sports league in North America. According to Yahoo! Sports, in 2020, only 5.7% of NHL players were people of color. This has led to the long-overdue unity among players across the league to create change.
Hockey Diversity Alliance
Following the tragic police killing of George Floyd in Minneapolis, seven current and former NHL players of color banded together in June 2020 to form a group called the Hockey Diversity Alliance. The organization aims to eradicate systemic racism in hockey and inspire diversity in the game's future. 
"We did it because we wanted to show strength in numbers and unity within our league as bi-racial players and minorities," said San Jose Sharks forward and group co-head Evander Kane according to NBC Sports Bay Area. "To combat some of these racist instances that have happened not only in society but in our sport, and to try and change the culture of the game that we all love."
As advocates both for greater equality in game accessibility and more social awareness throughout the league, the group wrote a pledge laying out an eight-point plan of requests to the NHL, according to Sporting News. The plan ranges from demands for increased hiring of black executives and personnel among NHL teams to receiving funding for the organization to create unconscious bias training programs across the league.
This came along with the demands for the league to suspend play on Sept. 3, following the police shooting of Jacob Blake in Kenosha, Wisconsin. The NBA and most of the MLB had already done so. 
However, on Oct. 7, the HDA announced that they would operate separately from the NHL as their demands in the pleas were not met by the league. According to Greg Wyshynski of ESPN, the organization said in a statement that, "Unfortunately, the support we hoped to receive from the NHL was not delivered and instead the NHL focused on performative public relations efforts that seemed aimed at quickly moving past important conversations about race needed in the game."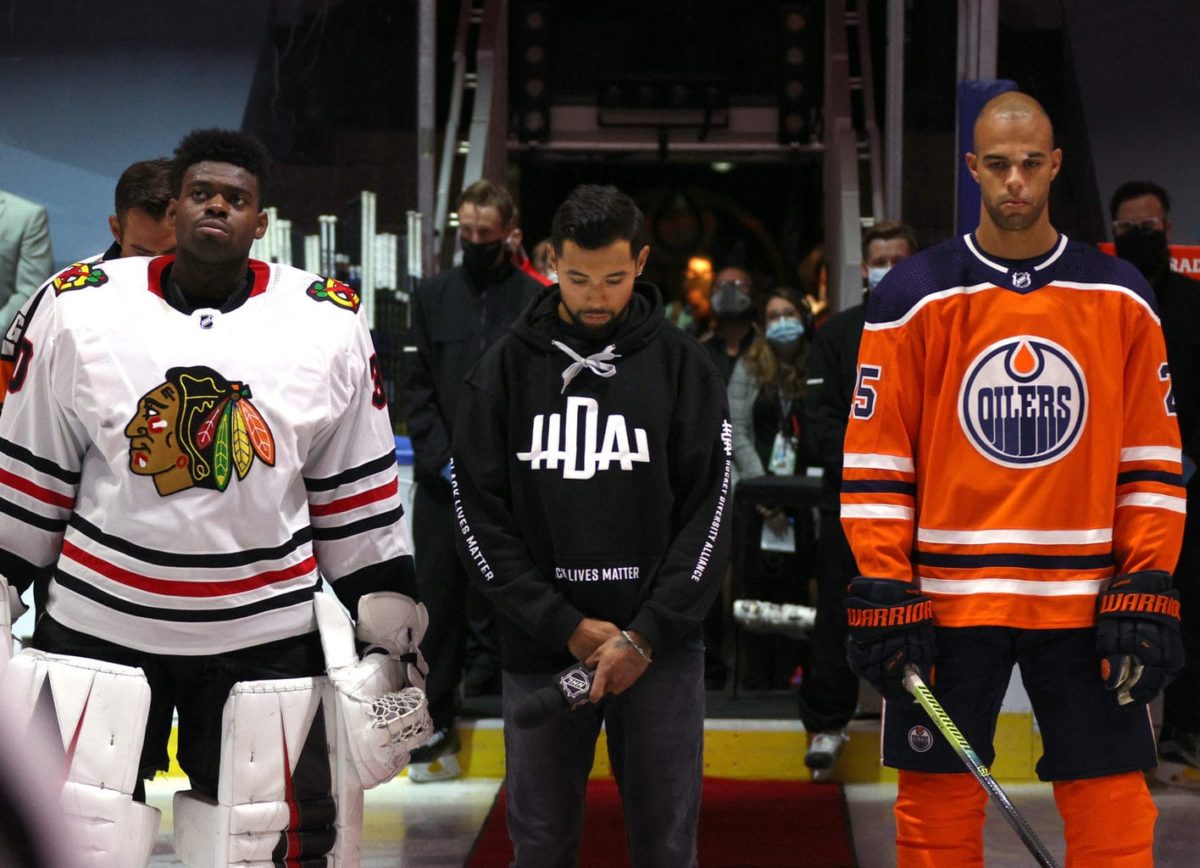 The NHL acted in September to implement programs, including a grassroots organization to provide mentorship and skill development for kids in the Greater Toronto Area. However, the NHL did not take adequate enough action to implement the necessary educational programs, which are meant to give players a platform to have these tough conversations about race across the league.
O'Ree's Efforts Off the Ice Offer Beacon Of Hope
While O'Ree's NHL career only lasted 45 games, he has been one of the most impactful individuals for the game of hockey off the ice. He became the game's diversity ambassador in 1994 as he strived to give back to the game that had given him an opportunity. As the NHL's Director of Youth Development, O'Ree has traveled across North America and established 39 local grassroots organizations that help introduce the game to disadvantaged groups, as part of the Hockey Is For Everyone initiative.
While the league still has a long way to go before it overcomes its race issues among players and fans, what O'Ree has brought to the game has garnered much-needed recognition around the league. Apart from getting his jersey retired, in 2018, O'Ree was inducted into the Hockey Hall of Fame.
In his Hall of Fame speech, O'Ree alluded to a motivational piece of advice he gives to kids, one that should resonate with members of HDA. He said:
"Years ago, I was doing an event in Los Angeles. Snoop Dogg was there. We know he loves the game. But when I got him out on the skates, he said, 'Willie, I hope I don't fall.' I told him what I tell the kids, 'If you fall, just get back up.'"
Getting back up was just what O'Ree did throughout his career. While playing junior hockey, O'Ree lost most of his sight in his right eye after he was hit by a puck. Despite being told by a doctor that he may never play hockey again, he did not let that deter his hockey career.
With growing awareness of the issue of race in hockey that is even drawing celebrities like Marshawn Lynch to market the game and help more grassroots organizations take root, it is imperative that organizations like HDA keep up their fight, whether they do it independently or with the league. 
---
---