As the 2022-23 Ontario Hockey League (OHL) Playoffs start peaking over the horizon (early April), the Windsor Spitfires are starting to realize the potential they envisioned at January's trade deadline. After returning home for a three-game home stand to end January, the club got two veterans back this past weekend and continued their push to a conference title.
To say January was a rollercoaster would be putting it mildly. After multiple trades, multiple injuries, a five-game road trip, and a three-game home stand, they've come out near the top of the OHL's Western Conference battered, bruised, and eager to keep fighting. Nothing was going to come easy and that lesson continued this past weekend. However, getting two veterans back was a big spark as they begin to regain a full lineup. Here are three takeaways from the weekend.
3 Takeaways from Firebirds, Greyhounds, and Spirit
Weekend results:
Wed., Feb. 8 – 9-3 win at Flint Firebirds
Thurs., Feb. 9 – 5-4 OT win vs. Soo Greyhounds
Sat., Feb. 11 – 5-2 win at Saginaw Spirit
3. Onuska and Costanzo Provide 1-2 Punch in Goal
All season the Spitfires have been hoping that veteran goaltender Mathias Onuska would be their guy for a return to the OHL Championship (lost in Game 7 in 2021-22). With 17-year-old Joey Costanzo playing well as his backup, it all looked solid… until it wasn't.
Related: Bulldogs Win 2022 OHL Championship After Game 7 Win over Spitfires
Costanzo consistently performed well, building trust with head coach Marc Savard, while injuries and inconsistency hampered Onuska's bid to regain his 2021-22 form. In early January, the veteran suffered an injury and the youngster took over. However, despite his success, the club needs both over the long term.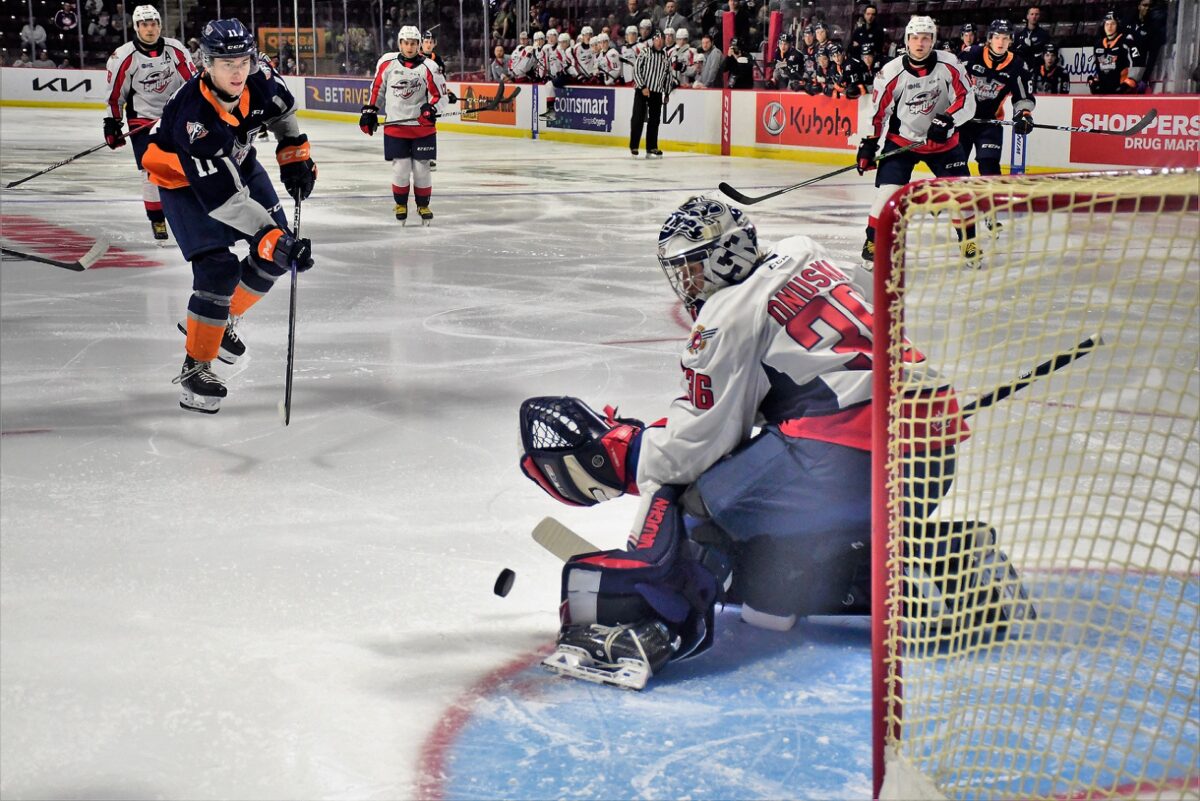 Fortunately, the Spitfires got good news on Thursday as Onuska made his return. Despite allowing three early goals, he settled in and made 29 saves for the win. Following the game, Savard said he didn't blame the veteran for the early deficit.
"I called a timeout (after the third goal) and we had a bit of a chat," he said. "Onuska's first game back, I thought he was sharp and for us to hang him out to dry there early was disrespectful to me and I let them know."
Onuska's had an unfortunate run with injuries dating back to late last season. However, he said on Thursday that he's "back to normal" and feels like his 2021-22 self. Now, he and Costanzo can run together and he's been impressed with how the youngster has played so far.
---
Latest News & Highlights
---
"It's great to see Joey's success," Onuska said. "He's a young kid and I'm really happy for him. He's helped us out and done a great job, won a lot of games. It's just great to see."
If the Spitfires can get these two at their full potential, combined with an offence that's averaging nearly five goals per game, they're going to be a difficult club to stop.
2. Spreading Around the Points
All season Savard has shown excitement about his club's depth; that ability to spread out the points regardless of which line is on the ice. That trend continued on the weekend.
On Thursday, all four forward lines contributed and 10 players had at least one point. During the Wednesday and Saturday road games, 11 players (combined) had at least one point, including forward Ryan Abraham, who played in his first game on Wednesday since being injured in late November.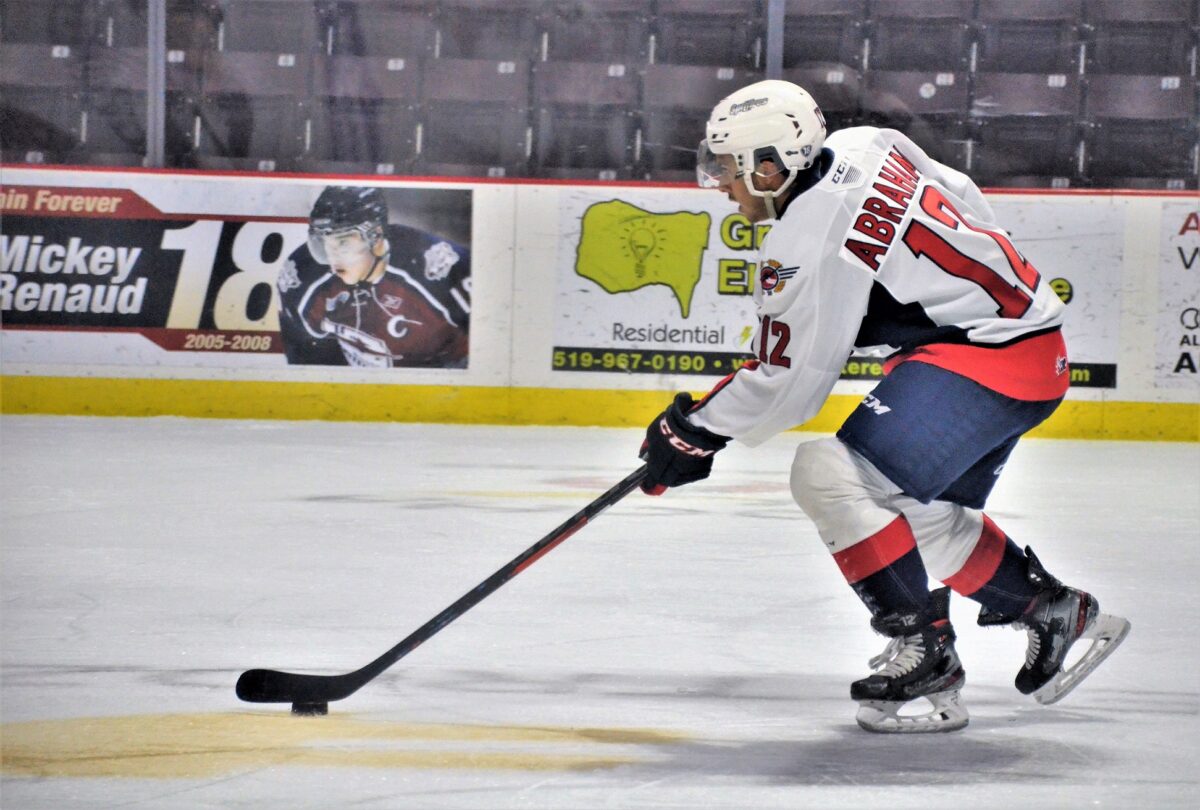 It's not always a matter of ice time but hunger to strive for the betterment of the club. Players are buying into the systems and the culture. Savard said when players get hungry for results, it shows on the ice.
"That's one thing here, every guy is hungry and they want to get results," Savard said. "That's kind of what I've driven from day one. We want to get results. It's nice to be on the outside and do things but you're going to help your team win by getting results. A lot of guys are getting stuff accomplished. They're working hard and every guy is hungry. It's showing on the scoreboard. "
While captain Matthew Maggio (New York Islanders) leads the team with 84 points in 49 games, which also leads the OHL by eight points over the North Bay Battalion's Matvey Petrov, the Spitfires have plenty of depth with six players on pace for at least 60 points. No matter who is thrown out onto the ice, the line has a chance of scoring. This is with forward Shane Wright out, too. Once they add him back to the mix, it's likely to increase that much more.
1. Playoff-Style Hockey is Here
The theme all season is that there are no bad teams in the OHL. You're going to be tested on a nightly basis and, if you take anyone lightly, you're in for a long night. With February in full swing, every game is like the playoffs, whether it's a high-scoring contest or a grind-em-out style. The Spitfires are now ranked 10th in Canada so teams will be aiming to knock them down a few pegs. Savard said hockey won't always be perfect but you have to find ways to win.
"It's not always going to be perfect," Savard said. "We don't need to be perfect … good teams find a way to win."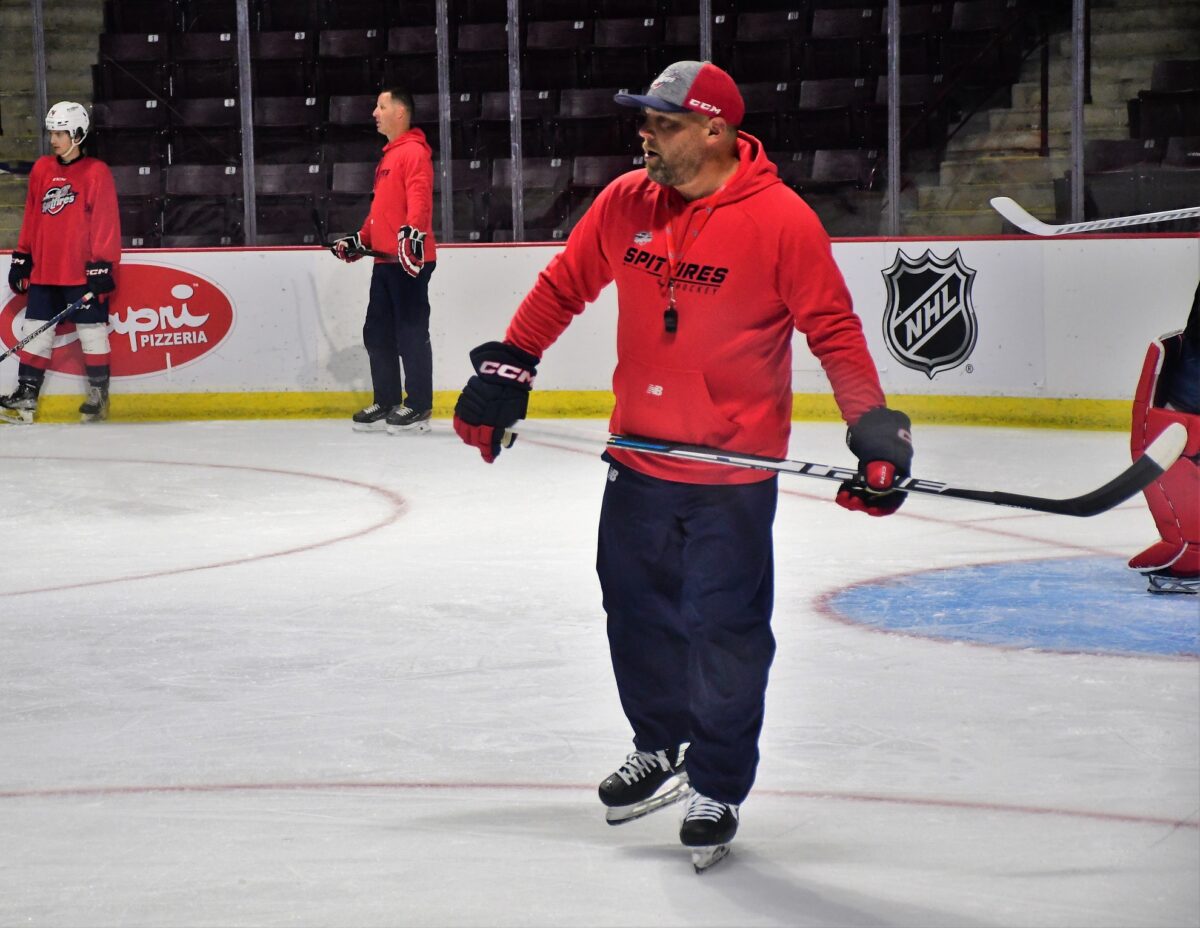 Onuska was a part of the club's hard-fought 13-game winning streak last season, plus their run to the OHL Championship. He echoed what Savard said – you won't always have your best but that doesn't mean you quit.
"You have to find different ways to win in this league," Onuska said. "It's not always going to be the best start or different styles of play. We found a way to win (on Thursday) and that's what good teams do."
With the Spitfires battling the London Knights, Sarnia Sting, and others for the Western Conference title, plus the Ottawa 67's and North Bay Battalion for the overall OHL regular season title, every game is going to be a playoff-style match. Savard said he told his team that this would be the "best Soo team" they faced this season and he was right. From here on out, that's likely to be the case with any team, too. Whether it's battling for a conference title, home ice, or just making the playoffs (as the Greyhounds are), teams are giving it everything they have. You can't ask for much better hockey to watch.