Late November has been a crucial period for NHL teams for many years. Statistics show that if a team is in the playoff picture when Americans are carving turkeys and candying yams, they'll most likely still be there when the regular season comes to a close — it's often coined the Thanksgiving benchmark. Thanksgiving time is also the season when those on the outside looking in know they need to kick things up a notch.
That means the games prior to American Thanksgiving (which falls on Nov. 22 this year) are critical for every NHL team, including the Winnipeg Jets.
Only 3 teams not in NHL playoff picture last Thanksgiving made playoffs. Other recent years:
Year Made
2016 13/16
2015 12/16
2014 13/16
2013 13/16
2011 12/16
2010 12/16

— Bucci Mane (@Buccigross) November 20, 2017
The Jets currently have 17 points and sit tied for third in the ultra-competitive Central Division with the Dallas Stars. They are in the midst of a week off after facing the Florida Panthers in a pair of NHL Global Series games in Finland and won't be back in action until Friday when the Colorado Avalanche come to Bell MTS Place. While they possess an 8-5-1 record, they haven't played anywhere close to their potential yet.
If the Jets want to improve their placement by Thanksgiving, they should use their performance of a year ago as a blueprint on how to do it.
Remember, Remember, the Month of November
Last November was when the Jets began to soar and put the rest of the league on notice, and it was the month they began to play to their potential as a well-rounded, deep, and dangerous team.
On Thanksgiving Day (Nov. 23), they sat at 13-5-3, good for second place; seven days later, they remained in second with a 15-6-4 record, behind only the St. Louis Blues. Overall, they went 9-3-2 and captured 20 out of a possible 28 points thanks to contributions from throughout their lineup.
Mark Scheifele, who had finally fully arrived, piled up 17 points, which included five multi-point games and a hat trick against the Dallas Stars.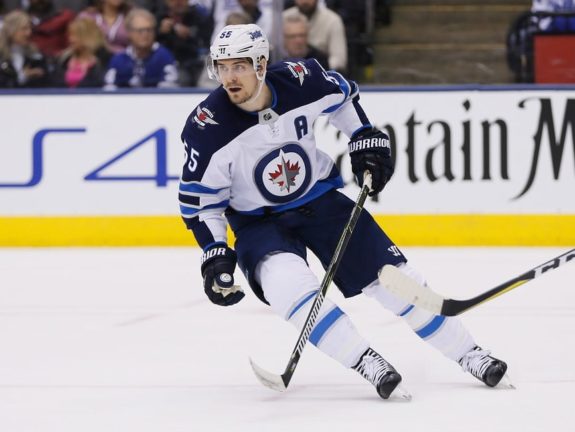 Patrik Laine, who famously told reporters at the beginning of the second month of his sophomore season that "hockey is really hard right now" and "obviously I don't have a lot of confidence," broke out of a small slump in a huge way and scored seven goals, which included two game-winners.
Mathieu Perreault, who returned from injury mid-month and was immediately thrust onto an extremely unorthodox and offensively gifted fourth line, notched seven points in eight games.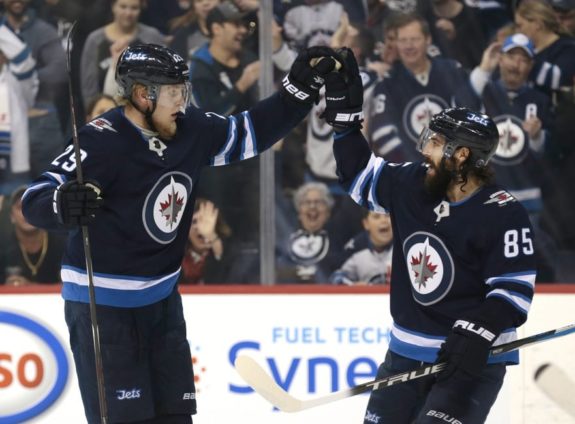 The team scored 49 goals while giving up only 35. A whopping 16 (32.65 percent) of those goals came with the man advantage. They only allowed 12 while shorthanded (if you eliminate the outlier, when the Montreal Canadiens scored a trio of power play goals against the Jets on Nov. 4, that number falls to nine.)
How the Jets Can Replicate Last November
The Jets are 1-1-0 so far this November after splitting a pair of 4-2 decisions in Helsinki. As mentioned earlier, the 2017-18 Jets went 9-3-2 last November and had 34 points by the end of the month.
If this year's Jets want to have the same number of points, they'd have to grab 17 out of a possible 20 — a very tall order. However, if they want to come close to last year's mark, there are a few things they'll need to do.
1: Stop Taking so Many Penalties
Even the person with the thickest boots will bleed out if he shoots himself in the foot enough times.
The Jets have cut ruts to the sin bin all season and it's come back to bite them on numerous occasions. In fact, they have the dubious distinction of leading the NHL in penalty minutes. They've been shorthanded 51 times, seventh most in the entire league, which works out to an average of 3.64 times shorthanded per game. They were shorthanded an average of 3.34 times per game last year.
We've turned back the clocks to when the are Jets leading the league in penalty minutes again by a wide margin. Has to end if we're true contenders. At least our next opponent (Col) is in the same boat. pic.twitter.com/WjEPns2ifc

— sweet_home_mb (@KChurch66) November 5, 2018
While the Jets' penalty killers and goaltenders have done yeoman's work, they've been asked to shoulder too much, too often. Their penalty kill is operating at 78.8 percent, 19th in the NHL and worse than last year's 81.8 percent clip.
It's the undisciplined, careless penalties that have loomed the largest, with last Friday in Helsinki being a perfect example. Gritty forward Brendan Lemieux showed the undisciplined nature that could be his downfall, taking two costly penalties — including a major for hitting Vincent Trocheck up high — that allowed the Panthers to tie the game and take the lead, respectively, on ensuing power plays.
Blake Wheeler (17 PIM) has suddenly developed a knack for receiving infractions in the offensive zone, while Tyler Myers (26 PIM) has been oft careless with his stick.
2: Keep Laine Going
Prior to the Jets Finnish foray, third-year sniper Patrik Laine was struggling on both sides of the puck and looking lost everywhere but on the power play. However, a return to his old stomping grounds gave him the perfect chance to reset, and he made the most of it. Laine scored four goals and showed everyone "who's the daddy" in an outstanding homecoming that will surely be remembered for a long time.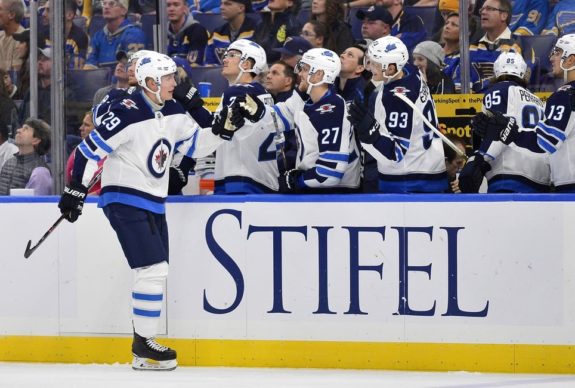 Now the Jets need Laine to keep chugging along. When he plays the diverse, multi-faceted style he did in Finland — using his speed and hands to generate shots on the move and from all over the ice — it provides another layer to an already potent Jets offence.
If the Jets want to be successful, they desperately need the confident, high-flying Laine they saw in Finland, not the one-dimensional Laine they often saw before the trip. Time will tell if he can keep his confidence up and his momentum going.
3: Get More From Hellebuyck
You can forgive everyone if they want a little more out of Vezina-nominated Connor Hellebuyck — who inked a lucrative deal in the offseason — than what they've gotten from him thus far.
While he hasn't been awful by any means, his numbers — a 3.01 GAA and a .907 SV% — are pedestrian and a far cry from his 2.36 GAA and .924 SV% last year.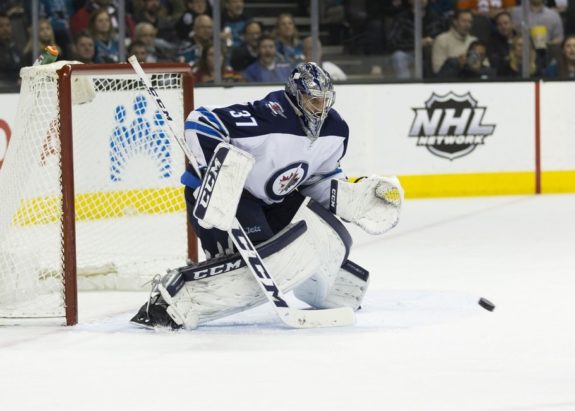 However, the numbers dip isn't all on the Michigan native. As the Winnipeg Free Press' Andrew Berkshire noted in a recent article:
The locations opponents are shooting on Connor Hellebuyck from this season are vastly superior to last season. That means the Jets' in-zone defence has simply not been even close to last season, and in fact they're allowing more scoring chances and high-danger scoring chances against than an average NHL team, after being top-five in scoring-chance suppression last season. (from 'More blown leads in Jets' future if things don't tighten up', Winnipeg Free Press, 10/26/18.)
The Free Press' Jason Bell wrote that Hellebuyck is not satisfied with his numbers. The 25-year-old told Bell "my numbers aren't exactly where I want them to be, but I'm working hard and I know they're going to come around. The guys in front of me have been great, and all I can do is work hard and be there when I'm needed (from 'What, Hellebuyck worry?', Winnipeg Free Press, 10/31/18.)
When a team isn't playing their best, which the Jets certainly haven't, they need their goaltender to steal games. Hellebuyck was a thief last year, and if he can get back to committing larceny on a regular basis, it would be a big boon for the Jets.
Indeed, there is a lot to watch over the next two weeks as the calendar creeps ever-closer to the all-important American Thanksgiving. Where they are in the standings when Turkey Day comes will determine whether they can exhale or keep holding their breath.