Prior to the Winnipeg Jets' pair of 2018 Global Series games against the Florida Panthers, Paul Maurice was asked if Patrik Laine would show fellow Finn and Panthers' captain Aleksander Barkov "who's the daddy" in Finland.
"First of all, I'm not even sure what the means," the amused coach responded. "I'm old."
Youthful superstar Laine, however, obviously knew what the question meant — and he showed it.
Who's the Daddy? It's 'Hat Trick' Laine
Mark Twain once said, "The only difference between reality and fiction is that fiction needs to be credible." Laine's performance in the back-to-back games was definitely incredible. 
Twain, Stephen King, and Oscar Wilde combined couldn't have crafted a better storyline for Laine's much-hyped homecoming. If they had written the script that unfolded, it would have been criticized as hackneyed, predictable, and cliche.
Laine — who'd been struggling on both sides of the puck and pointless in the five games prior to the Jets' Finnish jaunt — wanted to make an impression and do something special for his adoring fans. He delivered on a pair of performances and left an impression that will leave its mark for a long time.
A lot of Laine's fans are newly lidless this weekend after the sniper notched a hat trick on Thursday and doubled his goal output from three to six.
3️⃣ GOALS? THAT'S A 🎩-TRICK!#JetsSuomessa | #NHLGlobalSeries pic.twitter.com/O88SKdAtvz

— Winnipeg Jets (@NHLJets) November 1, 2018
He scored a pair of power-play goals on two blistering shots from his office above the dot. The first one broke a 1-1 deadlock late in the first; the second put the Jets ahead 3-2 in early into third and turned out to be the game-winner. Both were shots Panthers' goaltender James Reimer had no chance of stopping.
The third was into an empty net to cement the Jets' 4-2 victory — it goes to show just how well Laine was playing that Maurice trusted him to be on the ice when the Panthers were up a man.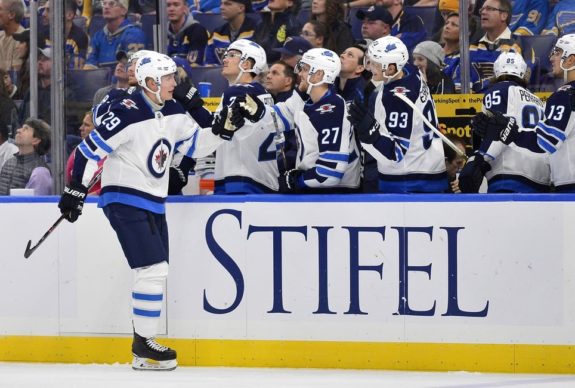 "What a night; what better place than home to strut his explosive stuff," wrote Jason Bell of the Winnipeg Free Press. (from 'Hats off to Laine: three goals for home-country hero in Helsinki victory', Winnipeg Free Press, 11/1/2018.)
"He scored three, I think he could have had seven," Maurice said after Thursday's game. Maurice was right: Laine had a pair of breakaway chances in the third that could have easily found twine as well.
"I don't think you guys can even imagine how good that feels," Laine said of scoring a hat trick. "It might be different if I had played really well in the first games that we played. I was a pretty bad player. Now, getting rewarded like that was pretty awesome."
On Friday, Laine kept the good times rolling and scored on the power play yet again — his fourth goal in four periods — when he unleashed a rocket that went top-corner past Roberto Luongo that put the Jets up 2-1. Interestingly, all three of his non-empty net goals were assisted by Blake Wheeler and Dustin Byfuglien.
🇫🇮 + @PatrikLaine29 are just a beautiful combo. #NHLGlobalSeries pic.twitter.com/CaRnhAxvdl

— NHL (@NHL) November 2, 2018
Unfortunately for Laine, his goal wasn't enough to propel the Jets to a series sweep. Despite a great first period, they ran into penalty trouble and allowed three power-play goals en route to a 4-2 loss.
Laine Looked Multi-Dimensional
Before the Global Series, we explored why returning to his old stomping grounds provided Laine the perfect chance to get back on track and his mojo back. It's safe to say he's got some confidence now and is regaining his previous form.
Laine simply operated at a different gear in Helsinki. It was clear he relished playing in his home country for the first time since playing for Tampereen Tappara in 2016.
Laine's shot is his best attribute, no question. However, he's not a one-dimensional player that is only capable of standing still and scoring from one spot (even though he looked like one prior to the trip.) For the first time in a long time, he looked dangerous in a number of locales.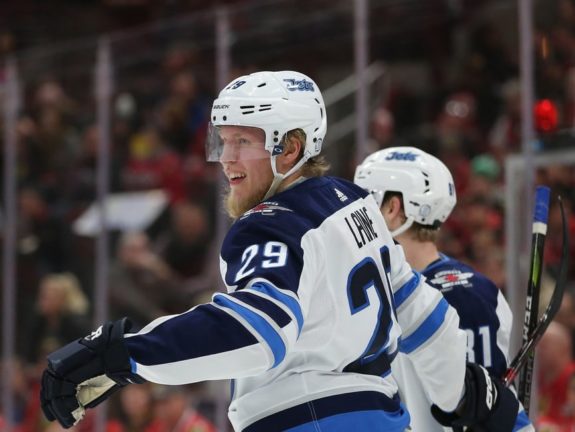 His 13 total shots didn't just come from his usual spot or while he was stationary. They came from various points on the ice and while he was on the move, including his Friday goal, which, despite being on the power play, came from the opposite side of the ice.
He played a more diverse game using his speed and hands. A little dangle he executed to get around Ekblad was perhaps the premier example of a player growing in confidence.
Can Laine Keep It Going?
Laine was so good over the past two games that the Winnipeg Free Press' Mike McIntyre joked that the 2016 second-overall pick might not want to leave. It's true that Laine has more goals in Finland this year than he does in North America.
It's also true that two games do not a pattern make or fix all the foibles. Laine still doesn't have an even-strength goal on a goalie.
The Jets also have a long layoff designed to help them adapt to the time chance upon their return to North America — they don't play again until Nov. 9 against the Colorado Avalanche.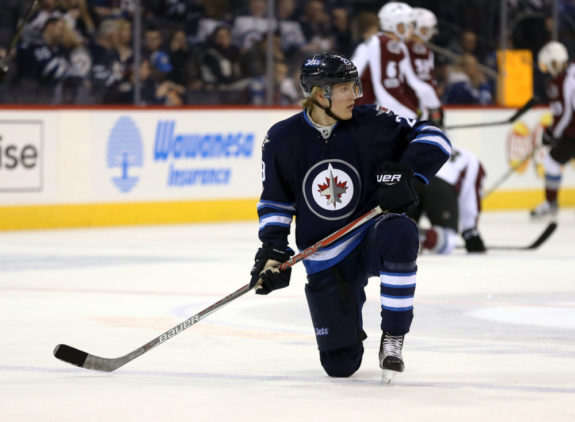 This could be a positive or negative. Usually it's not ideal for a player just starting to get things sorted out to have to sit for an entire week — the danger is that it could kill his momentum. Conversely, however, the break offers Laine the chance to reflect on why his homecoming was successful and a full week of practice to work on those things.
Time will tell if Laine's brilliance in Finland was just an aberration caused by the pomp of his return or if he can replicate that brilliance when he gets back to the regular season grind.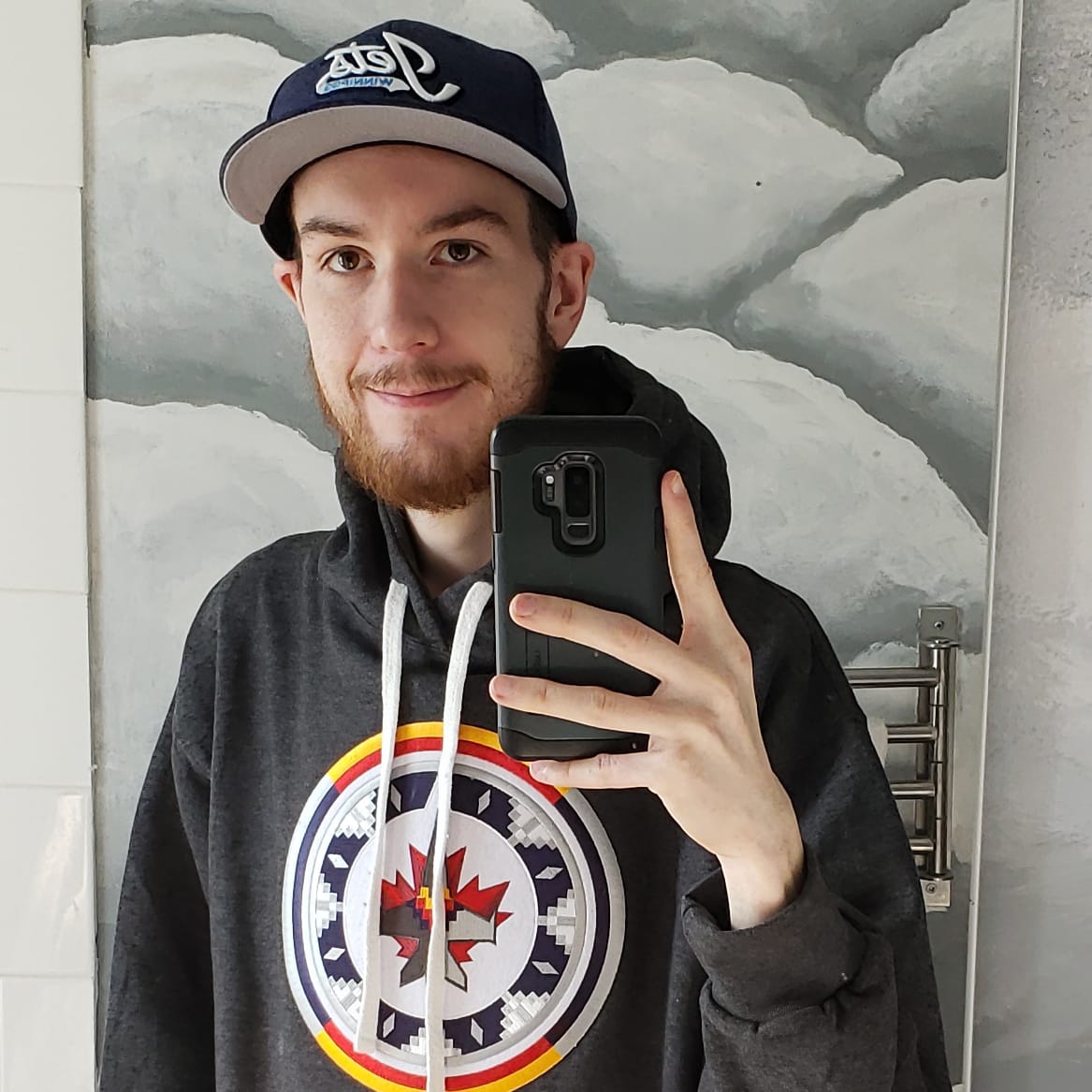 Declan Schroeder is a 27-year-old communications specialist and freelance journalist in Winnipeg, Manitoba. He holds a diploma in Creative Communications with a major in journalism from Red River College and a bachelors in Rhetoric and Communications from the University of Winnipeg.
Deeply rooted in the city's hockey culture, the original Jets skipped town when he was two and the 2.0 version came onto the scene when he was 17.