Depending on who you make your sports allegiances with, Jan. 1 was either an amazing day, or an awful one. The Montreal Canadiens are still riding the wave after a dominating 5-1 Winter Classic victory over the Boston Bruins at Gillette Stadium in Foxboro, and while Boston has said that they're done talking about the event, we're not … not yet, anyway.
In the grand scope of things, the 2016 Winter Classic shaped up to be Montreal's perfect storm.
Montreal
On one hand, you had the Montreal Canadiens. A brutal month of December took its toll on the Habs. Following a Dec. 1 victory against Columbus, the Montreal Canadiens dropped 11 of 13 games to end 2015. Carey Price was sidelined in late November after re-aggravating his knee, just days after Brendan Gallagher went down with several fractured fingers. The team that had appeared to be the league's juggernaut early on was falling fast, all while watching their arch rival, the Bruins, climb their way back into the heat of things with a tremendous ending to November and a solid month of December.
Montreal needed to turn things around, and make a statement to prove that they could recover from their recent slump. Coming out of the short holiday break, Montreal was able to scrounge up two out of a possible six points, and had failed to bounce back into things as they had hoped. Montreal needed a jump start, and, boy, what a chance they had – a massive, rivalry match-up against the Bruins on the enormous stage of Gillette Stadium for the Winter Classic. Montreal had something to prove.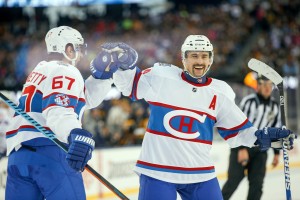 On the flip side of things, you had the Boston Bruins. The B's went streaking in November, and found themselves right back in the thick of things by the time mid-December had rolled around. However, as the Winter Classic hype built up, Boston's fortune was turning. David Krejci went down with an upper body injury on Dec. 27, and Brad Marchand earned himself a three-game suspension in Boston's final game before the Winter Classic.
Boston
With Krejci and Marchand out, Boston saw two of their top four point-scorers, and was left with just two of their regular top four centers from the start of the season (Chris Kelly has been out since breaking his leg in early November). David Pastrnak, who was also injured, was doing a rehab stint at the World Juniors tournament in Finland.
Boston's lineup was far from ideal. Seth Griffith, who was playing in his second NHL game all season, filled Brad Marchand's hole on Boston's top-line right wing. Ryan Spooner was forced to fill in David Krecji's spot on the second line. Boston's third line consisted of Frank Vatrano – Landon Ferraro – Alexander Khokhlachev, none of whom had been in Boston's opening-day lineup, and Zac Rinaldo and Max Talbot accompanied Jimmy Hayes on Boston's fourth line.
Boston was beat up (and suspended), and was up against a team that had dominated them lately, with the exception of their most recent match-up. Their offensively handicapped lineup was set to face off against hometown boy Mike Condon, who was about to play in a dream-come-true match-up in front of his family and friends. It was, in almost every sense, Montreal's perfect storm. It showed.
So, What's Next?
Now, the game is history, and it's time for both teams to flip the page. After a morale-boosting Winter Classic victory, Montreal has a chance to regain the momentum that had them atop the league earlier this season. Of course, a return to their lackluster ways of December 2015 would let the Winter Classic victory slip away.
On the flip side, it's gut-check time for the Bruins. After being embarrassed in front of tens of thousands of excited fans in Foxboro, the Bruins can turn two ways. If things go well for Boston, the loss on Jan. 1 will light a fire in the heart of the team, and Boston will overcome their roster troubles and come out swinging in January. Or, the Winter Classic could be the first dark cloud in an ever-blackening sky.
http://gty.im/488019395
Montreal sits in second place in an extremely tight Atlantic Division, just three points ahead of the Bruins, who have three big games in hand on Montreal. Each team's response to the Winter Classic could be a big factor in determining how the standings shake out three months from now.
Only time will tell.