Yesterday, I looked at the top free agent signings the Flyers had made since 2010. The point was that in those years we saw deals made by former GM Paul Holmgren and Ron Hextall over about a five-year period.
The next logical step is to look at the worst signings over that same era. While yesterday saw a good mix of players signed by both GMs, this one, unsurprisingly, features players largely signed by just Holmgren.
While Hextall brought the team along slowly and built through the draft, Holmgren tried to put the team over the top. Because of those types of deals some, maybe even most, were not great for the club.
5. Ruslan Fedotenko
I know. This is a strange one and you probably didn't expect to see Fedotenko's name again unless if you were looking at a list of players traded for Joni Pitkanen, but don't worry I have my reasoning for him here.
In the summer of 2012 before the start of another lockout, the Flyers needed some fourth-line help. It's a common issue among teams from year-to-year and there are plenty of players that fit that bill each year in free agency.
Fedotenko was a former Flyer, had excelled in a defensive role before and had the experience of winning two Stanley Cups. A one-year deal at $1.75 million seemed fair for both sides.
Instead, Fedotenko struggled for most of the lockout-shortened season and finished with 13 points in 47 games. What's worse is that he was a non-factor in most areas of the game.
But the worst part was that he felt he deserved a more offensive role with the team. So Fedotenko struggled with a lesser job than thought he deserved a tougher, more important role with the team…He was pretty much RJ Umberger with a smaller paycheck and less term.
4. Ray Emery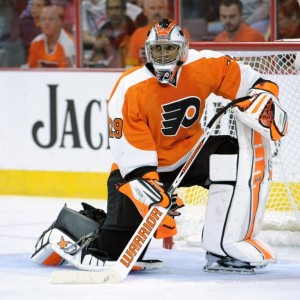 Another player returning for a second stint with the organization, Emery seemed like a smart signing at the time. He was coming off a 17-1-0 season with the Blackhawks and was definitely an improvement over some of the previous backups like Michael Leighton and Brian Boucher.
However, the Flyers' defense wasn't the Blackhawks' defense. Where Chicago could limit Emery's hip movement, which was weak after multiple surgeries and rehab, Philadelphia couldn't.
Emery compiled a 19-23-9 record with the Flyers, but his biggest disappointment came when he couldn't win Philly an extra game against the Rangers in the 2014 playoffs. Instead of trying to find a better backup, the Flyers stuck with the former Senator for another year in 2014-15.
All in all, Emery's second stay in Philly was OK, but Michal Nuevirth proved this past season how important it is to have a 1B option in net. Emery, unfortunately, wasn't that and kept the Flyers from finding a more capable backup.
3. Jody Shelley
When Holmgren signed Shelley to a three-year contract in 2010 it was the beginning of the end for fighters in the NHL. But Holmgren made sure that Shelley would have a paycheck for way too long and way too much.
Shelley earned $1.1 million a year in a time the Flyers were tight to the salary cap. The former Blue Jacket and Ranger was an enforcer his whole career and never eclipsed more than 10 points in a season.
Philadelphia didn't have a heavyweight on its' team but it did have Dan Carcillo, Darroll Powe and Chris Pronger to handle the toughness which made the addition of Shelley a head-scratcher, even disregarding the contract.
But the Manitoba native did his job recording 127 penalty minutes his first season because I assume that's what Holmgren wanted him to do. In all seriousness, Shelley was reportedly a good guy in the locker room and somehow scored this beauty against the Wild:
After 30 games in 2011-12, Shelley played just a single one in his final season with the Flyers as Zac Rinaldo took over the enforcer role. Shelley never should have been signed for more than a season or make more than $950,000, which earned him on this list.
2. Vincent Lecavalier
Holmgren believed the Flyers needed a second-line center so he signed Lecavalier, who was bought out by the Lightning just weeks before, to a five-year/$22.5 million deal in 2013.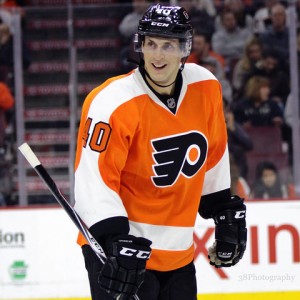 The former Lightning captain scored 32 points in 39 games the season before and most figured he'd be able to keep around that pace in Peter Laviolette's upbeat system. But Laviolette was fired three games into the 2013-14 season turning everything upside down.
Lecavalier never meshed well in Berube's system despite scoring 20 goals that year. The next year went even worse as he compiled only 20 points total.
At that point, the 1998 first overall pick's skating was quickly declining and despite plenty of offseason training, he never could get back to form. It immediately put him far down the lineup in Dave Hakstol's workhorse system.
By agreeing to retire at the end of the season, Hextall was able to unload Lecavalier to the Kings this year, where he actually picked up his play and scored 10 goals in 42 games. However, no one in Philly is looking back at what could have been.
Lecavalier had plenty of chances with the Flyers, but he couldn't make much of any of them. But it was the team that gave him that contract. If Lecavalier hadn't agreed to retire, Philly would still be paying him for another two seasons.
1. Ilya Bryzgalov
I can't even imagine how excited Holmgren and the rest of the Flyers' brass was when Gary Bettmann announced the compliance buyouts after the 2012 lockout ended.
After years of struggles in net, Philadelphia thought it had found an answer in Bryzgalov who was brought over from Phoenix right before free agency in 2012. But things couldn't have gone much worse.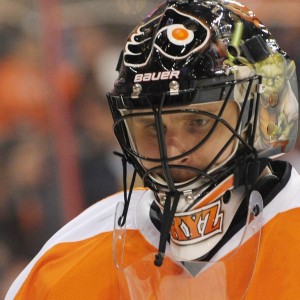 The Russian was signed to an eight-year/$51 million deal and quickly proved he wouldn't be worth that much. The first year was up-and-down. Bryzgalov earned 33 wins and wasn't at fault for the Flyers getting bounced by the Devils in that year's playoffs, but the team had no problem shuffling in Sergei Bobrovsky.
Despite that, the Flyers decided to stick with Bryzgalov, trading Bobrovsky in the offseason for draft picks. That trade proved to be a big mistake by Philly.
The undrafted netminder went on to win the Vezina in 2012-13, while Bryzgalov struggled for 19 wins and was bought out at the end of the season.
The Flyers were lucky to get off without the cap hit. If they hadn't, Bryzgalov would be on the roster until the 2020 season against a $5.6 million cap hit.
To put that into perspective of what it would be like, Bryzgalov didn't play at all last season and only accumulated 40 games over the previous two.
Honorable Mentions
Hal Gill – Played only six regular season games with the Flyers, but his one in the playoffs proved costly.
Chris Porter – Made sense as a former Hakstol player at North Dakota. Had a good preseason and then was lost to waivers when he probably should have made the team.
Evgeny Medvedev – Had such a short leash and was never given much opportunity, especially at $3 million a year.