While countless hockey publications and internet draft boards will rank the top prospects going into June's 2018 NHL Entry Draft, this article will profile the players who may elude the untrained eye. In the salary cap era, the value of draft picks has never been more apparent. Teams can rarely afford to miss on their first-round selections, and winning organizations often structure themselves based on the entry-level contracts of their young stars. While it may be easy to select Connor McDavid, Auston Matthews, or Rasmus Dahlin with the first-overall pick, it's more difficult to make the most of late-round draft selections and to find that noteworthy 'draft steal'.
Late-Round Success Stories
Everyone loves the dark-horse players that rise to stardom from the depths of the entry draft. The success of the Detroit Red Wings franchise with their late draft picks is storied. See Sergei Fedorov (74th overall, 1989), Pavel Datsyuk (171st overall, 1999), Henrik Zetterberg (210th overall, 1999), Vladimir Konstantinov (221st overall, 1989), and Tomas Holmstrom (257th overall, 1994).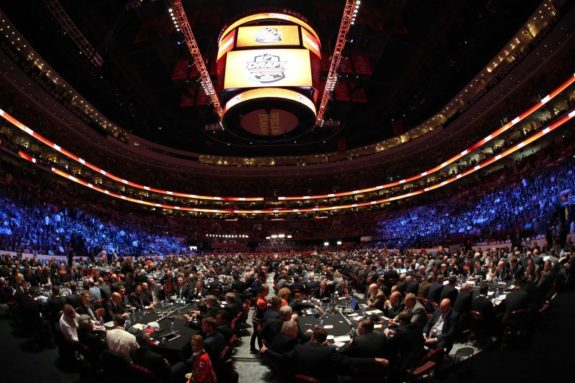 Other notable draft steals? Daniel Alfredsson (Ottawa, 133rd, 1994), Henrik Lundqvist (Rangers, 205th, 2000), Pekka Rinne (Nashville, 258th, 2004), Joe Pavelski (Sharks, 205th, 2003), & Jamie Benn (Dallas, 129th, 2007).
North-American Ranked Skaters
Ryan Merkley
Position: D  /  Team: Guelph Storm  /  Mid-Term Rank: 21
A first-round draft steal? It's hard to be underrated when you've consistently been projected to go in the first-round, but such is the case with Ryan Merkley. NHL Central Scouting has him ranked just outside of the top twenty prospects, but he's in the top three based on talent alone. Persistent questions regarding character have plagued his draft stock, and a late-season suspension for a vicious two-handed slash did nothing to help his cause. Questions aside, the team that steps up to draft this dynamic offensive-defenseman will be greatly rewarded. A step to the pros is just what Ryan needs to improve his reputation. While this one doesn't qualify as a late-round steal, the value in this projected late first-round pick is too great to ignore.
Curtis Douglas
Position: F  /  Team: Windsor Spitfires  /  Mid-Term Rank: 70
A 6-foot-8 center is a rare commodity, and the value in Douglas stretches beyond his size. The upside here is obvious if Douglas can adjust to the speed of the NHL game. He was a consistent offensive contributor for Windsor after arriving via trade. This is a low-risk selection as Douglas has all of the tools to be a successful pro, including leadership. He would make a smart selection for an already competitive team with short-term openings in the bottom-six.
Liam Foudy
Position: F  /  Team: London Knights  /  Mid-Term Rank: 91
Watching Foudy play minor-midget hockey in the GTHL for the Markham Majors, it was easy to tell he was a special talent even back then. His offensive ability has translated well to the OHL and shows no signs of slowing down. Foudy represented London at the 2018 CHL/NHL Top Prospects Game, and is a first-round talent that will continue to grow as a playmaking center at the NHL level. He skates well, has a solid frame, and uses his stick effectively on defense. His confidence remains high as he matures, and he's a highly athletic multi-sport competitor.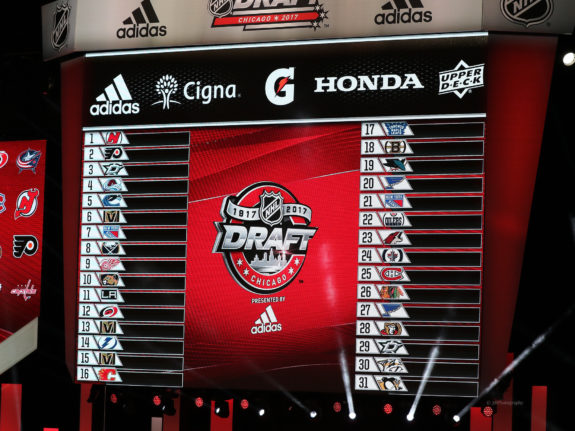 Tyler Tucker
Position: D  /  Team: Barrie Colts  /  Mid-Term Rank: 104
Tyler has had a flair for the dramatic finish in the 2018 OHL Playoffs. Although of no relation, he was coached by former Maple Leafs star Darcy Tucker with the GTHL's Toronto Titans. Tyler plays a solid two-way game and seems to always come through in clutch situations. He reads plays well and anticipates timely opportunities to attack, while also understanding when to mitigate risk and hold-back.
Peter Stratis
Position: F  /  Team: Sudbury Wolves  /  Mid-Term Rank: 116
A first-round OHL draft pick that was traded from Ottawa to Sudbury for draft picks, Stratis is a highly skilled offensive-defenseman. He's bypassed draft eligible teammate David Levin, the first-overall pick in the 2015 OHL Priority Selection, as Sudbury's top-ranked skater by NHL Central Scouting. With offense being increasingly important from the back-end at the pro level, Peter's style of play meets the current demands.
Maxim Golod
Position: F  /  Team: Erie Otters  /  Mid-Term Rank: 118
The Erie Otters believe in sending their draft picks to play a year of Midget hockey, rather than having them make the jump to Junior A or the OHL at the age of sixteen. In the case of Golod, that recipe has boosted his defensive confidence and landed him in a prime position to be drafted into the NHL. He's a strong two-hundred foot player with smooth hands and a good motor, and will be of excellent value at where he is projected to be drafted.
Riley Damiani
Position: F  /  Team: Kitchener Rangers  /  Mid-Term Rank: 119
Damiani was always known as a responsible defensive-forward. He has since matured into a legitimate offensive threat as a member of the Rangers. Damiani credits his OHL success to playing with gifted teammates like Adam Mascherin and improving his off-ice training regiment. As he continues to physically mature, Damiani will become a consistent two-way player at the professional level.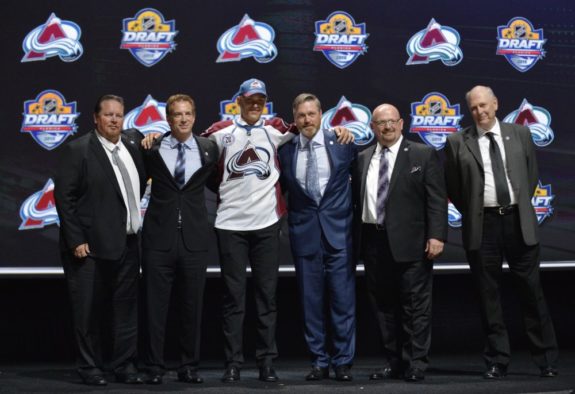 Kirill Nizhnikov
Position: F  /  Team: Sudbury Wolves  /  Mid-Term Rank: 161
A teammate of Merkley's when they were both drafted into the Ontario Hockey League, Nizhnikov was noted as a top-five player in his draft class. He is a highly-skilled forward with a strong frame and a big, accurate shot. Any team which steps up and takes him ahead of his projected rank will soon learn why they call him Kirill "the Thrill" Nizhnikov.
David Levin
Position: F  /  Team: Sudbury Wolves  /  Mid-Term Rank: 183
What are the expectations for a first-overall pick in the OHL Priority Selection draft? With names like Steven Stamkos and Connor McDavid having been taken in this position, it should give you an indication. Levin is an oddity for a such a high draft selection, in that he hasn't been playing ice hockey for that long and didn't begin skating until he was twelve. The best is yet to come from Levin as his confidence and consistency develop.
Maxime Grondin
Position: F  /  Team: Saginaw Spirit  /  Mid-Term Rank: 211
At 6-foot-3 and with a versatile offensive game, Grondin has talent well above his current ranking. He's focused on bulking up in preparation for the NHL and was already tipping the scales at over two-hundred pounds. There's a lot of value to be found here.
European Ranked Skaters
Nando Eggenberger
Position: F  /  Team: Davos (Swiss)  /  Mid-Term Rank: 91
A key member of the Swiss entry into the 2018 World Junior Championships, his big shot was the focal point of their offense. Eggenberger has seen his stock fall as the draft nears, but he has a lot of tools and international experience. He stands over 6-foot-2 and plays a smart two-way game.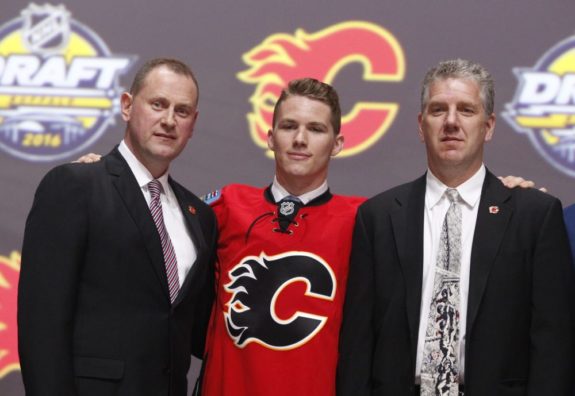 Off the Board – Unranked Skaters
Dennis Busby
Position: D  /  Team: Flint Firebirds  /  Mid-Term Rank: N/A
Busby's stock was high as he entered the Ontario Hockey League, and Flint selected him just outside of the first-round at 23rd overall. As a strong two-way player and good puck mover with strong leadership characteristics, there's a lot to like in Busby, but injury concerns are the reason for his stock to be where it currently is. As a result, this is a high-risk, high-reward selection in most eyes.
John Parker-Jones
Position: F  /  Team: Peterborough Petes  /  Mid-Term Rank: N/A
Undrafted into the OHL due to a broken arm in his draft year, Parker-Jones now stands over 6-foot-6 and has the ability to play on both forward and defense. John is an intriguing late-round prospect. In his first OHL season, the rookie found himself on the early edition of the NHL Central Scouting rankings, receiving a "C" grade. He was not ranked at the mid-term evaluation. He moves well for his size and has a developing scoring touch, having only transitioned to forward full-time since signing with Peterborough.
Owen Lalonde
Position: D  /  Team: Guelph Storm  /  Mid-Term Rank: N/A
A fantastic skater with great offensive instincts. Owen played forward for a large portion of his hockey career before making the switch to defense. He also played shortstop and competed at the elite levels of youth baseball. With obvious offensive and athletic abilities, Lalonde is a perfect fit to the mold of the modern NHL defenseman.
Source of Rankings: NHL Central Scouting