I know, it's been a while since you've heard from me regarding the 2023 NHL Draft and my overall rankings. In fact, I haven't released any since prior to the start of the season when we looked at my top-16.
That said, with the 2023 NHL Draft just around the corner, what better time than now to dive back in and break down my top-128 prospects for the draft set to take place in Nashville in just under two weeks.

Atop the draft, things haven't changed. Connor Bedard is still the undisputed number one pick with fellow Canadian and Hobey Baker Award winner Adam Fantilli following him up. It's at that number three spot that things seem to open up a little more with a few possibilities of who the Columbus Blue Jackets could take when they're on the clock.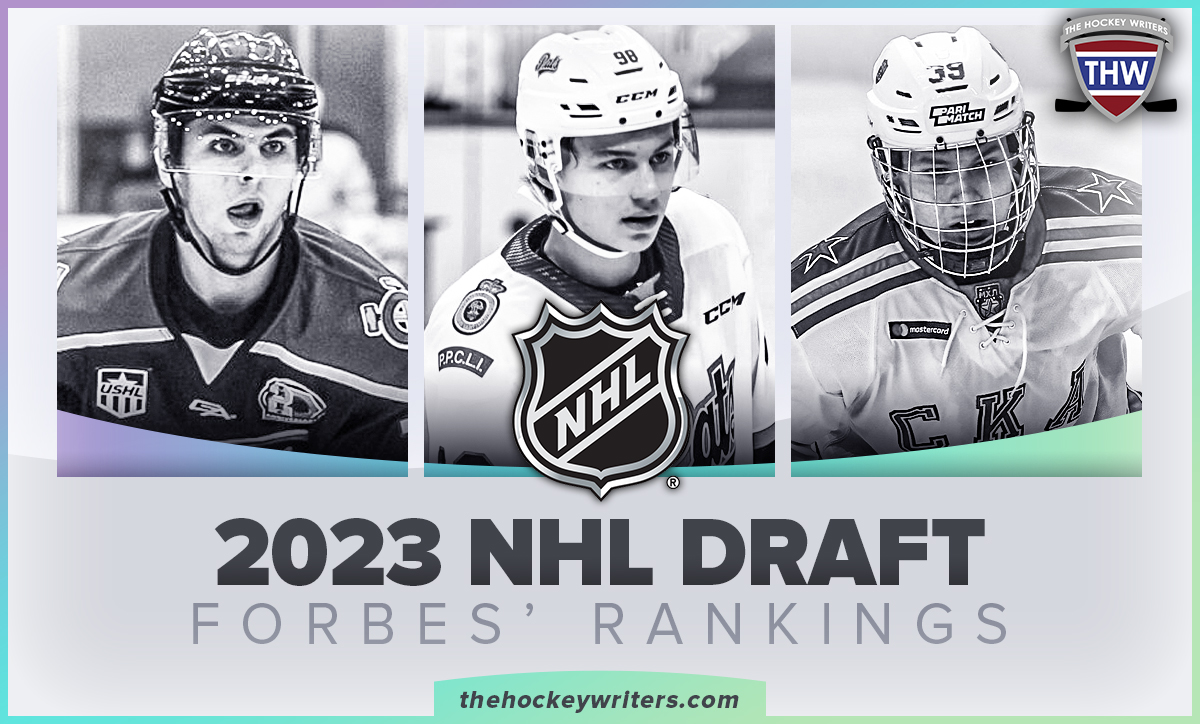 For many, Leo Carlsson seems like an accurate guess at that number three spot. He's had a solid draft year and climbed the ranks consistently with others around him falling for reasons somewhat out of their control — as is the case with Matvei Michkov and the geo-political landscape.
Related: 2023 Draft Prospect Leo Carlsson Not Focused on NHL for 2023-24
Internationally this season Carlsson stood out. He played for Sweden at the U20 World Junior Championship as well as representing his country at the World Championship, where he had five points in eight games. While his point-per-game average wasn't as high in the SHL with Örebro HK this season, with 25 points in 44 games, his production against higher competition in Sweden was still impressive for the 18-year-old. Don't worry either, he hasn't fallen outside my top-five.
For me, Will Smith is an interesting name in this draft. He fits what the Blue Jackets could be looking for at number three and received high praise from a number of his fellow prospects at the NHL Combine in Buffalo earlier this month as a tough competitor who wants to win. He had 42 points in 20 games for the USNTDP in the USHL and 20 points in seven games for the U.S. at the U18s and while he's committed to Boston College, he is a really attractive prospect that could be taken off the board higher than most expect. He's one of the best playmakers in the draft and as such will be talked about for a number of years following his selection.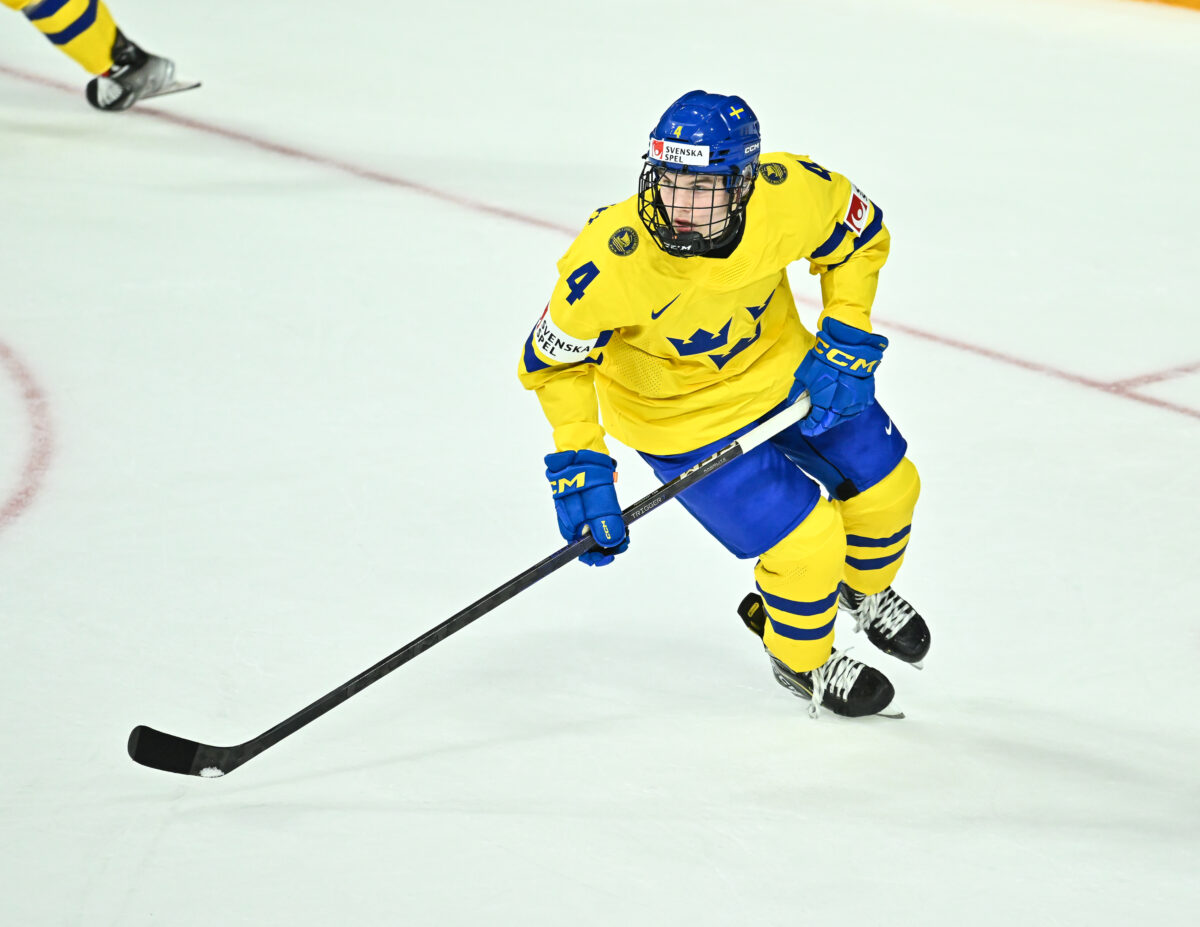 Axel Sandin Pellikka is another prospect that will draw a lot of attention early in the draft. Not only is he a right-handed defenceman, but he also revealed at the combine that he had previous experience as a forward before jumping to the backend in order to stick with one of his childhood teams. He mentioned that he learned how to play the defensive side of the puck, while maintain his offensive ability and interest. While he is on the smaller side, he mentioned players like Charlie McAvoy and the success they've had at the NHL level in reminding us that size isn't everything when it comes to players in today's game and while his play at the SHL level this season wasn't exactly offensively driven, his numbers for Skellefteå AIK J20 are worth talking about — 16 goals and 36 points in 31 regular season games.
Finally, Kasper Halttunen is one prospect that caught my eye at the combine. The 18-year-old Finn is six-foot-three and just over 200 pounds and plays with a competitive edge that he says comes from his dad who played professionally in Europe for a number of years. His offensive game didn't translate to HIFK in the Liiga this season, but he led Finland as their captain for the U18s this year and doesn't shy away from getting involved physically which could make him more enticing to teams who aren't just looking for offensive juggernauts. That along with the fact that he was an import pick for the OHL's London Knights, Halttunen could be an interesting second-round pick in the upcoming draft.
---
Latest News & Highlight
---
It's my belief that from the third pick on, this draft could be wide open, but I've been wrong before. So, without further ado, here's a look at my final top-128 rankings for the 2023 NHL Draft.
First Round
1. Connor Bedard, C, Regina Pats (WHL)
2. Adam Fantilli, C, University of Michigan (NCAA)
3. Will Smith, C, USA U18 (USDP)
4. Leo Carlsson, C, Örebro HK (SHL)
5. Matvei Michkov, RW, HK Sochi (KHL)
6. Zach Benson, C/LW, Winnipeg ICE (WHL)
7. Ryan Leonard, RW, USA U18 (USDP)
8. Oliver Moore, C, USA U18 (USDP)
9. Colby Barlow, RW, Owen Sound Attack (OHL)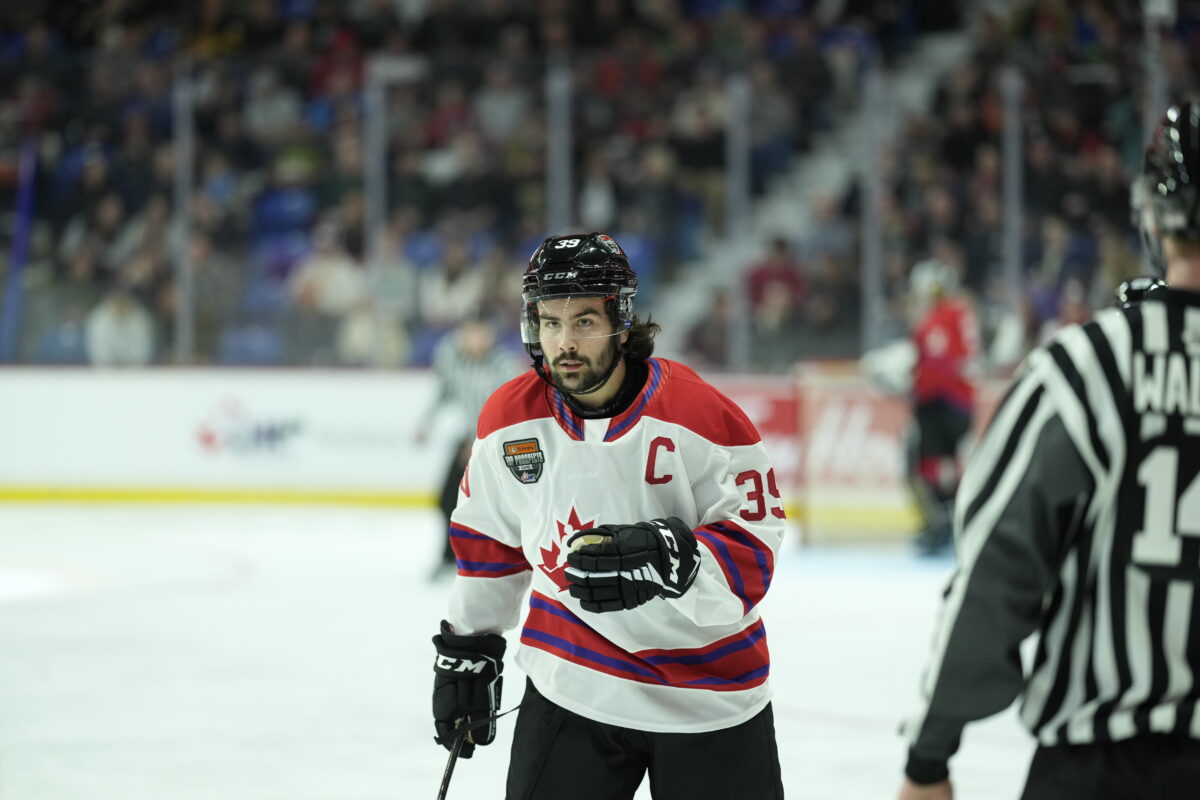 10. Dalibor Dvorsky, C, AIK (HockeyAllsvenskan)
11. Axel Sandin Pellikka, D, Skellefteå AIK J20 (J20 Nationell)
12. David Reinbacher, D, EHC Kloten (SUI)
13. Andrew Cristall, LW, Kelowna Rockets (WHL)
14. Otto Stenberg, C/W, Frölunda J20 (J20 Nationell)
15. Gabriel Perreault, RW, USA U18 (USDP)
16. Riley Heidt, C, Prince George Cougars (WHL)
17. Nate Danielson, C, Brandon Wheat Kings (WHL)
18. Eduard Šalé, RW, HC Kometa Brno (Czechia)
19. Mikhail Gulyayev, D, Omskie Yasterby (MHL)
20. Quentin Musty, LW, Sudbury Wolves (OHL)
21. Dmitri Simashev, D, Loko Yaroslavl (MHL)
22. Matthew Wood, RW, University of Connecticut (NCAA)
23. Gavin Brindley, RW, University of Michigan (NCAA)
24. Brayden Yager, C, Moose Jaw Warriors (WHL)
25. Tom Willander, D, Rögle BK J20 (J20 Nationell)
26. Calum Ritchie, C, Oshawa Generals (OHL)
27. Samuel Honzek, LW, Vancouver Giants (WHL)
28. Jayden Perron, RW, Chicago Steel (USHL)
29. Daniil But, LW, Loko Yaroslavl (MHL)
30. Gracyn Sawchyn, C, Seattle Thunderbirds (WHL)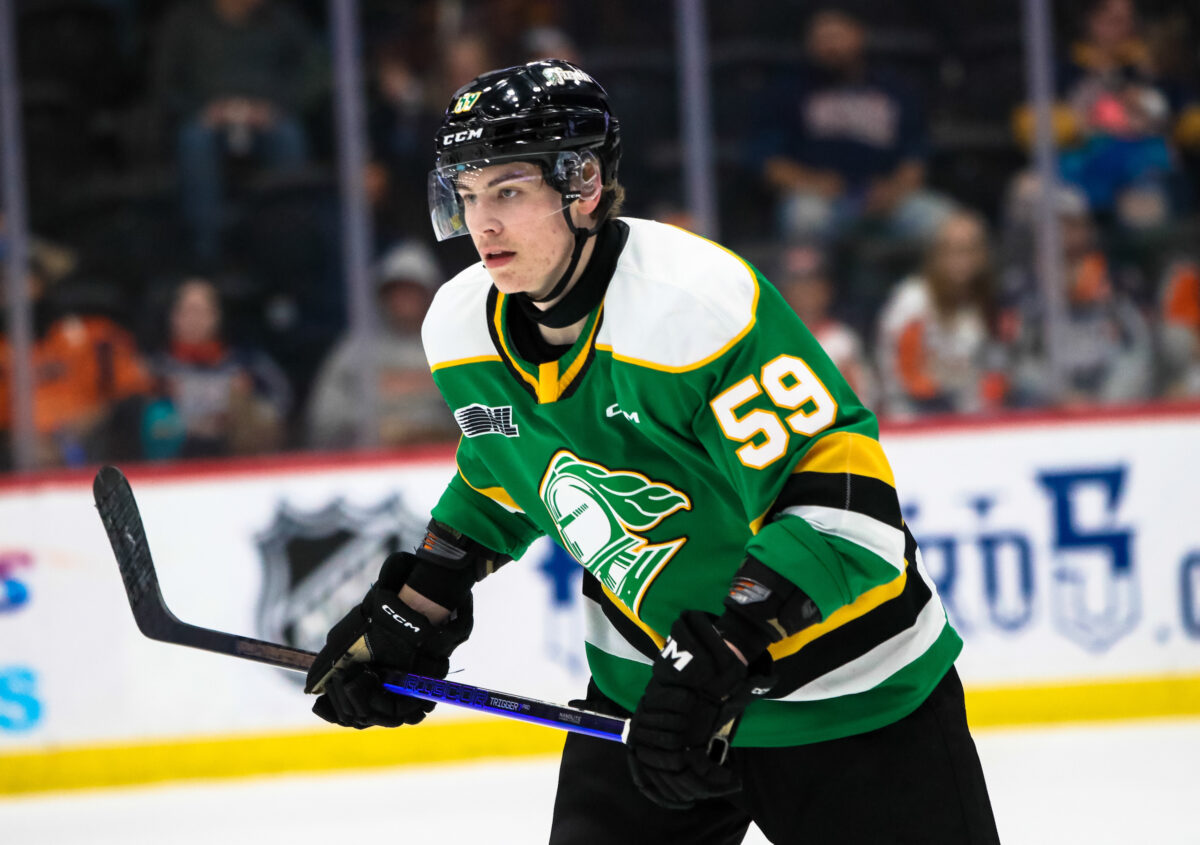 31. Oliver Bonk, D, London Knights (OHL)
32. Oscar Fisker Mølgaard, C, HV71 (SHL)
Second Round
33. Luca Cagnoni, D, Portland Winterhawks (WHL)
34. Tanner Molendyk, D, Saskatoon Blades (WHL)
35. William Whitelaw, C, Youngstown Phantoms (USHL)
36. Nick Lardis, LW, Hamilton Bulldogs (OHL)
37. Lukas Dragicevic, D, Tri-City Americans (WHL)
38. Bradley Nadeau, C, Penticton Vees (BCHL)
39. Charlie Stramel, F, University of Wisconsin (NCAA)
40. Trey Augustine, G, USA U18 (USDP)
41. Timur Mukhanov, LW, Omskie Yastreby (MHL)
42. Beau Akey, D, Barrie Colts (OHL)
43. Kasper Halttunen, RW, HIFK (U20 SM-sarja)
44. Luca Pinelli, C, Ottawa 67's (OHL)
45. Michael Hrabal, G, Omaha Lancers (USHL)
46. Alex Ciernik, LW/RW Södertälje SK (HockeyAllsvenskan)
47. Ethan Gauthier, RW, Sherbrooke Phoenix (QMJHL)
48. Koehn Ziemmer, RW, Prince George Cougars (WHL)
49. Carson Rehkopf, C, Kitchener Rangers (OHL)
50. David Edstrom, C, Frölunda HC J20 (J20 Nationell)
51. Roman Kantserov, RW, Stalnye Lisy Magnitogorsk (MHL)
52. Denver Barkey, C, London Knights (OHL)
53. Maxim Strbak, D, Sioux Fall Stampede (USHL)
54. Caden Price, D, Kelowna Rockets (WHL)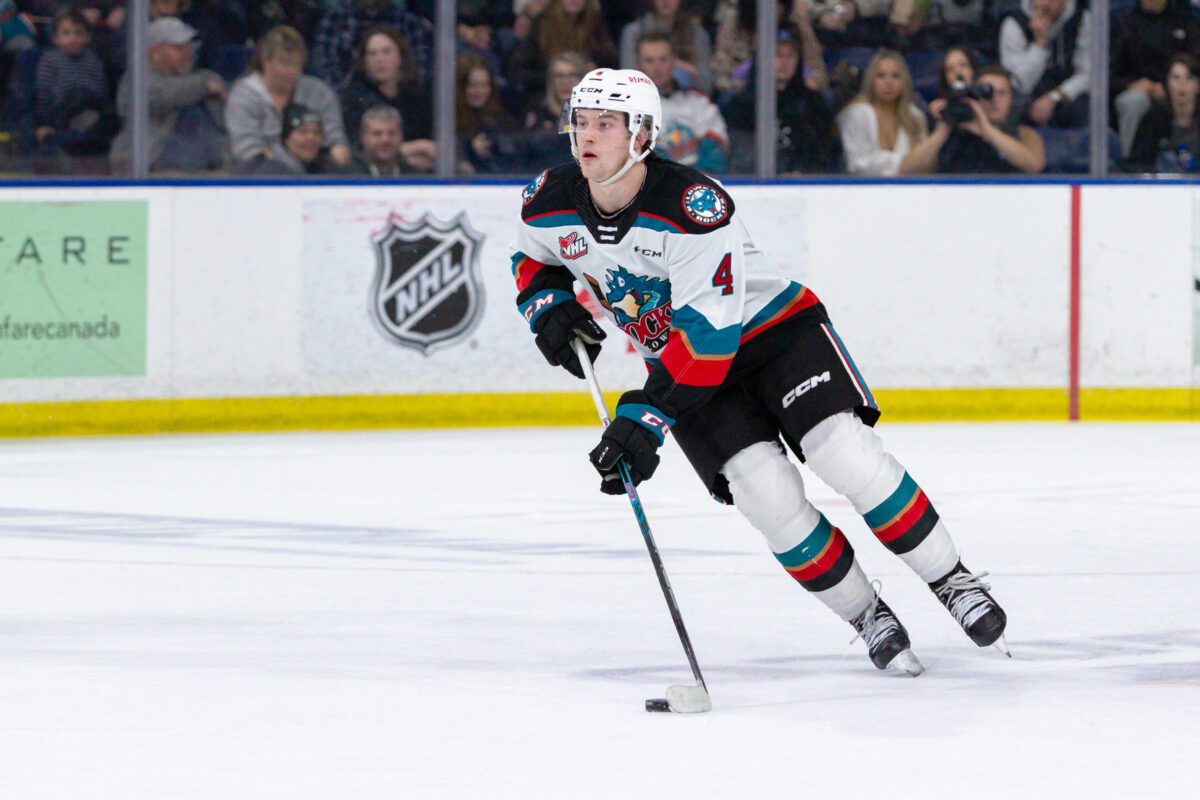 55. Anton Wahlberg, C, Malmö Redhawks (SHL)
56. Theo Lindstein, D, Brynäs IF (SHL)
57. Etienne Morin, D, Moncton Wildcats (QMJHL)
58. Felix Nilsson, C/W, Rögle BK J20 (J20 Nationell)
59. Aram Minnetian, D, USA U18 (USDP)
60. Hunter Brzustewicz, D, Kitchener Rangers (OHL)
61. Carson Bjarnason, G, Brandon Wheat Kings (WHL)
62. Lenni Hämeenaho, RW, Ässät (Liiga)
63. Kalan Lind, F, Red Deer Rebels (WHL)
64. Noah Dower Nilsson, C, Frölunda HC J20 (J20 Nationell)
Third Round
65. Jakub Dvorak, D, Liberec (Czechia)
66. Mathieu Cataford, RW, Halifax Mooseheads (QMJHL)
67. Danny Nelson, C, USA U18 (USDP)
68. Martin Misisak, RW, Youngstown Phantoms (USHL)
69. Nico Myatovic, LW, Seattle Thunderbirds (WHL)
70. Aydar Suniev, LW, Penticton Vees (BCHL)
71. Noel Nordh, RW, Brynäs IF J20 (J20 Nationell)
72. Easton Cowan, RW, London Knights (OHL)
73. Alexander Rykov, RW, Belye Medvedi Chelyabinsk (MHL)
74. Scott Ratzlaff, G, Seattle Thunderbirds (WHL)
75. Zeb Forsfjäll, C, Skellefteå AIK J20 (J20 Nationell)
76. Matthew Soto, F, Kingston Frontenacs (OHL)
77. Andrew Strathmann, D, Youngstown Phantoms (USHL)
78. Coulson Pitre, RW, Flint Firebirds (OHL)
79. Carey Terrance, C, Erie Otters (OHL)
80. Arvid Bergström, D, Djurgårdens IF J20 (J20 Nationell)
81. Gavin McCarthy, D, Muskegon Lumberjacks (USHL)
82. Andrew Gibson, D, Soo Greyhounds (OHL)
83. Tristan Bertucci, D, Flint Firebirds (OHL)
84. Jesse Kiiskinen, RW, Pelicans (Liiga)
85. Matthew Mania, D, Sudbury Wolves (OHL)
86. Cameron Allen, D, Guelph Storm (OHL)
87. Aiden Fink, RW, Brooks Bandits (AJHL)
88. Jacob Fowler, G, Youngstown Phantoms (USHL)
89. Jesse Nurmi, F, KooKoo U20 (SM-sarja)
90. Jaden Lipinski, C, Vancouver Giants (WHL)
91. Emil Järventie, LW, Ilves (Liiga)
92. Felix Unger Sörum, RW, Leksands IF J20 (J20 Nationell)
93. Jayson Shaugabay, RW, Warroad High (HIGH-MN)
94. Quinton Burns, D, Kingston Frontenacs (OHL)
95. Rasmus Kumpulainen, C, Pelicans U20 (SM-sarja)
96. Connor Levis, C, Kamloops Blazers (WHL)
Fourth Round
97. Cole Knuble, C, Fargo Force (USHL)
98. Jordan Tourigny, D, Shawinigan Cataractes (QMJHL)
99. Tanner Ludtke, LW, Lincoln Stars (USHL)
100. Thomas Milic, G, Seattle Thunderbirds (WHL)
101. Ryan Fine, F, USA U18 (USDP)
102. Griffin Erdman, F, Waterloo Black Hawks (USHL)
103. Albert Wikman, D, Färjestad BK J20 (J20 Nationell)
104. Dylan MacKinnon, D, Halifax Mooseheads (QMJHL)
105. Ignat Lutfullin, F, SKA-1946 Șt. Petersburg (MHL)
106. Juraj Pekarcik, C/LW, HK Nitra (Slovakia)
107. Adam Gajan, G, Chippewa Steel (NAHL)
108. Ethan Miedema, LW, Kingston Frontenacs (OHL)
109. Hoyt Stanley, D, Victoria Grizzlies (BCHL)
110. Carter Sotheran, D, Portland Winterhawks (WHL)
111. Joey Willis, C, Saginaw Spirit (OHL)
112. Tuomas Uronen, F, HIFK U20 (U20 SM-sarja)
113. Alex Pharand, C, Sudbury Wolves (OHL)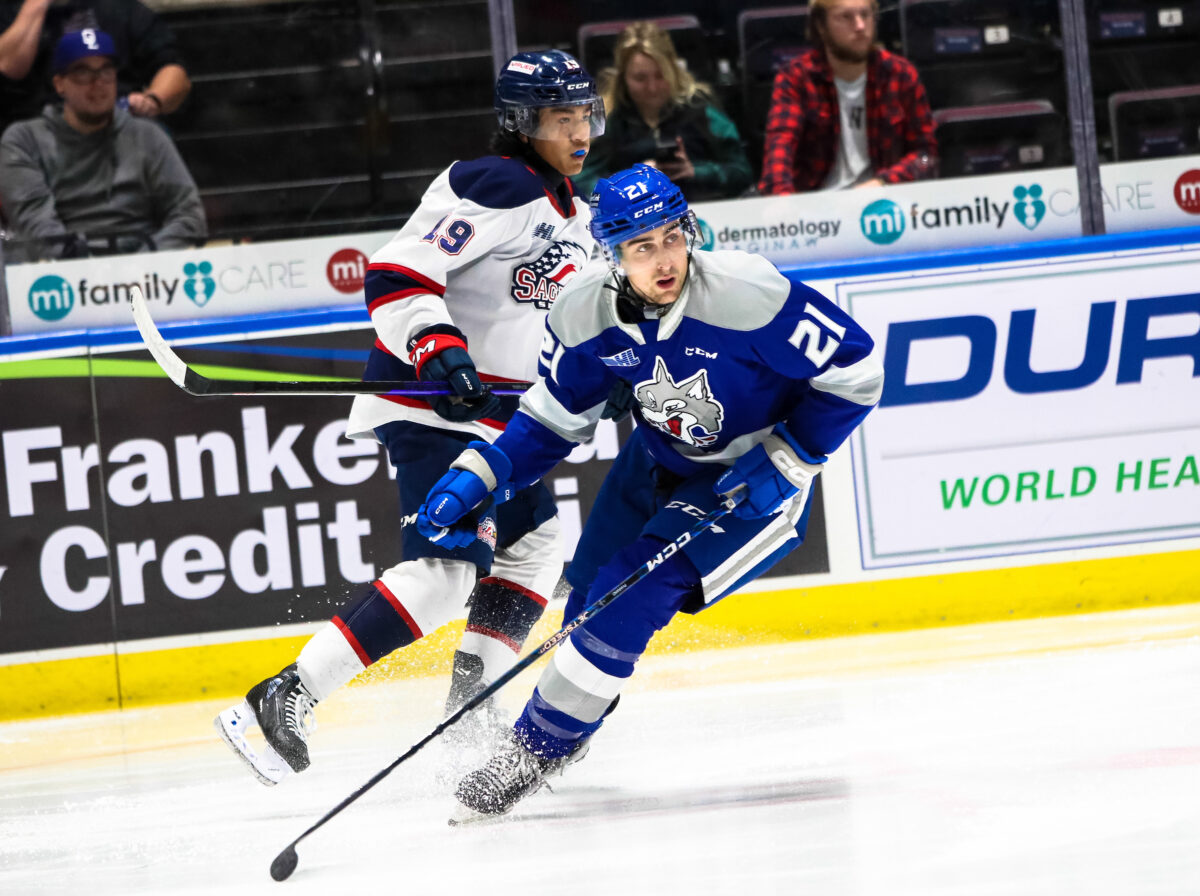 114. Emil Pieniniemi, D, Kärpät U18 (SM-sarja)
115. Brady Cleveland, D, USA U18 (USDP)
116. Ty Halaburda, F, Vancouver Giants (WHL)
117. Nikita Susuyev, F, MHK Spartak Moskva (MHL)
118. Yegor Klimovich, F, Sibirskie Snaipery Novosibirsk (MHL)
119. Tomas Suchanek, G, Sri-City Americans (WHL)
120. Yegor Rimashevskiy, RW, MHK Dynamo Moskva (MHL)
121. Kalen Parker, D, Victoria Royals (WHL)
122. Yegor Smirnov, C, Almaz Cherepovets (MHL)
123. Jakub Stancl, LW, Växjö Lakers HC J20 (J20 Nationell)
124. Cam Squires, RW, Cape Breton Eagles (QMJHL)
125. Francesco Dell'Elce, D, St. Andrew's College (CAHS)
126. Charlie Cerrato, F, USA U18 (USDP)
127. Adam Cedzo, LW, HC Ocelári Trinec U20 (Czechia)
128. Matteo Mann, D, Chicoutimi Saguenéens (QMJHL)