Now that the 2023 NHL Draft is over, it's time to turn our focus to the future once again with the 2024 NHL Draft. Although it's nearly a year away, I believe it's worth taking an early look at the top rated prospects for next year so you have an idea of who to look forward to for the next year. Many of these players will compete in the Hlinka Gretzky Cup this summer so this is a chance to get to know some of the top guys before that tourney begins.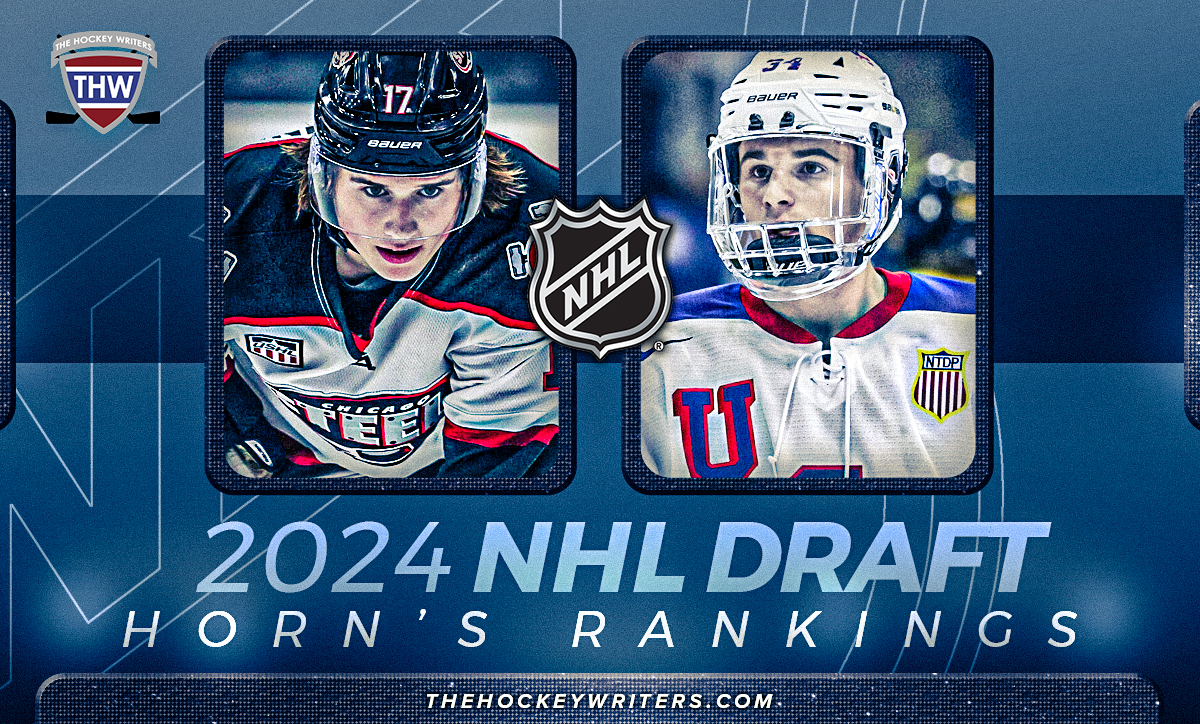 Next year's group is headlined by Macklin Celebrini, a Canadian center who has just about every tool and skill you could ask for. Celebrini is set to join Boston University next season, along with his brother Aiden (drafted by the Canucks in 2023), where he will be 17-years-old for his entire freshman season. Celebrini is followed closely by Cole Eiserman, and American sniper who was too good for the U17 NTDP team this year and scored more than a goal-per-game on the U18 team.
The 2024 Draft projects to have plenty of high end defensive prospects, something that would please NHL GMs a lot after the weaker defensive crop in the 2023 Draft. Guys like Artyom Levshunov, Sam Dickinson, and Aron Kiviharju are all potential top-10 (or even top-5) picks at this stage in the game, but that only means so much as we saw this year with Cam Allen's fall from grace.
Related: Grading Each Team's Draft at the 2023 NHL Draft
Once last note in this pre-amble is that the Ontario Hockey League (OHL) projects to be much better represented in next year's draft, with high-end prospects coming out of that league like Dickinson, Henry Mews, Zayne Parekh, and more!
With all that out of the way, let's take our first deep dive into the 2024 NHL Draft!
1. Macklin Celebrini, C, Boston University (NCAA)
Macklin "Mack" Celebrini is the favourite to go first overall in a year's time when the 2024 draft arrives. He's a center with a June birthday, meaning he's one of the younger players in the 2024 class. Celebrini excels at everything, with great skating, goalscoring ability, off-puck play, defensive effort, confidence, and just about every other attribute you could dream of. After tearing up the United States high school prep circuit with Shattuck St. Mary's, Celebrini tried his hand in the USHL last season with the Chicago Steel and was immediately the best player in the league. 
Celebrini scored an astounding 90 points in 52 USHL games as a rookie, setting the record for the most points by a 16-year-old in USHL history, surpassing the likes of Thomas Vanek, Adam Fantilli, and Andrei Svechnikov. He's been so good, in fact, that he has made the choice to enter the NCAA early, playing as a 17-year-old for Boston University next season. His play in the NCAA will be crucial, as few freshmen have the impact that he's projected to next season, and even fewer manage to do so at age 17. It's worth mentioning that Celebrini played through the entire year with a shoulder injury that required an offseason surgery, which will likely delay his NCAA debut by a month or two. There's a clear path for Celebrini to become an excellent first-line center in the NHL and that is reflected in his position on this early ranking.
2. Cole Eiserman, LW, USA U18 (NTDP)
Cole Eiserman is the 2024 Draft's premier goal scoring prospect, with the shot and goal numbers to rival Cole Caufield's production in the NTDP. Eiserman was dominant for the U17 squad last season, earning himself a late-season call-up to the U18 where he scored 26 goals and 32 points in just 20 games on the second line. His late August birthday makes him one of the youngest players in the draft class, just 17 days away from being eligible for the 2025 Draft.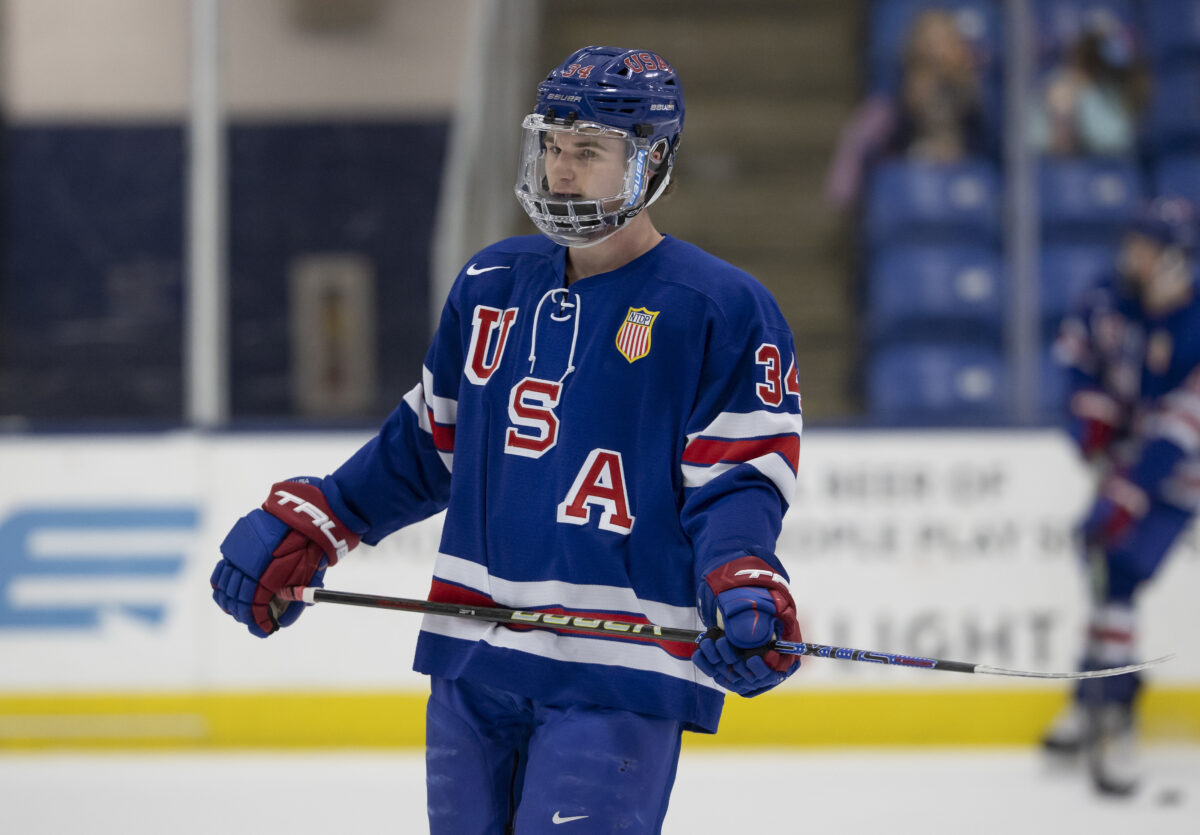 Eiserman has committed to the University of Minnesota for the 2024-25 season, and will spend next year with the U18 team in the NTDP. He doesn't have the size or skating of Celebrini, but Eiserman's shot and offensive instincts will give him a realistic chance at competing for first overall next season.
3. Artyom Levshunov, RD, Green Bay Gamblers (USHL)
Artyom Levshunov currently has the most exciting tool kit in this draft as a big, right-handed defender who skates incredibly well. The Belarussan tore up the USHL last season, with 42 points in 62 games, making him the league's fifth highest scoring defender as a 17-year-old. His physical and statistical profile reminds me a lot of Owen Power, though Levshunov has produced more points than Power did at the same age in the USHL. 
Levshunov has a very projectable game, with the size, skating, and offense to be a great NHL defender. He plays confidently, and intelligently, avoiding unnecessary risks while providing tons of two-way value to his team. If he can take as big of a step forward next year as he has this past season, then Levshunov could easily push for the top spot in the draft as a potential #1 defenseman. 
4. Ivan Demidov, RW, SKA St. Petersburg (MHL)
Ivan Demidov is an incredibly talented offensive player, with great hands, a shot that projects to beat NHL goaltenders with some added strength, and some sneaky-good playmaking instincts. He spent this season in the MHL, Russia's top junior league, where he was borderline dominant as a 17-year-old rookie, scoring 64 points in 44 games (third most points in the league).
Demidov isn't at the same level as top 2023 Draft prospect Matvei Michkov, but he is a legit top-end talent who has clear top-line potential in the NHL. One of the biggest questions is what level he will play at next season, the MHL, VHL (Russia's second-tier pro league) or the KHL?
5. Konsta Helenius, RW, Jukurit (Liiga)
Konsta Helenius is an excellent playmaker who competes hard enough to succeed in the Finnish Liiga as a 16-year-old. He finished the season with 11 points in 33 professional games, good enough for third among all U19 skaters. Helenius is level-headed under pressure and makes remarkable passes look routine, setting his teammates up for success. He was one of Finland's best players at the 2023 U18 WJC, driving play on offense and showing an encouraging amount of engagement defensively.
6. Berkly Catton, C, Spokane Chiefs (WHL)
Berkly Catton was given the unenviable task (or maybe that is enviable?) of being a first line center in the WHL this season as a 17-year-old. The Spokane Chiefs lacked high-end talent and Catton, the first overall pick from the 2021 WHL Draft, was leaned upon heavily. Luckily for the Chiefs, Catton was more than up for the task, scoring 55 points in 63 games (the second most on the team) and winning over 50% of his faceoffs as a first-year player in the WHL. Catton also won bronze with Team Canada at the U18 World Championships where he scored four points in seven games.
7. Aron Kiviharju, LD, TPS (Liiga)
Aron Kiviharju has been the most talked about 2024 Draft eligibles over the last year or two, after playing most of his age-15 season in the top U20 junior league in Finland, scoring roughly a point per game as a small defenseman. Kiviharju's stature (5-foot-10) will likely go a long way to dictate his draft position next summer (unless he gains another inch or two), but that would be doing him a disservice as he's one of the smartest players in this draft class.
He is an excellent puck handler in transition and walks the blue-line very confidently in the offensive zone. Kiviharju has lots of potential to become a top-four offensive defenseman who provides a ton of value on the power play. Some will likely make Quinn Hughes comparisons in the next year but I think Kiviharju is smarter than Hughes and is nowhere near as good of a skater.
8. Cole Hutson, LD, USA U18 (NTDP)
Cole Hutson is an undersized offensive defenseman who skates beautifully and was the most exciting defender in the entire NTDP last year, including both the U17 and U18 squads. He looks pretty similar on the ice to his older brother Lane, but Cole is a more physical defender and has scored more points with the U17 team than Lane did, despite having a significantly later birthday. Hutson measured at 5-foot-8 with the NTDP in the Fall, but was measured at 5-foot-10 by the IIHF for the U18 World Junior Championship last month. Gaining another inch or two would do a lot for his draft stock, but Hutson will likely be one of the most talented offensive defensemen in this draft class regardless.
9. Henry Mews, RD, Ottawa 67's (OHL)
Henry Mews is a two-way defender who skates very well, allowing him to make calculated risks at both ends of the ice. He isn't all that dynamic offensively, but he makes smart plays with and without the puck that helps his team out consistently. Mews' best defensive attribute is his compete level, which always gives him a chance to win puck battles or to make up ground on a back-check. He's got a good shot, average size (6-feet), and a right-handed shot so I expect we'll hear a lot about him in the leadup to the 2024 Draft.
10. Tanner Howe, C/W, Regina Pats (WHL)
Tanner Howe will be a very interesting player to watch next season, as we'll get our first chance to see what he can do in the WHL without the help of Connor Bedard. Obviously, Howe's production from this season (85 points in 67 games) is unlikely to take a big step forward without an elite player like Bedard on the ice, but just how far Howe's production drops will be the real thing to watch.
Howe has shown he can drive a line of his own at times when he drove play on Regina's second line, and he is a very tenacious player away from the puck, constantly forechecking and battling. This spot might be the ceiling for Howe next year, while the basement could be outside of the first round if things don't go well with the Pats.
11. Maxim Massé, RW, Chicoutimi Saguenéens (QMJHL)
Maxim Massé is a shoot-first winger with tons of skill who scored 29 goals and 62 points as a 16-year-old rookie in the QMJHL this year. His rookie production gave him a 10-point lead over every other U17 player in the league, with only four other U17 players cracking 30 points. Masse's skating is decidedly un-exciting, but putting some serious work into developing his speed and agility this summer could vault him into a higher tier in this draft class.
12. Sam Dickinson, LD, London Knights (OHL)
Sam Dickinson is my early pick as the biggest project player near the top of the 2024 Draft, with a tool kit that NHL General Managers dream of. He's a 6-foot-3 defender who defends well, has shown great puck skills, and competes incredibly hard. Dickinson skates well for his size which bodes well for his NHL projection, though he will need to put in some work for his offensive game to be worthy of power play minutes in the NHL someday. There's tons of two-way, top-four defender potential in his game, and room for something more if his development goes well. 
13. Michael Brandsegg-Nygard, RW, Mora IK J20 (J20 Nationell)
Michael Brandsegg-Nydard is a Norwegian winger who was excellent in the top Swedish junior league this year, scoring 38 points in 35 games and earning a try-out in the second-tier Swedish pro league HockeyAllsvenskan. He isn't going to produce a ton of highlight reel plays with his skill, but he's got enough skill with the puck to compete in the NHL, and he works hard all over the ice.
Related: Grading Every First Rounder in the 2023 Draft
Brandsegg-Nygard's best attribute is his shot, which is quite heavy. He's already scored his first professional goal and should get quite a few more next year, especially if he earns some time on the power play where he excels from the bumper spot as a one-timer option.
14. Charlie Elick, RD, Brandon Wheat Kings (WHL)
Charlie Elick is another project in this draft class, as a big (6-foot-3), right-handed defender who defends well but hasn't shown a ton when it comes to moving the puck himself. He plays physically, and uses his frame well when defending (which isn't all that common for young players), not to mention his great skating.
There's not a ton of offense to Elick's game at the moment, but if the team that drafts him can put him in the right situations to develop his playmaking (both passing and vision), then he could be an exceptionally valuable piece.
15. Will Skahan, LD, USA U18 (NTDP)
Will Skahan will likely be competing with Cole Hutson to be the first NTDP defender off the board in the 2024 Draft, and their physical profiles couldn't be much more different. Skahan is 6-foot-4 and skates quite well, which makes him very physically imposing against junior competition. He has a heavy shot (lots of strength for such a young kid) and can make a solid outlet pass, but will need to show some more offense with the U18 squad next year before I'm convinced he'll produce offense at a top-four NHL level. 
16. Zayne Parekh, RD, Saginaw Spirit (OHL)
Zayne Parekh was a fun player to follow this year, especially once it became clear that he was going to set the record for the most goals in OHL history by a U17 defenseman. The final count was 21 goals in 50 games (even though he missed a few weeks toward the end of the season), and he earned those goals with his confidence and willingness to carry the puck over the opposing team's blueline himself before trying a shot of his own. Parekh is constantly involved on offense, willingly pinching in along the boards when needed, and his effort on defense is good enough that it's not a big concern. He's got a ton of offensive potential in the NHL, and will likely earn the opportunity to show that off if he can improve his defensive positioning and gap control a bit.
Honourable Mentions:
Igor Chernyshov, LW, MHK Dynamo Moskow (MHL)
Andrew Basha, LW, Medicine Hat Tigers (WHL)
Ryder Ritchie, RW, Prince Albert Raiders (WHL)
Anthony Cristoforo, RD, Windsor Spitfires (OHL)
Zeev Buium, LW, USA U18 (NTDP)
Adam Jiricek, RD, HC Plzen U20 (Czechia U20)
Emil Hemming, LW/RW, TPS (Liiga)
Carter Yakemchuk, RD, Calgary Hitmen (WHL)
Cayden Lindstrom, C, Medicine Hat Tigers (WHL)
Veeti Väisänen, LD, KooKoo (Liiga)
Alexander Zetterberg, C, Örebro HK J20 (J20 Nationell)
Jakub Chromiak, RD, Sudbury Wolves (OHL)
Names to Know for the 2025 Draft
Michael Misa, C, Saginaw Spirit (OHL)
James Hagens, C, USA U18 (NTDP)
Porter Martone, RW, Sarnia Sting (OHL)
Gabriel D'Aigle, G, Victoriaville Tigres (QMJHL)
Filip Ekberg, F, Almtuna IS (Hockeyallsvenskan)
Jordan Gavin, F, Tri-City Americans (WHL)