After months of work between mock drafts, draft rankings, prospect profiles, player features and much more, the first round of the 2023 NHL Entry Draft has come and gone. It's always a treat to see the players walking down the steps and joining their future team, as well as hearing the live reactions of the fans in the arena.

While there wasn't any surprise at first overall, we did get some drama in the top five with the Anaheim Ducks selecting Leo Carlsson at second overall over Adam Fantilli who ended up going to the Columbus Blue Jackets. While Fantilli is clearly the better skater of the two, it's obvious that the Ducks believe in Carlsson's skill and two-way game more than Fantilli and he'll be a fun player to watch going forward.
In this article I'll be grading every single draft pick in the first round of this year's draft, giving each pick a letter grade ranging from F to A+. My grades will be based on the quality of the player taken, the area of the draft they were taken, how well the pick addressed the team's needs, the other players on the board and the likelihood of the player realistically filling that need someday soon.
Related: 2023 NHL Draft Live Tracker
---
Latest News & Highlights
---
As in previous years, I will be giving a grade for every team's draft. This is all based on how I think the team did, looking at the quality of the prospects taken, addressing needs and even if teams had minimal picks, if they made them count. 
Without further ado, let's dive into the grades for every first rounder in the 2023 NHL Draft!
Anaheim Ducks
2nd Overall: Leo Carlsson
We knew that the draft was going to start at second overall this year, but few expected Leo Carlsson to be the play here after Adam Fantilli's NCAA season. Regardless, Carlsson is a phenomenal forward prospect who tore up the SHL this year as a teenager and is an incredibly skilled offensive player.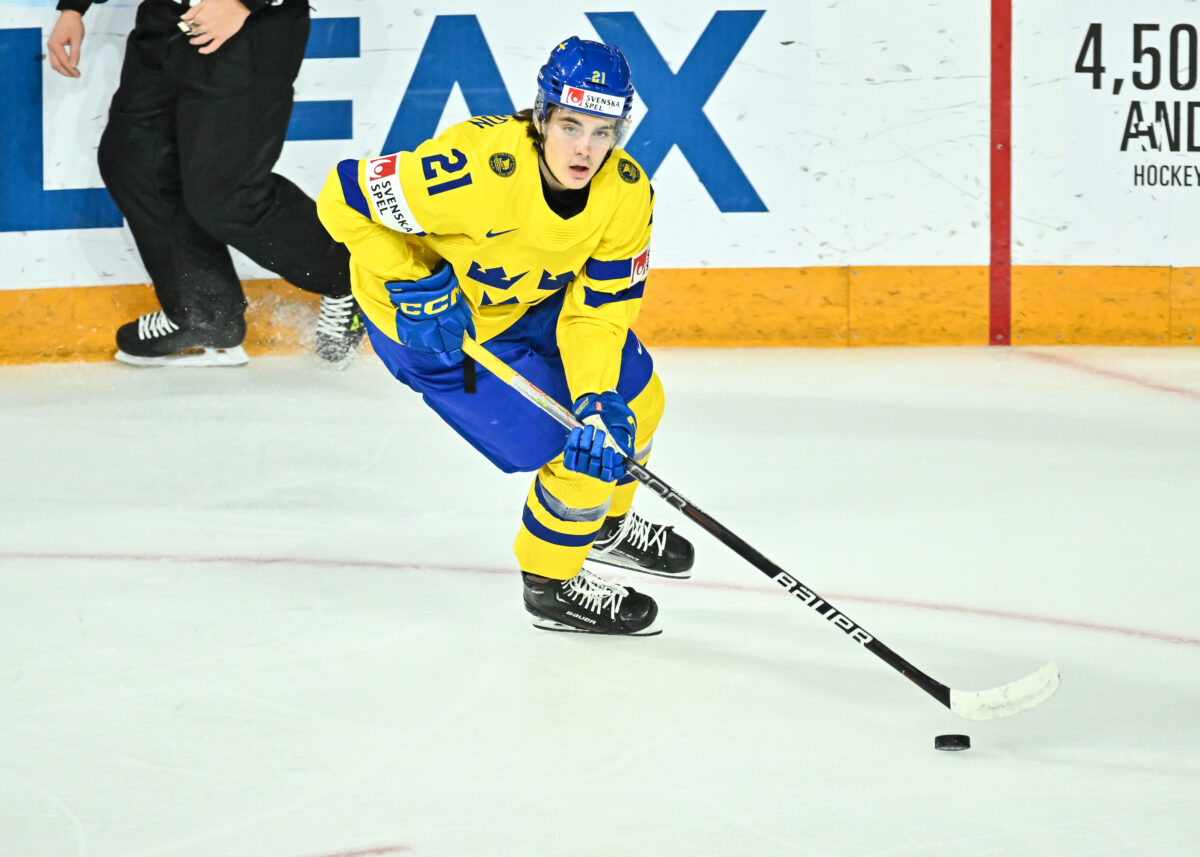 He likely needs another year before joining the Ducks, either in the AHL or the SHL, but I love this pick for Anaheim. A forward group that includes Trevor Zegras, Mason McTavish, Nathan Gaucher, and Carlsson will be one of the NHL's best for many years to come.
Grade: A
Arizona Coyotes
6th Overall: Dmitri Simashev
Arizona made the first truly surprising pick of the draft by taking Dmitri Smashev 6th overall here, but I don't hate this pick at all. Simashev is a massive defender who will be playing in Russia for the next two seasons and I believe he has the highest defensive potential in the entire class. It feels like there's a very good possibility that Simashev is an excellent shut-down defenseman in the NHL, with clear top-four upside.
Related: 2023 NHL Draft Guide
While many in the public scouting community were low on him all year (partially due to the lack of attention on many Russian players), NHL teams never soured on this massive defender. I would probably have preferred Ryan Leonard or Dalibor Dvorsky here but with Oliver Ekman-Larsson and Jakob Chychrun being traded away in the last two years and Reinbacher already off the board, I'm not shocked that Arizona snagged one of the best defenders in the class to shore up their defensive corps. 
Grade: B
12th Overall: Daniil But
The Coyotes go 2-for-2 on big Russian players that many public scouts were low on, following up the Simashev pick with Daniil But, a massive winger with a heavy shot. While lots of people will look at this as a reach because But's name wasn't the most popular in many draft talks, it was clear that his size and shot would be enough for But to be a mid-first rounder at least given what NHL teams typically value. I wouldn't compare him to a Tage Thompson, but an Alex Tuch comparison makes a lot of sense to me. He skates well for someone so big and gives Arizona a dimension of size they were missing in their future top-six forward group.
Grade: B
Buffalo Sabres
13th Overall: Zach Benson
Zach Benson fell a bit due to his lack of size, and I'm sure the Sabres are thrilled that other teams were too nervous to take him. This is an incredibly valuable pick for Buffalo here who gets my sixth ranked player at 13.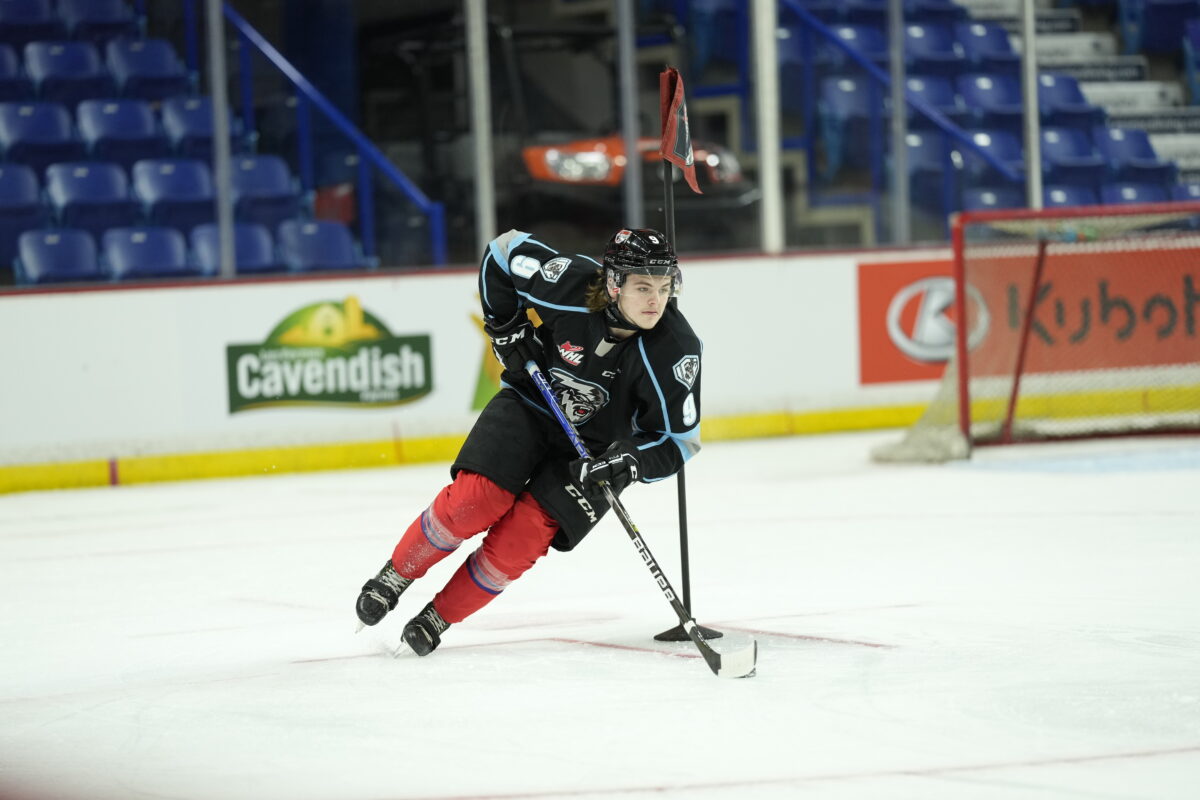 Benson is the most competitive and tenacious player in this draft for my money, with a ton of skill and an excellent defensive game to boot. The Sabres selected Matthew Savoie 9th overall from the ICE last year and now they add his teammate in Benson. Excellent choice.
Grade: A+
Calgary Flames
16th Overall: Samuel Honzek
Samuel Honzek is a true power-forward who plays a strong two-way game. I see shades of Juraj Slafkovsky in his game with the heavy shot, large frame, and excellent skating. Honzek will be a huge contributor in Calgary at even strength, on the powerplay and likely on the penalty kill too. He spent parts of this season as a center so there's always a chance Calgary tries him down the middle but ultimately I think he'll be in their top-six on the wing in a few years.
Grade: B+
Carolina Hurricanes
30th: Bradly Nadeau
Bradly Nadeau went under the radar for much of the year as he spent his draft year in the BCHL, but as the goals and points kept stacking up it became harder and harder to ignore him. He's got an absolutely incredible shot (top-five in the draft) and is an excellent skater. Nadeau led the BCHL in goals and points as a U18 player which is absurd, and he's headed to the University of Maine next year. Nadeau is undersized, measuring at 5-foot-10, but he is an excellent offensive player who has the potential to be a top-six contributor if all goes well in his development. 
Grade: B+
Chicago Blackhawks
1st Overall: Connor Bedard
This was the only true no-doubter selection in the draft with Connor Bedard going first overall. It is the culmination of one year of hard work (read: tanking), that paid off as well as anyone could have ever dreamt. Now it's up to Kyle Davidson and co. to build as good a team as possible around their next star over the coming years.
Grade: A+
19th Overall: Oliver Moore
The Blackhawks have landed the best shooter and the best skater in the entire draft with Bedard and Oliver Moore. Moore didn't get quite the fanfare of his teammates Smith, Leonard, and Perreault, but he drove play well on the NTDP's second line and is a phenomenal skater. Some believe that while he skates incredibly fast, his mind can't quite keep up, but personally I don't think pace will be too much of a problem for him, especially with how good his hands are. He's heading to the University of Minnesota next year and it's easy to see him either as the 2C behind Bedard in Chicago or maybe even playing down the middle in the top-six with Bedard on his wing someday. 
Grade: A-
Colorado Avalanche
27th: Calum Ritchie
Calum Ritchie is a great pick here for the Avalanche, shortly after trading away Alex Newhook, restocking their prospect pool at center. Newhook never established himself as a top-six forward in Colorado so they take Ritchie here who has all the tools you could ask for in an NHL center, with good size, great skating, and it doesn't hurt that he wins lots of faceoffs.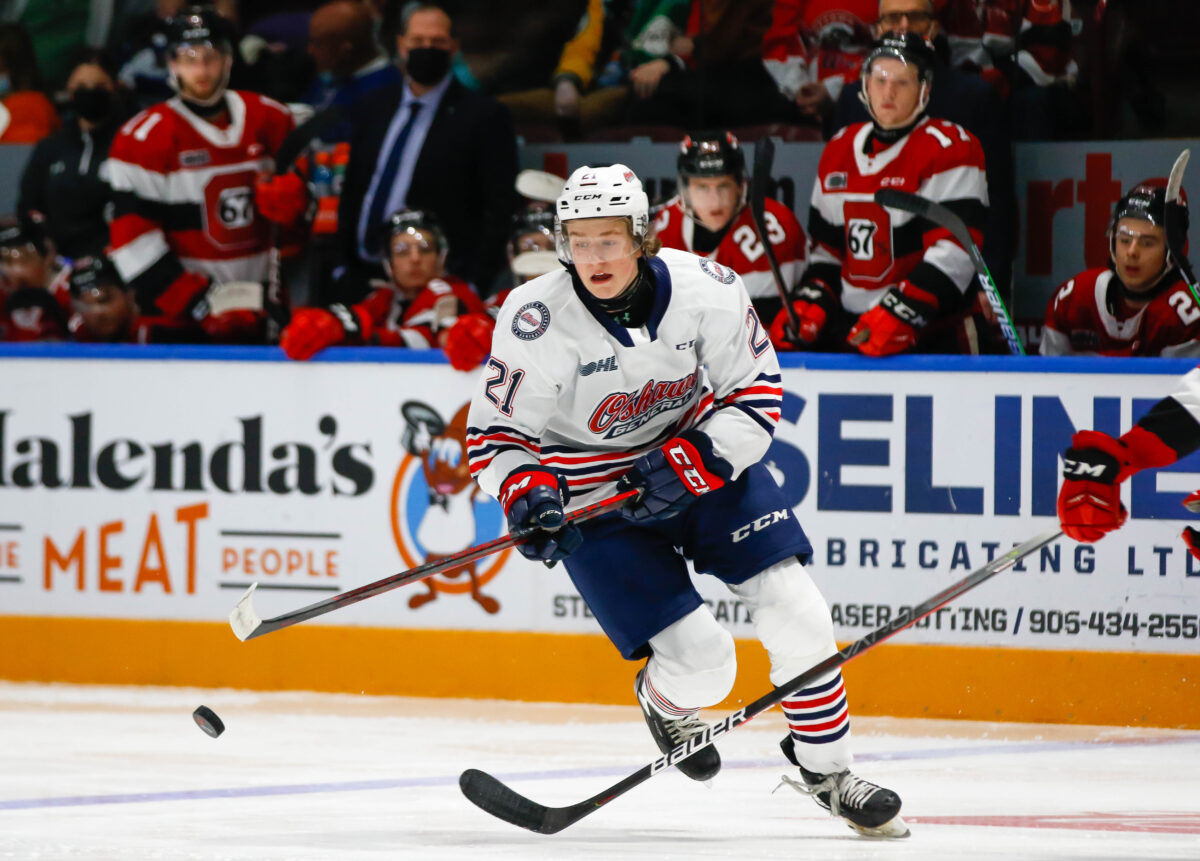 Ritchie played through a shoulder injury for the majority of the season which likely hampered his final landing spot here, but I'm sure he's not too upset that he fell enough to join an incredibly strong Avalanche team who will have Stanley Cup aspirations for the first decade of his tenure at least. Ritchie has a real chance to be a great matchup center on Colorado's second line behind Nathan MacKinnon.
Grade: A
31st: Mikhail Gulyayev
In just a few short days the Avalanche have turned Alex Newhook into Ross Colton and Mikhail Gulyayev . . . not bad. Gulyayev is an incredibly gifted offensive defenseman who is a great skater and an uber intelligent puck mover. There are questions about his defensive game, mostly due to his 5-foot-10 frame, but Gulyayev's skating gives him a chance defensively and I like his chances of becoming a point-producing defender who quarterbacks Colorado's second power play unit and is paired with a stout defensive type at even strength. He feels like the heir apparent to Samuel Girard's spot in Colorado's lineup.
Grade: B+
Columbus Blue Jackets
3rd: Adam Fantilli 
After the Ducks took Carlsson, Columbus' decision was made for them. Adam Fantilli is a first overall-caliber talent in most years, with a massive amount of offensive potential. Columbus has made it clear that they're looking to improve quickly and compete again soon, which makes Fantilli the perfect addition considering how NHL ready he appears to be. Fantilli has the potential to be a game-breaking first line center, with the frame, size, and pace to compete well in the NHL as soon as next Fall.
Grade: A+
Detroit Red Wings
9th: Nate Danielson
I'm higher on Nate Danielson than most, but I love this pick for Detroit. The Red Wings' need at center has been well documented over the last few years, and selecting two hard-working centers in Marco Kasper and Danielson in back-to-back years will all but solve that issue.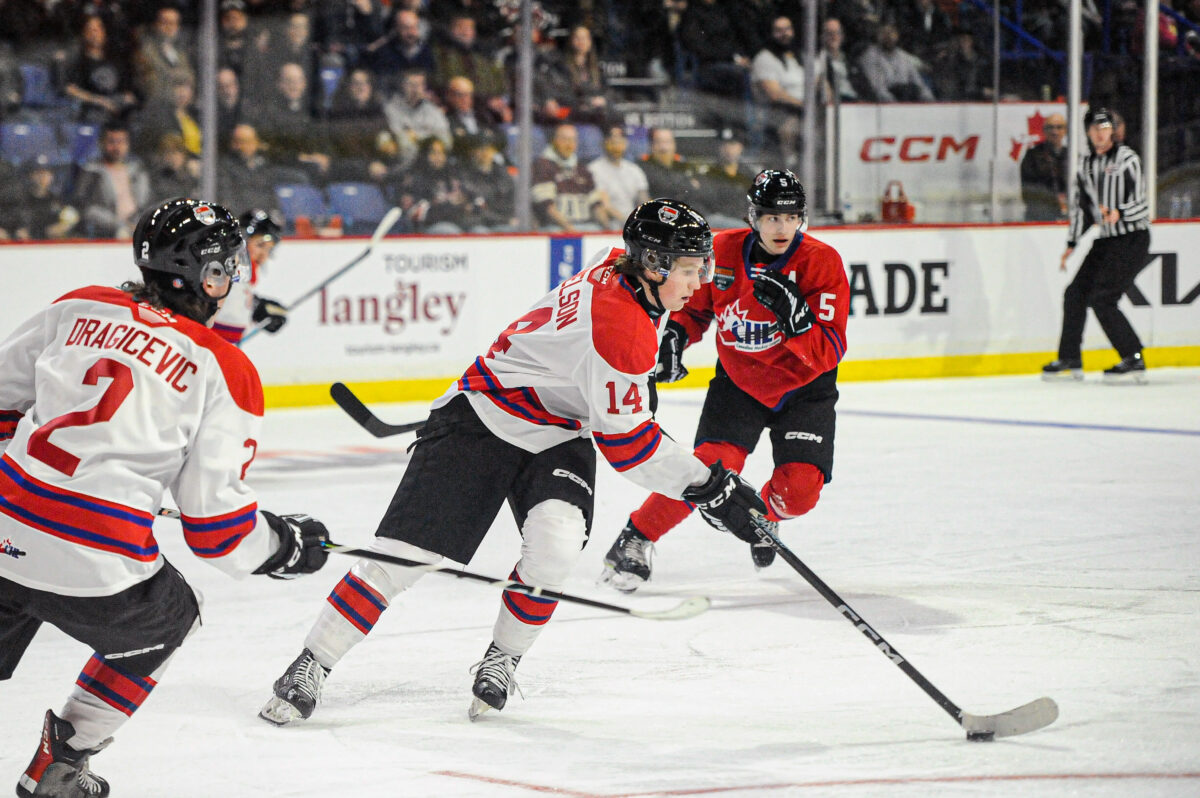 Danielson has the frame and toolkit of a future top-six centerman, with comparisons rightly being drawn to Elias Lindholm and Dylan Cozens. While he won't be the highest producing player from this draft, he may well be the best two-way forward when all is said and done.
Grade: A-
17th: Axel Sandin Pellikka
Axel Sandin Pellikka (ASP) makes all kinds of sense for the Red Wings who already have tons of size on the back end and are in need of a high-end offensive piece on defense. Sandin Pellikka will likely be able to quarterback Detroit's top power play unit in the future, freeing up Moritz Seider to play more of the tough minutes. While he measures at 5-foot-11, ASP is no slouch defensively, and the sky's the limit when it comes to his offensive game, especially in transition.
Grade: A-
Minnesota Wild
21st: Charlie Stramel
This pick is a bit off the board for me but I understand the thought process. Charlie Stramel struggled to score this year on a University of Wisconsin team whose offense was anemic. He's a big centerman who plays a fast, physical game and does what's asked of him defensively. There are major questions about if he's got enough offense to be a high-in-the-lineup centerman, but he looked great offensively in the NTDP in the 2021-22 season as well as at the World Juniors this year for Team USA. Stramel was a projected top-10 pick coming into this year so the Wild are surely counting on a serious offensive bounce back from Stramel in the near future. Minnesota is in dire need of help down the middle but I can't help but think that guys like David Edstrom or Calum Ritchie bring a bit more offensive potential to the table.
Grade: C+
Montreal Canadiens
5th: David Reinbacher
This is where this draft really began to open up and while there were several options for the Canadiens here, it's really not a surprise to see them take the big, right-shot defenseman in David Reinbacher at fifth overall. They've got plenty of exciting young forwards in the NHL and their prospect pool, so taking a big defender with tons of two-way upside is a no-brainer. He's a great foundational piece for the future of their blueline and could play in Montreal as soon as next Fall after his excellent season in the top Swiss pro league this year. He's a mature defender who will defend incredibly well in the NHL, and his ultimate potential will be decided by how well his offense develops. 
Grade: A
Nashville Predators
15th: Matthew Wood
Matthew Wood is an excellent pick here for the Predators who get one of the players with the highest offensive ceilings in the draft. Wood led the University of Connecticut in scoring this year as the youngest player in all of Men's NCAA hockey and projects as a major point-producer in the NHL.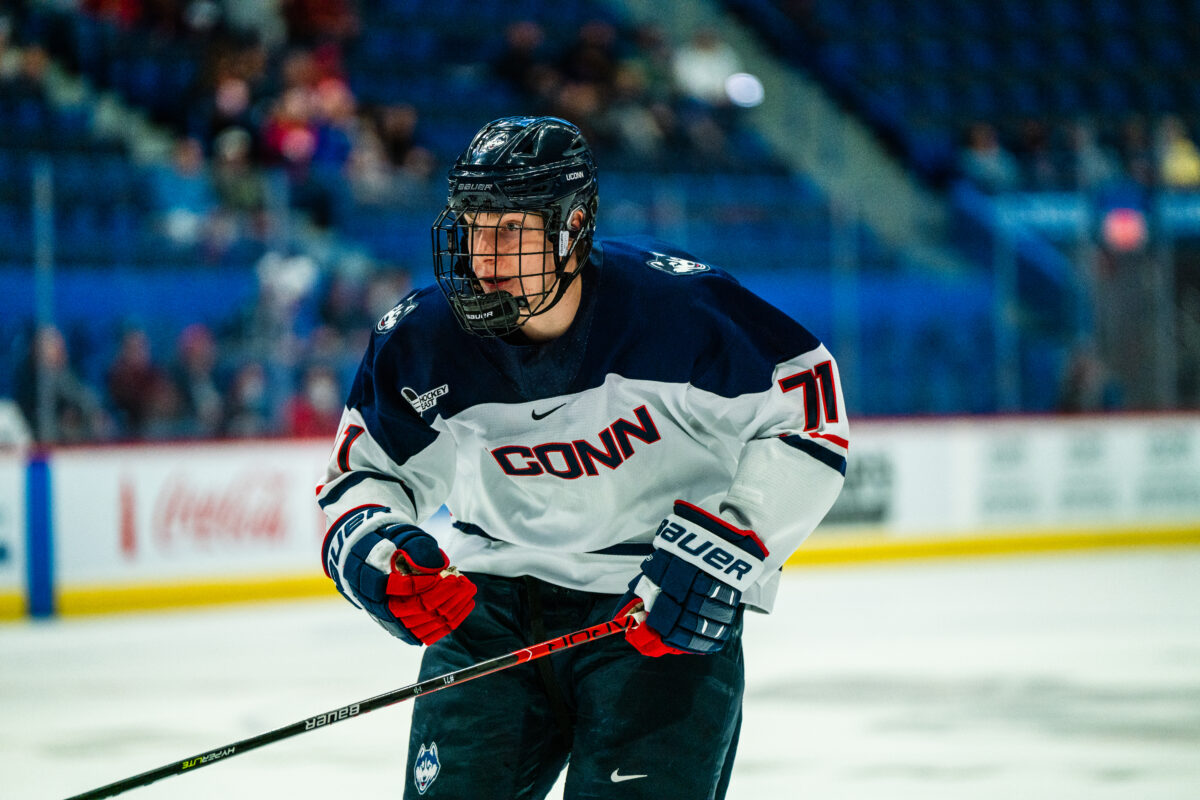 Some make Tage Thomspon comparisons with Wood but his skating will need to improve quite a bit to be on that level. Regardless, he is an excellent player with massive potential. Great get for the Predators here.
Grade: A
24th: Tanner Molendyk
Tanner Molendyk picked up some momentum as a first rounder in the final weeks leading up to the draft, with an incredible skating ability and tons of two-way potential. He competes well which will make him a valuable defender, and he showed tons of improvement offensively as the year went on. If Molendyk can improve at that same rate once again next year, then he will be on a clear path to being a top-four defender in the NHL. Nashville could be getting a real puck mover here who can quarterback their second power play unit behind Roman Josi.
Grade: B
New York Rangers
23rd: Gabe Perreault
This is an excellent pick for the Rangers who take a swing on Gabe Perreault and his incredible hockey sense. While some teams were evidently scared off by his lack of agility and his skinny frame, the Rangers are betting on his high-end skill and IQ. Perreault was my 13th ranked player in the draft and landing him in the late first round is a huge win.
Related: Early Look at the 2024 NHL Draft
He'll spend the next year or two filling out his frame and putting up tons of points at Boston College. Perreault has some real boom-or-bust potential with a play style that won't likely adapt well to a bottom six role, but if he hits, he has the potential to be a top-line, all-offense winger for the Rangers.
Grade: A+
Philadelphia Flyers
7th: Matvei Michkov
Drafting Matvei Michkov at seventh overall could be one of the most valuable draft picks in NHL history if everything breaks right for Michkov and the Flyers. While some question his defensive game or are worried about his contract situation which will keep him in Russia for three more seasons, the Flyers make the right call here and draft the second most talented player in the entire draft. Michkov will likely be a star in the KHL within the next six months, and then he'll be a star in the NHL as soon as he makes his way to North America. Just a brilliant offensive mind and an incredibly gifted scorer.
Grade: A+
22nd: Oliver Bonk
After taking a big swing on Michkov at seventh overall, the Flyers went the safe route with 22, taking Oliver Bonk from the London Knights. Bonk is a great two-way defender who projects to basically be David Reinbacher-lite. It seems unlikely that he'll be a top pairing guy in the NHL, but he very comfortably projects as a second pairing defender who will win his minutes and can log tons of ice time. Nobody knows what this Flyers team will look like in five years, but I'd be shocked if Bonk wasn't an important piece for them going forward.
Grade: B-
Pittsburgh Penguins
14th: Brayden Yager
Brayden Yager is a great pick here for the Penguins who desperately needed some signs of life from their prospect pool. Yager was an assassin in the WHL this year, and although he didn't put up the gaudy point totals some expected, he had a great two-way season and fully deserves to go this early.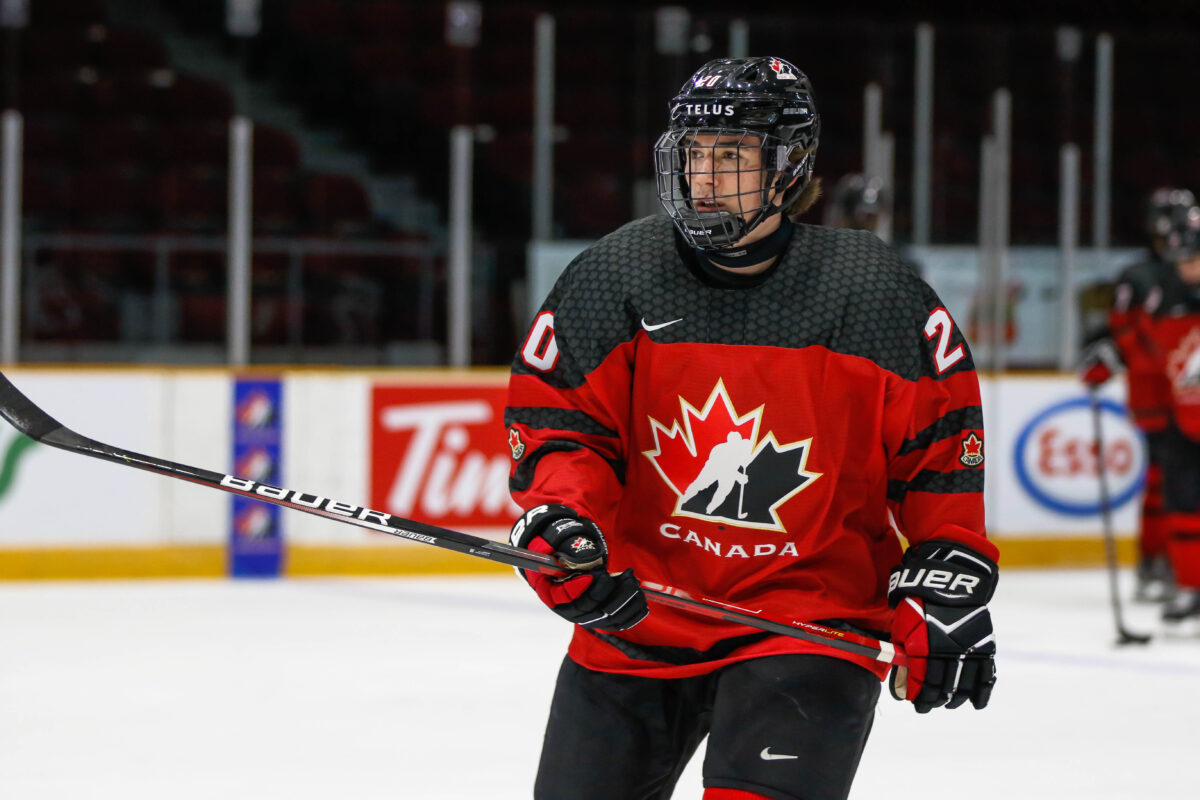 The sense I had in the leadup to the draft was that the Penguins really wanted to add a player who can be in the NHL relatively soon to help Sidney Crosby and Evgeni Malkin in the final push of their careers while also providing them a high-end piece to carry on the mantle once those two move on. Yager is a great choice here who can play on one of their wings before shifting to the middle when a spot opens up.
Grade: B+
San Jose Sharks
4th: Will Smith
The Sharks land the last of the top-four centers in Will Smith, one of the most skilled and slippery players in the draft. Smith was one third of the best line in all of amateur hockey this year alongside Gabe Perreault and Ryan Leonard, and he was an integral piece of that line's success. He immediately becomes San Jose's top prospect and has a great chance to be their first line center in a few short years. First up is a year or two in the NCAA with Boston College and then he'll be ready to dominate the NHL. An elite playmaker with tons of skill, Smith reminds me a lot of Trevor Zegras.
Grade: A
26th: Quentin Musty
After a slow start, Quentin Musty really turned it on in the OHL, ultimately finishing the year 11th in OHL points-per-game. Musty is a big power-forward type who has an absurd amount of offensive skill and potential. He was the first overall pick in the 2021 OHL Priority Selection and has a wicked shot. Musty's skating could use some work, especially when it comes to his defensive game, but I think he will be dynamic and powerful enough offensively to offset his defensive warts even if his skating doesn't improve by a ton.
Grade: A-
Seattle Kraken
20th: Eduard Sale
Eduard Sale will be a very interesting player to follow over the next few years. After a wicked performance for Czechia at last year's U18s, Sale was seen as a likely top-10 pick, though he slid slowly throughout this season as he struggled to remain consistent in the top professional league in Czechia. By the end of the season he had fallen quite a bit on most draft boards.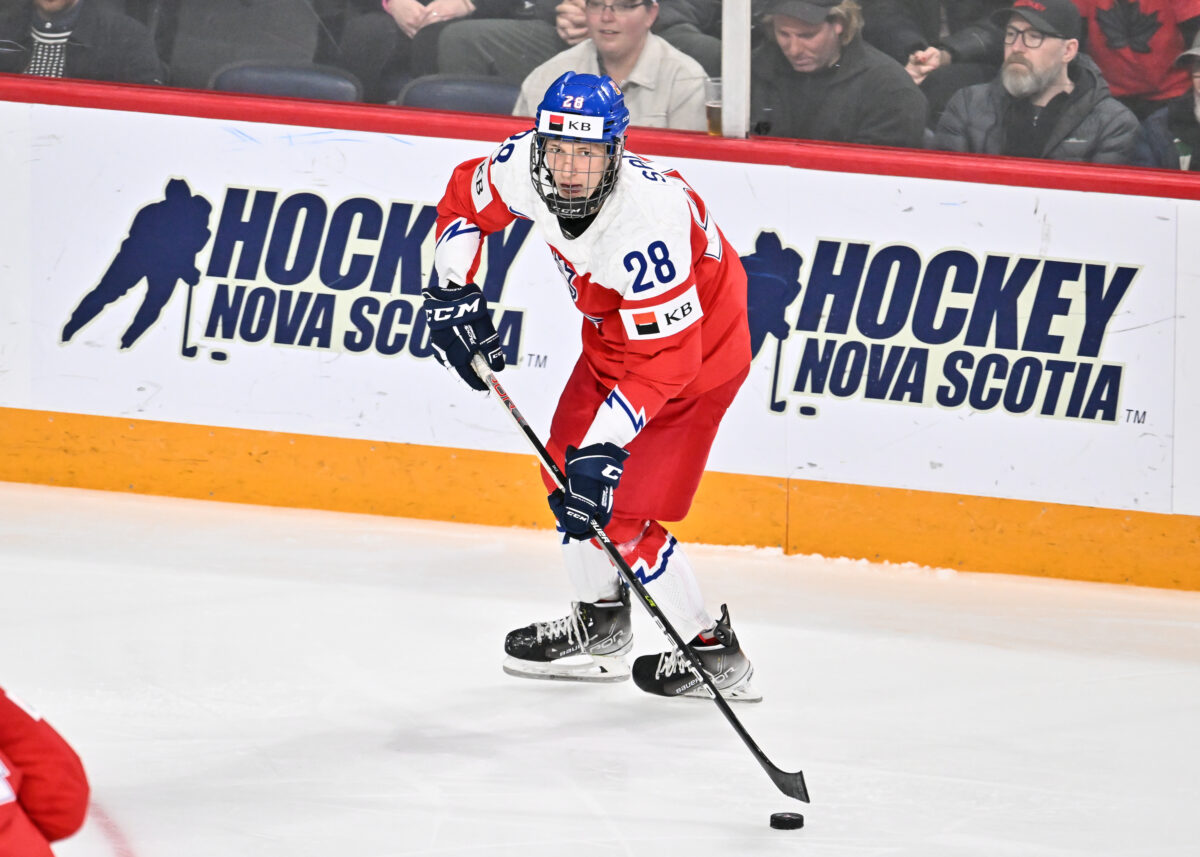 However, he is a very skilled player, and you don't become a projected top-10 pick for nothing. Sale has shown flashes of high-end offense, and if he can find some more consistency over the next few years, he could be a legit contributor in Seattle's top-six forward group.
Grade: B-
St. Louis Blues
10th: Dalibor Dvorsky
Dalibor Dvorsky is a great center prospect with tons of goal scoring potential and an above-average two-way game. He will likely take another year or two in either Sweden or the AHL before cracking the Blues' NHL lineup, but I didn't expect him to even be available here so this is a win in my book regardless of his NHL arrival time. Dvorsky showed that he could be a dominant goal scorer at the recent U18 World Championship where he willed Slovakia to the Bronze medal game against Canada without a lot of help. I didn't expect him to be available at 10th overall so the Blues should be thrilled to add him to their prospect pool.
Grade: A
25th: Otto Stenberg
Otto Stenberg has a ton of skill as a puck carrier and is as hard-working as they come. While his junior numbers from this year won't blow you away, he turns into a different animal the moment he puts on the Tre Kronor as a member of Team Sweden. Scoring 16 points in seven games at the U18s was a great way to end the year for Stenberg. I think he's most likely a winger in the NHL due to his size (just a hair above 5-foot-11), but I think he's a high-character, high-compete player that fans will gravitate towards.
Grade: B
29th: Theo Lindstein
After snagging forwards with their first two picks in Dvorsky and Stenberg, the Blues opted for a defender here, selecting Theo Lindstein. Lindstein has been a highly thought of prospect for two years or so now, though his lack of offensive production this year saw him drop quite a bit on many boards. He is a great defensive player, mainly because of how well he sees the ice and tracks what opposing forwards are trying to do. Lindstein is a strong skater who projects to play solid second pairing minutes in the NHL in his prime, though I don't think there's any one skill that stands out in his game.
Grade: B-
Toronto Maple Leafs
28th: Easton Cowan
Easton Cowan is a very competitive winger who was expected to go in the mid-to-late second round by most people (myself included). He's quick on loose pucks and plays with a ton of tenacity but I really didn't have him pegged as a first rounder due to his size (5-foot-10.5) and the fact that we haven't seen much high-end offense out of him so far. Cowan is a gritty player who is at his best around the net and in puck battles along the boards. He did have a great showing in the OHL playoffs where he scored 21 points in 20 games, but this one is a bit of a head scratcher for me. 
Grade: D
Vancouver Canucks
11th: Tom Willander
Tom Willander and the Vancouver Canucks felt like a perfect marriage as soon as he started to shoot up draft boards following his workman-like performance for Sweden at the U18 Worlds, where he logged over 30 minutes of ice time against Team USA in the gold medal game.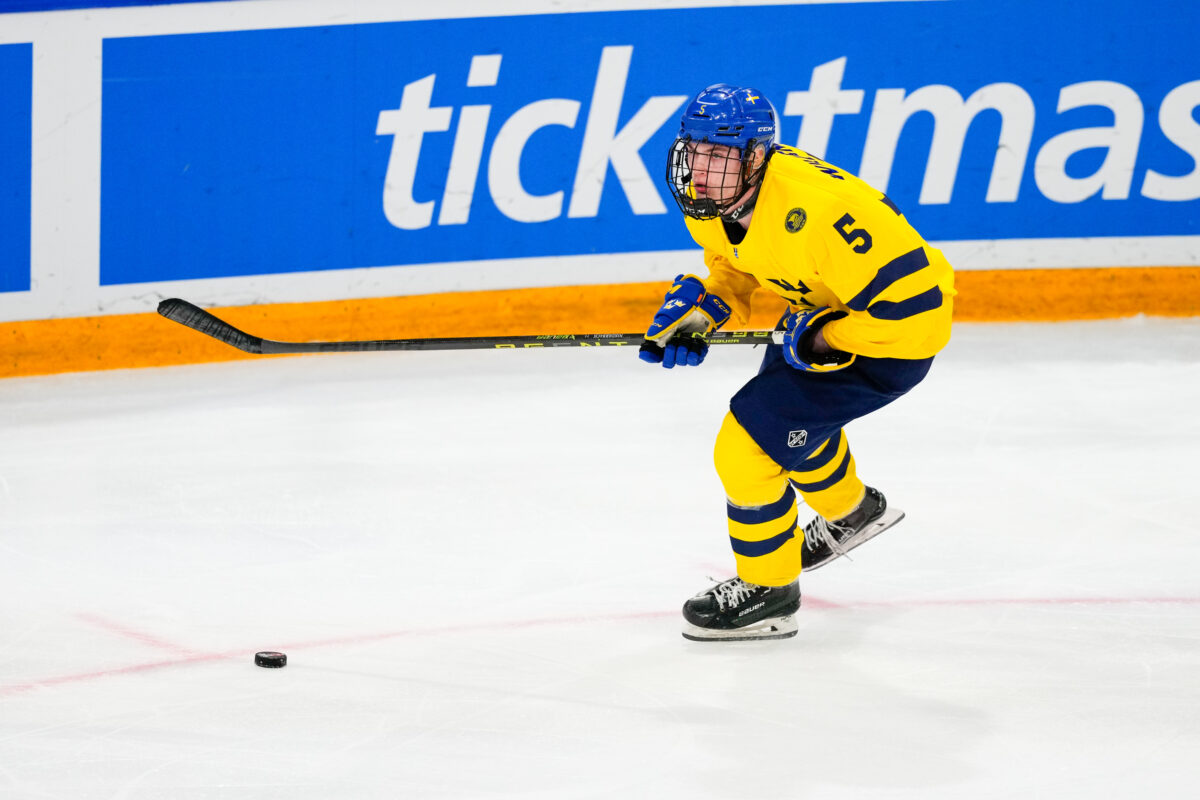 Willander is the best skater among all defensemen this year (probably the second best skater period in my opinion) and has an excellent defensive game. He's got more offense than the numbers show as well and he'll get the chance to show off his offensive skills in the NCAA next season as he joins top 2024 NHL Draft prospect Mack Celebrini at Boston University next season.
Grade: A-
Vegas Golden Knights
32nd: David Edstrom
David Edstrom is someone that I expected to surprise a few people on draft day and I think going 32nd overall qualifies as a surprise for someone who was a relative unknown to most hockey fans before the U18s. Regardless, Edstrom deserves to go in this area of the draft as a big center (6-foot-3) who has a very well-rounded toolkit, skates well for his size and wins tons of puck battles. He won't be the flashiest offensive player, but he'll play winning hockey for 18 minutes a night and be a great middle-six center in the NHL. Vegas won the cup this year with size all over the lineup and they continue that here with Edstrom.
Grade: B+
Washington Capitals
8th: Ryan Leonard
Ryan Leonard is going to be a fan favorite in Washington for a very long time, with the in-your-face type game that shows shades of Matthew Tkachuk and Tyler Bertuzzi. Leonard is an excellent offensive player who drags his teammates into the fight and is constantly engaging defensively.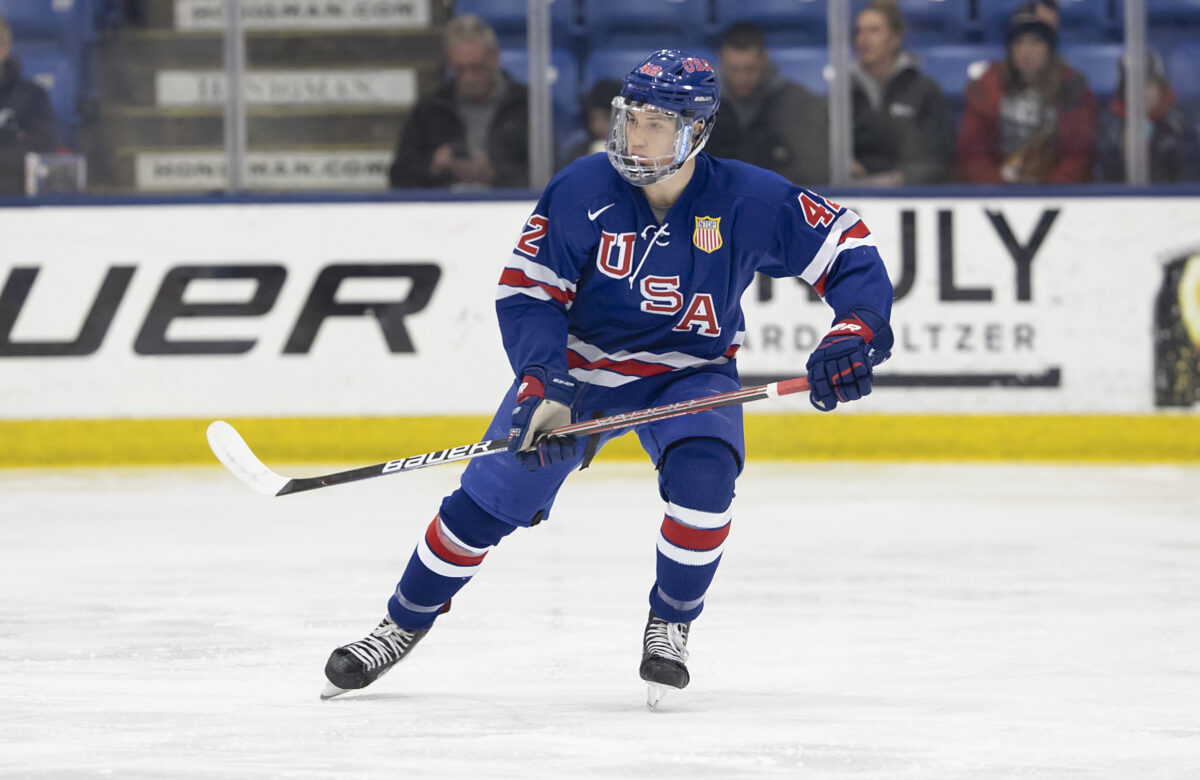 Leonard has an excellent shot and the potential to be a hard-working top-line scorer in the NHL someday. He'll spend next year with Boston College in the NCAA and I wouldn't be surprised if he's in the NHL shortly after. Washington got a good one here.
Grade: A
Winnipeg Jets
18th: Colby Barlow
Colby Barlow is a great choice here for the Jets as someone who I can easily envision scoring plenty of goals on the wing of one of their great young center prospects like Brad Lambert or Rutger McGroarty. Much like McGroarty, Barlow has earned lots of attention this year for his hard-working style, positive attitude, and leadership. He's a high-character pick, but he's also a very high-talent pick who can put pucks in the net with some of the best of them. Nearly cracking 50 goals in the OHL in your draft year is seriously impressive and Barlow had 46 this year. Look for him to sniff 60 next year should he return to the OHL.
Grade: B+
Plenty of Talent Left on Day 2
Whew, that was fun! The first 32 picks seemed to whip by compared to the snail's pace last year's first round played out at, and it's already time for day two where rounds two through seven will play out. There are still a ton of really talented players available in the draft and hopefully we see at least a couple trades go down on the draft floor!