The Manitoba Moose will begin a new season on Oct. 13 with an interesting mix of promising high-round draft picks, still-young returnees, and veterans.
The Winnipeg Jets' American Hockey League affiliate entered last season positioned for a deep Calder Cup Playoff run. That didn't pan out as the team was ultimately dispatched in the second round by the Milwaukee Admirals in five games for the second-straight season.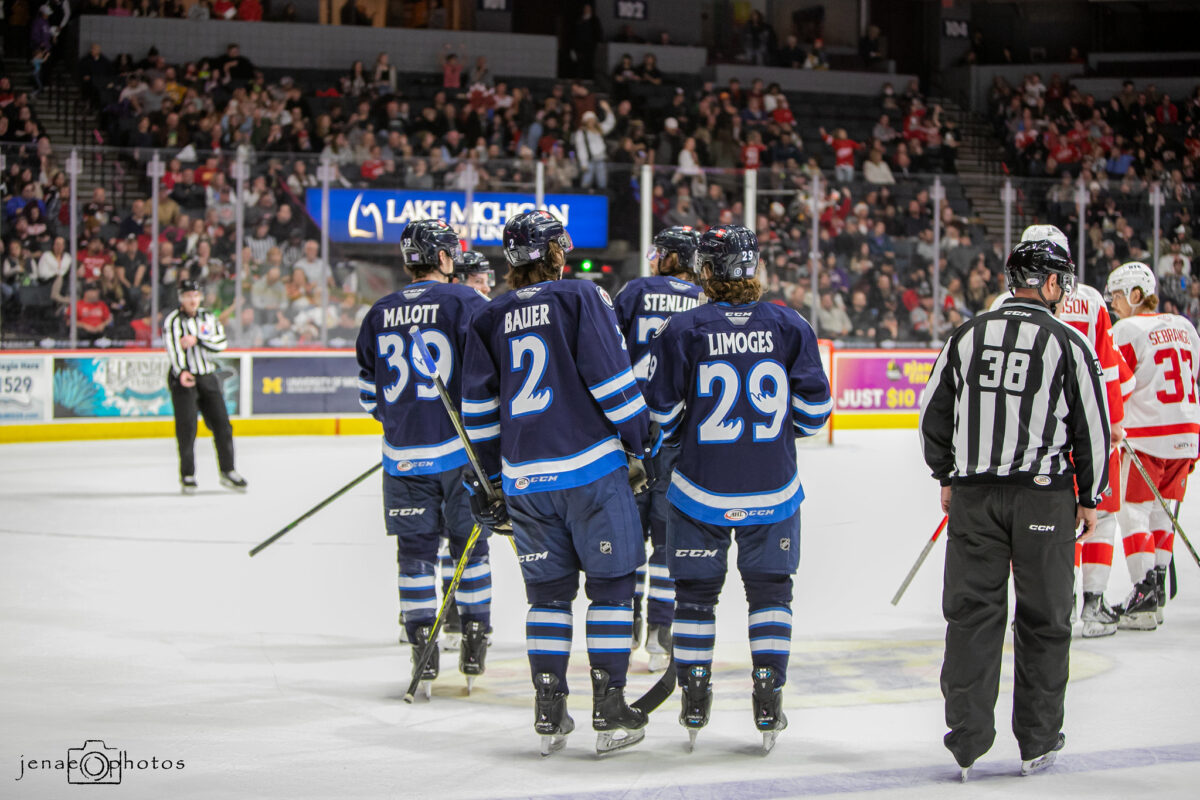 Head coach Mark Morrison should have a motivated bunch under his wing this season, as a number of players will be looking to make the next steps in their young careers and catch the eye of the big club's brass.
Without further ado, here are three Manitoba Moose to watch this season.
1: Brad Lambert
Brad Lambert should have a more stable season than last, which was an absolute whirlwind.
The 2022 first-rounder began the 2022-23 season with the Moose after turning heads with some electrifying play during Jets' preseason. However, those hoping the Finn would immediately dominate the AHL with his game-breaking ability were disappointed — he struggled at times to adjust to the stiffer competition and North-American-sized ice.

In 14 games, he had two goals and one assist, but was minus-9 and not often an impact player. A sickness he battled in late October and early November also caused him to miss two weeks.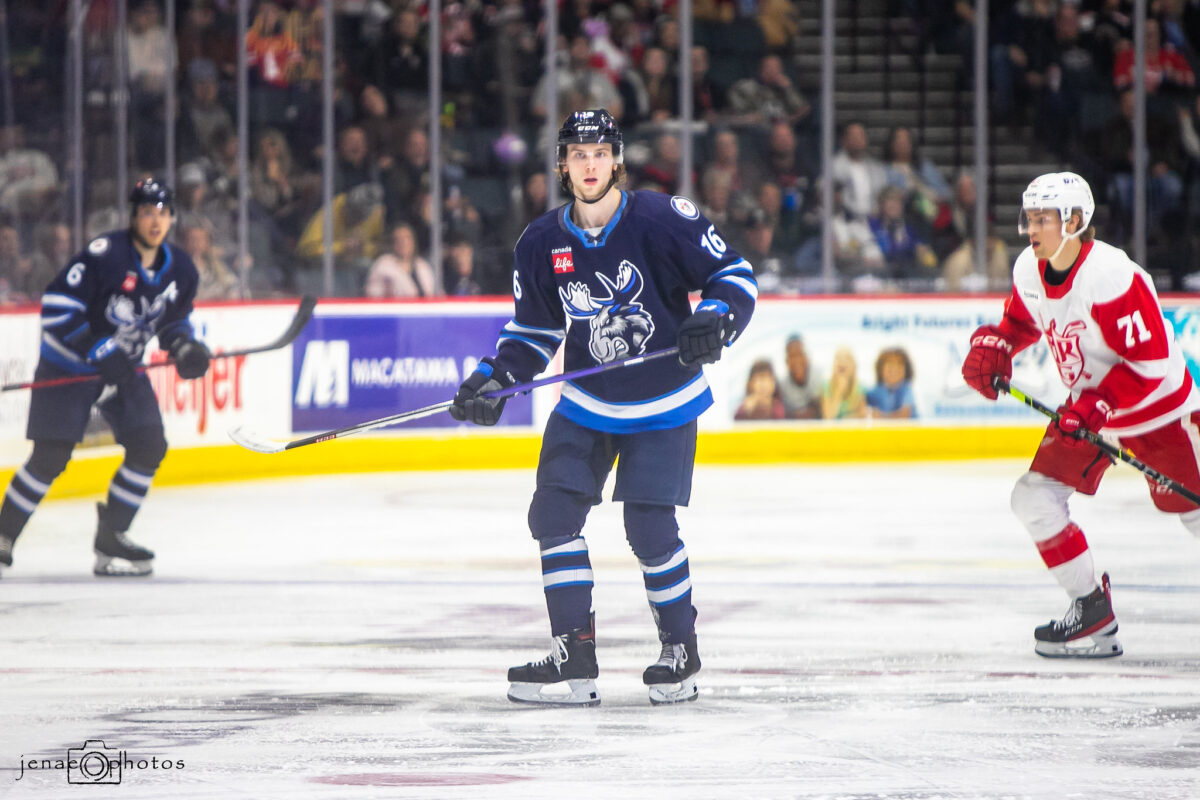 In mid-December, Lambert left the Moose to represent Finland at the World Juniors. At the time, he was riding a 10-game pointless streak and while he wasn't offensively prolific at the World Juniors — recording one goal in five games — he turned in an engaged and well-rounded performance. Finland's showing was ultimately a disappointment as they lost to Sweden in the quarterfinals.
After the World Juniors, the Jets reassigned Lambert to the Seattle Thunderbirds rather than have him return to the Moose. That was the right move to help him adapt to the North American game, rebuild his confidence, and find some consistency, which he's struggled with over the past two seasons and will be the biggest hurdle to him becoming a full-time NHLer.
In half a season with the WHL's Seattle Thunderbirds between January and June that included a run to the Memorial Cup, he dominated, recording 38 points (17 goals, 21 assists) in 26 regular season games and 26 points (six goals, 20 assists) in 17 playoff games.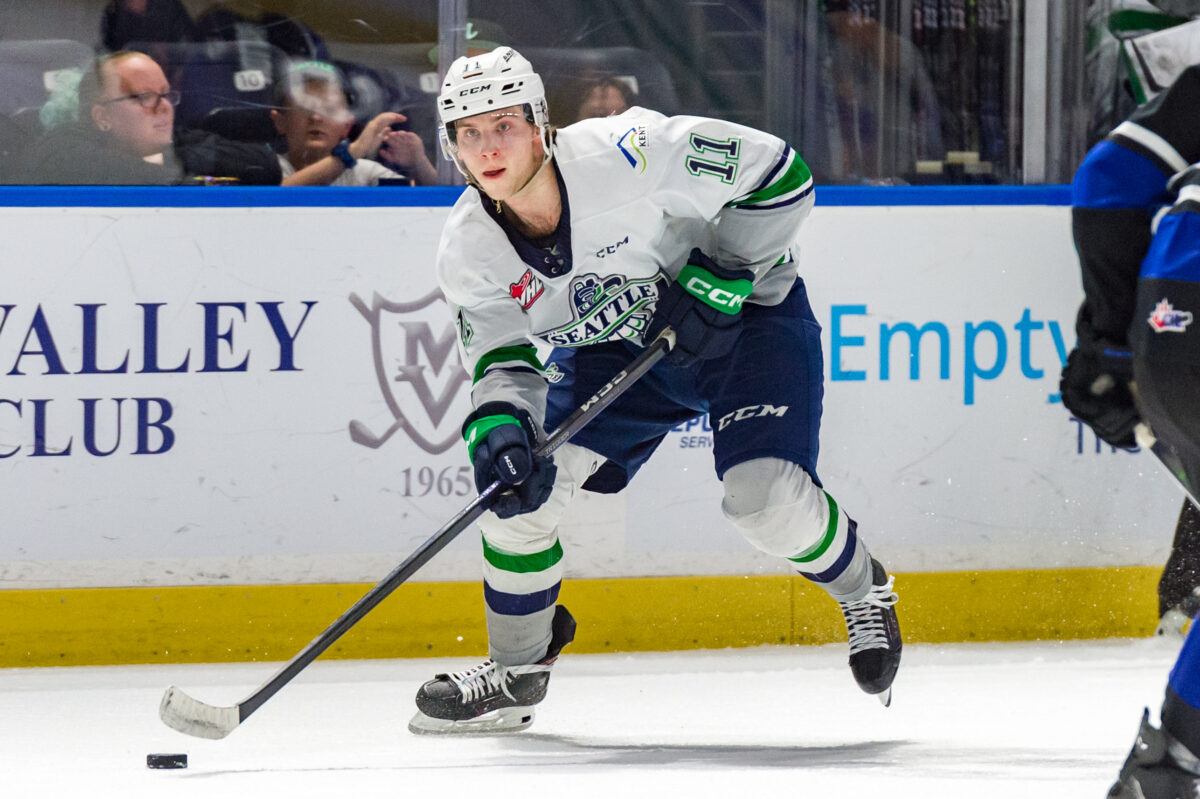 One reason Lambert was able to recapture success is because Thunderbirds head coach Matt O'Dette placed him back at centre, his natural position. Playing centre comes with added responsibilities, and Lambert excelled at defending below his own goal line and carrying the puck out of the zone. Added experience up the middle is a positive for the Jets' organization as centre depth is paramount across the league.
Related: Jets' Prospect Brad Lambert Impresses in 2022-23 WHL Season
---
Latest News & Highlights
---
Lambert is set to get an increased opportunity with the Moose this season. He should aim to play a consistent brand of hockey whether deployed at centre or on the wing, work hard, and stay ready for a potential NHL debut.
2: Chaz Lucius
Chaz Lucius will be looking to recapture the momentum he had last season that was halted by a season-ending injury.
The 2021 first-rounder, like Lambert, shouldn't be on the move like last season. Lucius played his first games as a professional, starred at the World Juniors, and spent time in the WHL with the Portland Winterhawks, but his season was cut short when he suffered a shoulder injury that required surgery injury in late January.
The right-shooting centre began the season with the Moose, playing 12 games and recording five points (two goals, three assists) in a bottom-six role. He also missed about three weeks due to injury.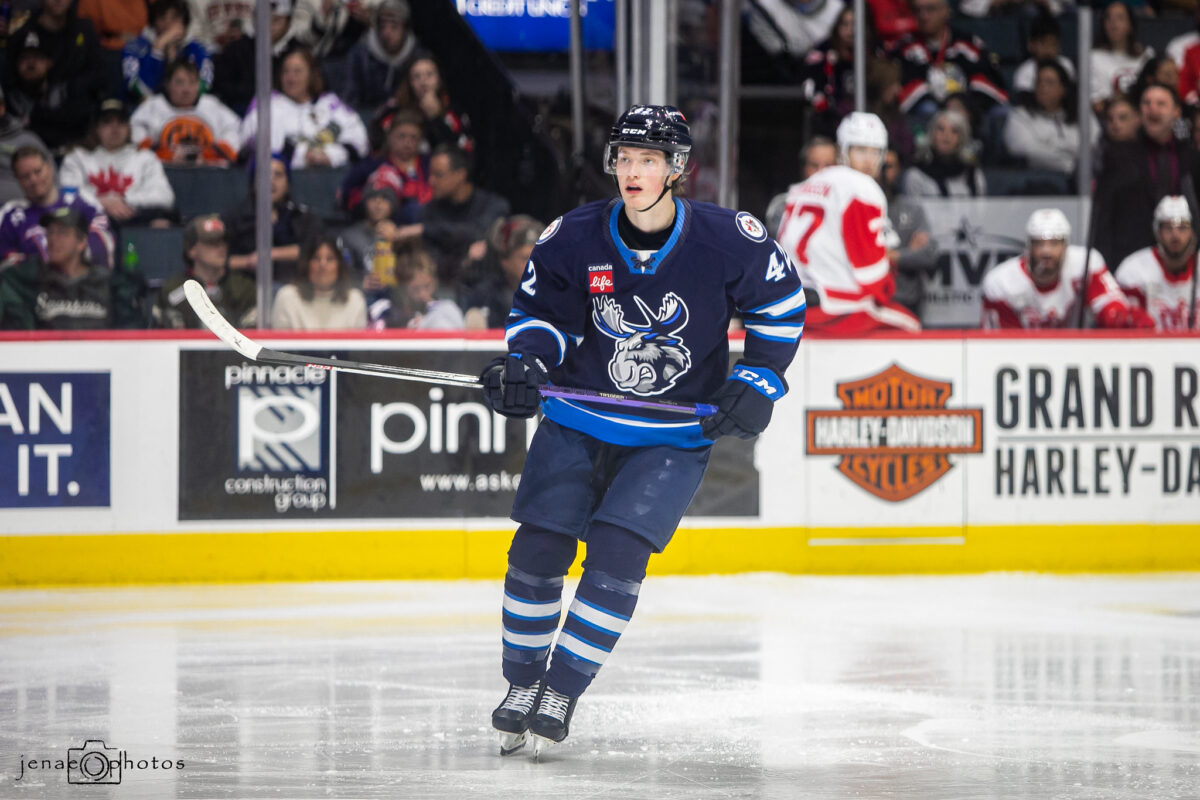 The Kansan was much more prolific at the World Juniors, recording five goals and two assists in seven games for the bronze-medal winning United States squad. In the bronze-medal game — an 8-7 barnburner against Sweden — he scored a hat trick, with his third goal being the overtime game-winner.
In January, the Jets assigned Lucius to Winterhawks instead of having him return to the Moose. He went from being one of the youngest players in the AHL to one of the oldest and most experienced in the WHL, and it showed. In just six games with the Winterhawks, he recorded an eye popping 15 points (five goals, 10 assists.)
He credited his AHL stint as showing him the expectations on professional hockey players. "I think I matured a lot there being around all the guys, families, and kids and different things like that as a young 19-year-old," he said. (From 'Newest Portland Winterhawk Chaz Lucius off to strong start,' Portland Tribune, Jan. 30, 2023.)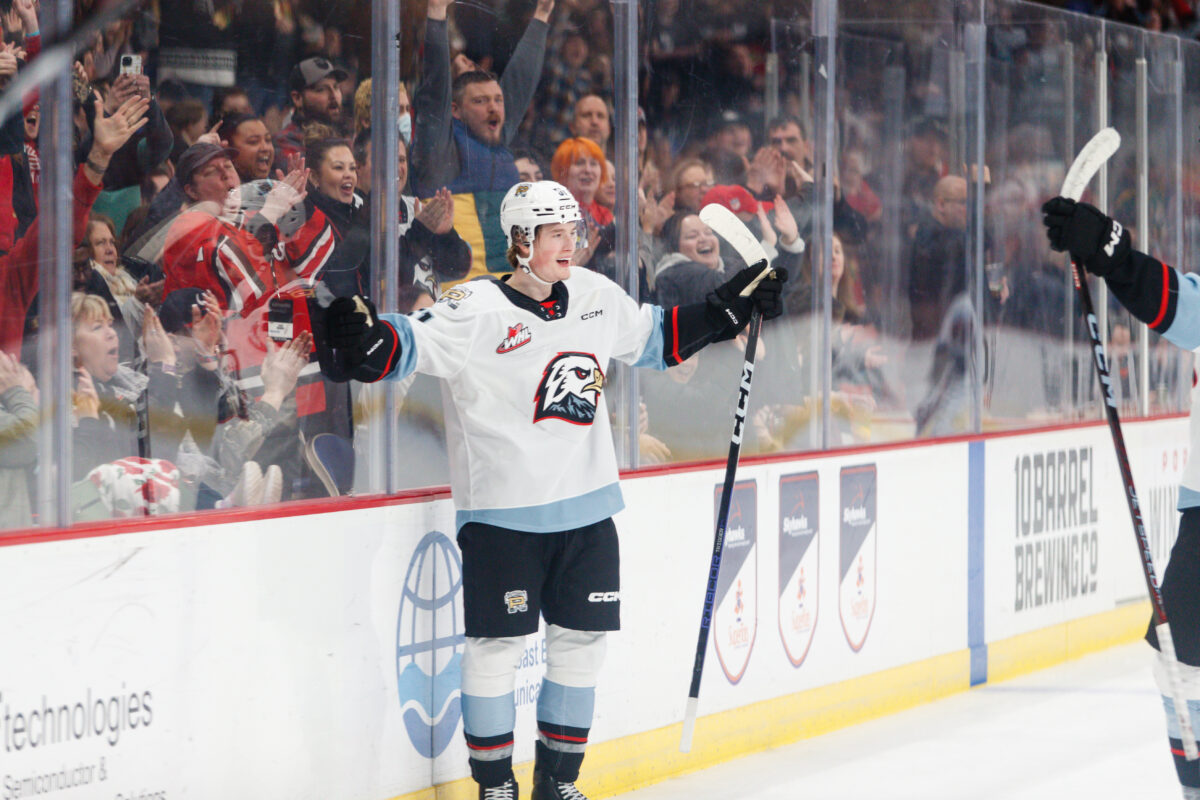 Unfortunately, a shoulder injury he suffered on Jan. 29 against the Spokane Chiefs required surgery and cost him considerable and crucial development time.
Now 20 years old, Lucius will seek to establish himself as a top member of the Moose. His primarily aim should simply be to stay healthy — his 2021-22 season was also ailment-filled as he sustained a hand injury and an ankle injury that required surgery.
If he can stay off the shelf, 2023-24 should provide him an opportunity to keep learning at the pro level and to put himself in a good position for a potential NHL debut.
3: Thomas Milic
Thomas Milic has dominated everywhere he's played. Will he continue that dominance in his rookie AHL season?
The 2023 fifth-rounder will be one of three goaltenders in the mix for the Moose alongside Oskari Salminen and Collin Delia. Arvid Holm, who played in a tandem with Salminen last season, was not tendered a qualifying offer and signed with the Colorado Avalanche organization as an unrestricted free agent.
The 20-year-old Milic is coming off a tremendous 2022-23 where he stymied just about everyone regardless of the stage or the stakes. He starred for Canada at the 2023 World Junior Championship, won the WHL Championship, and went to the Memorial Cup.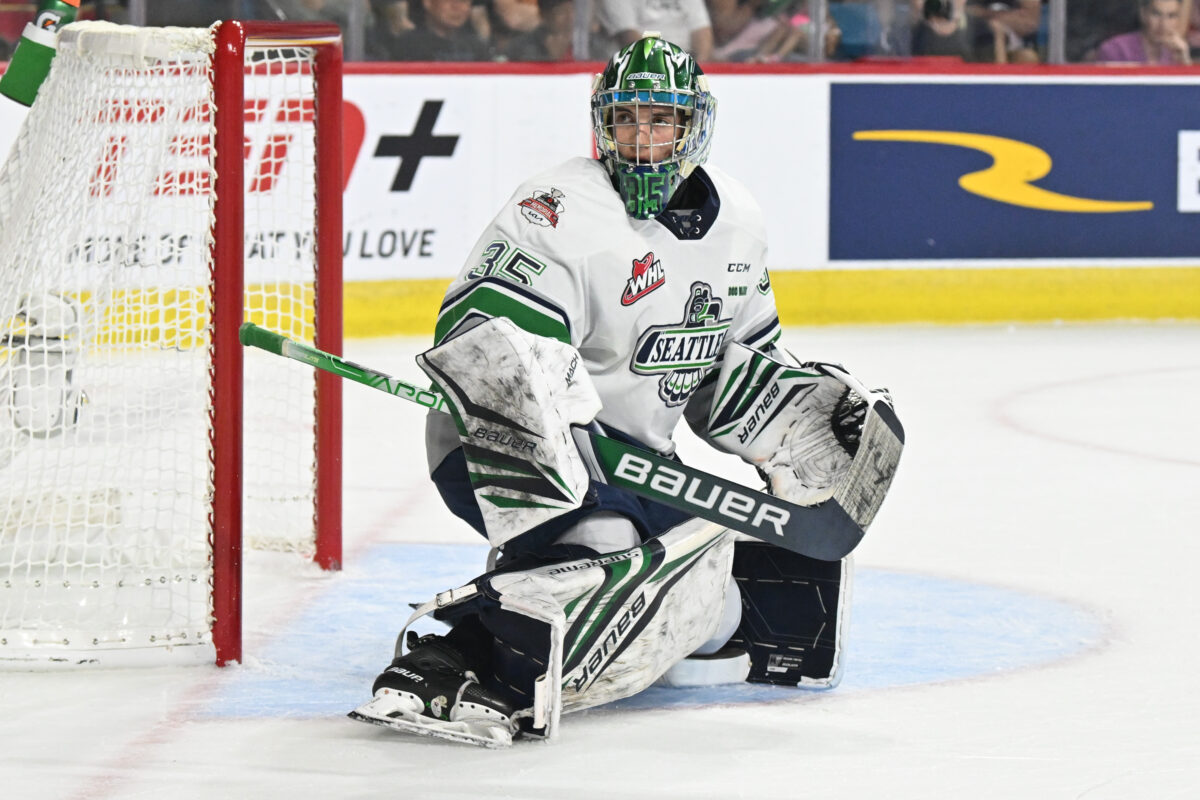 He was outrageous for the Thunderbirds, posting a 27-3-2 record in 33 games to go along with a 2.08 GAA, .928 SV%, and four shutouts. He was even better in the WHL playoffs and Memorial Cup — posting a 16-3-0 record, 1.98 GAA, .933 SV% and one shutout — and was named the 2023 WHL Playoff MVP.
At the World Juniors, he went a perfect 5-0-0 with a 1.76 GAA and .932 SV%. In the gold medal game, he stopped 24 of 26 shots as Canada conquered Czechia 3-2 in overtime.
Milic has many strengths and "he's probably one of the calmest and most collected goalies out there," THW's Matthew Zator wrote last year. "He also thrives under pressure and seems to raise his game when the going gets tough… Finally, his positioning, athleticism and play-reading abilities are very impressive, which is a necessity given the height he has to work with."
The 6-foot, 180-pounder from Coquitlam, B.C. was passed over in the 2021 and 2022 Drafts, but seems to have channeled the pair of snubs as motivation. Now finally a member of a pro club, he should remain highly motivated to push Delia and Salminen for work.
Recall that Connor Hellebuyck, who has one year left on his contract but is not likely to re-sign in Winnipeg, was also a Jets' fifth-rounder. As a smaller goaltender, Milic has a steeper mountain to climb to the NHL than Hellebuyck, but the Jets would be over the moon if he turns out anywhere near as well.
Do the Moose Finally Have Another Future Jets Star?
The Jets' organization's patient "draft and develop" strategy paid off nicely for them in the first few years upon relocating from Atlanta. Many core players spent time with the Moose soon after the team returned to Winnipeg from St. John's in 2015-16, including Kyle Connor, Connor Hellebuyck, Josh Morrissey, and the departed Andrew Copp.
The Jets haven't had a Moose alum turn into a bona-fide star for a while, though. Cole Perfetti is on the cusp, but questions remain as to whether the exciting playmaker can stay healthy for a full season. Morgan Barron is developing nicely, but his ceiling is as a middle-six forward. Dylan Samberg also took on a full-time NHL role last season, but a defensive logjam will keep him on the third pairing barring trade or injury.
Related: 3 Jets Who Will Be Under the Microscope for 2023-24
Other Moose alumni — Mason Appleton, Michael Eyssimont, David Gustafsson, Jansen Harkins, Ville Heinola, Johnathan Kovacevic, Sami Niku, Kristian Reichel, and Kristian Vesalainen — have either had limited impacts, have been jumped over on the depth chart and are no longer considered top prospects, or were lost for nothing to European teams or on waivers.
However, with Lambert, Lucius, Milic — and others still in college or juniors such as Colby Barlow, Domenic DiVincentiis, Rutger McGroarty, and Danny Zhilkin — in a reloaded prospect system, the future looks bright.
Will the three we highlighted be Jets' stars in seasons to come? It's worth watching them to find out.