Week 4 of the 3ICE season is upon us, and every team is vying for a spot in the final tournament in hopes of winning it all. Team LeClair was looking to keep their championship hopes alive with a win in Game 1 against Team Bourque, while Team Johnston was also looking to keep their hopes alive with a win in their battle against Team Carbonneau. Eddie Matsushima had the Golden Helmet as the league's leading scorer going into the new week and was looking to help lead his team to victory.
Game 1 – Semi-Finals: Team Bourque vs Team LeClair
Wednesday night's first matchup saw Team Bourque hoping to add to their impressive start with a battle against a struggling Team LeClair whose fate was on the brink of being sealed. Team LeClair came out hot with an early 1-0 lead, but that was the best they did in the game. Team Bourque quickly scored three unanswered goals and took a quick 3-1 lead, forcing Team LeClair to use their timeout to try and settle down.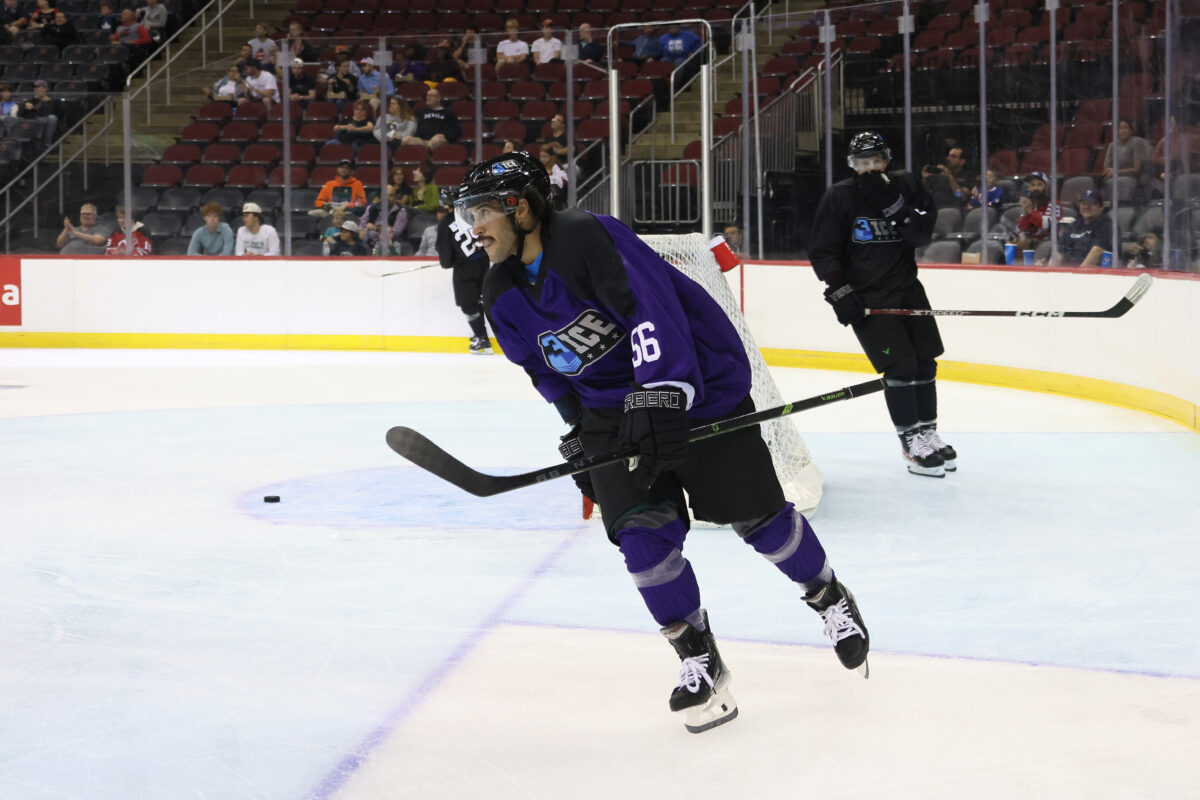 Team Bourque ended up scoring a total of seven unanswered goals in a dominating 7-1 win over Team LeClair. Pete "Swaggy P" Lenes had an unbelievable game scoring four goals and leading offensively heading into their Finals matchup. He was clearly the MVP of the game, and while he didn't score any highlight-reel goals, he was able to help lead his team to a huge victory.
Game 2 – Semi-Finals: Team Carbonneau vs Team Johnston
Team Johnston had tons of pressure heading into their semi-final matchup in Week 4, as they came in with a 1-3 record and were trying to save their season. Team Carbonneau was simply looking to build off their solid 1-1 start. Unfortunately for Team Carbonneau, they weren't able to get anything going and ended up losing the game 5-2.
---
Latest News & Highlights
---
Eddie Matsushima led the way offensively with two goals as Team Johnston earned their spot in the Finals against Team Bourque. Team Carbonneau, unfortunately, got themselves a battle for a half point against Team LeClair. Team Bourque had another opportunity to just about seal the fate of another team on the same night, but first was the consolation game.
Game 3 – Consolation Game: Team Carbonneau vs Team LeClair
The consolation game for half a point was a solid one. Team LeClair and Team Carbonneau came out strong and kept it close for the entire game. Team LeClair stole the half point from Team Carbonneau and played the spoiler to decrease Team Carbonneau's chances of advancing any further. Team Carbonneau left New Jersey as the week's bottom team with zero points. While Team LeClair was able to steal half a point, it may not be enough for them to make it to the championship week.
Game 4 – Finals: Team Johnston vs Team Bourque
Team Johnston walked away as the Week 4 champions as they won the final game in New Jersey 6-1 improving their record to 3-3 and jumping into second place in the league heading into Week 5. Team Bourque fell to 2-2 as they head into Week 5, and will be looking for a huge week as they try to force their way into the championship week in Philadelphia.
Make sure to stay tuned to The Hockey Writers for all your 3ICE coverage throughout the season.
Related: 3ICE – Ray Bourque Excited for 1st Season as Head Coach